You are getting there at super speed Mommy. All your uneasiness, pains and troubles are being condensed into a little bundle of joy who will land in your arms soon enough.
Do not ponder over labor pains, delivery dilemmas and horror stories you have heard of pregnancy or childbirth; instead think about your baby and how best you can love him or her. True are the words of Frank Clark who said, "A baby is born with a need to be loved – and never outgrows it."
Changes In Your Body During 26th Week Of Pregnancy:
As your baby relaxes and stretches her limbs inside your womb, you may feel pain underneath your ribs. The foot of your baby may actually get lodged in your ribs. Your body is able to stretch a lot during pregnancy, but there are certain limits. Your body cannot be matched by enthusiasm for growth and bubbly spirit of the growing baby inside your body.
Your uterus is now somewhere around 2 ½ inches above your navel. You have no difficulty in measuring the fundal height anymore. You may notice a difference of ½ inch every week from now on. Be ready for your belly button showing through your clothes, especially if you are wearing some tight fitting ones.
a. Averages And Stats:

Now that you are nearing the beginning of third trimester of your pregnancy, the thumb rule is not to get hyper over the averages.
Averages and statistics are meant to provide you with an idea of what to expect.
Remember every woman and her body is unique which changes in its own way.
In the same way, baby growth, activity, and development will take place in its own unique way as well.
If you start worrying about averages, you may never stop.
b. Braxton Hicks:

You will notice that the subtle Braxton Hicks frequently increases.
The contractions will feel something like the menstrual cramps you experience during your periods.
c. Preeclampsia:

Your health care provider may bring to your notice a slight increase in your blood pressure which is normal after week 24. Unfortunately, it could also be a sign of preeclampsia.
Watch out for preeclampsia – A serious condition that affects about 5 percent of pregnant women.
It usually starts after 20 weeks of pregnancy.
Signs of preeclampsia are high blood pressure, protein in the urine, liver or kidney abnormalities, persistent headaches, or vision changes.
Though preeclampsia occurs late in the pregnancy (often in the last 3-4 weeks of pregnancy), keep an eye on your blood pressure and weight gain to be on the safer side.
Preeclampsia can be life threatening in some cases if left untreated.
Your doctor may recommend early delivery for you, if the symptoms of preeclampsia is severe and poses health risk for you or your baby.
[ Read : Protein In Urine During Pregnancy ]
d. Sciatica:

If you wake up one fine morning and find a excruciating pain in your rear which prevents you from doing normal everyday chores; do not hesitate even for a moment to blame your sciatica for it.
The weight of your uterus can get your nerves (pun intended) at times. Your uterus, or precisely your baby's head, may press against the sciatic nerve, causing severe pain in your lower back, buttocks and legs. This is known as pregnancy related sciatica which is another troublesome feature of your pregnancy.
The sciatic nerves run down your spine and into the pelvis and upper leg area; hence it may cause shooting pain in any of those areas when pressed down by your uterus.
Sciatica often affects either the right or left side of your body.
Symptoms of pregnancy related sciatica include:
Numbness and/or pain in your buttocks.
Shooting pain in lower back, back of thighs and legs.
Difficulty in bending down.
Heightening of pain when you are in sit for long period of time.
Burning and tingling sensation running down your leg.
Difficulty in standing up.
In severe conditions, it may extend up to your feet and toes as well.
[ Read : Numbness During Pregnancy ]
Tips to control sciatica during pregnancy:
Gentle massage to the aching spot helps.
Exercising regularly prevents sciatic pain.
Soothing wet heats accompanied by ice packs comforts you a great deal.
Overeating can add to the discomfort of sciatica. Eat smaller portions and follow a healthy diet.
Do not sit for long time.
Watch your posture, especially when you are at computer.
Wear flat and comfortable shoes.
You love your soft bed, but it does not help your sciatica. Sleeping on a firm bed or even the floor, on your side, will bring down the discomfort of sciatica.
[ Read : Is It Safe To Use Laptop During Pregnancy ]
e. Other Changes:

Some of the symptoms of the past will continue, while some may begin to heal. At the same time, new symptoms may crop up as well.
Your uterus will bear down heavily on your bladder making you rush to the restroom too often. The feeling of wanting to pee may persists even after your visit to the restroom. Learn to live with it for just a couple more months now.
Since your body has adapted to the changes taking place, you may feel the round ligament pain subsiding from now on.
Your weight gain should be something around 16-23 pounds by 26 week pregnancy. Depending on your body type, weight before pregnancy or exercises; you may be above or below the average mark. Like said above, don't get carried away by the averages, you are unique. Moreover, your weight will keep changing depending on the amount of water retention in your body.
You may feel bloated as the swelling in your body, especially the limbs, will continue to bother you.
[ Read : Bloating During Pregnancy ]
Itchy skin continues to irritate you. Keep your skin well hydrated with a soothing moisturizer.
You may never be able to sleep peacefully through the night for some time now. At present your pregnancy related discomfort is going to keep you awake. Whereas after childbirth, it will be the wet and hungry baby that brings you out of slumber land. Learn to nap whenever you feel like it. The skill is going to be handy in days to come.
Watch out for any sign or symptom that may not be related to your pregnancy. Timely intervention by health care provider can save your life as well as that of your baby.
[ Read : Round Ligament Pain During Pregnancy ]
26 Weeks Pregnant Symptoms At A Glance:

Here is the list of week 26 pregnancy symptoms:
Swollen limbs
Insomnia
Sciatica
Constipation
Fatigue
Pregnancy brain
Increased Braxton Hicks
Headaches
Stress
Increasing stretch marks
Itchy skin
Slight increase in blood pressure
Changes In Your Baby During 26 Weeks Pregnant:

The baby is enjoying all the activities she can perform in your womb. All of her body organs like the heart, lungs, digestive system, excretory system and limb movements are preparing her for survival in the harsh world outside your womb. Every touch, every move and every kick you receive from your baby will come as a reassurance that everything is fine with her.
Did you know that your baby practices even walking inside your belly? It has been observed that babies do imitate actions like pedaling which resembles walking inside the womb.
At times you may not be able to understand where the kick is coming from. She may be rumbling all over the place. It appears as though your baby is trying out every martial art moves ever known to human race in there.
What hurts you the most are those kicks, which land on your insides or the stretches that reach your ribs.
When things get too tough to put up with, you can very gently try to push the baby away from the spot that has been hurting you a lot.
The intricate and tiny nerves in her ears are maturing quickly. She will be responding to sounds more consistently than ever before. Watch out what you and your partner say about your baby. She is listening to you.
Your baby can put out her tongue and tease you.
She is getting ready to open her eyes wide in amazement at the wonder that is life.
The swallowing is going at full speed so as to allow not just her digestive and excretory system the exercise, but also to enable her lungs to mature for respiration. After birth, the amniotic fluid will be replaced by the air.
The fat continues to pile up underneath your baby's skin and she gains weight rapidly.
The brain continues to mature rapidly. Keep an eye on your diet to help proper development of brain of your baby.
Your antibodies are helping her to develop a formidable immune system to fight with the challenges in the world outside your womb.
The umbilical cord grows stronger and thicker to supplement all the essential nutrients your little baby is demanding.
If you are carrying a baby boy, it is time for his testicles to begin their descent to his scrotum which is a gradual and slow process.
The spine is becoming stronger as well.
[ Read : 7th Month Of Pregnancy Diet ]
Size Of Your Baby:

Your baby will be measuring nearly 14 inches (35.6 cm) by 26 of pregnancy. She will weight around 1.6 pounds or 760 grams. For comparison, you can say she has grown to the size of a zucchini or an acorn squash.
Care And Tips For 26 Weeks Pregnant:

If you are not the first time Mommy, or you have the responsibility of other family members on your shoulders; putting up your feet and resting may not be an easy option for you. You may feel torn between your responsibilities and your cravings for relaxing and taking it easy.
Keep in mind that the better you rest, eat and sleep, the better you will be able to give your family attention, care and love – both physically and mentally.
If you do not rest and eat well, you will be drained and frustrated. That is not going to help either you or your family in any way.
Do not hesitate to reach out to your family and ask for their help. Everyone can help you in one way or other. Just try asking for it.
If you push yourself too hard, it will not only be tough on you emotionally and physically, but it may harm your unborn baby as well.
Let everyone around you know that this is a temporary phase when you need to prioritize your needs and those of your baby growing in your womb.
Stress during pregnancy should be avoided at any cost. Keep away from stressors and people who stress you out, even if it means that you appear to be rude.
You have right to be less than perfect during your pregnancy.
It is OK to order food from out when you are too tired to cook, or leave the cleaning for next day, or skip attending to the homework of your child without going on the guilt trip.
People cannot read minds, especially men. Tell your partner about your needs, feelings and ask for help whenever needed.
If you have been caregiver for elderly family members, see if you can find some help for time being.
Finally break out into your new maternity clothes and start working on your baby's room whenever you feel your mood is going on a downslide. That should help.
[ Track Your Baby's Growth: Pregnancy Due Date Calendar ]
Fun Activity For The Week 26 Pregnancy:

Keep a notebook to track the sleep/awake cycle of your baby.
If you observe, you will notice that your baby follows pattern of being active and then quite at regular intervals.
You will have an idea of the sleep pattern of your baby by the time she is born.
Following the pattern will help her adapt to the sleep cycle easily outside your womb, thus making her peaceful baby.
[ Read : Sleeping Position During Pregnancy Second Trimester ]
Tips For Dad To Be:

Your partner may have difficulty coping with the changes her body is going through. Your love, attention and care can help her deal with these changes more effectively. Show her how much you appreciate her for making your own family possible. These are the times when showing and expressing your love and appreciation in exaggerated form will help.
Don't forget to share your experiences and views about 26th week of pregnancy in the comment box below:
Recommended Articles:
The following two tabs change content below.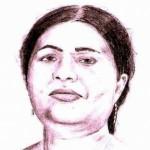 Latest posts by Farida Rizwan (see all)