What is the most exciting time of the year for children? Christmas, of course! They look forward to the festive season to get some amazing gifts, delicious foods, family get-togethers, and fun. The mood is upbeat right from the day when Advent begins.
Advent marks the first season of the Church year and comprises the four Sundays leading up to Christmas. When the atmosphere at home is lively and the kids overjoyed, you can make it more enjoyable by involving them in some interesting advent crafts. MomJunction helps you with a list of such crafts for your children.
10 Fun Advent Crafts For Kids
Here are a few advent calendar and advent activities for kids:
1. Advent Wreath:
Your kids can make a beautiful advent wreath at home by using various items they can collect from the yard or even in your kitchen.
Ask your kids to collect some sticks, twigs, green foliage, cinnamon sticks and such.
Help them make a wreath by tying up the twigs and sticks in a round shape.
Now ask them to place the foliage through the wreath and decorate it using cinnamon sticks, Christmas ornaments and other such things they want.
Let them place four candles in the middle of the wreath. This is a beautiful advent wreath craft for kids to make during the season.
[ Read: Autumn Crafts Ideas For Kids ]
2. Edible Advent Wreath:
Help your kid make an advent wreath that they can eat up along with the whole family!
Find a serving plate that has a Christmas based message or design on it to make the treat look more like it is meant for Christmas or Advent.
Ask your kid to place a donut in the center of the plate and decorate it with icing. Let them sprinkle some green sugar over the icing to resemble the foliage on an advent wreath. Green resembles eternal life.
Help them place four candles, in the colors purple and pink. The color purple will resemble royalty while the color pink will resemble a rose. It can be an amazing advent wreath crafts for children that they can plan and execute during Christmas season.
3. Advent Wall Calendar:
Your kids can make a beautiful advent calendar craft at home that they can also put up as a showpiece on the wall.
Ask your kids to cut out shapes of stars from brightly colored papers. You can also ask them to recycle colorful magazine papers if you wish.
Next, let your kids decorate each star as they wish, using bits of paper, coloring supplies, decoration items and more.
Stick it up on the wall in such a way that it resembles the outline of a Christmas tree.
4. Paper Bag Advent Calendar:
Ask your kids to collect lots of brown paper bags from home and even at the local grocery store.
Let them cut out lots of round shapes from used paper and make numbered decorations on the top. The numbers will signify the days of Advent that will lead up to Christmas.
Once done, string up the bags on a ribbon and hang on one corner of the room or up on the wall. This is an interesting and great advent calendar activities for children.
5. Cardboard Christmas Trees With Hats:
Help your kids cut out outlines of Christmas trees in different shapes and decorate them with miniature sized Christmas hats on top.
Place them on the mantelpiece to make a fun advent decoration.
[ Read: Christmas Tree Crafts For Kids ]
6. Red And Green Dough:
Help your kid knead some dough with you at the kitchen and add red and green food coloring to the same.
You can then use the same dough to make cookies or other eatables.
[ Read: Frozen Crafts For Kids ]
7. Silly Advent Video:
Make some fun and silly home videos that feature your kids.
Ask your kids to say some Christmas related messages and send them out to family and friends that live far. This is one of the simple and easy advent craft ideas for children.
8. Playdough Snowman:
Help your kid make out cute snowmen using play dough and set them up all over the house.
You can also create a separate advent wall with a homemade advent calendar and snowmen.
[ Read: Snowflake Crafts For Kids ]
9. Read The Bible:
Read out the Christmas story to your kid from the Bible.
Do make sure that you also help them understand the many values that the story teaches them. It can be one of the best advent activities for children.
10. Candlelight Service:
Take your kids to a candlelight church service to ring in the feeling of Advent and Christmas.
Enjoy the event as a family.
Advent is a time of joy, sharing and caring, so make the most of it with your kids with these fun crafts and activities. Tell us how it went with your little one, leave a comment below.
Recommended Articles:
The following two tabs change content below.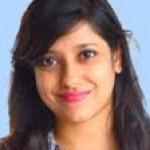 Latest posts by Debolina Raja (see all)