Are you wondering about the best diapers to choose for your newborn? Does the endless line of choices make you feel overwhelmed? If these questions are leaving you baffled, then you should keep reading.
Parents have to purchase many things for their newborns, diapers being the most essential. Newborns go through 8 to 12 diapers every day. So as a new parent, diapers will be a big part of your life, at least for a few years. But which diaper will be best for my baby? Our post will spare you the guessing game and will help you make your decision.
Choosing The Best Diaper For Your Baby:
With the development of technology, it can be quite a task to pick the best diaper for your baby. So what makes a great diaper? Softness, reliability, or ease of use! Here are a few things that you need to take into account while looking for a diaper. Have a look!
[ Read: Is Diaper Safe for Baby ]
1. Absorbency:
A good diaper must keep the wetness away from the baby's skin, protecting it from rashes, chafing, and irritation. Yes, it is impossible to avoid a leak or blowout, but a good diaper will at least keep it from happening regularly.
2. Cost:
You will be spending $40 a month per month on diapers, and that's a rough estimate. Some diapers are cheaper while some are expensive. The higher quality diapers are worth the extra money in our opinion. So decide on the budget beforehand. And don't forget newborns grow very quickly, so do not stock on the smallest size of the diapers.
3. Proper Shape:
Make sure that there is a cut out in the front of the diaper to keep the umbilical cord dry and exposed to air. It will expedite healing. Ensure that the diaper is stretchable. The stretchy sides of the diapers will help adjust to the baby's shape.
4. Skin Sensitivity:
Besides the diaper features and cost, you also need to consider your baby's skin. If your baby is allergenic to fragrances or dyes, then you many need to switch to cloth diapers.
5. Types Of Diapers:
There are two main types of diapers- disposable and cloth diapers. Disposable diapers are the most common variety of diapers. These diapers vary in cost and features. But the basic is pretty much the same. By cloth diapers, we don't mean diaper pins and wiggly babies. Cloth diapers are a lot more user-friendly. There are just like disposable diapers but are chemical free.
[ Read: Best Baby Burp Cloths ]
Top 16 Best Baby Diapers:
Here are the top 15 baby diapers according to our choice. Scroll down to check out!
1. Earth's Best Diapers: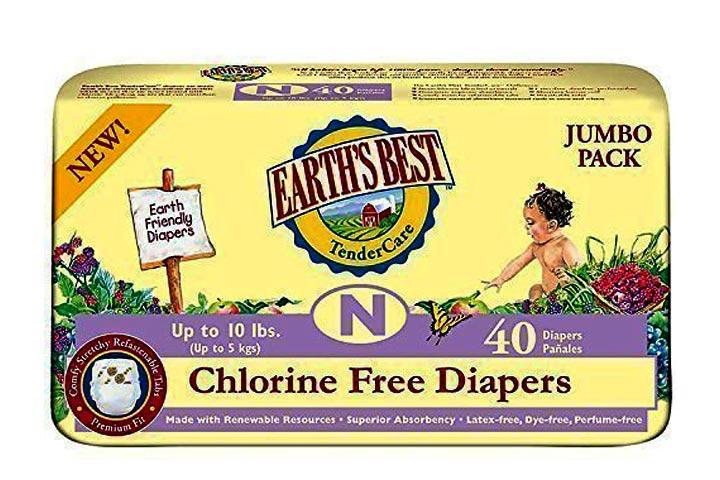 Buy Earth's Best Diapers For ₹ 21,505.00 @www.amazon.in/-earth's-best-diapers
The cloth is not the only safe way to diaper your baby. Eco-friendly diapers are also a safe choice. When eco-friendly diapers first hit the market, most parents complained about the leakage problem. But these diapers have come a long way now. The Earth's Best Organic diapers are not just latex, chlorine, and dye-free, but also contain natural absorbent materials like wheat and corn. It has breathable sides and moisture barrier cuff, which will keep your baby dry for longer periods. The Earth's Best Organic diapers are available in seven sizes. The brand also sells TOTS Potty Training Pants, made from renewable resources.
2. Whole Foods 365 Everyday Diapers: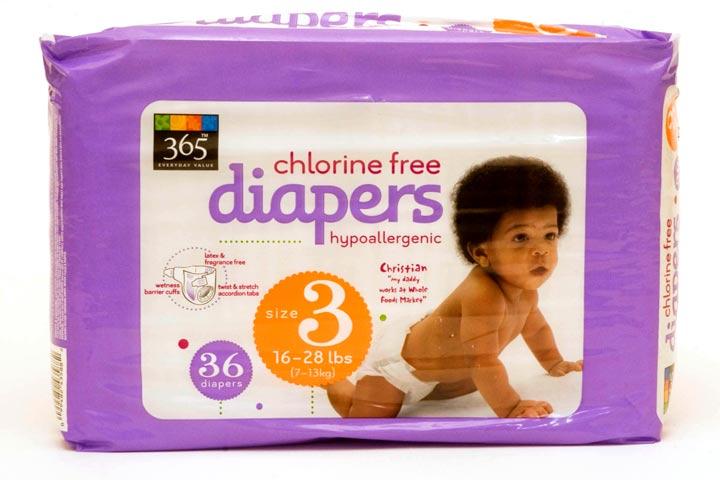 Buy Whole Foods 365 Everyday Diapers For ₹ 24,964.00 @www.amazon.in/-whole-foods-365-everyday-diapers
These diapers are sure to protect against leakage. The absorbency gel in Whole Food's 365 Everyday Diapers contains super-absorbent and non-toxic materials. The soft fabric ensures that your baby won't have any diaper rashes. Most of the mothers are happy with Whole Foods 365 Everyday Diapers, and we feel that you will like it too.
3. Seventh Generation Diapers: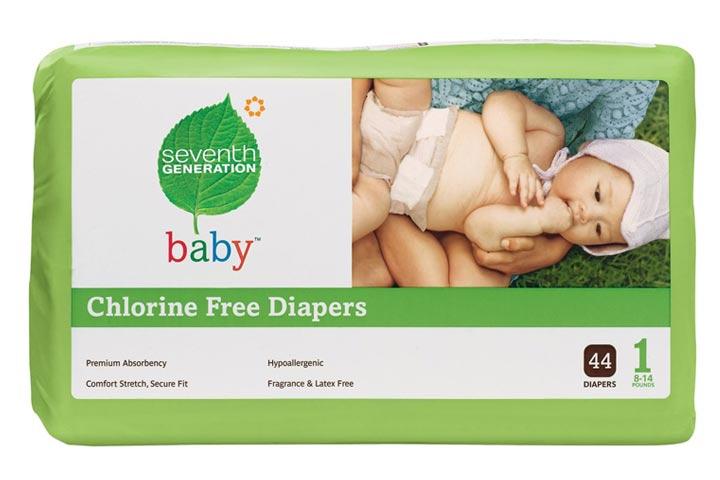 Buy Seventh Generation Diapers For ₹ 671.00 @www.amazon.in/-seventh-generation-diapers
The brand deserves applause for trying to make the world a less toxic place. It uses the chlorine-free wood pulp and non-toxic absorbent gel for making diapers. There are rarely any leaks with this diaper even if your baby rolls, crawls or tumbles. Also, Seventh Generation diapers are perfume and latex free. So they are less likely to irritate your baby's skin. And the diaper will fit snugly around your little one's legs. But the catch is that Seventh Generation Diapers are very pricey.
4. Huggies Supreme Little Movers: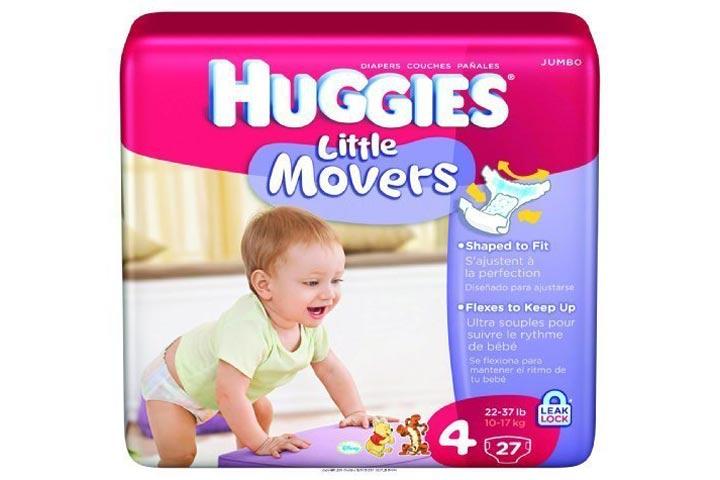 Buy Huggies Supreme Little Movers For ₹ 32,802.00 @www.amazon.in/-huggies-supreme-little-movers
Say bye bye to the leakage problem with Huggies Supreme diapers. Huggies is one of the most recognizable names for the baby diapers. One of the best diapers from this brand is Huggies Supreme. The outside of the diaper feels more like a cloth, which will keep your baby's skin dry. These diapers come in multiple sizes, including newborns. The added features are also witness indicator and an umbilical cut out. We also feel that Huggies diapers are more true to the size than other brands of diapers.
5. Huggies Pure And Natural Diapers: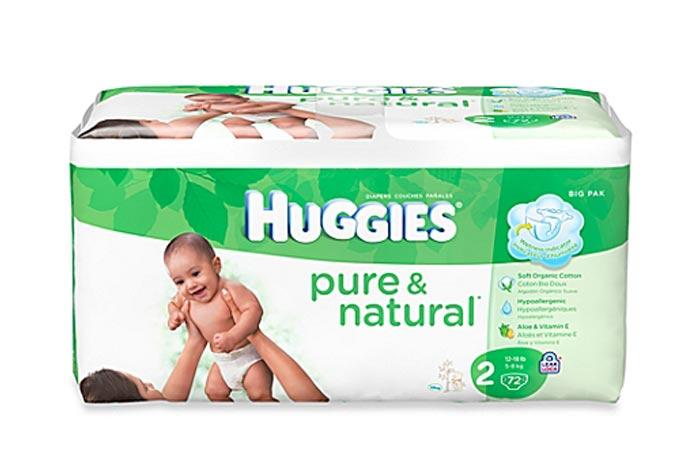 If you are looking for an affordable disposable diaper, then Huggies Pure And Natural Diapers should be your pick. These diapers do not smell even when wet. Nor do they cause any leakage or diaper rashes. The diaper fits snugly to the baby's bum and inner thighs. So your baby will feel very comfortable in them. And they are reasonable too. What else would you want from a disposable diaper?
6. Pampers Swaddlers: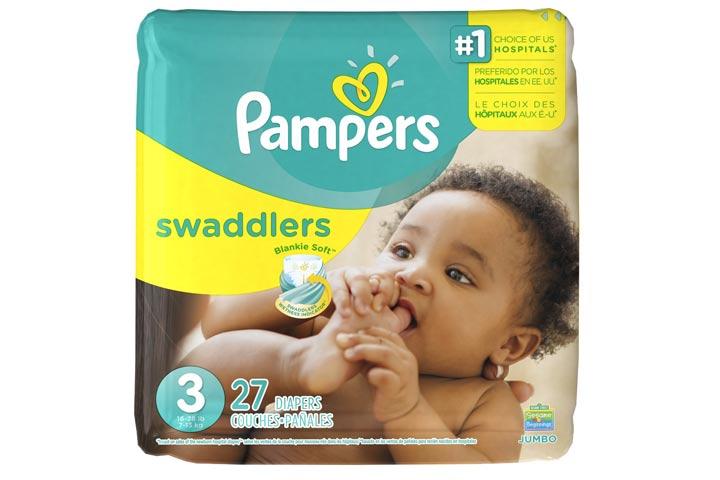 Buy Pampers Swaddlers For ₹ 2,412.00 @www.amazon.in/-pampers-swaddlers
Pampers is the leading brand of disposable diapers. You will rarely come across mommies who haven't used Pampers diapers. It will be the first diaper that will hit your baby's bottom in the hospital. In fact, they are the most recommended diaper by pediatricians and hospitals. For a diaper, Pampers Swaddlers have all the basics that you would need. It protects from leakage and fits the babies well. One thing that irked us was that the newborn variety of diapers smells quite weird when you open the package.
7. Bumkins Diapers: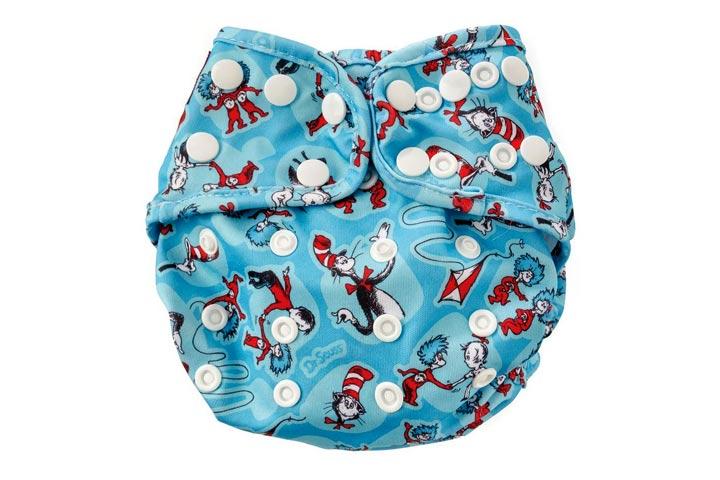 Buy Bumkins Diapers For ₹ 1,547.00 @www.amazon.in/-bumkins-diapers
These all in one diaper are for the working mommies. This cloth diaper does not require plastic pants. And the material of the diaper is very soft. The diapers maintain their softness even after regular washes. The other cloth diapers will plague you with leaks, but not Bumkins Diapers. But you have to size them correctly. Bumkins Diapers come in colorful patterns; some are gender specific while others are neutral. They look a bit bulky but don't add bulk to the baby's clothes.
8. G Diapers: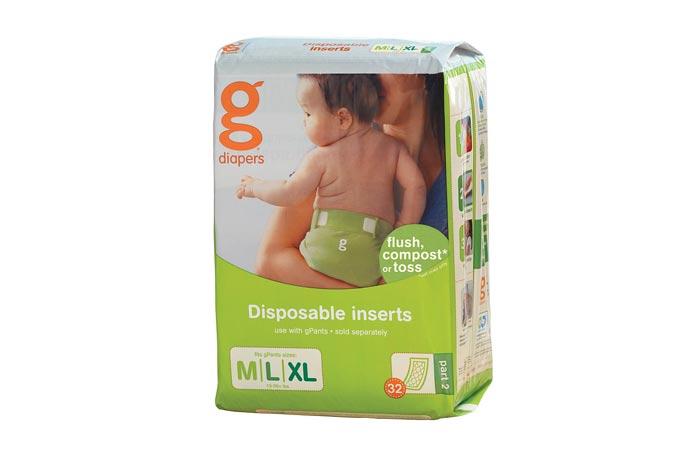 The G Diapers blend the best of both worlds- they are environmentally friendly and easy to use. The over covers are reusable, but the inserts are 100% biodegradable. You have to take out cloth's outer part and affix a pad like a diaper inside it. No need of throwing the entire diaper. When it's wet and dirty, you just have to remove and flush it. These diapers fit well and do not leak.
9. Andy Pandy Premium Bamboo Diapers: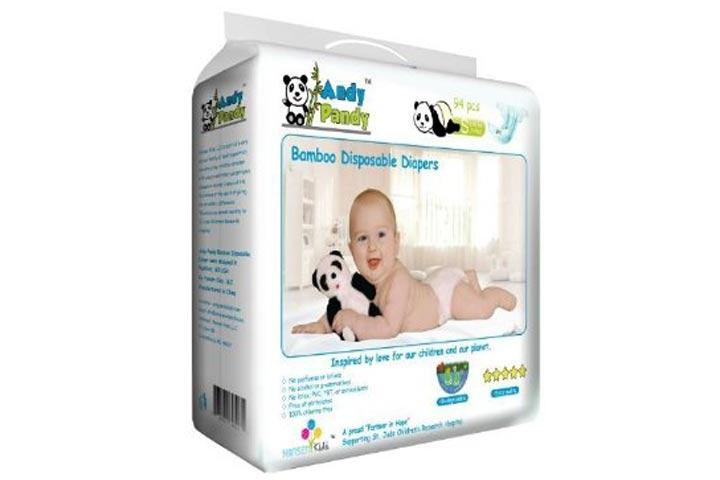 Buy Andy Pandy Premium Bamboo Diapers For ₹ 6,751.00 @www.amazon.in/-andy-pandy-premium-bamboo-diapers
If you're willing to shell a bit more for a high quality and eco-friendly diaper, then Andy Pandy Bamboo Diapers are ideal for you. These diapers are free of everything. They have no fragrance, perfume, alcohol, preservative, latex, PVC, chlorine and phthalates. They are also gluten, wheat and corn free, making it great for babies who contact allergies. Now you must be wondering how they do it. Let us tell you! Andy Pandy uses eco-friendly and biodegradable bamboo, which makes the diaper super soft and comfortable and highly absorbent.
10. Huggies Little Snugglers: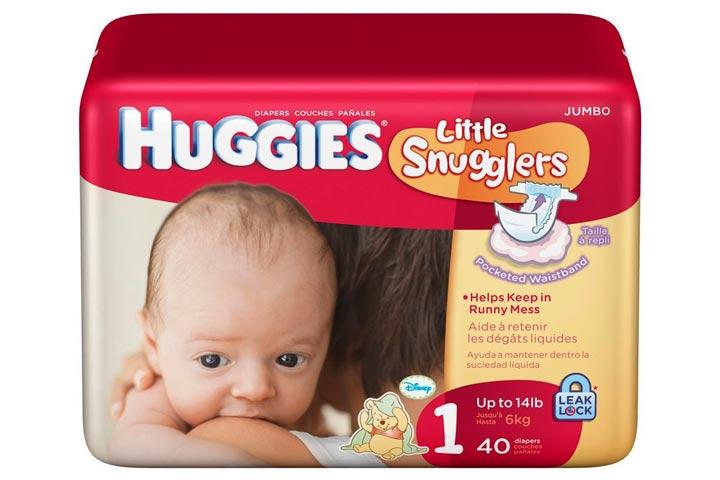 Buy Huggies Little Snugglers For ₹ 2,742.00 @www.amazon.in/-huggies-little-snugglers
Here's another great product for newborns. Huggies Little Snugglers have a Leak Lock technology and a unique "pocket" on the waistband that stops the mess from spraying up back. The umbilical cord cutout prevents the diaper from rubbing against the sensitive cord area. These diapers also have a wetness indicator that changes color when the baby relieves himself. But we do not suggest Huggies Little Snugglers for overnight use as they might leak.
11. Pampers Cruisers: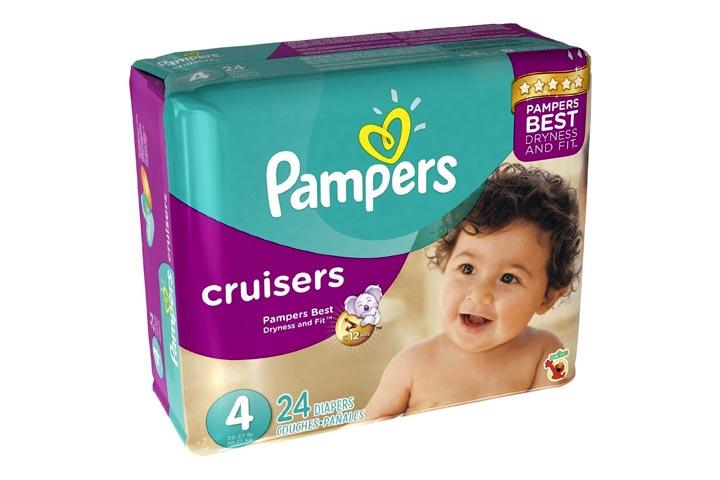 Buy  Pampers Cruisers For ₹ 2,686.00 @www.amazon.in/-pampers-cruisers
If you are a Pampers loyalist, then you can consider the Cruisers diapers for your active baby. These are the best diapers for babies who are 16 pounds and up. The diaper has three layers of absorption, which is incredible. It also provides a much better overnight protection than Pampers Swaddlers. It will be helpful because as your baby grows, he is more like to sleep for long stretches at night. And the last thing you would want is to wake him up for a diaper change. The blowouts and leakage are also rare with this diaper, because of the high absorbency. Its elastic contours nicely to the baby's thighs and bums. Do not expect feather-like softness from these diapers. Now this does not mean that it will give rashes to the baby. Very few mommies reported rashness with this product.
12. Luvs Ultra Leakguards: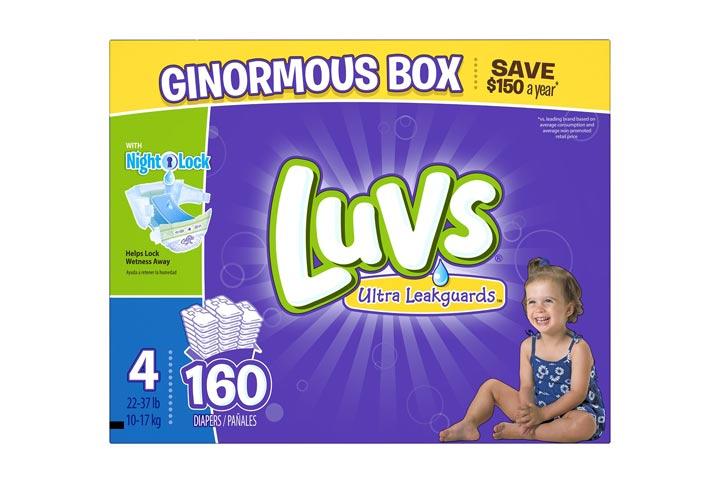 Buy Luvs Ultra Leakguards For ₹ 5,081.00 @www.amazon.in/-luvs-ultra-leakguards
If you are on a tight budget, then you can give Luvs diapers a whirl. This brand offers budget friendly diapers, without compromising on the quality. The Newborn sizes will fit babies from four to 10 pounds while their largest size will fit infants and toddlers heavier than 35 pounds. But Luvs Ultra Leakguards Diapers do not hold well overnight, so you may have to purchase a nighttime diaper for your child. Do you know that Luvs provide money back guaranty on its products?
13. Thirsties Duo Diaper: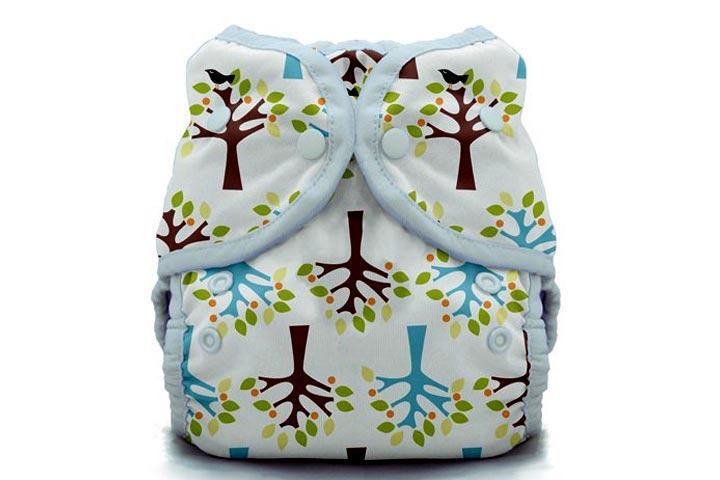 Buy Thirsties Duo Diaper For ₹ 1,816.00 @www.amazon.in/-thirsties-duo-diaper
The Thirsties Duo Diaper offers a wide range of features. Its adjustable sizing allows the diaper to get bigger with your child. Its absorbency power is also better than most of the cloth diapers. The company claims to pick just the highest quality fabrics for each of their diapers. These diapers also come in cute styles like strips and colorful dots. We liked the stripes one. What about you?
14. FuzziBunz: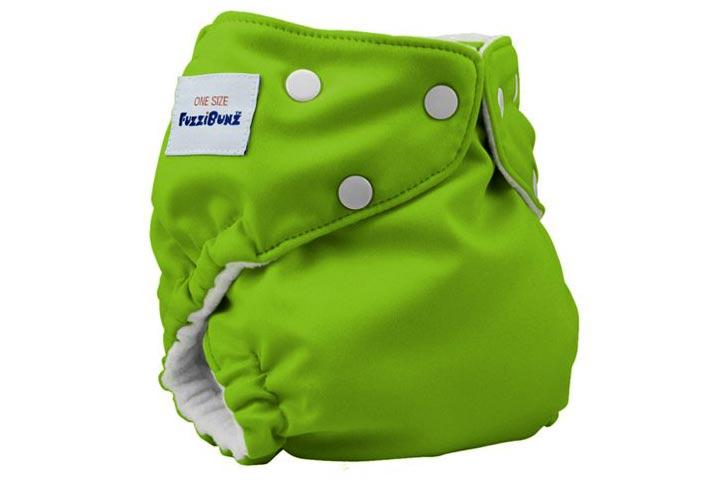 Buy FuzziBunz For ₹ 11,747.00 @www.amazon.in/-fuzzibunz
The unique feature of FuzziBunz is that it lets you customize the absorbency in your baby's diaper. It has a waterproof outer shell line with an inner micro fleece, which feels much more comfortable than traditional disposable diapers. The product has a small pocket, detached elastic, loose button and an incomplete backstitch. You can fill the pocket with anything that keeps your baby dry like a hand towel, one or a pre-folded diaper. The company also makes a One-Size version so that you can adjust it as your child grows. So this FuzziBunz diapers will make a nice investment for you.
15. BumGenius: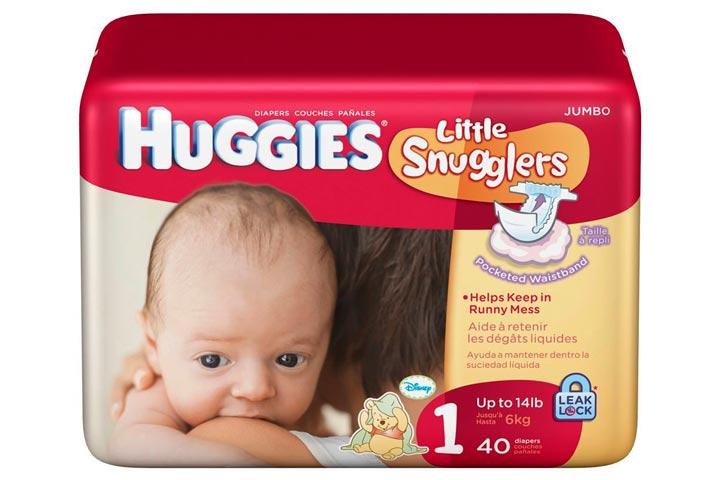 Buy BumGenius For ₹ 17,880.00 @www.amazon.in/-bumgenius
The bumGenius All in One cloth diaper has a pending butterfly closure system, which provides a trim fit. These one-size diapers fit babies weighing 9 to 35 pounds. The waterproof outer fabric will gently wick the moisture away from the baby's skin. And the semi-attached inserts are also easy to clean. One batch of bumGenius diapers will take your child through his toddlerhood. And will work even when you expand your family.
16. Nature Baby Care Diapers: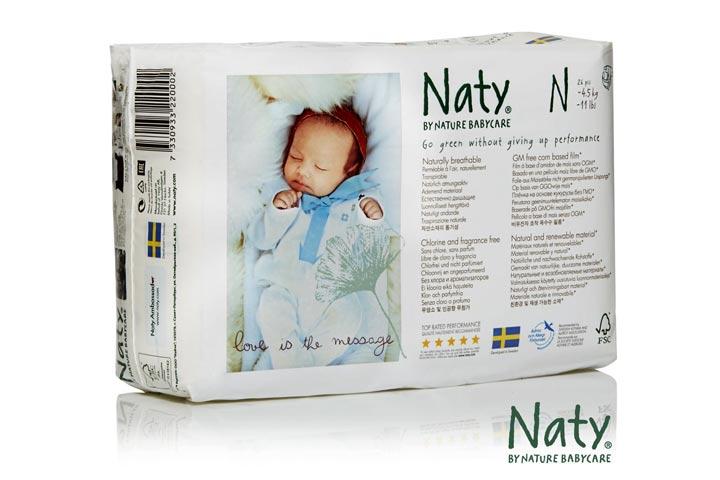 Buy Nature Baby Care Diapers For ₹ 5,825.00 @www.amazon.in/-nature-baby-care-diapers
If you are looking for diapers that are free from the chemical offenders in the other diapers, then you can go for Nature Baby Care Diapers. The brand sells six different sizes of diapers to take your child from his newborn days through the potty training. Nature Babycare also sells rash cream and nursing pad.
Selecting the best diaper can be overwhelming at first, but with a little learning, you will feel more confident in deciding which diaper to buy for your baby. You may also need to try a few brands of diapers before deciding which one will fit your child best. So don't fret. With time, everything will fall into place.
Which diaper did you choose for your baby? And what considerations did you keep in mind while buying diapers for your baby? Fellow moms would love to hear from you. Tell us below. Leave a comment in the comments section.
Recommended Articles:
The following two tabs change content below.