Are you planning to wean your baby soon? Have you started looking for healthy foods that will make a perfect new and introductory food for your infant? Is your baby over six months now and have you thought about including oats in her diet?
If you would like to know more about oats and when to introduce your little one to them, scroll down and read below.
When Can Babies Eat Oats?
Once your infant crosses the sixth month mark, you can start introducing her to new foods. While foods and vegetables often make it to the list, another healthy and nutrition rich food that can make a perfect first food is oats.
Health Benefits Of Oats For Babies:
Here is a quick look at some of the health benefits that oats offer:
Oats is a form of whole-grain food that retains the entire goodness of grains even after cooking.
Oats are rich in fiber. It is a great way to soothe your baby's digestive system and prevent any issues with constipation or bowel inconsistency.
A one-fourth cup of oats will provide almost eight percent of your baby's daily needs of iron. It will also provide almost 44 percent of your baby's daily nutritional need of magnesium and about 25 percent of your baby's daily requirement of zinc.
Once your baby is about six months old, it is important to start on solids to help provide your baby's growing needs of zinc and iron. Oats is the perfect food source to do just that.
Before You Introduce Oats, Remember:
As with any new food that you will introduce to your baby, it is important that you speak to your pediatrician and take a confirmation first.
Your baby's digestive system must be able to digest the new food that you will introduce. It is important that you wait for at least six months after birth before introducing solids to your baby. Till the sixth month, your baby should be fed exclusively on breast milk.
Introducing foods to your baby earlier than six months can cause allergies and even increase the risk of diarrhea.
Whenever you introduce food to your baby, check that your baby can hold up her head and know how to chew.
Types Of Oats You Can Feed Your Baby:
Here are the types of oats that you can safely buy for your baby:
Baby food oatmeal that is available in the ground form, almost like a rice cereal, and has to be mixed with milk, breast milk or water.
Regular oatmeal that has to be cooked and made into a puree like consistency that your baby can easily have.
Instant oatmeal that is already cut up and takes just a minute to be cooked.
Rolled oats oatmeal that has to be cooked in boiling water first for at least five to six minutes.
Steel cut oatmeal that is not easily found but is known to be the most delicious tasting of all oats types.
Make sure you do not buy flavored oats, as they contain added sugar.
Find few quick, delicious, healthy and filling oat recipes to introduce to your baby here
When did you introduce oats to your little one? Do you have a special recipe to share? Tell us below.
The following two tabs change content below.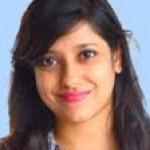 Latest posts by Debolina Raja (see all)