Are you a new mommy or a soon to be a mommy? Are you looking for best diaper bags that score on both function and fashion? Fret not, as we are here to answer all your questions.
Whether you are going for a day trip or to the grocery stores, you should always have plenty of diapers, pacifiers, changing pads, snacks, bibs, and bottles with you. But where do you carry all these things? It's here where a diaper bag will come handy! Read our post and find out about the cool diaper bags for your little one here.
What Is A Diaper Bag?
A diaper bag is a storage bag that is big enough to carry everything you need to take care of your baby. Diaper bags are no longer just utilitarian adjuncts. They are more of a status symbol now. Since celeb pregnancies are subjects of news covers, trendy diaper bags have become fashionable.
There are many different types of cute diaper bags for the convenience of mothers. There are designer bags that look very chic, but still keep the things organized. Other diaper bags are more neutral so that daddies don't mind carrying them when needed.
Things To Remember Before Buying A Diaper Bag:
Choose a diaper bag that is versatile and functional. Purchase a bag that fits your lifestyle and your baby's needs. A bag that befits your style is also necessary so that you can use it as a diaper bag during the afternoon and a handbag in the evening. Also, take into account the bags that can serve as a handbag or tote after your baby has grown out of it. Lastly, consider and examine everything carefully and make an intelligent decision.
Diaper bags are more of a subjective purchase. Some mothers prefer to use a large purse while some want something that even daddy and grandparents can carry. Some focus on the designer tag while some consider style. With so many options to choose from, it can get really confusing. To ease your bewilderment, we have compiled a list of 15 cute diaper bags for babies in no particular order.
1. Carter's 5-in-1 Diaper Bag: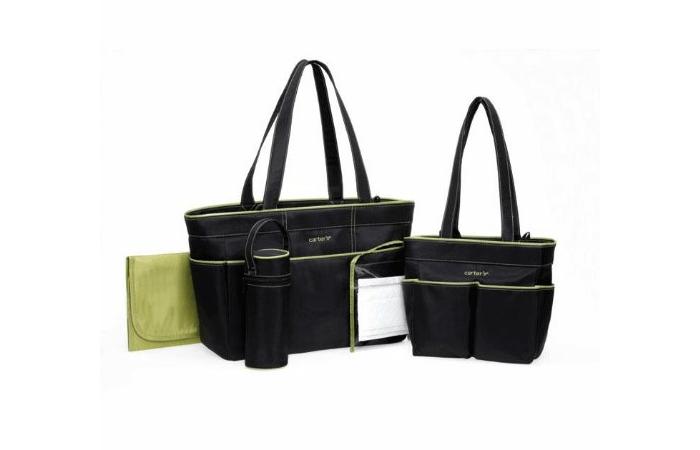 Buy Carter's 5-in-1 Diaper Bag @ www.amazon.in/carter's-5-in-1-diaper-bag
If you want a diaper bag that can double as a work tote, then you can go for JJ Cole Satchel Diaper Bag. Carter's 5-in-1 Diaper Bag is a versatile diaper bag. The set includes a large diaper bag, a mini diaper bag, a changing pad and accessory pouch. The larger tote is ideal for long outings and the smaller tote for quick trips. Both the bags feature exterior pockets.
[ Read: Best Designer Diaper Bags ]
2. Thirty-One Casual Cargo Purse: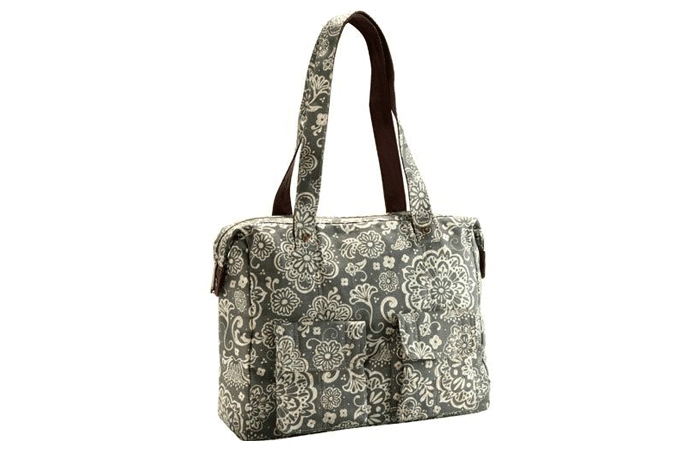 Thirty-One Casual Cargo Purse is a diaper bag with exterior pockets and a zipper closure. Every detail is taken care in this bag, something that we didn't see in most of the diaper bags. The diaper bag has enough options to make carrying less stressful for your body.
3. Storksak Bobby Bag: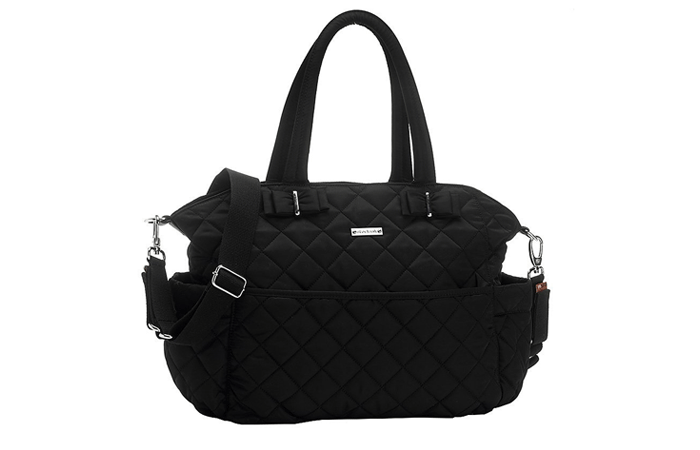 Buy Storksak Bobby Bag @ www.amazon.in/storksak-bobby-bag
The Storksak Bobby Bag is the most favorite bag from Storsak. The spacious bag features handles of quilted iron and a sleek silver-finished hardware. It boasts of eight compartments, a matching pacifier case, a changing mat and an insulated storage pouch for keeping wipes, bottles, and other things. It also features a Velcro handle that you can attach to a stroller for quick trips. Is there anything else that you could ask for?
[ Read: Baby Wipes ]
4. JJ Cole Collections Satchel: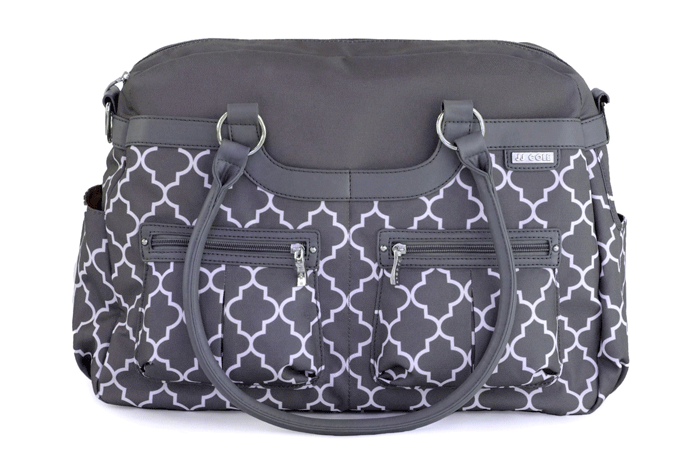 Buy JJ Cole Collections Satchel @ www.amazon.com/jj-cole-collections-satchel
Keep a track of your baby's necessities without compromising on style. With JJ Cole Collections Satchel, you wouldn't need to switch bags back and forth between work and family time. The spacious interior of the JJ Cole's bag has multiple compartments to organize your baby's stuff. The multipurpose satchel has seven exterior pockets and four interior pockets. So literally, there is a place for everything in the bag. Like most of the diaper bags, JJ Cole Collections Satchel has a removable padded shoulder strap and stroller attachments for hands- free moments.
5. Ju-Ju-Be Be Prepared Bag: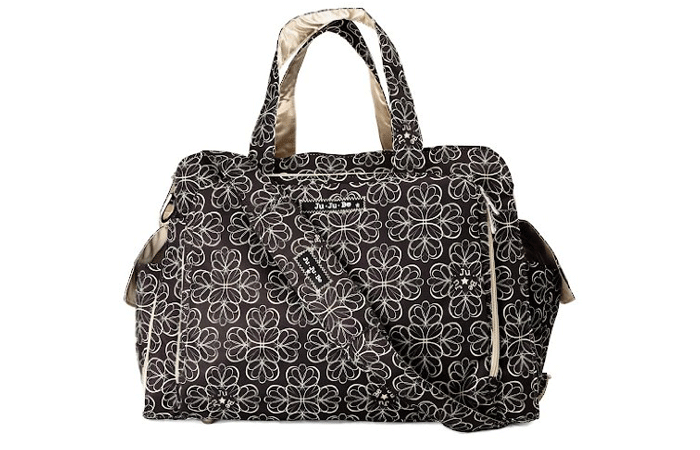 Buy Ju-Ju-Be Be Prepared Bag @ www.amazon.in/ju-ju-be-be-prepared-bag
Do you like to pack more than a set of diapers? Are you looking for a diaper bag that is perfect for overnight trips? The Ju-Ju-Be Be Prepared Bag is the one for you. It has a stain-resistant Teflon material and an antimicrobial lining. You can fill the roomy bag with anything, and it will handle it. The bag also has color-coded tabs that will help you differentiate between the kids. The Ju-Ju-Be Be Prepared Bag is ideal for a plane and overnight trips and mom with twins or triplets. What more! It comes in 13 different prints! We're sure you will find at least one, according to your liking.
[ Read: Best Potty Seats For Babies ]
6. The Nanny Diaper Bag: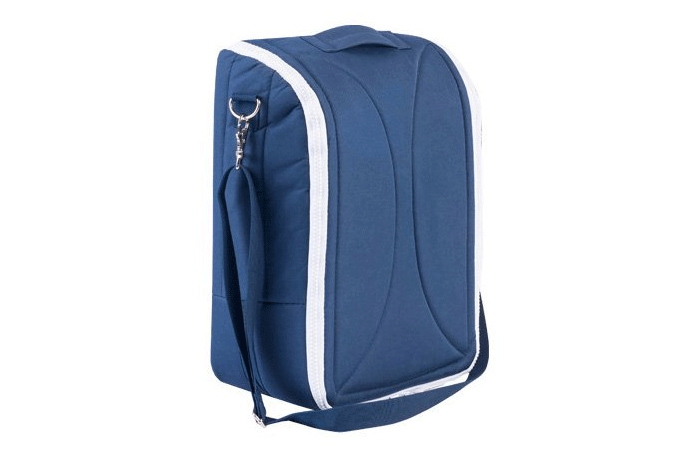 Buy The Nanny Diaper Bag @ www.amazon.in/the-nanny-diaper-bag
Do you want a diaper bag with star-power? Then you can go for the Nanny Diaper Bag by Jamah. Celebs like Jessica Alba and Kale Winslet are popular owners of this bag. The bag features a front pockets, two side bottle pockets, and two back pockets. The diaper bag makes it easy to find things. It has light colored linings with a zipped main compartment. The water-resistant material makes it easy to clean with water and soap. The bag is neutral enough design-wise for dads to carry comfortably. Even the celeb daddies, including Brad Pitt did not shy from flaunting this dapper Italian leather bag.
7. Mia Bossi Audrey: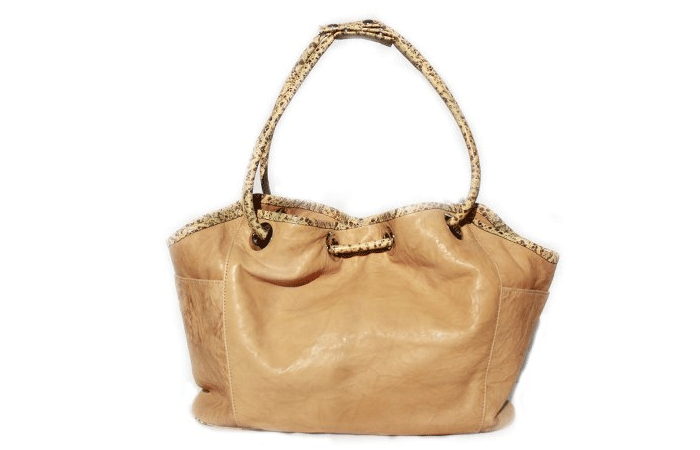 Buy Mia Bossi Audrey @ www.amazon.in/mia-bossi-audrey
These bags are the most gorgeous diaper bags that you will come across. It is perfect for organizing everything in one place. Mia Bossi Audrey features a changing pad, zip in and zip out lining, diaper holder, baby wipe holder, two interior and exterior bottle holders, and private zippered pockets for storing your personal belongings. The straps are adjustable, making it easier to attach to the stroller. The bag doubles up as a laptop case, purse and a handbag for everyday use. And it's J Lo's favorite too!
8. Maria Black Bean Diaper Bag: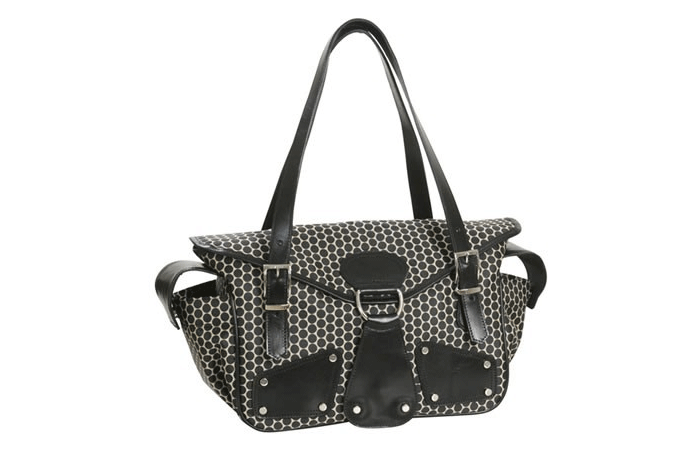 The Maria Black Bean Diaper Bag has a star following. Celeb mommies like Tori Spelling, Katie Holmes, Kate Hudson and Madonna worship this genuine Italian leather diaper bag. The dotted canvas trimmed with Italian leather and the polished nickel hardware gives it an incredible look. The bag will last for many years. So it will make a cost-effective purchase than buying a cheap bag in the beginning and then going through the multiple bags.
[ Read: Baby Changing Tables ]
9. MZ Wallace Kate: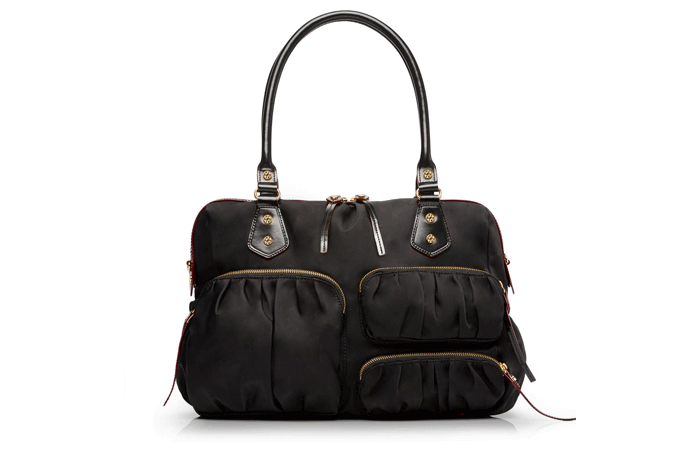 The MZ Wallace Kate is a lightweight diaper bag made of weightless, style resistant nylon. It has three detachable zippered pouches inside to store your baby's things. The black details, elegant print and silver hardware will go well with your skirt, trouser, and collared shirts. At 20 by 13 inches, the bag has enough room for your stuff also. The cost is slightly on the higher side, which can be a deal breaker for some. But the quality of the bag makes it worth it. The metal hardware in unlikely to be stuck and the Teflon protective will make the bag last longer.
10. Jeep Perfect Pockets Back Pack: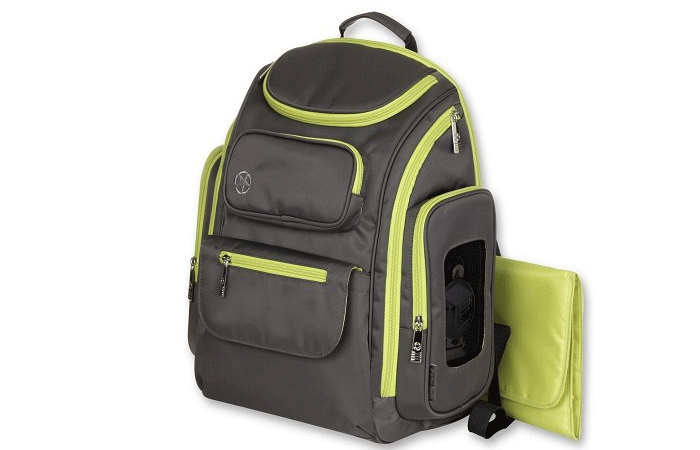 Buy Jeep Perfect Pockets Back Pack For ₹ 5,659.00 @ www.amazon.in/jeep-perfect-pockets-back-pack
If you are looking for a diaper bag that has great storage capabilities, then we think you will love Jeep Perfect Pockets Bag Pack. The bag is not as versatile and you can wear it only as a bag pack. But the padded straps are very comfortable. It doesn't have the unique features that we mentioned in most of the baby diaper bags, but it does have some cool features like the pop-open wipe case on the side of the bag. So you no longer have to dig the bag to grab a wipe. There is also an attached wet bag to keep the soggy items. There is also a compartment for holding snacks, stroller loops, and insulated bottle pocket. The bag size is perfect for both mom and dad.
11. Ju-Ju-Be B.F.F. Convertible Diaper Bag:
Buy Ju-Ju-Be BFF Convertible Diaper Bag @ www.amazon.in/ju-ju-be-bff-convertible-diaper-bag
Ju-Ju-Be B.F.F. Convertible Diaper Bag is one of the best diaper bags that you can buy. The bag has terrific features you wouldn't find in just one bag anywhere else. First and foremost, the bag has storage galore, something that is critical in a diaper bag. There are so many slots, pockets and zippered compartments that you will run out of ideas for what to put in them. There are a lined cell phone pocket, sunglass pocket, and a key fob to name a few unique details. The material of the sunglass pocket will help keep your shades clean. The key holder in the "mommy pocket" is stretchable, which will come handy while you are trying to unlock the door while holding the baby. Another great feature of the bag is how comfortable it is to carry. This one is surely a winner, hands down.
[ Read: Cloth Diapers For Babies ]
12. Okkatots Baby Depot Diaper Bag Backpack: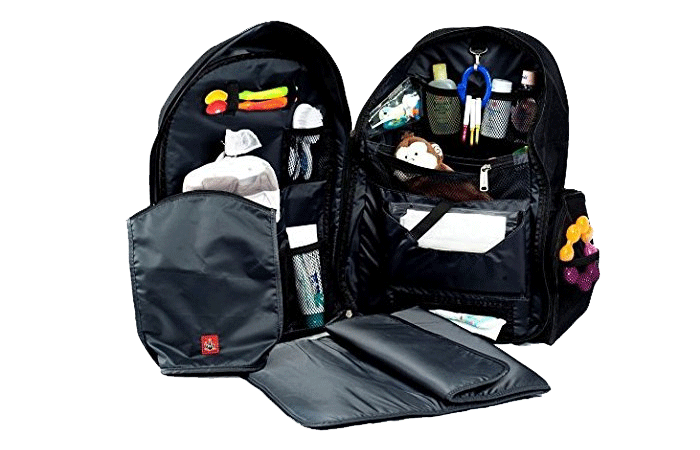 Buy Okkatots Baby Depot Diaper Bag Backpack @ www.amazon.in/okkatots-baby-depot-diaper-bag-backpack
When you are going for a long or short trip, you will need a lot more for your littlest one, like more toys, more snacks and most importantly, more diapers. Okkatots Travel Depot Diaper Bag is a mega diaper bag that can hold 18 diapers, has a pocket that can hold a DVD player for your baby's entertainment and a removable wipes dispenser. It also has a waterproof pouch that can hold soiled wipes or foods. The design and size of the bag make it ideal for both moms and dads. There is also a cell phone pocket for easy access while you are wearing the bag pack.
13. Ramalama Stevie Scarlet Diaper Bag: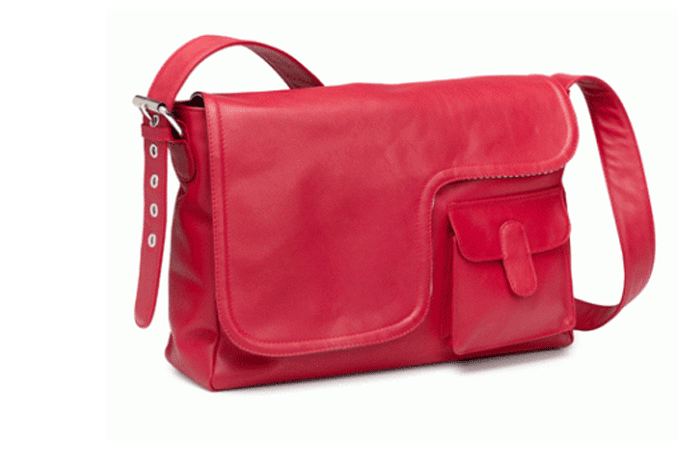 From the outside, the Ramalama Stevie Scarlet Diaper Bag looks just like an ordinary shoulder bag. No one will know that that the two large pockets are storing diaper and wipes. The price is slightly on the steeper side, The brand uses authentic, oh-so-soft Italian leather for making the bag. The brand also provides warranty and will replace the broken parts and even the bags with defects within six months of the date of purchase.
[ Read: Best Diaper Pails For Babies ]
14. Skip Hop Duo Double Hold-It-All Diaper Bag: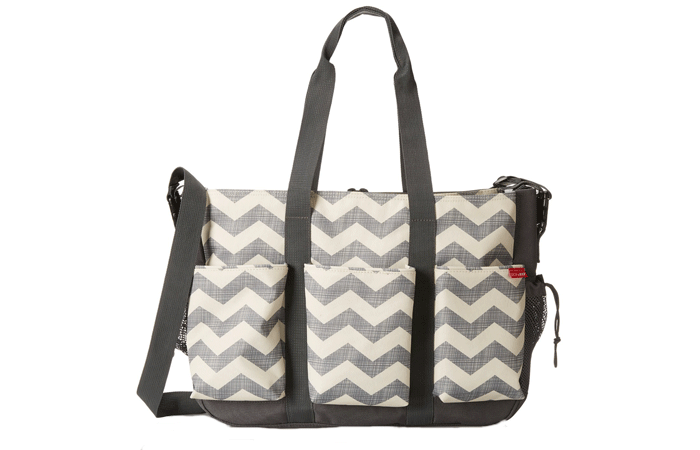 Buy Skip Hop Duo Double Hold-It-All Diaper Bag @ www.amazon.in/skip-hop-duo-double-hold-it-all-diaper-bag
Are you a mother of twins or triplets? Then you need a diaper bag weighed down with baby supplies. The Skip Hop Duo Double is the one that comes to our minds. The bag has not 1 or 2, but 16 pockets that can house all you must haves for your little ones. It has a cell phone pocket so that you don't lose touch with the rest of the world amongst the many binkies, snacks, and diapers. Besides, the bag also fits across as a stroller, solving the puzzle of what to do with your diaper bag.
15. Skip Hop Soho Cross-Body Diaper Clutch: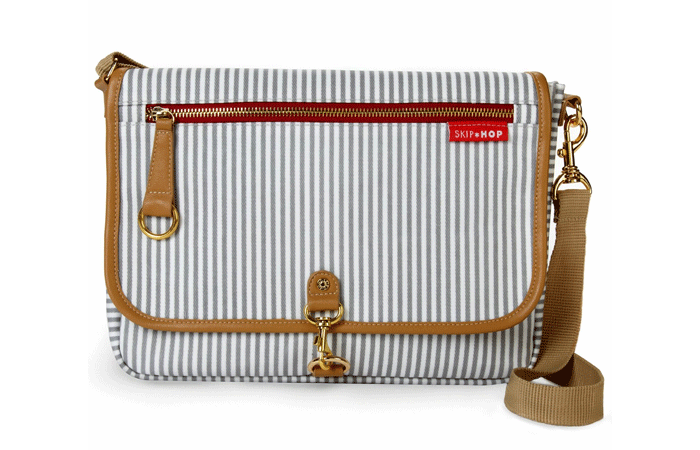 Buy Skip Hop Soho Cross-Body Diaper Clutch @ www.amazon.in/skip-hop-soho-cross-body-diaper-clutch
Are you the mom who prefers to leave the extras in the car or home and step out with small necessities? Then we recommend Skip Hop Soho Cross-Body Diaper Clutch to you. Skip Hop Soho Cross-Body Diaper Clutch is a chic cross-body bag with pockets to hold ointment, wipes, diapers, keys and your phone; just the essentials! The laminated and waterproof fabric will resist dirt and spills. It also includes the padded changing pad and the wipe case. The clutch will also fit well into your diaper bag.
These stylish and affordable diaper bags do not scream that they have diapers and bags inside. They are versatile enough to meet a growing child's need, and they are durable enough to use when your child no longer needs diapers.
Did you like any of these baby diaper bags? Which one did you like the most? Please tell us by commenting below.
Recommended Articles:
The following two tabs change content below.