Are you looking for a multi-functional stroller for your baby? Do you feel confused about the myriad of choices? If you found yourself nodding along, you might want to read our post here.
When you welcome your littlest member in your family, you have to consider many things before making a new purchase, whether you are buying a diaper or a stroller. Most parents find it confusing, as there are so many to choose from, the new releases every year can be quite baffling. So which stroller will give my baby the sweetest ride? Well, you need to invest time in deciding what you need before you buy a baby stroller.
Things To Consider Before Buying Strollers For Babies:
The best strollers are the ones that keep your baby safe and comfortable, whether you are flying around the world or taking a walk in the park. Here are some factors that you need to keep in mind while purchasing the best stroller for baby.
1. Safety:
Safety is the most significant factor to consider while purchasing a stroller. Check the stroller's stability before buying. Your selected stroller must have a restraint to keep your child secure. It should also have at least one parking brake. Most important, the release mechanism should not be accessible to the child.
[ Read: Tips To Choose The Right Stroller For Babies ]
2. Budget:
Before you even enter a stroller showroom, decide on the budget and try to stick to it, as much as possible. Purchase a stroller that will grow with your baby, even if it's pricey. It will be worth the splurge.
3. Purpose:
If you are an active person who runs and walks with your baby, then purchase a stroller that is suitable for all terrains. If you want something to keep in the back of the car, then you can invest in an umbrella stroller.
Finding a perfect stroller for your baby can be a daunting task, considering the varieties of attributes that many strollers now feature. To help you, we have compiled a list of 15 of our favorite and top baby strollers for toddlers and infants. So be prepared to rock 'n' stroll!
Top 15 Best Baby Strollers:
1. 4moms Origami Stroller: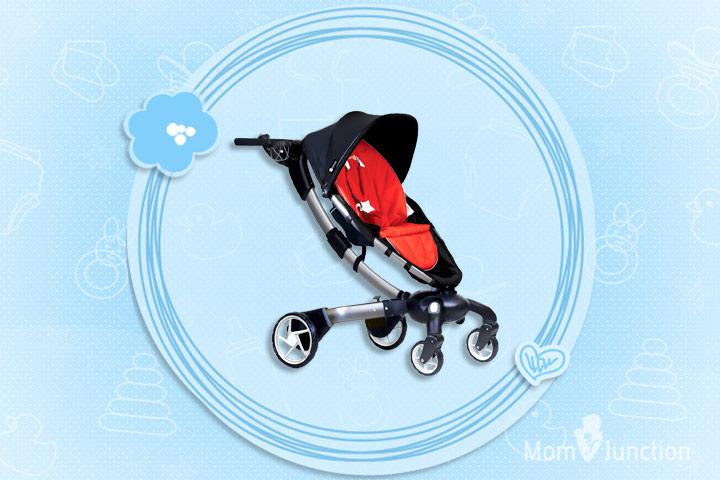 The 4moms Origami is the stroller for tech savvy mommies. It is the first power-folding stroller ever. It collapses with just a push of a button. The stroller has running lights and an LCD screen that will tell you the speed, temperature and the distance traveled. You can charge your phone with it, as it has a built-in generator. In low-light conditions, the inbuilt sensor will detect when your child is in the seat. The adjustable handlebar allows parents of all heights to use the stroller comfortably.
[ Read: Best Rocking Chairs for Babies ]
2. Mountain Buggy Nano: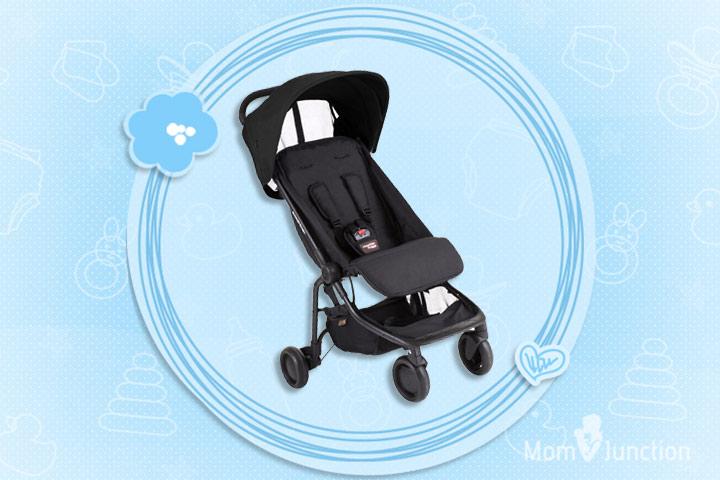 The Mountain Buggy Nano is one of the best lightweight strollers in our opinion. At 13 pounds, you can take it just about anywhere you go. It folds small enough to fit in an airplane overhead compartment. It also includes a shoulder strap for hands-free carrying. You can hold your child in one hand and fold the stroller with the other. Or just attach the stroller to your car and you're good to go. You can also consider Mountain Buddy Cosmopolitan Stroller. It is a bit expensive than Nano but is worth every penny.
3. Graco LiteRider Stroller: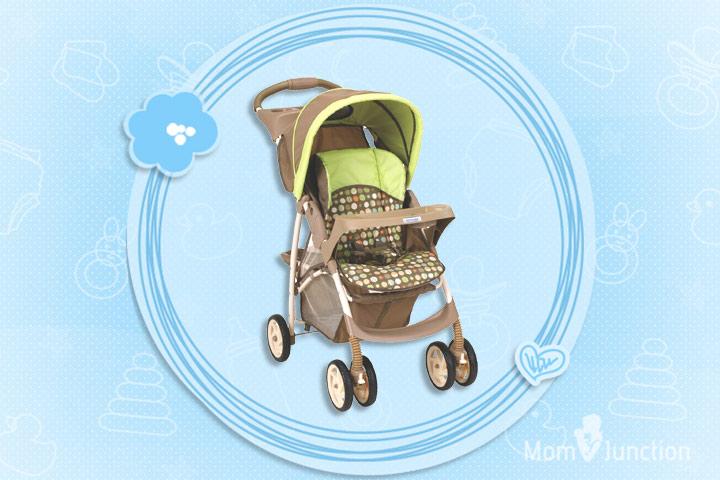 Yes, the Graco LiteRider Stroller isn't the fanciest of all the strollers, but we still love everything about it. It is a perfect everyday stroller. It has many thoughtful details, including a small footprint. We love its one-hand folding feature. It has minimal maneuverability and rides smoothly, both of which are amazing for a stroller. Even the basket is huge enough to house a large diaper bag and a few bags of groceries. It is quite affordable! The Graco LiteRider is perfect for kids up to 40 pounds.
4. Chicco Bravo Stroller: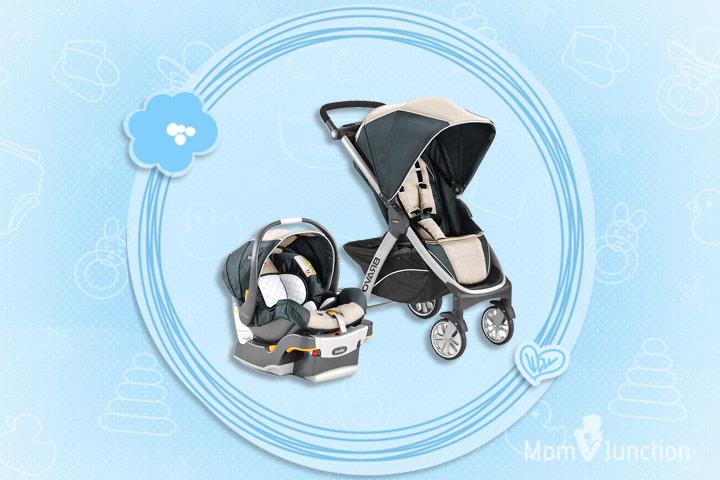 Chicco Bravo Stroller is a great mid-range stroller. It is a versatile and compact stroller with a superb fold mechanism and user-friendly recline. The pull-handle could not be easier. You can handle this job with a baby on your hip. It also has a terrific balance to stand on its own. The pinch-release seat does not recline fully. It sits straight upright, which is a great feature for toddlers who like to look around. You can reinstall the seat without even looking at the instructions. But the catch is that it is not an all-terrain stroller, and it takes two hands to push. Leaving these things side, we feel that Chicco Bravo is a great stroller.
[ Read: Play Yards For Babies ]
5. Baby Jogger City Mini: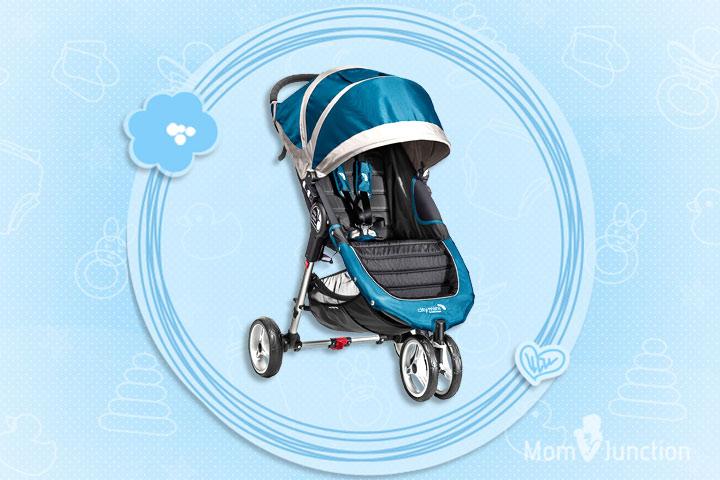 The City Mini is one of the most popular standard strollers with mommies, and it's pretty clear why. It maneuvers and steers like a dream, even on uneven terrain. One feature we loved is its wide SPF-50 sunshade. The stroller is also easy to fold. You fold it while holding your restless baby. You can also use the infant car-seat adapter to transfer it into a travel system. It is compatible with many different car seats. The stroller is available in a variety of snazzy colors. But despite its claim, the City Mini Jogger is not ideal for jogging.
6. Britax B-Agile: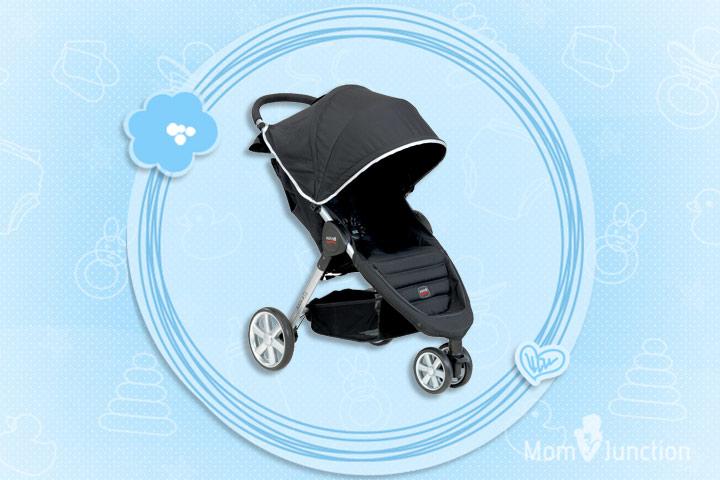 The Britax B-Agile Stroller is another great lightweight and collapsible stroller designed to last your kid from birth through kindergarten. The stroller has many thoughtful features that you would expect from the brand Britax. It has sturdy buckles that prevent your toddler from slipping and a harness that is easy to adjust. The little extras in the stroller will also make your life easier. It has a storage pouch on the back that is big enough to hold your child's diapers, blankets, and a package of wipes. The carrying strap at the center makes it easier to fold and throw it in the trunk. The best feature of this stroller is its maneuverability. It glides on the road and hardly ever disturbs your baby's nap.
7. BOB Motion: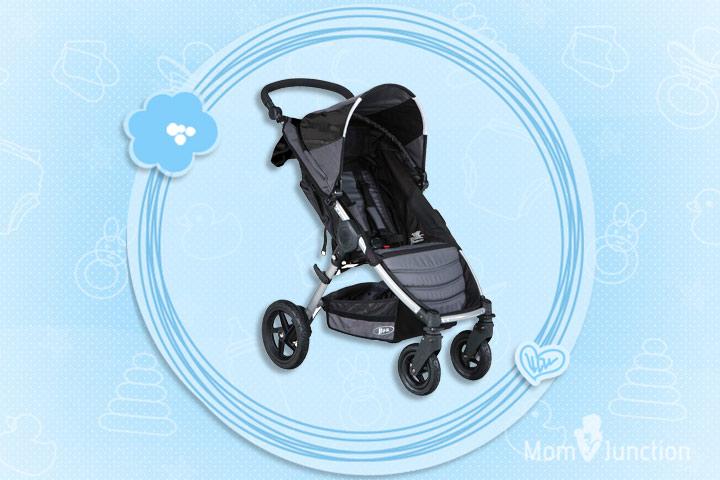 As the name suggests, this stroller is perfect for on-the-go mommies. After years of efforts on jogger strollers, it is BOB's first ever four-wheeler that is compact, lightweight, durable with plenty of storage space. The state of the art suspension system will give your child a smooth ride while you sweat it out. The comfortable, recline seat with a five-point harness will keep your baby safe and secure. You can quickly assemble and collapse the stroller while you are on the move. We also loved the roomy seat, adjustable handlebar and the canopy on this stroller.
[ Read: Beautiful Cribs For Babies ]
8. Britax Affinity: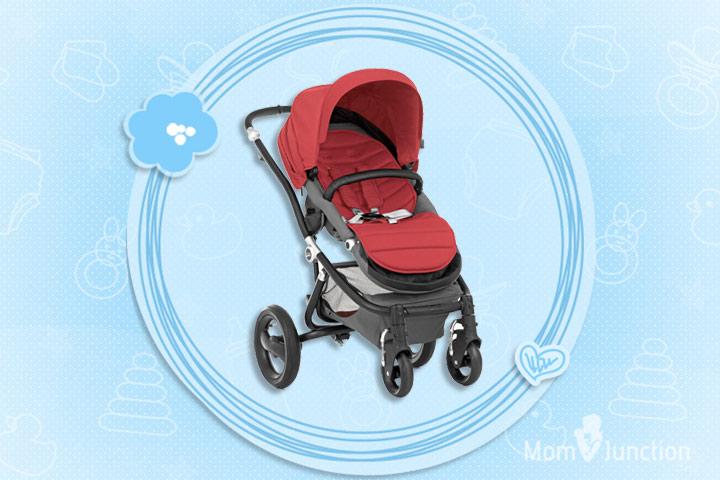 The Britax Affinity combines fashion and function to give you a stroller that is supremely modern and sleek. You can build a customized stroller unique to your family by selecting from 18 different fabrics and frame combinations. Each stroller has shoulder and buckle pads, canopy, a washable padded seat liner and a basket liner. The cool color packs make Britax Affinity a fashion-forward stroller.
9. Bugaboo Donkey: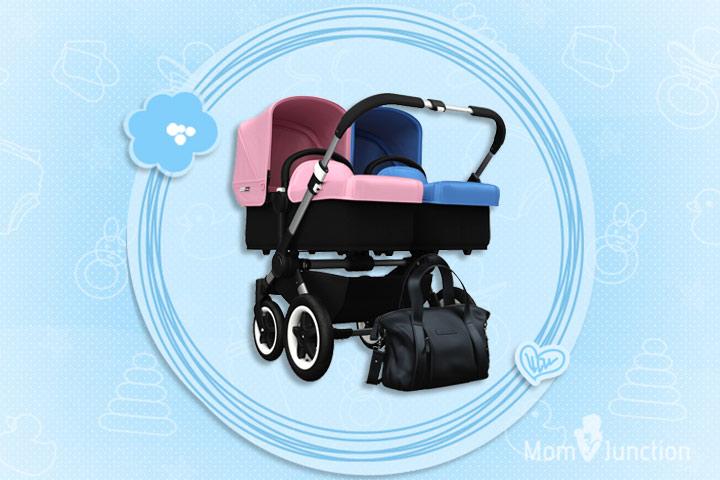 Are you a mother of twins? Then Bugaboo Donkey stroller should be the one for you. The Bugaboo Donkey is best in versatility. It can the convert from mono to duo, making it ideal for kids of varying ages to twins of the same ages. The new, extendable sun canopy will provide ample sun protection to your child. Features like all-terrain tires and adjustable handle make it easy to maneuver. The stroller is available in trendy colors like soft pink and ice blue. The fresh color tones brighten up the equipment. But, the Bugaboo Donkey stroller is very expensive. Consider it only if you are easy on the budget.
10. Mamas and Papas Armadillo: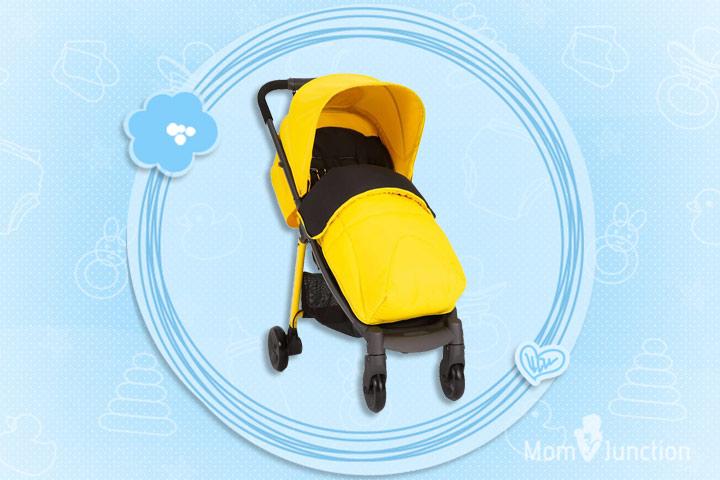 This one is one of our favorite strollers. The lightweight, modern looking stroller created a big splash in the stroller industry within a few days of its launch. The stroller weighs just 17 pounds! Isn't that amazing! It has the capability to convert into a travel system. Mamas and Papas Armadillo Stroller has many luxury features like a large basket, an adjustable leg rest, one hand recline and an all-wheel suspension. We loved the one-hand compact fold feature. The seat can accommodate a child up t0 50 pounds.
11. Bumbleride Indie: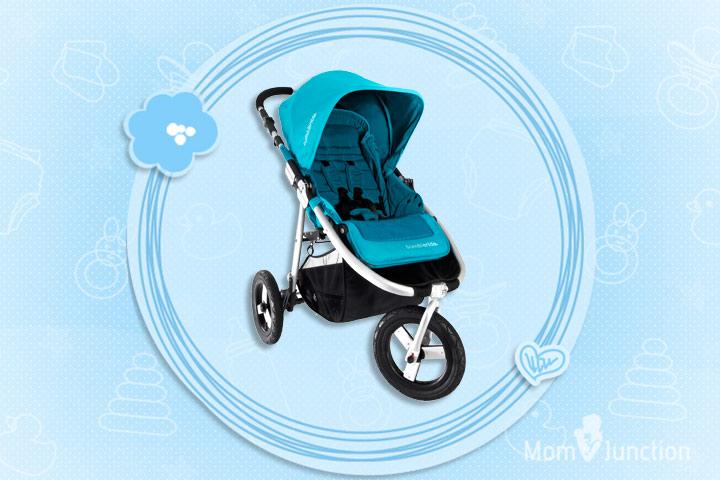 At just 20 pounds, the Bumbleride Indie, is one of the lightest jogging strollers with a wide range of features. It has user-friendly features like a huge canopy, adjustable handlebar, a deep recline, easy to access basket and an adjustable footrest. The eco-friendly seat made with bamboo-nylon fabric is very easy to clean. Its air-filled terrain tires will tackle any terrain, providing a smooth ride with your child. The travel system feature will convert the stroller into a pram. However, you need to purchase an additional bassinet for that. The seat will accommodate a child up to 45 pounds.
[ Read: Best Bouncers For Babies ]
12. UPPAbaby Vista: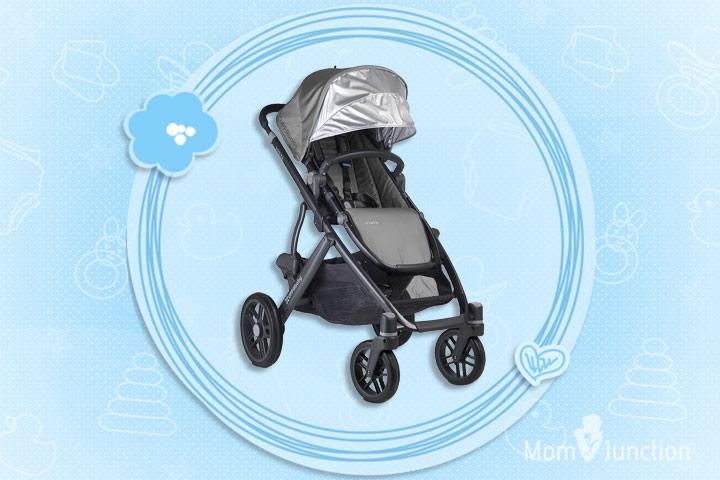 The UPPAbaby Vista is one of the coolest strollers you can get for your baby. It has a matching bassinet that allows you to convert the stroller into a fashionable pram. The stroller is full of great features like a canopy with a hidden sun visor, a large basket, adjustable footrest, reversible seat, and wheel with wheel suspension and a one-step fold. The stroller weighs 27 pounds, which is not bad for a reversible stroller. The stroller has a matching rain cover, mosquito net, bassinet, and bassinet storage bag.
13. Joovy Qool: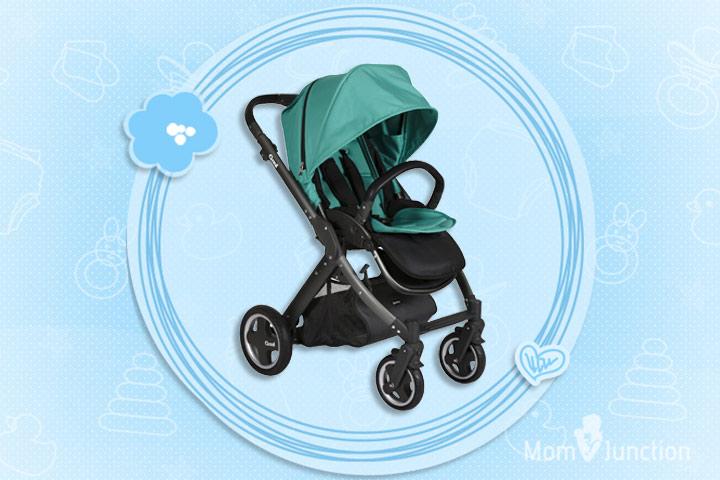 The Qool is one of the most luxurious strollers from Joovy. The stroller had people flocking to buy it right after it hit the market. The super soft insert in the sea feels almost like memory foam. The handlebar and bumper bar is covered with high-quality leather. The high-tech wheels will prove a smooth ride to your baby. The stroll has a five-point harness and a flip-flop friendly brake. And the maneuverability is fantastic! The Joovy Qool is available is ten amazing colors, but we prefer the avocado color.
14. Contours Bliss 4 in 1: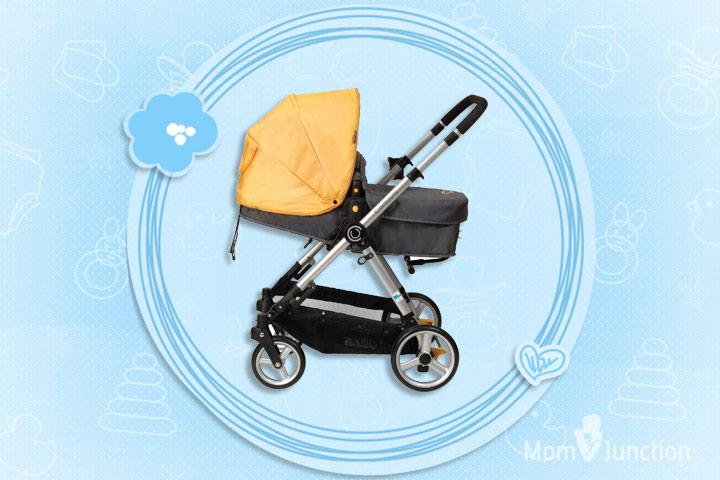 Here is an awesome all rounder stroller for you. The stroller converts to an infant car seat, to a carrycot, to a pram. How great is that? The seat is not just reversible but is also spacious. All you need to do is reverse it. Wow! The stroller also has a huge canopy and a large basket. There is a cup holder, infant car seat adapter compatible with over 20 car seats, and a swing-away bumper bar. Contours Bliss 4 in 1 is perfect for your urban lifestyle!
[ Read: Bassinets For Babies ]
15. Peg Perego Book Plus: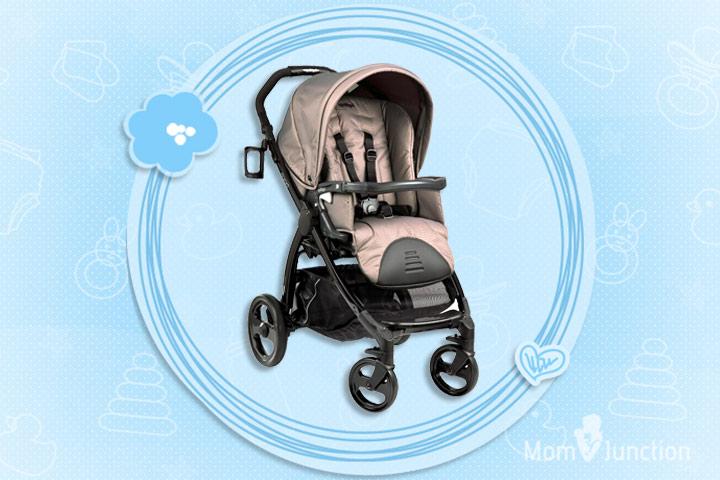 Last, but not the least is Peg Perego Book Plus. It stole our heart with its adjustable footrest, adjustable handlebar, all wheel suspension, roomy space, and reversible and deep recline. The included foot muff will create a bassinet like an environment for the newborn. It sports a rain cover, bumper bar, footmuff and a cup holder. The brand has discontinued the product, but it is still available on some online stores. If you come across it, don't pass up the chance to buy it, it's just perfect for your little one.
There are hundreds of cute baby strollers in the market, but we liked these 15 the most. Pick one that you think will suit you and your baby's lifestyle best. Remember, babies spend a relatively short time in strollers, so make sure that he enjoys it while lasts.
Which stroller did you buy for your baby? Was it anyone of the list of best strollers for baby above? Did the stroller live up to your expectation? Share your experience in the comments section below. Fellow mommies would love to hear from you.
Recommended Articles:
The following two tabs change content below.