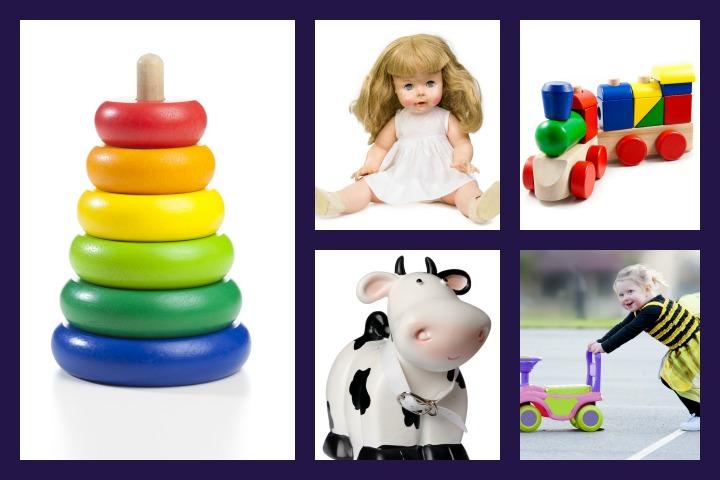 Congratulations! From a newborn snuggled in your arms, your little one is now about to turn a year old. This surely calls for a big celebration, right?
Most babies, when they reach the first birthday, can start to or are able to move around more and understand their surroundings better. Your baby is probably already crawling, laughing and smiling, and even trying to walk! Or maybe your baby is trying to do one or some of these activities.
At this age, your baby's development will be quite fast, both physically and mentally. This makes it the perfect time to get gifts that your baby will love, and that will also help him or her in the various developments.
Top 10 Gifts For 1 Year Old Baby (Girl And Boy):

Toys are not just meant for playing. They are also a great way for your little one to learn. You must consider gifts that will help your baby to develop his/her large and fine motor skills, language and vocabulary.
[ Read: 1st Birthday Cakes ]
Here are some exciting gifts for one year baby:
Gifts For A Baby Boy:

While selecting gifts and toys for a baby boy, you can choose from cars to stacking toys to balls and blocks and even popular dolls.
Some popular gift ideas for your baby boy are:
1. Chomp & Clack Alligator Push Toy:

By this age, your child has probably started, or is trying to crawl and can sit by himself. In a few months, your baby will try and stand on his own.
This toy would be fun as it will help him develop motor skills.
It will also help your little boy understand the relation between cause and effect in a very baby friendly way.
This push toy will enhance agility, balance and also promote body exercise.
This toy is crafted in select hardwood and is painted in striking colors.
Your kid will enjoy alligators munch and make sound as they move along over non-skid wheels.
2. Brio Magnetic Wooden Blocks:

Blocks are always a great toy idea for children this age. These brightly colored wooden blocks come with built-in magnets that make them split with cracking sound.
Your kid will enjoy stacking them up
This helps develop his hand and eye coordination.
The set comes with six blocks and two balls.
Once the constructor is ready, why not break it up and begin again to have more fun!
3. Happy Hopperz White Cow:
A ride on toy is a great way to help your child get the confidence to walk.
This amazing ride-on toy is only 12 inches off the ground.
It helps enhance advanced coordination and development.
Your little boy can hang onto the cow's ears while bouncing and its feet will hold the bounce steady.
Bouncing on a cow will be a lot of fun for your little baby.
This toy can be used anywhere and is an impressive way to let off baby's energy!
4. First Tooth And First Curl Trinket Set:
This is a beautiful set which you can present to your baby as a christening gift.
It comes with a set of two trinket boxes to conserve your child's memories.
There is a small birdie and bee buzzing around at the base of each pot.
The first curl lid is decorated with a valiant lion guarding your baby's curl inside
The first tooth lid comes with an elephant with striped ears.
5. Rubbabu F1 Racing Car:
This is a great gift as a first toy car for your little baby boy.
This Formula 1 racing car is hand crafted with molded natural rubber foam.
It is brightly colored, tangible and in a safe shape that your kid will love to play with.
This bendable car is quite durable and strong and is suitable for your baby from birth onwards.

Gifts For A Baby Girl:
Girls of all age love to play with dolls, but make sure you give your little girl some other interesting toys too!
Some interesting gift ideas for your one year old baby girl are:
6. Brianna Doll:

This doll will be perfect gift for one year baby girl.
This adorable doll is super soft and your little baby girl can hold it perfectly with her delicate hands.
Brianna doll has her eyes open and close with brilliant brunette hair.
It comes with removable outfit that features attractive embroidery.
This little doll can suck her thumb or go on her pacifier that comes included with the set, can sit up or lie down.
This is the perfect first doll for your little darling.
[ Read: 1st Birthday Party Ideas ]
7. Pretty Purse Fill And Spill:
This is a great gift for one year baby as it is safe, versatile and amazing for learning.
This soft set comes with many little accessories.
It has a mobile phone that chimes, a small purse with coins, a key ring with keys, and a compact set with a mirror that is safe for kids.
This little set helps encourage your little girl to play while experimenting with cause and effect.
It helps in the development of her motor skills.
8. Sparkling Princess Enchanted Castle:
This is a Mega block safe hideaway for your little princess as she explores her magical powers.
The set comes with two spinning dance floors, one over the bridge and other underneath.
This enchanting castle is perfect for your little princess and all princess lovers in the family, including an older sibling.
It is a great source of inspiration and helps your little princess to explore her creative side.
9. Take-Along Shape Sorter Baby And Toddler Toy:
This toy is an on-the-go activity center along with a shape sorter.
The set comes with nine shapes and a soft carrying case.
Your little girl can match the shapes, identify the pictures and drop the blocks through the sorter.
This toddler friendly game can be played independently by your baby or can be enjoyed together.
It helps make learning a fun filled activity.
10. Rainbow Stacker:
This is a classic toy which every toddler should possess.
It contains all the colors of a spectrum V-I-B-G-Y-O-R.
This set comes with eight glossy, easy to hold, round wooden pieces which have to be stacked on a solid wooden base.
Your baby girl will enjoy taking them off and putting them again on the stacker
.
This toy will help your baby develop motor skills and hand-eye coordination along with differentiation of colors.
These were a few gift ideas for a one year old baby. As your baby turns one, he or she will enjoy playing with toys and will learn other activities while playing. Along with the toys discussed in the above list, do not forget to get some nice story books too to help develop their listening and speaking skills.
Always remember that play time should also be supervised time, so make the most of your and baby's play time with these interesting gift ideas!
Share your fantastic ideas on gifts for 1 year old baby with us:
Recommended Articles:
The following two tabs change content below.