Does your toddler always kick up a fuss while eating? Are you at your wits' end trying to get him to eat? Are you looking for some new recipes that will make breakfast time easier and fuss-free?
A great way to get your toddler interested in food is by cooking some simple yet fun recipes. Breakfast is undoubtedly the most important meal of the day. Make it fun with these recipes.
Here, we list some brilliant breakfast ideas for toddlers:
1. Toasted Egg Smiles:
You Will Need:
Bread slices
Egg
Milk
Cheese slices
How To:
Cut out two circles from the bread slice for the eyes and a longer piece for the mouth.
Heat a pan, butter one side of a bread slice and lay it on the pan with the buttered side down.
Whisk some eggs and milk in a bowl.
Pour the egg mix over the bread.
Let it cook until the egg settles and shows through the eyes and mouth on the bread slice.
Once the egg cooks, place some cheese slices over it to make some hair.
Let the cheese melt. The breakfast ideas for toddlers cannot be simpler.
[ Read: Nutritious Snacks For Toddlers ]
2. Delicious Potato Breakfast:
You Will Need:
Grated potatoes
Butter
Milk
Eggs
Meat slice of choice (optional)
Salt and pepper
Grated cheese
How To:
Melt some butter in a pan. Now add the potatoes and cook until they become tender.
Whisk some eggs and milk. Now add they fried potatoes, meat slice and egg-milk mixture to the pan.
Cook until the egg sets.
Sprinkle with cheese.The toddler breakfast ideas are just amazing.
[ Read: Delicious Vegetable Recipes For Toddlers ]
3. Applesauce Pancakes:
You Will Need:
Flour
Salt
Baking powder
Melted butter
Beaten egg
Vanilla
Applesauce 
How To:
Mix the flour, salt and baking powder.
Now add the butter and beaten egg.
Add vanilla and applesauce.
Heat and grease a griddle.
As the griddle heats up, add the pancake mix to the griddle and cook.
[ Read: Healthy Foods For Your Toddler ]
4. Cake Batter Smoothies:
You Will Need:
Vanilla Greek yogurt
Vanilla flavored unsweetened almond milk
Dry cake mix
Frozen banana
Rainbow sprinkles for topping
How To:
Add everything except rainbow sprinkles in a blender and blend to a smoothie.
Pour into a glass and add the sprinkles.
5. Apple Breakfast Bars:
You Will Need:
Quick rolled oats
Whole wheat flour
Chopped dates, walnuts
Sea salt
Orange juice
Shredded apples
Baking Dish
How To:
Mix all ingredients and keep them aside for ten minutes. Press it into a baking dish and bake until the mixture turns light brown.
Loosen it out and cut into small bars.
6. Soup And Toast:
You Will Need:
Vanilla yogurt
Honey
Banana cubes
Peaches
Wheat germ
Blended avocado
Cheese
Whole grain bread slice
How To:
Blend all ingredients together and top with wheat germ.
Spread the blended avocado and cheese on a toast slice and serve.
7. Pumpkin Pancakes:
You Will Need:
Whole wheat pastry flour
Baking powder
Cinnamon, ground ginger, allspice, nutmeg
Eggs
Pureed pumpkin or winter squash
Vanilla
Milk
Canola oil
How To:
Stir all the solid ingredients.
In another bowl, beat the eggs, pumpkin, and vanilla.
Add some milk and flour to the egg-pumpkin mix
Cook the pancakes.
8. Banana Bites:
You Will Need:
Bananas
Pancake batter
Butter
How To:
Cut bananas into small slices.
Dip the banana slices into pancake batter and shake off the excess batter.
Heat butter in a pan and cook the bananas.
[ Read: Dinner Ideas For Toddlers ]
9. Cinnamon Toast With Yogurt And Fruit:
You Will Need:
Whole grain bread
Butter
Cinnamon
Sugar
Yogurt
Fruit of choice
How To:
Lightly toast bread and butter it.
Sprinkle some cinnamon and sugar on it.
Serve with yogurt and fruits. This breakfast recipes for toodlers idea is fabulous.
10. Fruit Roll Ups:
You Will Need:
Fresh fruit
Whole grain tortilla
Cream cheese
How To:
Mash the fruit.
Spread cheese on the tortilla and add the mashed fruit.
Roll the tortilla and serve.
These ten recipes will keep your toddler busy for breakfast. Do let us know what your toddler's favorite recipe was. Leave a comment below.
Recommended Articles:
The following two tabs change content below.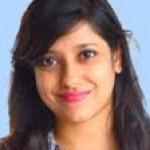 Latest posts by Debolina Raja (see all)