Are you pregnant and looking at the health aspect of various foods and herbs that you should and shouldn't eat during pregnancy? Do you want to learn more about the health and safety of everything that you eat and drink during this time, to make sure that both you and your baby will be safe? Have you regularly used herbs in your diet and do you want to know if it is safe to continue? Or would you like to start consuming some healthy herbs now and want to know if pregnancy is a good time to begin.
Garlic is one such herb for many health related aspects. If you wish to know more about this magic herb, its use and safety, scroll down to learn all about garlic during pregnancy.
Is It Safe To Use Garlic During Pregnancy?
Garlic, the magic herb that is a part of many cuisines around the world, is full of many health benefits. It is a flavoring agent, thanks to its distinct and pungent aroma; it is also good for its many benefits for overall health.
In most cultures, women eat garlic while pregnant as part of their regular everyday diet. It is considered safe when you have it in small amounts as part of your meals. Eating garlic supplements during pregnancy is possibly unsafe and also when you have it for medicinal use in medicinal dosage. There is not much medical data to support the use of the same, so it is best to have garlic in small amounts as a part of your food. [1]
[ Read: Is It Safe To Use Clove During Pregnancy ]
What Are The Health Benefits Of Eating Garlic During Pregnancy?
Eating garlic has many health benefits, some of which are also extremely important while you are pregnant. However, as is mandatory when you are pregnant, make sure you first speak to your doctor about the same before you eat it. Here are some health benefits of eating garlic that you can try for yourself:
1. Prevents Hair Loss:
Garlic contains a high amount of allicin that is a sulfur-based compound. It helps to prevent hair loss and also help you in case of hair fall, by promoting the growth of new hair.
2. Lowers Blood Pressure And Cholesterol:
The magic content in garlic, allicin, is also a great way to help reduce your cholesterol levels and keep them in check. The same compound also helps thin your blood, preventing the risk of a heart attack or stroke.
[ Read: Eating Tamarind During Pregnancy ]
3. Cancer Prevention:
Eating garlic on a regular basis can protect you against certain forms of cancer, especially colon cancer.
4. Effective Against Cold, Flu, And Infections:
Garlic can help reduce various harmful bacteria in your system and keep your immunity levels healthy. It thus helps you prevent various infections, including cold and flu.
5. Helps Treat Vaginal Infections:
Garlic can help treat various infections of the vagina, including chronic candidiasis as well as yeast hypersensitivity syndrome. [2]
[ Read: Benefits Of Eating Ginger During Pregnancy ]
Potential Side Effects:
While garlic is otherwise considered a healthy herb, eating it can sometimes cause a negative reaction. Here are some instances where you should be careful about your garlic intake: [3]
Eating fresh garlic can increase chances of bleeding, so make sure you speak to your doctor if there is any spotting or vaginal bleeding.
In some cases, you can experience discomfort in the stomach or digestive issues. If you notice anything of the sort, make sure to stop and speak to your doctor about it.
If you have a low blood pressure, stay away from eating garlic as garlic helps to lower blood pressure.
Garlic has blood-thinning properties, which means it can sometimes make it difficult for bleeding to stop, especially in case of a surgery. Speak to your doctor about how much garlic you can safely take to avoid any complications.
[ Read: Herbs To Avoid During Pregnancy ]
Garlic-Based Recipes:
Once your doctor has given you the go-ahead to eat garlic when pregnant, you can try the following recipes that all contain a healthy amount of garlic:
1. Creamy Garlic Pasta With Fish And Vegetables:
You Will Need:
A pack of whole wheat spaghetti
12 ounces chopped fish – check with your doctor about the fish that you can safely eat during pregnancy, else skip this option
1 bunch trimmed and thinly sliced asparagus
1 thinly sliced red bell pepper
1 cup peas
3 chopped cloves of garlic
1 1/4thtsp kosher salt
1 ½ cups plain yogurt
1/4thcup chopped parsley
3 tbsp. lemon juice
1 tbsp. extra virgin olive oil
½ tsp freshly ground pepper
1/4thcup toasted pine nuts
Water
How To:
Place a pan of water to boil. Once it starts to boil, add the spaghetti and cook it as per package instructions. Make sure you cook it about two minutes less than what the package mentions.
Add the fish if you are using it, asparagus, bell pepper and peas and keep cooking it all till the pasta turns soft. Also, make sure that the fish is properly cooked. Once done, drain off the water.
In a bowl, mix the garlic and the salt and mash it together to form a paste. Add the yogurt, parsley, lemon juice, oil, and pepper and mix everything well. Add it to the pasta mix and make sure you toss everything properly so that the pasta is well coated with the spices.
Sprinkle the pine nuts on top while serving.
2. Watercress Salad With Garlic And Sesame Dressing:
You Will Need:
4 large eggs
4 cups trimmed watercress
2 cups torn radicchio
1 chopped avocado
1 cup sliced radish
½ cup thinly sliced spring onions
2 tbsp. fresh lime juice
1 tbsp. fish sauce – please make sure to check on this with your doctor if it is safe to have during pregnancy, else skip
1 tbsp. packed brown sugar
2 tsp minced fresh jalapeno
2 tsp minced garlic
2 tsp toasted sesame oil
2 tsp toasted sesame seeds
Water
How To:
Place the eggs in a pan and cover them with water. Let it simmer over medium heat. Once it starts to simmer, reduce the heat to low and cook it for another ten minutes. Remove the eggs from the heat and drain out the water. Now add ice-cold water to the eggs and let it stay in the water till the eggs get cool enough to peel. Once the eggs are a little cool, peel off the skin and cut it into quarters.
In a bowl, mix the watercress, radicchio, radish, avocado and onions. Next, add the eggs and toss again. Add the lime juice, fish sauce, brown sugar, jalapeno, garlic and oils in a jar and shake it well so that it combines properly.
Now pour the dressing over the salad and toss the ingredients gently to mix everything together. Add the toasted sesame seeds on top while serving.
[ Read: Spices To Eat & Avoid During Pregnancy ]
3. Green Bean Bundles With Garlic Browned Butter:
You Will Need:
1 pound trimmed thin green beans
Thinly sliced red bell peppers
8 long thin scallions
2 tbsp. butter
2 peeled cloves of garlic
1 tbsp. extra virgin olive oil
1/4thtsp flaked sea salt
Freshly ground black pepper
Water
How To:
Set some water to boil in a pan and place a steamer basket inside. Steam the green beans and the bell peppers for about three to five minutes, till they turn tender. Trim the whites from the scallions and them in the steamer basket during the last bit of cooking. Once they start to turn soft, remove from the steamer basket and place them on a plate.
Divide the beans into eight portions. Place a scallion green on the plate and add a piece of the bean and three pieces of bell peppers on it. Wrap the green around the vegetables and tie it in a knot to close the bundle.
Next, place it on a serving dish. Repeat with the remaining vegetables till they form a bundle with each portion.
Heat butter in a pan over medium heat. Smash the garlic and add the cloves to the pan. Let them start to cook and keep stirring till the butter turns a roasted brown color. Remove the garlic and add the oil. Drizzle with the garlic infused oil over the bundle of vegetables and sprinkle some salt and pepper before serving.
4. Roasted Garlic And Leek Bread Casserole:
You Will Need:
1 large head of garlic
3 tbsp. extra virgin olive oil
2 cups water plus 2 tbsp. water
8 slices of bread with the crusts removed
4 cups of halved and thinly sliced leeks – use only the white and the light green parts
½ tsp kosher salt or sea salt
1 cup of shredded cheese
1 tbsp. freshly chopped thyme
1/4thtsp fresh ground black pepper
Water
How To:
Preheat the oven to 375 degrees F.
Remove the outer skin of the garlic and put it in a baking dish. Add about ½ tsp of oil on top. Add about a ¼th inch of water to the baking dish. Roast the garlic without placing a cover on top. Do it till the garlic turns tender but is still a bit firm. It should take about 30 minutes for the same. Once it is done, let it cool and then peel off the cloves. Slice them up thinly and set aside.
Add three cups of water in a pan and bring it to a boil. Put the bread in a heatproof dish and pour water over it, so that the bread is completely under water. Let the bread stand in the water for about three to five minutes. Now put the bread in a colander and gently squeeze it to drain out the water. Once you are done, the bread will still be moist but there will be no water dripping off it.
Break the bread into small pieces and place it in a bowl.
Heat a tbsp. of oil in a pan over medium heat till it starts to simmer. Now add the leeks, two tbsp. of water and ¼thtsp of salt. Let it cook partially and place a lid on top. Keep stirring occasionally. The leeks should turn tender but make sure they do not lose their green color. It should take about five to seven minutes for the leeks to get done.
Add the leeks to the bread and add the sliced garlic, 1 ½ tbsp. of oil, thyme, cheese, black pepper and the remaining ¼thtsp of salt. Mix everything together gently, preferably using your hands. Spread the mix in a baking dish and add the remaining oil on top.
Bake it for about 30 minutes or till it turns golden and crisp.
5. Garlic Stir Fried Snow Peas And Snow Greens:
You Will Need:
½ cup chopped garlic
½ cup extra virgin olive oil
How To:
Add the garlic to a food processor and chop it. Add the olive oil and process it a bit more till you get a soft and smooth consistency.
Heat the oil in a pan over high heat. Once it starts to simmer, add the garlic and cook it for about 10 to 15 seconds till it starts to release its aroma, and the oil becomes fragrant.
Add the peas and keep cooking while stirring it. The peas should be bright green, and the garlic should turn a light brown. Do this for about a minute. Add the pea green and the garlic scape pesto sauce as per taste.
Next, add the soy sauce and keep cooking. Make sure you keep stirring to avoid the food from sticking to the pan. Cook till the pea greens just about start to wilt. It should take about 30 seconds to a minute.
Once done, serve immediately.
6. White Bean And Rosemary Soup With Roasted Garlic Croutons:
You Will Need:
2 whole heads of garlic
1/4thcup plus 2 tsp olive oil
1 tsp kosher salt plus more if needed
½ tsp fresh grounded black pepper
½ unsliced whole wheat bread loaf cut into 1 inch cubes
1 tbsp. unsalted butter
2 tbsp. olive oil plus more to drizzle
2 cups chopped onions
2 peeled and cut carrots – cut into slices of 1/4thinch
4 cups chicken or vegetable broth
2 cans drained and rinsed white beans
2 tbsp. fresh chopped rosemary
How To:
Preheat oven to 400 degrees.
Slice off the tops of the garlic heads and rub each head with a tsp of olive oil. Next, wrap the garlic heads loosely in some foil. Place them in the oven and roast for about 25 to 30 minutes. Once done, remove from the oven and keep it aside to cool. The garlic should cool down considerably so that you can easily touch it. Once the garlic is cool to the touch, squeeze out the cloves from the head and place in a bowl. Use a fork to mash the pieces and then set aside.
In a separate bowl, mix half of the roasted garlic, 1/4th cup of olive oil, salt, and pepper and toss together. Add the bread and toss again to let the bread be covered completely in the mix.
Put the bread on a baking sheet and bake it for about 20 minutes. Make sure you turn it once or twice so that the bread is evenly cooked and turns a nice golden brown. Remove from the heat and set it aside.
To make the soup, heat butter in a pan and add 2 tbsp. of olive oil. Place the heat on medium. Add the onions, celery, and carrot and cook for about ten minutes or till it turns tender.
Add the broth and the remaining garlic. Let it all boil.
Reduce the heat and keep cooking for another 20 minutes till the carrots turn tender.
Add the drained beans and the rosemary to the mix and cook for another ten minutes.
Next, take out half of the soup and use a blender to puree the same. Once done, place it back in the pot of soup and combine again.
While serving, pour the soup into the bowls and top with the croutons. Drizzle with olive oil and a little butter on top.
[ Read: Benefits Of Tulsi During Pregnancy ]
7. Baked Eggs With Creamy Polenta, Spinach And Garlic:
You Will Need:
1 cup polenta or fine ground cornmeal
1 tsp salt
1 cup loosely packed Parmesan cheese plus more for the topping
½ cup whole milk
2 tsp olive oil
4 minced cloves of garlic
A pinch of red pepper flakes
10 ounces of baby spinach
8 large eggs
Water
How To:
In a pan, add four cups of water and let it boil. Meanwhile, mix the polenta and the salt in a bowl and add water. Whisk it properly and reduce the heat to low. Cover the pan and reduce the heat to let the mixture simmer for about 40 to 45 minutes. Make sure you stir the polenta at least once every ten minutes so that it does not stick to the pan.
Once the polenta is properly cooked, add the parmesan and the milk till all the cheese is fully melted. By now the polenta should turn creamy and thick. Cover the pan and remove it from heat to set it aside.
Heat the oven to 375 degrees F.
In a pan, heat the olive oil and add the garlic and pepper flakes. Sauté till the garlic turns a golden color and starts to release its aroma. It will take about a minute for the garlic to become aromatic. Add the spinach in small batches and keep stirring it constantly. Keep cooking and stirring till all the spinach has wilted and the leaves have turned a bright green color. Remove the pan from the heat and set it aside.
Fill the ramekins with half of it being filled with the polenta and the spinach mix on the top. Break an egg over the top in the ramekin.
Arrange the ramekins in a pan that is oven safe and fill it with very hot water. Make sure it comes till only about half of the ramekins and not above.
Bake for 15 minutes and cover with aluminum foil. Bake for another five to ten minutes or till the yolk sets completely.
Remove the ramekins from the water and add a sprinkling of parmesan cheese on the top. Serve warm and immediately.
8. Cauliflower Soup With Toasted Garlic:
You Will Need:
3 cloves of sliced garlic
2 tbsp. of olive oil
1 chopped head of a cauliflower cut into small bite sized pieces
5 cups of low sodium chicken broth
1 tbsp. of freshly chopped thyme leaves
Kosher salt and black pepper as per taste
How To:
Heat the oil in a pot and add the garlic. Keep cooking it for about two to three minutes till it turns a golden brown and starts to give off its aroma. Once done, remove the garlic from the oil but do not discard it. Set it aside for later use.
Add the cauliflower, broth, thyme, 1 tsp salt and 1/4thtsp of black pepper in the pot. Let it all simmer for about 15 to 20 minutes or till the cauliflower turns tender.
Pour the mix into a blender and puree it till it turns completely smooth.
Add the roasted garlic from earlier on top and also add a drizzle of oil. Garnish with the thyme just before serving.
[ Read: Eating Amla During Pregnancy ]
Speak to your doctor before you try these delicious and healthy recipes of garlic in pregnancy. If you have a garlic-based recipe to share, leave a comment below.
Recommended Articles:
The following two tabs change content below.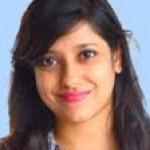 Latest posts by Debolina Raja (see all)