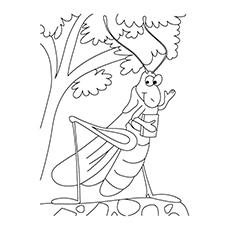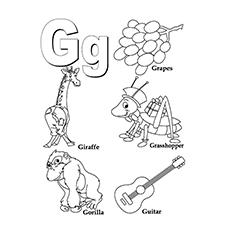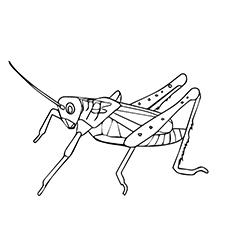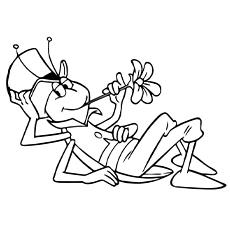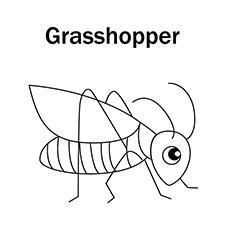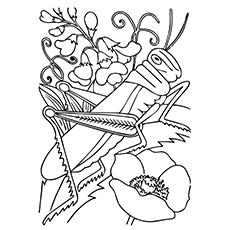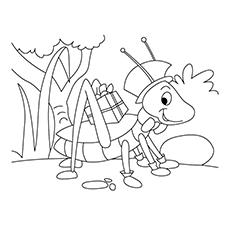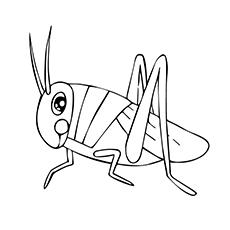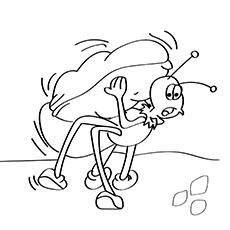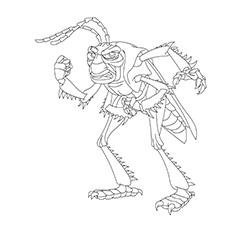 Recommended Articles:
Is your child tired of the same, old cartoon and animal coloring pages? Do you wish to present him some unconventional coloring pages? If these questions intrigued you, read our post below.
A grasshopper is an insect belonging to Orthoptera order and Caelifera suborder. There are around 18 thousand kinds of grasshoppers in the world. So you'll find grasshoppers in every part of the world, except the colder regions near the north and south poles. Grasshoppers prefer living in meadows, fields and just about anywhere, where they can find leaves to eat. We've selected ten of the best grasshopper coloring pages for your little one. Check them out below.
10 Interesting Grasshopper Coloring Pages:
1. Grasshopper:
Just like most insects, a grasshopper has six legs. The two rear legs are for jumping, and the two front pairs help them walk on the ground. A grasshopper has five eyes and no ears. They hear with an organ called tympanum. The grasshopper is an agile insect. It can leap up to 20 times the length of its body.
2. Ant And Grasshopper Story:
Here's a scene from the fable "The Ant and the Grasshopper". In the story, a grasshopper spends most of his time enjoying, not caring about the impending cold winter, despite seeing a group of ants working hard to prepare for the winter. This story teaches the value of hard work to children. Narrate the first half of the fable and tell him to predict the next half.
[ Read: Beetle Coloring Pages ]
3. Animated Grasshopper:
Here is a grasshopper coloring page where the friendly insect is saying hello to all of you. We believe that he's going to a library or his school. What do you think? Where is the grasshopper heading? Tell your little one to give this grasshopper some green hues. He can keep the background light blue or light yellow.
4. G For Grasshopper:
Is your preschooler learning his ABCs? Then this grasshopper coloring sheet will help him practice his phonics. The diagram features the letter G and five of the most popular terms associated with it- Gorilla, Giraffe, Grapes, Guitar and Grasshopper. This coloring page will allow your child to display his creative abilities by learning the shape and sound of letter 'g'.
5. Two-Striped Grasshopper:
Here's a two-striped grasshopper coloring page. It belongs to the Melanoplus genus and is native to the United Sates. This grasshopper has two yellow stripes running from the top of its body to its hind wings. The Two-striped grasshopper is quite a large grasshopper, with size ranging from 30 to 55 millimeter.
[ Read: Spider Coloring Pages ]
6. Snakeweed Grasshopper:
The snakeweed grasshopper is endemic in North America. It is a medium-sized species of the grasshopper with extremely long wings. It feeds on a variety of plants over an extensive range. This grasshopper is a beneficial insect as it feeds on plants that have little or no value for the livestock.
7. Pasture Grasshopper:
The pasture grasshopper is a strong grasshopper with wings extending beyond the end of the stomach. This grasshopper is a resident of the Rocky Mountains of Colorado and the grass prairies of the South American prairies. The Pasture grasshopper feeds on both grasses and forbs like wild buckwheat, cudwheat, and ragweed.
[ Read: Bug Coloring Pages ]
8. Red-Legged Grasshopper:
This coloring page features a red-legged grasshopper. This grasshopper is a native of the United States, Mexico, and Canada. As the name suggests, the red-legged grasshopper has a brownish-red back, a green yellow, and red hind legs. A red-legged grasshopper shed its skin as it grows, molting several times before emerging as an adult.
9. Hop:
The sassy grasshopper you see here is from an American animated short film "Silly Symphonies". The film is a twist on one of Aesop's tales "The Grasshopper and the Ants. But unlike the fable, where the grasshopper suffers, in Silly Symphonies, the ant colony helps the grasshopper by taking him in during the winter season.
10. Hopper:
Here's a coloring image of Hopper, the main antagonist of the film "A Bug's Life". Hopper is a cunning, violent and ruthless insect who thinks of nothing but killing ants. He believes that the ants are lower than even dirt. He thinks that compassion and mercy are signs of weakness. Hopper even beats and kills his team members to prove himself right.
[ Read: Scorpion Coloring Sheets ]
Our grasshopper coloring pictures are great stress buster for children after a hard day at school. You can use these coloring pages to teach your child basic skills like simple math and writing skills. It will also come handy for an insect themed project in their curriculum.
DISCLAIMER: All images found here are believed to be in the "public domain". We do not intend to infringe any legitimate intellectual right, artistic rights or copyright. All of the images displayed are of unknown origin. If you are the rightful owner of any of the pictures/wallpapers posted here, and you do not want it to be displayed or if you require a suitable credit, then please contact us and we will immediately do whatever is needed either for the image to be removed or provide credit where it is due. All the content of this site are free of charge and therefore we do not gain any financial benefit from the display or downloads of any images/wallpaper.
The following two tabs change content below.