Got a fussy kid at home? Here are some food ideas for dealing with picky eaters!
Does your tiny tot turn up his nose at practically everything you serve him? It's then time to change tactics. Growing children need extra attention to their nutrition and food habits, and giving in to your child's puppy-dog face could be actually harmful for him in the long run.
Here are a few tips and tricks to handle your little picky eater and some great food ideas to whip up nutritious meals that your kid will love too! Read on…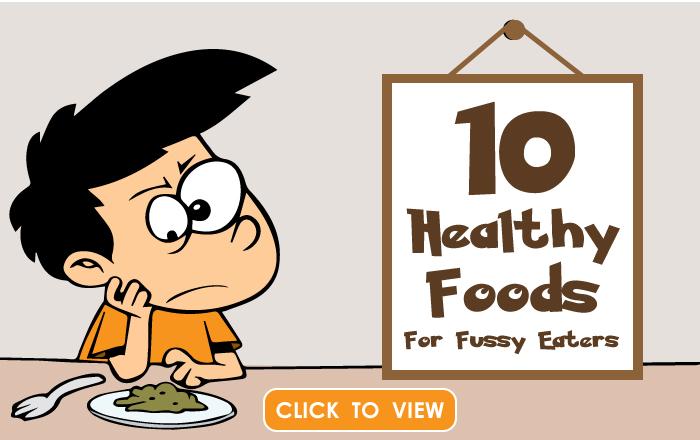 Click here to view an enlarged version of this infographic
Parents' Role in Developing Good Eating Habits:
One of the best ways to get your child eating healthy foods is to eat them yourself. Kids learn a lot from their parents, and it won't be of much help if you're munching on potato chips and ask him to finish his bowl of salad!
Borah-Giddens and Falcigic in 1993 performed a study which demonstrated kid's food preferences and found that they were actually linked to their parents
Enjoy a variety of healthy foods yourself and ensure that your own choices are in line with the foods you want your kid to enjoy
Make your kid assist you in preparing meal as this increases the chances of your kid to enjoy his own achievement
You must not display disgust or disinterest while trying new foods

10 Healthy Food Options For Picky Eaters:
Want to make fussy eating exciting? If you really want your kid to adopt healthy eating habits right from the beginning, it's time you change the way you eat too. Here is our compilation of 10 yummy and healthy food options for your fussy eater:
1. Homemade Pizza:
Kids of all ages love pizza and they love to make it too. Vegetables can be added to the sauce or under the cheese layer and the pizza can be sprinkled with spices for a yummy twist. Homemade pizza with goodness of wheat is a healthy option for a picky and fussy eater.
[ Read: Pizza Recipes For Kids ]
2. Shepherd's Pie:
This is a conventional family favorite recipe for picky eaters and adult family members too. You can hide variety of vegetables in the sauce and top it with melted cheese which can do wonders as it adds calcium to this recipe. The recipe is just too hard to resist!
3. Oatmeal Snack Cakes:
You can serve this delicious dish as part of a light yet nutritious breakfast. Oatmeal snacks are an healthy alternative to a hurried breakfast of oily dosas or 2-minute noodles.
4. Butternut Squash Soup:
Homemade butternut squash soup is a better option for fussy eaters. Just add croutons or immerse delicious bread to add crunch to it. You can also whip up a quick tomato soup and season it with paprika or chilly powder.
[ Read: Soup Recipes For Kids ]
5. Frittata:
If you have a slow picky eater at your home, then this spanish-inspired omelette recipe is ideal for your little one. You can hide some healthy veggies in a simple, mouth watering frittata.
6. Wraps:
Wraps are a great relief for those parents whose kids do not like to eat sandwiches. Ask your kid to do the filling with whatever veggies he likes. Then, just roll it into a wrap. You can also add cream cheese instead of butter.
7. Masked Vegetables Cakes:
Carrot cake, Pumpkin pound cake, Beet & strawberry tart…. yes, you got the idea. Carrots, beets and many other vegetables, when grated, can work wonderfully to whip up a quick cake. Just add them to your basic cake batter and you're done!
8. Fish Pie:
This one is a mild-tasting recipe that even a whole family can enjoy. Your kid can have a small section of potato-topped fish pie and you can be guaranteed he will ask for more.
9. Vegetable Fried Rice:
This is just the kind of simple yet tasty food that your kid will enjoy. Add variety of vegetable with different colors like beetroot, green onions, capsicum, cabbage and carrot.
[ Read: Smoothies For Kids ]
10. Veggie Smoothie:
This one is a healthy drink option for your tiny tot. While blending together his favorite fruits for a quick smoothie or fruit juice sneak in some veggies like cabbage, carrots etc. The taste of these fruits tends to overpower the taste of the veggies, and your kid won't know the difference.
Try the above recipes and let your little one enjoy the goodness of all healthy foods. We hope our healthy food tips for your picky eaters will make mealtime a fun filled and happy occasion!
Recommended Articles:
The following two tabs change content below.