Do you often look at those tiny nails on your baby's fingers and toes and wonder how to trim them? Does the thought of trimming those tiny nails send you in panic mode? Are you afraid that while trimming your baby's finger or toenails, you may end up hurting him?
While all the above fears are real, it is also important to trim your baby's nails regularly to avoid any dirt buildup and reduce the chances of an infection. Read our post here and learn how to trim baby nails properly and how you ensure that you don't hurt your little one.
How To Cut Newborn Baby Nails Without Hurting Him?
Your baby's nails grow at an alarming rate during the first few weeks and years of life. You may cut them today, and notice they already need a trim in the very next few days. Your baby's fingernails will grow faster than his toenails. While those tiny nails do look fragile and soft, they are very sharp. If you do not regularly trim baby nails, you also increase the risk of your baby accidentally scratching himself.
[ Read: Steps To Clean Baby Nose ]
Before You Begin:
Here are a few things you need to take care of before you learn how to cut newborn nails:
Make sure that the area you use to trim your baby's nail is well-lit.
One of the best times to trim those tiny nails is when your baby is asleep. Another good time to trim his nails is right after a bath. Once he takes a bath, the nails will be especially soft and make it easier and faster for you to trim them.
It is important that you only use a baby nail clipper or a pair of baby scissors that have been made specifically for the purpose of trimming baby nails. You may feel that you can also use a regular pair of scissors, but the same can end up hurting your baby, and you can accidentally cut your baby's skin.
[ Read: How To Get Baby's Ears Pierced ]
While Cutting Baby Nails:
Here are a few things you need to take care of while cutting your baby's nails:
Before you begin, make him lie down comfortably. You can either place him in the cot or hold him in your arms.
Hold your baby's hand firmly but gently. You have to make sure that even if your baby tries to move his arms, the finger does not suddenly move out of your grip.
If your baby is too small or is newborn, most doctors will suggest you use an emery board instead of a nail clipper. During the first few weeks of your baby's life, the nails will be too soft, and using an emery board can easily keep them short. The emery board will also keep the edges of the nails soft. It will also give you some good practice in shaping your baby's nails and in maintaining a firm grasp.
Press his finger pad lightly and move it away from the nail. It will help to avoid any incidence of nicking your baby's skin.
Always trim your baby's fingernails along the curve of the finger and always cut the toenails in a straight line.
[ Read: How To Brush Baby's Teeth ]
How To Distract Your Baby While Trimming The Nails:
Your baby may sometimes wake up in the middle of a nail trim, or may refuse to stay still as you trim the nails. To ensure that he does not get hurt, you can try the following:
Ask your partner to hold him in case you feel that the little one is wriggling too much.
Show her a rattle or a musical toy to divert her attention towards the nail trimming.
[ Read: Symptoms Of An Ingrown Toenail In Babies ]
Hope you liked our post on how to trim baby nails properly. In case you do nick your baby's skin accidentally, run it under some cool water, wrap a tissue on it and press down gently. When did you successfully manage to trim your baby's nails? Any special tips to share? Do tell us about them below.
Recommended Articles:
The following two tabs change content below.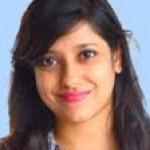 Latest posts by Debolina Raja (see all)