Are you pregnant and trying to incorporate safe choices in your lifestyle? Do you want to know how to take special precaution while keeping yourself and your baby safe? Are you particularly concerned about climbing stairs during pregnancy?
If you are pregnant and wondering whether you can use a staircase during this time, read our post and learn all about it here.
Is Climbing Stairs Safe During Pregnancy?
Climbing stairs while pregnant is not unsafe, as long as you take care of basic precautions. One of the biggest scares that can occur as a result of climbing stairs is falling or tripping.
A fall on a staircase during early pregnancy can lead to a miscarriage while falling on the stairs later in your pregnancy can trigger early labor. During the early stages, the risk of falling on the stairs is less, as your body still retains its original balance. Once you start progressing more in your pregnancy, your body's center of gravity starts to shift, making the risk of a fall higher than before.
[ Read: Risks Of Falling Down During Pregnancy ]
When To Avoid Climbing Stairs During Early Pregnancy:
Unless your doctor advises you against it, it is safe for you to prefer climbing stairs during pregnancy first trimester. Here are a few symptoms that signify you need to avoid using the staircase:
If you have had bleeding episodes in the first trimester.
You are at a high risk of miscarriage, have cramps or have diminishing hormonal levels.
Your pregnancy has been termed high risk by your doctor or if you have diabetes or any auto-immune disease.
If you have suffered a miscarriage in the past.
You are over 35 years of age.
In case you suffer from severe dizziness or fainted.
If you are carrying multiples, twins, triplets or more.
If your blood pressure is high or low than recommended by your doctor.
In case you have been advised bed rest.
[ Read: Effects of Wearing Heels During Pregnancy ]
When To Avoid Using Stairs During Later Part Of Pregnancy?
Once you hit the second and third trimester, your pregnancy center of balance shifts. Follow the same safety precautions we list above and avoid using the stairs if you suffer from any of the conditions we mention here.
[ Read: Balance Disorders During Pregnancy ]
Basic Safety Tips While Climbing Stairs During Pregnancy:
Whether you are in your early or later part of pregnancy, it is important to follow certain safety tips that will ensure you are safe. You may feel you are healthy and fit, and there is nothing to worry. However, it is important you still maintain all safety precautions and avoid using the staircase in case you experience the slightest discomfort. Make sure you follow the basic safety measures while climbing stairs in pregnancy like:
Always use a handrail while climbing or down the stairs. In case you have to carry something with you while on the stairs, make sure at least one of your hands is free and you can easily hold the handrail.
The staircase should be well lit. Always switch on the light before you climb or down the stairs. It will help you see the stairs carefully, and you will not end up missing a step. In case you do not have access to any staircase lights, take the elevator if you have the option to do so.
In case the staircase is carpeted, be careful to avoid any trips or falls.
[ Read: Precautions During First Trimester Of Pregnancy ]
Always walk slowly on the staircase whether you are going up or down. Do not rush to climb or get down.
In case you trip or slip on the stairs, make sure you get in touch with your medical practitioner immediately.
Speak to your doctor about your pregnancy health to know whether using a staircase is safe for you at this stage. Did you follow any special precautions? Do share them here.
Recommended Articles:
The following two tabs change content below.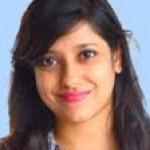 Latest posts by Debolina Raja (see all)