Are you an active person and want to maintain your fitness levels even while you are pregnant? Do you plan to continue your pre-pregnancy activities even as your pregnancy progresses? Staying active during pregnancy is good as it keeps you fit and flexible.
But is skiing during pregnancy a safe choice? Find out in this article how the winter sport can affect your unborn baby.
Can You Go For Skiing While Pregnant?

Activities like walking and swimming are safe workouts for pregnant women. Skiing will not harm you during pregnancy as you will be in a squatting position most of the time, and there will be no direct pressure on your stomach. The amniotic fluid surrounds your baby and keeps him safe inside your womb (1). Skiing may not directly affect your unborn baby, but it can pose some serious risks for both you and your baby. Skiing is not a good idea throughout your pregnancy.
[ Read: Benefits Of Walking During Pregnancy ]
Why Is Skiing While Pregnant Considered Unsafe?

Skiing can be a dangerous sport during your pregnancy as it involves the risk of falling or slipping . As your pregnancy advances your center of balance shifts and the chances, of losing your balance and falling, are high. You may find it difficult to maintain balance as your baby bump expands. It should be even more off your list when you are in your last trimester.
Skiing on snowcapped mountain slopes involves the thrill of jumping across pits and boulders. But, remember skiing accidents are quite common. To keep yourself and your baby safe it is important that you avoid adventure sports. Falling during pregnancy could result in abruption of the placenta, which means it could detach from the wall of your uterus. Such a development can lead to a premature delivery. In other situations, a fall at this stage could also lead to early or preterm contractions.
Skiing is a mountain sport that takes place at an altitude of 6000 feet and above. High altitude terrains are low on oxygen and may be unsuitable for your unborn baby . Poor oxygen supply can lead to fetal complications.
Many regular skiers continue following their passion even during pregnancy. However, since skiing is a high-risk sport you can refrain from indulging in it for now. Remember, pregnancy is a critical stage when your health and your baby's growth are at stake. Instead of skiing, go for other activities like brisk walking or yoga. You can also ask your doctor about safe exercises during pregnancy.
[ Read: Exercises To Avoid During Pregnancy ]
You may be disappointed at postponing your trip to the hills for now. However, the little bundle of joy will make you forget all the little sacrifices you have made once he arrives. You can plan a trip to the hills as a family later.
If you have gone skiing when pregnant, please share your experience with us.
Recommended Articles:
Click

The following two tabs change content below.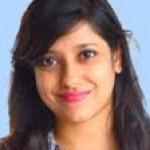 Latest posts by Debolina Raja (see all)