At sixteen months of age, your baby is no longer a wobbly walker and may even break into a run. This is why you need to double check and child-proof your home. Some babies at this age are afraid of dogs and strangers, while others seem fearless. Your baby may throw tantrums upon feeling overwhelmed.
5 Learning Activities For 16 Month Old Baby:
Mommies, you need to remember that, by this time, your baby has learnt to channel her anger. You may find it difficult to stop her rush of tears and anger. So what you can do is to stay calm when she throws a tantrum and offer her cuddles to comfort her. Here are 5 learning activities for a 16 month old baby:
1. Your Baby Loves To Repeat:

Repetition is her way of reminding what she is capable of. She enjoys doing the same activity again and again. This is how the repetitive activities work for her:
While repeating an activity she gathers more knowledge.
Your baby notices a new detail every time you point to an object in a book. This can be a reason why she chooses the same book every time while going to bed.
Repetitive activities actually offer the much needed comfort to her.
She may want to listen to the same story again and again, as she can predict what happens next.
Repetitive activities offer her a sense of structure and security.
[ Read: 15 Months Baby Activities ]
2. Eating Habits In Your Baby:
While you are trying different recipes to suit her taste bud, she may be reluctant to taste anything you offer. Relax moms, this is normal. She will develop a taste for food with time. Continue to offer her different kinds of dishes and make sure to include the following four main groups of food:
Your baby at this age needs protein to pump up her energies. Eggs, beans, fish and meat can be some good source of protein that you must incorporate in her daily diet.
Apart from milk you can add dairy products like cheese, yoghurt and butter in her meals.
Fresh seasonal fruits and veggies are a must.
Keep introducing new foods along with her old favorites. You never know she might just change her preferences.
[ Read: Fun Activities For Toddlers ]
3. Changes In Sleep Pattern: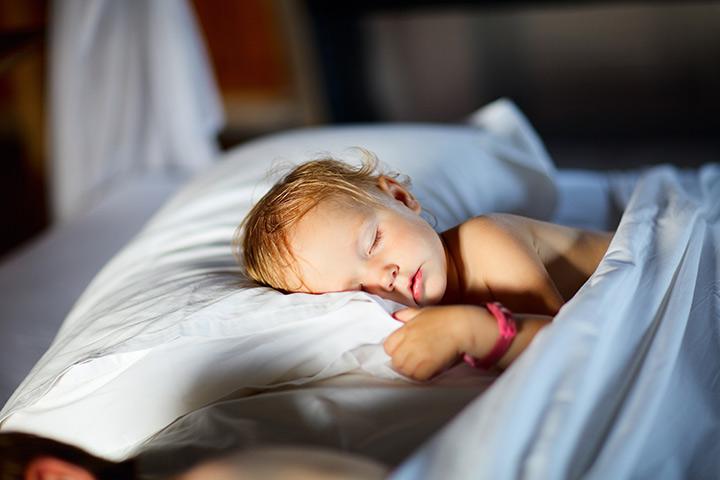 Your baby at this stage may be ready to give up her morning naps. Mothers keep a watch on the following:
See if she is happy all through the day and sleeps well at night.
Make sure she is well rested in the morning. In this case she may do away with her morning naps.
[ Read: Homemade Finger Paint For Toddlers ]
4. Your Baby May Be Reluctant To Brush Her Teeth: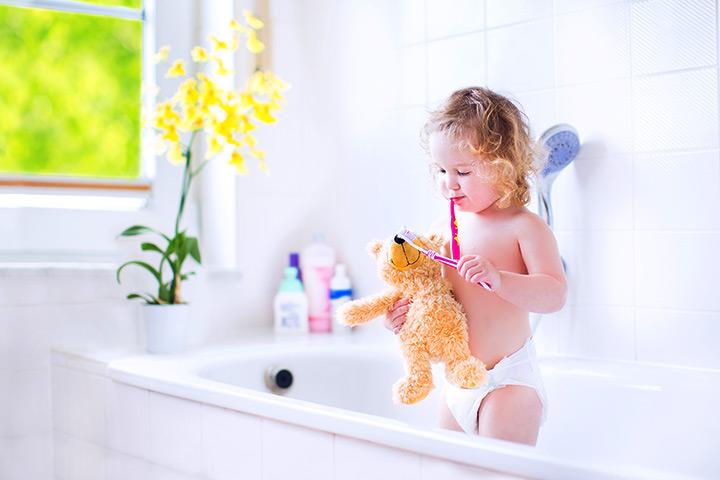 While she was mastering the art well, suddenly she decides not to brush any more. Well, you need to be patient even though it may be frustrating when she clamps her mouth shut when you try to move the brush. You can try the following:
Try persuading her rather than forcing to brush when she opens her mouth.
You can allow her to choose her own toothbrush to make the activity more appealing for her.
Both you and your partner can brush in front of her. She will love to imitate what you do.
You can have her favorite character drawn on the tooth brush. Play a game and ask her to show the cartoon once she is done with brushing.
[ Read: How To Get Toddlers To Brush Teeth ]
5. Other Developments:
You can introduce her to finger painting at this age. You can prepare the paint at home. Take a look below:
Mix 2 tablespoon of white flour and water with food color.
You can put some paint on a paper and show how to glide fingers through it.
You can save her creation and hang it in the open to dry.
Hope you liked our post on these activities to do with 16 month old. This is the time when your baby will love to challenge her physical limits. So, keep a watch on the dangerous spots like the kitchen and bathroom. Lock up all the cleaning agents and medicines, so that she does not get to them.
Moms, share with us which of these activities for 16 month old baby your baby you enjoy the most at this stage in the comment section below.
Recommended Articles:
The following two tabs change content below.
Latest posts by moumita ghosh (see all)