If you have a picky eater at home, you know how difficult it is to come up with interesting and delicious recipe ideas every day. Whether you try to make the food healthy, look appealing or taste yummy, cooking the right and healthy snacks for kids is always a task.
Instead of worrying what snack you can prepare next that your kid will love to finish up, read on our list of recipe recommendations to choose from a variety of tastes and ingredients.
Top 25 Healthy Snack Recipes For Kids:
Here are our top 25 recommendations for some delicious snack ideas for kids that are also going to be mouth-watering:
1. Chicken Kababs With Peanut Sauce:
You Will Need:
1 large boneless and skinless chicken breast
2 tbsp. of vegetable oil
2 tbsp. of soy sauce
How To:
Cut the chicken into thin strips and pound with your fist to flatten. Add the vegetable oil and soy sauce and coat it together. Let it marinate for at least 20 minutes at room temperature.
In the meanwhile, prepare the peanut sauce by mixing the peanut butter, soy sauce, honey, green onions, lime juice and garlic powder in a bowl.
Preheat a girdle on medium heat. Take the chicken out of the marinade, shake off any excess marinade and put on the skewers. Place on the girdle and cook till they turn golden brown on all sides.
Serve with the peanut sauce.
[ Read: Quick Recipes For Kids ]
2. Fritter Faces:
You Will Need:
4 grated medium-sized zucchini
2 lightly beaten eggs
1 small peeled and grated carrot
2/3rdcup of self-raising flour
1 ½ tbsp. of roughly chopped basil leaves
1 small lengthways sliced red capsicum
250 g of crumbled ricotta cheese
2 tbsp. of grapeseed oil
1 tbsp. of frozen corn kernels
How To:
Squeeze out the zucchini and mix with the flour, eggs and basil.
Add the cheese and mix again so that it gets a lumpy texture.
Heat the oil over medium heat and place a little of the zucchini batter into the center. Place the grated carrot on top to resemble hair. Place the corns as eyes and capsicum as the mouth.
Cook till it turns golden brown. Turn it and cook on the other side too. Remove from heat and serve.
This is one of the healthy snacks for kids you should definitely try making.
3. Homemade Granola Bar:
Here is another favourite snacks recipe for kids that you can make.
You Will Need:
1 cup of sliced almonds
1 cup of shredded coconut
½ cup of toasted wheat germ
½ cup of chopped pitted dates
½ cup of dried cranberries
2/3rdcup of honey
¼thcup of light brown sugar
3 tbsp. of unsalted butter
1 ½ tsp of pure vanilla extract
½ cup of chopped apricots
¼thtsp of kosher salt
2 cups of old fashioned oatmeal
How To:
Preheat oven to 350 degrees F and grease a baking dish.
Mix the almonds, oatmeal and coconut in a sheet pan and bake for about 12 minutes. Keep stirring and bake till they turn golden brown.
Take it out and put in a pan and add the wheat germ in.
Reduce the temperature of the oven to 300 degrees F.
In a pan, add the sugar, vanilla, salt, honey and butter and let it boil over medium heat. Stir it and then pour it on the oatmeal mix.
Add the cranberries, dates and apricots and mix again.
Pour the entire mix into the greased baking dish and bake for about 30 minutes or till they turn golden brown.
Let it cool for at least three hours and cut it out in the desired shape.
[ Read: Baking Recipes for Kids ]
4. Coconut, Cashew And Butter Balls:
You Will Need:
½ cup of cashew butter
1 cup of crisp rice cereal
¼thcup of unsweetened shredded coconut
2 tbsp. of pure maple syrup
¼thtsp of salt
How To:
Mix the cereal, maple syrup, cashew butter and salt in a bowl.
Form it into the soft dough so that you can roll it in your palms and form into balls.
Roll the balls in the shredded coconut and keep in the refrigerator for up to five days.
5. Edamame And Avocado Dip:
You Will Need:
½ of a ripe avocado
2/3rdcups of shelled edamame
1 tbsp. of olive oil
8 basil leaves
Kosher salt to taste
Cut up vegetables to serve
½ a tsp of lemon zest
1 tbsp. of lemon juice
Water
How To:
Cook the edamame as per the instructions on the package.
Add the edamame, avocado, basil, lemon juice, 1/4thcup of water, ½ tsp of salt, lemon zest and basil in a food processor and blend till it turns smooth.
Serve it with the vegetables and store it till about two days in the refrigerator.
[ Read: Bread Recipes For Kids ]
6. Flavored Milk:
You Will Need:
2 cups of frozen and thawed strawberries
2 cups of frozen and thawed peaches or mixed berries
3 tbsp. of white grape juice concentrate
1 cup low fat milk
How To:
Add the fruits and juice in a blender and make a puree.
Mix it with the milk and stir properly till it all blends in together.
[ Read: Potato Recipes For Kids ]
7. Parmesan And Pita Crisps:
You Will Need:
1 whole wheat pita
3 tbsp. of grated parmesan cheese
Kosher salt as per taste
1 tbsp. of unsalted butter at room temperature
A pinch of dried oregano
How To:
Heat a broiler and brush the butter on the pita bread.
Sprinkle the cheese, oregano and the salt on the top.
Cut the pita bread into triangles and broil for about two to three minutes or till it turns golden.
8. Layered Parfait In A Jar:
You Will Need:
½ a cup of diced pear
20 halved red seedless grapes
¾th cup of plain and non-fat Greek yogurt
2 tbsp. of granola
2 tbsp. of roasted pumpkin seeds
2 tsp of maple syrup
How To:
In a glass jar, layer the ingredients.
To make this healthy snack for kids, start by putting in the grapes, add the yogurt, the pear, granola, pumpkin seeds and maple syrup.
9. Delicious Cheesy Dip:
You Will Need:
½ tsp of fresh lime juice
½ cup of fat free and refried beans
¼thof a diced avocado
Tortilla chips to serve with
3 tbsp. mild salsa
Kosher salt as per taste
¼thcup of grated Monterey Jack
How To:
Mix the beans, lime juice, one tbsp. of salsa and a pinch of salt in a bowl.
Add the cheese and microwave till the cheese melts.
Add the avocado on top and the remaining salsa.
Serve with the chips.
[ Read: Cooking Without Fire Desserts For Kids ]
10. Sweet Bagel Chips:
You Will Need:
1 cinnamon raisin bagel
Melted butter
Cinnamon sugar
How To:
Slice the cinnamon raisin bagels to make thin rounds and apply the melted butter on top. Sprinkle the sugar.
Bake the bagel for about ten minutes at a temperature of 325 degrees F.
Turn the bagel and brush the other side with butter, then sprinkle with more cinnamon sugar and bake again for another ten minutes.
11. Zucchini Muffins:
You Will Need:
2 cups of all-purpose flour
1 cup of brown sugar
2 tsp of baking soda
2 tsp of cinnamon
1/8thtsp of nutmeg
1/8thtsp of ginger
1/8thtsp of allspice
½ tsp of salt
2 cups of grated zucchini
1 peeled, cored and grated apple
3 eggs
2 tsp vanilla
½ cup unsweetened applesauce
½ cup vegetable oil
How To:
Mix the flour, brown sugar, baking soda, cinnamon, nutmeg, ginger, allspice and salt in a bowl.
Add the zucchini and apples and mix.
In another bowl, beat the eggs, vanilla, applesauce, and oil.
Mix with the flour mix and pour into greased muffin cups. Bake for about 20 minutes at a temperature of 350 degrees.
[ Read: Cookie Recipes For Kids ]
12. Carrot Sticks With Peanut Dip Sauce:
You Will Need:
3 tbsp. of peanut butter
1 tbsp. of honey
A little splash of soy sauce as per taste
A few drops of sesame oil
Water
Carrots sliced into sticks
How To:
In a bowl, mix the peanut butter, the honey, the soy sauce, the sesame oil and a little bit of water.
Add the water in such a way that the dip gets a smooth and creamy texture but does not turn runny.
Serve it with the carrot sticks.
After School Snacks For Kids
Wondering how exactly to cater to your kid's fussy after school hunger pangs? We have just the thing for you, after school snacks options – each healthy and mouth-wateringly yummy!
13. Caramel Popcorn:
Kids love popcorns. Add caramel to it, and you have a match made in heaven.
Ingredients:
Butter
Honey
Salt
Popcorn
Pecans
How To Make:
Melt the butter and add honey as well as a pinch of salt.
Now toss the whole thing with the popcorn and pecans.
Next, spread the popcorns on a baking sheet (parchment-lined) and bake at 325 degrees F, for about 15 minutes. Don't forget to toss!
Allow the popcorns to cool down before your kid arrives!
14. Crunchy Chickpeas:
Chickpeas are yummy and nutritious. To make them a good snack option, just make them crunchy!
Ingredients:
Chickpeas
Olive oil
Cumin seeds
Smoked paprika
Salt
How To Make:
Cook the chickpeas with the required amount of olive oil, cumin, and smoked paprika for about two minutes.
Season with salt.
Now bake the chickpeas at 425 degrees F for about 20 minutes.
15. Apple Moons:
An easy to make snack option, perfect for moms on the go!
Ingredients:
How To Make:
Just slice the apples into a crescent shape.
Now spread some peanut butter (you can also use any other topping of your choice) on the slices and serve!
Add a granola on top to add the finishing touch.

[ Read: Fun Recipes For Kids ]
Whole Grain Snacks For Kids
Here are some whole grain snack recipes to try out.
16. Whole Wheat Pasta With Tomato Sauce:
You Will Need:
A pack of whole wheat pasta.
Water
Salt to taste
2 tbsp. olive oil
2 cloves minced garlic
5 cups quartered cherry tomatoes.
3 tbsp. drained capers
¼th tsp crushed red pepper
1 tsp grated lemon rind
½ cup thinly sliced basil
How To:
Boil pasta as per package instructions, drain and set aside.
Heat two tbsp. oil in a pan and add the garlic. Cook for three minutes and remove from heat.
Add the tomatoes and all remaining ingredients.
Stir in the hot pan and add the pasta.
17. Whole Wheat Pancakes:
You Will Need:
¾th cup all-purpose flour.
¾th cup whole wheat flour.
½ tsp baking soda
1 egg white
1 egg
½ tsp salt
3 tbsp. sugar
1 ½ tsp baking powder.
1 ½ cups buttermilk
3 tbsp. butter
Cooking spray
¾th cup maple syrup.
How To:
Mix the flours, baking powder, and soda, salt, and sugar in a bowl.
Add buttermilk, egg, and white and oil and stir.
Heat a pan and add the cooking spray.
Place the batter in the center and spread to make a round shape.
Cook on both sides till golden brown.
Serve with maple syrup.
18. Whole Grain Cereal Mix:
You Will Need:
4 cups whole grain cereal.
1 cup sliced almonds
1 cup raw pumpkin seeds.
2 cups puffed rice cereal.
¼th cup soy sauce
¼th tsp salt
½ cup canola oil.
How To:
Preheat the oven to 300 degrees F.
Mix the cereal, puffed rice, almonds and pumpkin seeds.
Mix the remaining ingredients in a different bowl.
Spread the liquid on the cereal mix and spread on a baking sheet.
Bake till it turns golden.
19. Toasted Pita Crisps:
You Will Need:
Whole wheat pita bread cut into triangles.
Olive oil
How To:
Preheat the oven to 425 degrees F.
Place pita on baking sheet and add cooking spray.
Bake for eight to ten minutes.

[ Read: Lentil Recipes For Kids ]
Sugar-Free Snacks For Kids
Too much sugar can do more harm than good so try our delicious alternatives to pamper your kids' taste buds and improve their health quotient. These sugar free snack recipes for kids are easy to prepare and nutritious too!
20. Hummus Dip With Crispy Vegetables And Pita Bread:
You Will Need:
1 cup of chickpeas (cooked)
1 Tbsp sesame seeds (roasted)
½ cup of olive oil
2 Tbsp lemon juice
A pinch of red chili powder
A pinch of black pepper powder
A few sprigs of parsley
Three cloves of garlic
Salt to taste
Whole wheat pita bread
½ cup of Cucumber
½ cup of Carrot
½ cup of Yellow Pepper (sliced)
How To:
Blend chickpeas, spices, parsley, salt, and garlic, lemon juice and olive oil, sesame seeds to make a smooth paste.
Garnish the dip with sprigs of parsley and add a dash of olive oil.
Serve it with slices of cucumber, carrots, and yellow pepper. Add whole wheat pita bread to the plate to make a wholesome snack.
21. Delicious Dried Fruit Mix:
You Will Need:
1 Tbsp Dried Pineapple
1 Tbsp Raisins
1 Tbsp Almonds
1 Tbsp Cashews
1 Tbsp Banana chips
1 Tbsp Peanuts
1 Tbsp Coconut (grated)
How To:
Mix all the ingredients and serve.
22. Sweet and Salty Popcorn:
You Will Need:
1 packet of popcorn
1 Tbsp of low-fat peanut butter
Salt to taste
How To:
Pop the corn in a microwave.
Add salt and peanut butter. Mix well and serve.

[ Read: Mocktail Recipes For Kids ]
Healthy Fruit Snacks For Kids
Here are some fun and healthy fruit snacks for kids that will transform fruits into unique treats that your kids will love.
23. Chocolate Covered Banana Pop:
You Will Need:
4 medium bananas halved
8 ice cream sticks
3 tablespoons of finely chopped peanuts
6 ounces of dark chocolate, chopped
How To:
Insert an ice cream stick into each half. Cover the banana halves with a cling film and freeze for 3 hours.
Place the chopped peanuts in a shallow dish.
Melt the chocolate in the microwave and leave it aside to cool.
When the chocolate has cooled, dip each banana half into the chocolate and then roll in the peanuts.
Place on a wax paper lined tray and serve.
24. Fruit Skewers With Chocolate Sauce:
You Will Need:
½ cup strawberry
½ cup kiwi
½ cup plums
½ cup pineapple
2 tablespoons of orange juice
Wooden skewers
1 ½ ounces of dark chocolate
How To:
In a mixing bowl, combine all the fruits along with the orange juice.
Skewer the fruits neatly and place on a lined baking tray.
Place the chocolate in microwave-safe bowl and microwave on high for 1 minute.
Drizzle the melted chocolate onto the fruit skewers.
Refrigerate the skewers for 2 hours and soften at room temperature for 5 minutes before serving.
25. Fruit Jelly Cubes:
You Will Need:
1 ½ cup of fruit juice
1 tablespoon of gelatin
1 tablespoon of honey
Silicon molds
How To:
Heat the fruit juice in a small saucepan and sprinkle gelatin powder over it. Let it sit for a few minutes.
Then stir the juice to combine with the gelatin. Simmer over medium heat until the gelatin dissolves.
Stir in the honey and cook for 1 minute.
Transfer the mixture into silicon mold and refrigerate for 3 hours.
When done, use a knife to slice into cubes.

[ Read: Organic Recipes For Kids ]
Moms, if your kids have any special snack favorites, do share the kids snack ideas here. Leave a comment below.
Recommended Articles:
The following two tabs change content below.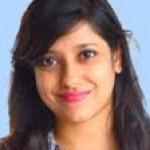 Latest posts by Debolina Raja (see all)