Has your baby turned six months already? Are you planning to start your baby on other foods, especially solids? Do you want to know about when is the right time to start feeding potatoes to your baby?
The first six months of your baby should be dedicated exclusively to breast feed. Post this, you can start your baby on various food items, including potatoes. Read on to know when it is the right time to introduce potatoes to your bay.
When Can You Introduce Potatoes To Your Baby?

Once your baby is six months old, your baby's doctor will suggest you start giving solid foods. At this time you will start to introduce a lot of new foods to your baby. Most doctors will recommend you start giving solid food like potatoes to your baby between six to eight months of age. As your baby starts eating solid food in mashed or any other form, his need for milk will slowly decrease. You may notice a change in your baby's demand for milk, whether it is your breast milk or formula milk. This is perfectly normal, as long as your baby is full and does not seem hungry or loses weight. [1]
Preparing The Potato Before You Give It To Your Baby:

It is important to properly clean and peel the potatoes before you cook it for your baby. Check for any dents or spuds that may have formed on the skin of the potato. Check for any black or brown spots on the skin. Remove them immediately. In case you find any greenish spots in the potato, remove them too. Make sure you boil the potato in such a way that it can be easily mashed. [2]
Easy To Make Potato Recipes For Babies:

Here are some very easy to make and delicious potato recipes for baby:
1. Potato Puree :

You will need:
Potatoes
Water
Breast milk or formula
How to:
Wash the potatoes properly and peel off the skin. Cut it into small cubes.
In a pan, add water and let it boil. Reduce the heat. Now add the potatoes and let them boil further, till they turn tender. Remove from heat.
Now drain off the water and rinse the potatoes under cold water. Do this for about three to four minutes. This will stop the cooking process.
Add the potatoes in a food processor and turn them into a smooth blend. Add some breast milk or formula to make it creamier and smoother. This will also add extra health and nutrition to the potato puree.
Serve once cool.
Once you introduce other veggies to your baby, you can prepare them together with the potato puree.
[ Read: Preparation Of Baby Food At Home ]
2. Potato And Spinach Puree :

You will need:
Potatoes
Spinach
Water
Breast milk or formula
How to:
Add water in a pan and bring to boil. Add diced potatoes and boil till tender.
Place the washed spinach in a sieve and place over the potatoes to steam. Do this for about ten minutes.
Drain the water and mash the potato. Add the spinach in a blender and blend to a thick puree. Mix together with the potato and make a smooth consistency by adding breast milk or formula.
[ Read: Tomato Puree For Baby ]
3. Potato, Cheese And Cauliflower Puree:
You will need:
Potatoes
Cauliflower
Shredded cheese
Breast milk or formula
How to:
Put the potatoes in a vessel in which you can steam them. Steam for about five to eight minutes till they are tender.
Add the cauliflower and steam for another ten minutes or so.
Put the steamed vegetables into a blender and blend to a smooth paste. Add breast milk or formula to make it smoother. You can also add a bit of butter while serving.
[ Read: Cabbage For Babies ]
These delicious potato recipes for babies are perfect as a first solid food. They are easy to make and loaded with nutrition. Try them out today and do tell us which potato recipe for baby is your favorite!
Recommended Articles:
The following two tabs change content below.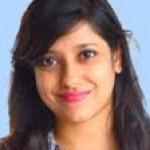 Latest posts by Debolina Raja (see all)