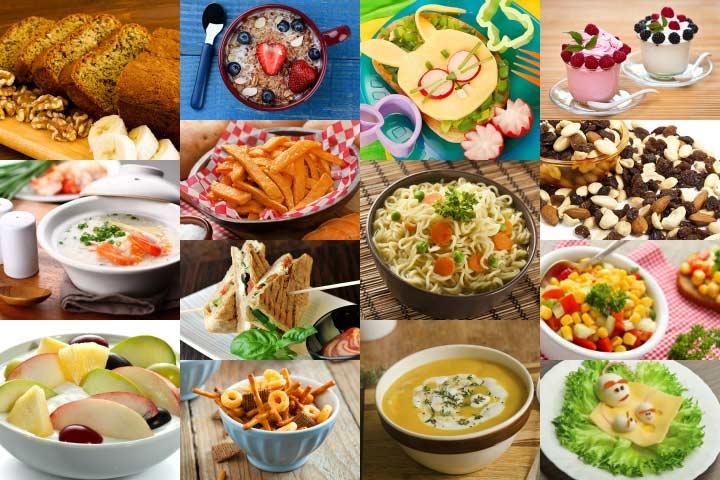 A child is most active during toddler years, exploring new things! This may leave you wondering if your toddler is getting enough food, as they don't eat a lot in one sitting. As nutrition plays an important role from childhood itself. It acts as a foundation for your toddler's health.
It is difficult for your toddler's tiny tummy to take a large portion of food at times. Instead, let your tot enjoy every meal with play. Being a mother, you should be smart enough to offer your toddler such foods that attract them.
Top 14 Nutritional Snacks For Toddlers:
Hearing the word" Snacks", the very first thing that will strike in your minds is that they are "unhealthy" or "food which does not provide any nutrition". However, in actual sense, snacks are a part of a day's meal which provide 1/4th nutrition to your toddler. You can plan your tot's daily meal with healthy nutritional snacks to keep him active all day long.
You can plan for 5-6 mini meals instead of 3 big meals a day.
Aim for a snack every 2-3 hours to re-energize your toddler and to keep his/her tiny tummy full.
Your day meal breakdown should be- 3 main meals a day followed by healthy snacks during the intervals.
Your healthy snack should be a bonus to the nutrient, which your tot has missed during the meal. For instance, if your tot's meal has covered carbohydrate and fat during lunchtime, add a dash of protein rich food during the snack. Here we help you out with some healthy snack ideas for toddlers that will attract them towards food.
1. Cheese:
This protein rich food is all time favorite for toddlers.
It helps to keep energy levels high of your tot all day long.
You can make it more attractive by cutting it in fun shapes.
Combine it with your tot's favorite fruit.
[ Read: Food For Toddlers ]
2. Healthier Baked Goods:
Your child will never guess what is behind the pretty looking cake or yummy muffins.
Banana bread, carrot bars and zucchini muffins, can be a few favorites for your child.
Also choose yam and jam muffins that have rich amounts of potassium and beta-carotene.
Sweet potatoes are another good choice.
3. Whole Grain Cereal:
Give your tot a power boosting breakfast to give a healthy start to the day.
A bowl of whole grain cereal will fuel your tot with calcium, vitamins and fiber.
Whole grain cereal coupled with yogurt or milk makes it a delicious meal.
You can also top them up with fruits like strawberries for an added flavor.
4. Yogurt:
Yogurt is a healthy choice.
Yogurt is nutrient rich and is a good source of calcium essential for your toddler.
Use low fat yogurt as a dressing and your child will love to see it frozen mixed with berries and fruits.
You can also go for a homemade ice cream to make a healthy treat any time a day.
[ Read: Toddler Meal Plan ]
5. Eggs:
Toddlers constantly lay down new muscle tissue as they grow. Hence, it is important for them to get their share of high quality protein.
One egg provides your tot with almost one third of the protein requirement per day. Both the white and yolk are rich in nutrients.
You can provide these eggs in innovative ways like adding scrambled egg in rice or by stuffing it in a tortilla.
6. Noodles:
Noodles are considered to be a healthy food for your child.
Noodles provide ample of carbohydrates, protein and fiber to your little champion.
It is a quick snack item your child loves to have.
It just requires little boiling or microwaving along with chicken and some of your tiny tot's favorite veggies and sauces.
7. Snack Mix:
Snack mix is tasty and easy to make. You can make out yummy combinations.
The best way to provide combinations of nutrients in one treat is with snack mix.
Mix together your tot's favorite items from every food group.
For instance, toss together cheese, whole grain cereal, corns and some chips for a handy treat.
8. Apples:
There is a saying "An Apple a day keeps the doctor away"
Apples are not only a good source of fiber, but also contain essential vitamins, minerals and nutrients that improve your toddler's health.
It naturally balances the blood sugar levels.
Apples, the healthiest among fruits may seem to be boring to your little one.
To add a spice to this boring fruit, use it in combination with other fruits coupled with low fat yogurt.
9. Corn Chat:
You can introduce corn to your toddler's as it is a wholesome food.
Corn chat provides essential proteins, carbohydrates and other nutrients, making it a great food for energy.
You can make a healthy and flavorful recipe by combining corn with cheese, tomatoes and pepper.
10. Dried Fruits:
A handful of dried fruits can provide innumerable health benefits to your toddler.
There are umpteen choices in the dry fruits category. Raisins, dried mangoes, apricots, almonds, cashews, etc., should be added to provide enough nutrient sources.
Indulging them excessively is helpful as they have high nutritional value.
[ Read: Toddler Nutrition ]
11. Vegetables:
It is very important for your tot to get into the habit of snacking veggies as it helps to function their digestive system properly.
Vegetables contain fiber, multitude of vitamins, minerals and other healthy compounds that offer a good nutrition.
You can make them eat veggies in some innovative ways like wrapping baked veggies in flour tortillas, sandwiches with added cheese.
12. Porridge:
Porridge is one of the best choices you can make for your child's breakfast.
You can provide rice porridge coupled with meat, fish or chicken to provide increased levels of protein and carbohydrates at once.
It is a complete package of essential nutrients.
This helps to boost your child's immune system and prevent them from infections.
13. Lentils :
Being nutrient packed, lentils are another good choice to meet your child's nutrient requirements.
Lentils are a rich source of iron, protein and high in nutrition.
They help to improve the metabolism due to their fiber and complex carbohydrates content.
Lentils when tossed with curd, tomatoes and lime-juice, adds an extra flavor and increases the nutritional value.
14. Sweet Potato Chips:
This is a perfect table food for your toddlers. Be little advanced and provide your tot with nutritious sweet potato chips instead of oldies potato chips.
Sweet potato has got all disease fighting health benefits.
It is a good source of beta-carotene, Vitamin A, Vitamin C, potassium and fiber.
You can make them crisp in healthy fat and have it as a nutritious snack ready to please your toddler anytime!
Tips On How To Feed Your Toddler:
Remember, your toddler's appetite is much lesser than yours. Avoid giving excess food.
Snack not only means to provide solid food to your tot, you can also add refreshing fruit-juices, as it will prevent them from dehydration.
If your tot is no longer on breastfeeding, offer 500 ml of milk every day to provide sufficient iron.
Avoid giving excess liquid as it may fill your tot's tummy and leave no space for solid food.
Present your snack smartly. Let it be colorful and a little creative to attract your tot. So, how healthily are you going to plan your toddler snacks?
Don't forget to share if you have any other ideas for healthy snacks for toddlers with us.
Recommended Articles:
The following two tabs change content below.
Latest posts by Saara Fatema Doctor (see all)