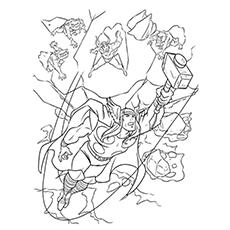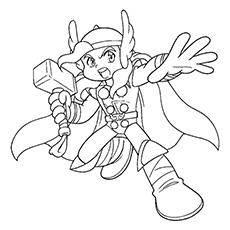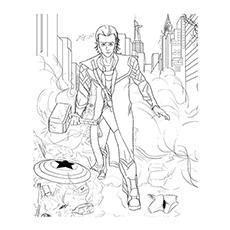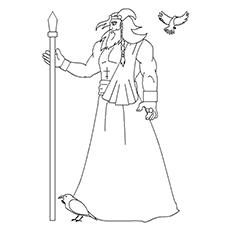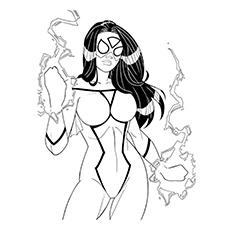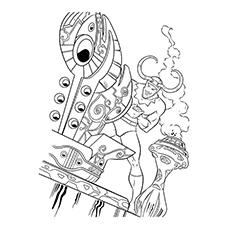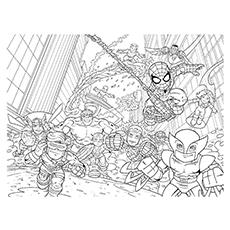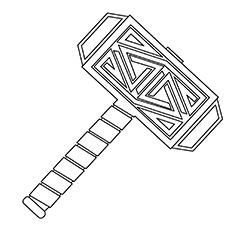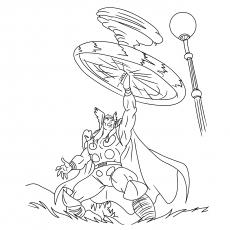 Do you have an ardent superhero fan at your home? Is Thor one of his favorites? Does he demand a new Thor comic strip every second day? If this sounds like your little tyke, we may have a solution. Read our post and find out what it is.
Thor is a superhero appearing in Marvel Comics. His character derives from the Norse mythological God of the same name. In the comic strips and movies, Thor is the Asgardian god of thunder, possessing the enchanted hammer Mjolnir.
Kids of every age adore Thor. His incredible power and strength and his fight for right will keep them thrilled for hours. And how can you forget his elaborate dress and amazing stunts?
Not just Thor's comics and movies, Thor coloring sheets are also popular with kids. Here is a small collection of coloring sheets to help your child know more about Thor and the other characters of the series. These Thor coloring pages to print, that display Thor in his various poses with his weapon and costume prominently visible.
1. Thor:
Thor is the Asgardian prince of thunder and lightning. He is the protagonist of Thor's films and comic strips. Being the son of Odin and the Goddess Gaea, Thor combines the power of both his parents. Armed with his weapon Mjolnir, Thor is the greatest of all the Asgardian warriors.
2. Mjolnir:
Mjolnir is one of the most powerful superhero weapons of all time. Mjolnir gives Thor the energy to fly and amplify his elemental powers.When Thor was a little child, Odin had decreed that he would give the hammer to him only if he proves himself a worthy warrior. After eight years of vigorous training, Odin presented the hammer to Thor and declared him the greatest warrior in Asgard.
Mjolnir hammer is no ordinary hammer. It is hefty, and only people who are worthy enough can lift it, regardless of their physical strength.
[ Read: Iron Man Coloring Pages ]
3. Loki:
This is one of the interesting Thor colouring pages. Loki is the main antagonist of the Thor series. He is Thor's archrival. Laufey and Jotunheim, his real parents, abandoned him in a temple because he was unusually small for a Frost Giant.
It was Odin and Frigga who adopted him at the end of the Asgardian's war. Odin altered his appearance a bit to make him look like an Asgardian and raised him along with Thor, his real son. He treats him like a prince of Asgard and never informs him about his true heritage until his adulthood.
4. Odin:
Odin, the father of Thor, is the great King of Asgard. He is the wisest and the most powerful of all the Asgardian Gods. Odin is the Son of the frost giant Bestella and Bor, the first Asgardian. This powerful being inherited the knowledge and power by living for millions of years.
His power and abilities include reading minds, creating force filed barriers that no one can get through and making items like Mjolnir.
[ Read: Hulk Coloring Pages ]
5. Sif:
The woman you see in action here is none other than Sif, a valiant Asgardian warrior, and Thor's childhood friend. She is a great friend of Thor and the Warriors Three. Sif is an incredible fighter. She possesses attributes like stamina, speed, and reflexes. Sif uses a double-edged spear as the weapon.
During the early years, not many people appreciate Sif's talents as a warrior, primarily because she is a woman. But Thor believes in her capabilities and encourages her never to give up.
6. Thor In Action:
Thor is a superbly skilled warrior. He is adept in hand to hand combat and throwing his hammer, just as you can see in this coloring sheet. Thor never stops fighting for a good cause, whoever he may be facing.
This mighty warrior defeated countless numbers of giants, troll and enemies of Asgard. But in doing so, he became arrogant and conceited. Displeased with Thor's lack of humility, Odin renders him mortal and exiles him from Asgard.
[ Read: Spiderman Coloring Pages ]
7. Little Thor:
Don't you think Thor looks adorable here?
The young Thor grew alongside with his adopted brother Loki. For most of the time, Loki would be jealous of Thor, which ultimately lead to hatred. Loki even contemplated killing Thor many times but was unsuccessful.
8. Avengers:
Your child is surely going to love this coloring. It features all of his favorite superheroes in a single coloring sheet. This scene is from the comic strip "Avengers". When Odin discovers that Loki has gone to earth seeking the Tesseract, he uses his power to send Thor to the earth to stop him.
When Thor meets Loki, he tries to convince him to give up his plan and return to home, but Loki resents him.
[ Read: Superman Coloring Pages ]
9. Hogun:
This coloring sheet shows Hogun in conversation with Thor and Loki. Hogun is one of the members of the Warrior Three, the trio of the Asgardian adventurers. Hogun is a taciturn and short-tempered Asgardian. The fierce and unrelenting warrior is the voice of reason for the Warrior Three.
As an ally of Thor, Hogun involves himself in many of Thor's adventures. He joins the quest for the power that cracks the Oversword of Asgard. He also helps Thor defeat the forces of Harokin.
[ Read: Batman Coloring Pages ]
10. Thor Showing The Power Of His Hammer:
Here is another coloring sheet of Thor displaying the power of his hammer. Thor is the strongest of all the Marvel heroes. He is durable enough to survive a blast from the Celestials.
Being the God of thunder, Thor commands the lightning, wind, thunder and all the elements of the storm. Mjolnir blocks all sorts of energy blasts and bends them to its master's will.
These free printable Thor coloring pages will allow your child to take a break from his daily routine so that he can travel to Thor's magical world and indulge in his adventures. Print these Thor coloring pictures and create a Thor coloring book for your little munchkin. What diagram did you son find best? Who is your child's favorite superhero? Share your story with fellow mommies here. Leave a comment below.
Recommended Articles:
DISCLAIMER: All images found here are believed to be in the "public domain". We do not intend to infringe any legitimate intellectual right, artistic rights or copyright. All of the images displayed are of unknown origin. If you are the rightful owner of any of the pictures/wallpapers posted here, and you do not want it to be displayed or if you require a suitable credit, then please contact us and we will immediately do whatever is needed either for the image to be removed or provide credit where it is due. All the content of this site are free of charge and therefore we do not gain any financial benefit from the display or downloads of any images/wallpaper.
The following two tabs change content below.