After the initial joy and celebration over the new arrival in your life, are you worried about the challenges of motherhood? Are you fretting over changing diapers through the night and nursing your little one while slogging through your household chores?
It is normal to feel the baby blues after giving birth. Read on to find out how you can fight the baby blues and instead enjoy bonding with your little one.
Baby Blues Causes:

It is hard to pinpoint the actual reason behind baby blues. Here are some popular explanations of why women feel the blues after giving birth to a child:
1. The sharp drop in the female hormone (estrogen and progesterone) within 24 hours of childbirth may be responsible for postpartum depression.
2. Some women also experience a decline in thyroid hormone soon after the delivery.
3. The new mother may feel overwhelmed with the addition in responsibility. She may try too hard to be a good mother to the newborn.
4. leep deprivation and fatigue add to the woes of a new mother.
5. The new mother misses being carefree.
6. After the initial bliss of motherhood, women start fussing over their weight gain during pregnancy. Their self-esteem is low as they become over conscious of becoming fat and unattractive.
[ Read: How To Lose Pregnancy Weight While Breastfeeding ]
Symptoms Of Baby Blues:

New mothers normally experience postpartum depression within the first couple of weeks or months after the delivery. Its symptoms include:
Difficulty in sleeping
Anxiety
Exhaustion
Loss of appetite
Low sex drive
Nervousness
Irritability
Mood swings
Emotional vulnerability
[ Read: Precautions After Delivery ]
Tips to Keep Baby Blues Away:

Baby blues is not an illness. So, do not worry. No treatment is necessary to overcome it. All that you need is your family's love and support. Here are some useful tips to cope with baby blues.
1. Sleep deprivation makes baby blues worse. Even a 10-minutes nap makes the mother feel energized. Sufficient sleep stabilizes emotions.
2. Do not worry about housework. Accept help from others.
3. Eat healthy food and do not skip meals. It will maintain the blood sugar level and stabilize your mood.
4. A little walk in the daylight beats postpartum blues. A walk with the baby in the new stroller works great. A little exercise and lots of fresh air and sunshine help to boost your spirits.
[ Read: Postnatal Exercises ]
5. Meet up with friends and limit discouraging visitors.
6. Regularly talk and share your concerns with your partner. He can help you with the chores or boost your confidence to handle the new responsibilities better. Bottling up your feelings inside can aggravate postpartum depression.
7. Dressing up can also help brighten your mood. Taking a short break from your routine like stepping out for shopping or even a spa therapy, can work wonders for you.
Remember with patience and practice you can handle your time and maternal responsibilities better. If these tips do not work, you may even consult your doctor and voice your concerns to her.
What do you think about this article ? Let us know your views in the comment. Do share with us about your baby blues in the comment section below:
Recommended Articles:
Click

The following two tabs change content below.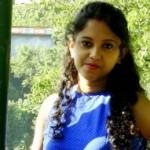 Latest posts by Sudeshna GuhaSarkar (see all)