The early phase of motherhood is a blissful combination of magic and mania. Tiny arms curling around your neck, cute giggles brightening your day, diaper duty, feeding spells and that little bundle of joy keeping you on your toes minute after minute. And then the calendar strikes 14th May – it's Mother's day, your first ever! The day finds a new meaning in your life. This new role you have been blessed with makes you feel special, overwhelmed, excited. And why shouldn't it? It IS a big deal. So plan it with all your might and get prepared to spend the most memorable 24 hours of your life with your life (the baby)
Here are 6 brilliant ideas to spend your first Mother's Day with your little charmer.
1 : – Sleep. Sleep. Sleep.
That's one thing new mommies are often deprived of. Put away the alarm clock, drop the curtains and darken the room a night before Mother's day. Gift yourself an early morning babysitter who will get the tiny tot ready for a celebration. Sleep in. Relax your body, mind and super-powers, just for a day. Well, you deserve it. You do.
2 : – Mom and Baby Brunch Date
Treat yourself to a relaxed brunch with your baby. Go to your favorite restaurant, the one you have been dreaming of visiting for days now. And binge! You totally deserve all that cheese and chocolate and chips. Happy bellies and happy babies are a great combination indeed.
3 : – Shopping Expedition
Shopping is therapeutic indeed. But pushing the stroller on aisles could get exhausting. So open that abandoned laptop and pick some cool stuff online for yourself and your little one.
Now you surely know what you need. But for the baby, here are some suggestions. These are supposedly the most popular toys for babies between one and two years of ager. You can find them easily on Amazon.
Laugh and Learn Smart Stages Tablet
Rock-A-Stack Wedge Package Toy
Bet your little one will love these toys. And you could schedule a date with daddy while she (or he) is playing with them. Sounds like a plan?
4: – Swimming, Spa, Fiesta!
Now that we are in the self- pampering zone why not top it up with a soulful spa or a peaceful aquatic therapy? Hire a skilled masseur for you and your baby or just go for a rejuvenating swim. Pick your option based on the weather and convenience. Being stress-free is our goal for the day.
5: – Write a letter to your baby
Pour your heart out. Give words to all those emotions you have felt for your baby but never had the time or chance to record them. These letters are the treasures for future. They are your deepest confessions and feelings that do matter. Write to your newfound little companion and follow this practice every year. Your heartfelt Mother's Day return gift it is!
6: – Sing, Dance. This is your chance!
Conclude the beautiful day with music and moves. Dance with your baby, sing your heart out and witness magic happen. Laugh, play, feel each moment passing through you like a dream come true. This very moment is the best one, live it to the fullest. This is going to be the favorite part of your baby's day. Take our word for it.
Every day is special once you have a baby. And now that you have begun the celebration keep coming back to it now and then. As your little one grows up, add new activities to the Mommy Day celebration. Make love-loaded greeting cards, indulge in a pottery session, sing your favorite songs for each other – record them as memories, dress up and go for kiddie movies, paint, jump and take crazy selfies. Develop them later for your personal album.
So here's to motherhood, to this celestial bond that can only be felt and lived, to love and to life. Happy Mother's Day.
The following two tabs change content below.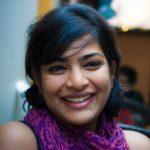 Latest posts by Chandrama Deshmukh (see all)