Are you planning to buy a pillow for your little one? Do you worry that your baby may not be comfortable sleeping without a pillow? Do you want to know whether using pillows for babies can cause any complications?
If you can relate to the situation, or you know someone who can, read our post. Here we look at how safe is it for babies to use a pillow, and when can babies sleep with a pillow.
When Can A Baby Sleep With A Pillow?
For now, if your baby has not yet slept on a pillow, rest assured that she isn't uncomfortable. If your baby sleeps on a flat surface, she still does not know the difference between sleeping on a pillow and sleeping the way she does now.
Most pediatricians and baby care experts are of the firm belief that letting your baby sleep on a pillow can cause a potential risk of SIDS (Sudden Infant Death Syndrome). Your baby may notice your pillow and how you use it to lie down. If she shows interest in one or asks for one, you shouldn't give in just yet.
While most baby cribs do have pillows, it is better to avoid using any pillows until your little one is two years old. It helps avoid any accidental suffocation, as she may be able to pick up and place the pillow on her, but will not be able to remove it.
[ Read: Is It Safe To Use Sleep Positioner For Babies ]
What To Consider While Choosing A Pillow For Your Baby?
If you are sure that your baby can begin sleeping on a pillow now, make sure you read the points here before you make a choice:
1. Go For A Small And Flat Pillow:
Once you feel that your baby is ready to sleep on a pillow, choose one that is small and extremely flat.
Check out baby care stores that may have special small and flat pillows. Make sure that you get a pillow that isn't too soft or too rigid. A soft pillow poses a higher risk of SIDS.
Avoid buying feather pillows. If you use such a pillow in your baby's crib or cot, she may end up sinking her head into the pillow and suffocating. The feather pillow's shaft or pointed ends that stick out of the feather can injure or hurt your baby's face or eye.
[ Read: Safe Sleeping Positions For Babies ]
2. Check If Your Baby Is Ready:
The best time to get a pillow for your baby is when she transfers to sleeping on the bed.
Sometimes, your baby will give you signs that she is ready to transition to a pillow. She may want to put her head down on a blanket, or she may try to lie down on your pillow.
If your baby seems the slightest bit uncomfortable, remove the pillow immediately.
[ Read: Tips For Using Baby Slings Safely ]
3. Choosing The Pillow:
Make sure you perform the following checks to know whether the pillow is safe for your baby.
Press the pillow and see how soon it regains its shape. If it does not move at all or moves very slightly, the pillow is very soft. Avoid buying it. If it takes too long to regain its shape, it may be too hard for your baby.
Buy a pillow of 100% non-allergenic polyfill polyester. It will prevent allergies.
[ Read: Is It Safe To Let Your Baby Sleep On Her Tummy ]
Hope you liked our post on when can a baby sleep with a pillow. Avoid using a pillow for your baby for as long as possible. You may feel she is uncomfortable, but she will still be very comfortable and safe without it. When did you introduce a pillow to your baby? Do tell us about it below.
Recommended Articles:
The following two tabs change content below.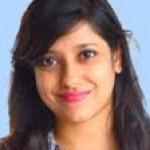 Latest posts by Debolina Raja (see all)