Is the love of your life turning 30, a milestone that must be celebrated? If yes, then you should also look for that unique gift that will make their 30th a memorable one. Finding the perfect present for your husband may be easier when you know what he wants. Otherwise, look at something unique that could make the next phase of life exciting.
To help you in your quest for that perfect gift for your husband, MomJunction has curated a list of the best 30th birthday gifts for husbands.

Top Products From Our List
10 Best 30th Birthday Gifts For Husband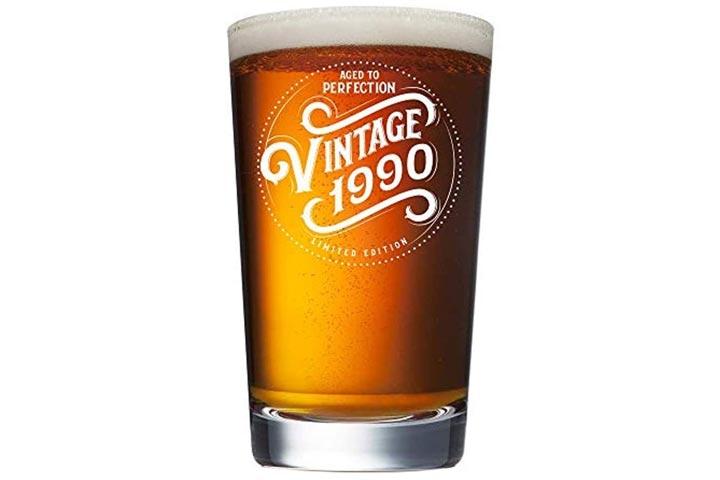 If your man loves to have an occasional drink, then he is sure to like this cool Vintage 1990 old pint glass. The classic design of this 16oz capacity glass could spruce up the look of your crockery shelf. It is made of high-quality material, is dishwasher-safe, and easy to hold. It is ideal for holding any craft beer, including ale, stout, lager, and porter.  The quality print on the beer mug is likely to stay as long as the glass is intact.

Pick a bottle of your man's favorite whiskey and give it to him along with this whiskey stone gift set. The perfect gift for a whiskey drinker, this set has 9oz. crystal glasses, natural granite stones, and rustic real slate stone coasters. The stones are tasteless, odorless, and FDA-approved, and go well with spirits, chilling wine, scotch, and other drinks. They are also a better alternative to ice cubes and can be stored in a velvet storage bag that protects them from absorbing flavors when placed in the freezer.

If he is a Republican or a Democrat, or a patriot or a prankster, this greeting from the U.S. President, Donald Trump, would make him laugh. What fun it would be when he hears the voice of Donald Trump saying, 'I just wanted to wish you a Happy Birthday. I would never say in your case that you're fired, so I'll just say, you're hired!' The card has a glossy and high-quality finish and contains plenty of blank space for you to write your greetings. This could indeed make his birthday great again!

The pocket watch etched with the words 'To My King, Never forget that I Love You FOREVER. I hope you believe in yourself as much as I believe in you' could make an ideal 30th birthday gift for him. In addition to the pocket watch, the kit contains a waist chain, an instruction card, a chain, and a quality gift box. Made of premium zinc alloy, it has a shiny black finish on both sides and has a white dial with a filigreed second, minute, and hour hands.

A man always needs a wallet to carry his money and cards. Why not give him this wallet cardholder that is beautifully engraved with the lines, 'To My Husband: I loved you then, I love you still, always have, always will.' Made of soft and breathable premium leather, it could be a lovely keepsake that reminds him of your love always. It includes six card slots with RFID (Radio-frequency identification) functionality for security.

You may order this Cosvog wooden watch that has a personalized engraving on it, saying, 'To my HUSBAND, I love you in the morning, in the middle of the day. In the hours we're together And the hours we're away.' Besides the message, the adjustable and comfortable fit of the watch will also impress him. Made of 100% natural wood, and without any dyes or toxins, the leather strap watch could be suitable for everyday wear, and also special occasions.

You may make this milestone more remarkable by gifting him a 30th birthday card that features four stages of turning 30. It has a cute and funny story with special decorations such as smooth laminate, sparkling glitter, and shimmering foil. The four stages mention all emotions like shock, anger, denial, and acceptance that come with entering 30. It includes an envelope too.

Make a statement on your man's 30th birthday by gifting him this sturdy travel tumbler. It comes with two lids, one flipping lid, and one straw lid. The double-wall insulated tumbler keeps the drink cold for 9+ hours and hot for 5+ hours. The soft silicone tips protect the lips and teeth from extreme temperatures while sipping the drink. He could take it anywhere he goes, be it camping, sporting events, or when traveling. There is also a straw brush and tumbler brush that make it easier to clean.

This cute and sweet key chain tag is something that would probably make him smile or even laugh. Made of stainless steel, it is sturdy and thick with a matte surface that brings it a beautiful look. The sweet message engraved with black ink reads, 'I Love You The Most. The End. I Win.' It has a connecting ring that holds the plate securely, and it comes with one year guarantee with either a full refund or a free replacement.

Why don't you add one more coffee mug to his collection in the cupboard? This coffee mug is ideal for coffee lovers, although it could also be used for tea, yogurt, water, milk, and mixed drinks. The large C-handle gives a comfortable grip to hold and comes with a glossy exterior and interior. It is a 100% ceramic mug that is microwavable and dishwasher-safe.
How To Choose The Right 30 Birthday Gifts For Husband?
Here are a few tips you may consider before planning to buy a gift for your husband on his 30th birthday.
His interests: Buy something that complements his interest. You know him better, and what he likes and dislikes. Make a note of them so that choosing the gift becomes easy.
Buy something practical: Consider buying a gift that he can use every day or often uses at work or at home.
On-trend: Pay attention to the on-going trends and get something cool or get something that you can customize according to his likes.
Set a budget: Your husband may mean the world for you, and you wouldn't mind spending as much as it takes to make him happy. But narrowing down a gift would much easier when you have a budget in mind.
Pick a gift from this list or use it for a better idea about what you want to give your husband on his 30th birthday. When you take some time to find the right gift, your husband will appreciate all the efforts you put in to make him feel special.
Recommended Articles: 
The following two tabs change content below.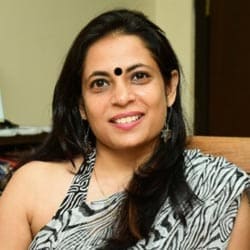 Priti Bose
Priti Bose is a poet, songwriter and blog writer. She did her masters in English, Public Relations and Advertising. Her creative skills and hunger for details make her do in-depth research on the topics she covers. For MomJunction, she writes on product analysis and reviews, especially for kids' products, toys and gifts. Before her association with MomJunction, Priti worked in the...
more