Having spent six beautiful years with your partner, you may know them inside and out in almost every way. However, when it comes to thinking of the best 6th wedding anniversary gifts, you may need some help to make them unique and memorable.
Of course, the options are endless, but you may want to give them something specific that aligns with their interests and that you know they will thoroughly enjoy and appreciate.
If you aren't sure where to start looking for the perfect gift, you've come to the right place. We have a list of amazing ideas that are equally worth considering. These gift ideas will make your partner feel special and grateful, so take a look and pick the one you believe they will treasure forever.
20 Best 6th Wedding Anniversary Gifts
If you're running out of ideas for your 6th wedding anniversary gifts, behold — you might be in luck. The only thing that's better than a gift is a gift card. This Amazon gift card gives your spouse the liberty to shop for $50 on Amazon. It is wrapped in a premium gift box with gold accents. By giving your spouse a gift card, you're letting them know that no matter what they have their heart set on, this little gem will help them out. The card doesn't expire, nor does it come with an added fee, so your loved one can use it as they please. Don't forget to write a letter and hide it in the gift box to add a personal touch.
An anniversary gift like this breathtaking sculpture helps you kill two birds with one stone. While it perfectly represents a meaningful marriage, it can sit in your room and add a touch of elegance to your living space. Sculpted by artist Susan Lordi, it carries the message that "love ever endures". It is a 6-inch hand-painted resin sculpture but it is so much more than that. It subtly speaks for you and delivers your emotions and intentions of love and care for your spouse. The mellow tones of white, cream, and light brown add serenity to the sculpture.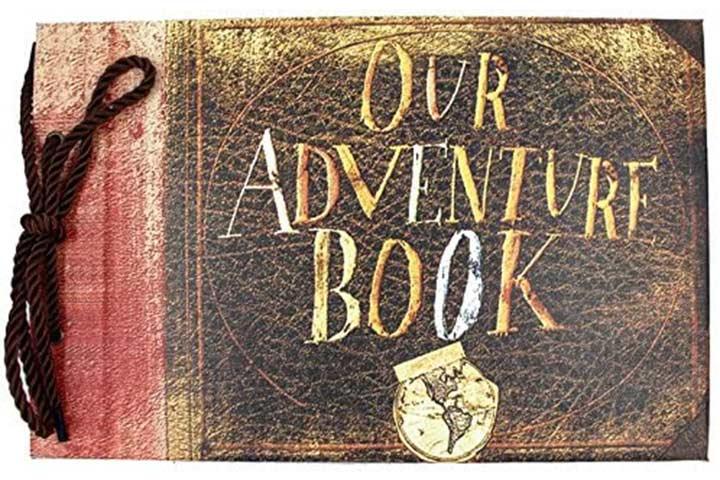 One of the best ways to celebrate the iron anniversary is to look back on the blissful journey of togetherness you've shared with your loved one. The cover of this scrapbook reads "our adventure book" and is ideal to secure all your memories from your wedding day to all the trips you've taken together. The scrapbook has a rustic, vintage look and is held together by a rope. You'll find 40 sheets with 5 self-adhesive photo corners to keep photos in place. As a bonus, you also get 5 postcards.
If you're looking for simple yet sophisticated anniversary gifts that leave a lasting impression, gold will never disappoint. This stunning 24 karat gold-plated double heart figurine will instantly make your spouse fall in love with you all over again. The delicately designed hearts have clear crystals suspended inside, and they dangle right above a banner inscribed with "Happy Anniversary". The structure rests on a circular support so that you can add it to your home décor collection. The figurine is packed in a soft, velvet pouch, so your spouse will know their gift is something delicate and precious.
The Mamre moonlight shadow lamp is among the most suitable sixth year anniversary gifts that will light up your spouse's world. While it is made from ABS plastic, PC, and zinc alloy, it has wooden tones that add to the moon's beauty when the lamp is lit. What's even more awe-inspiring about this perfect gift is a pair of lovers sitting snuggly right at the bottom-center of the lamp, almost like they're enjoying a moonlit night. Whether you're out camping or plan to celebrate your sixth wedding anniversary in the comfort of your home, you can light up this lamp to add romance to the atmosphere. You also get a USB cable, wall power adapter, and stickers along with the lamp.
The iron anniversary is an ideal occasion for married couples to reminisce about their initial days as lovers and what better way to do that than with music? The Mr. Winder music box is one of the bestsellers when it comes to 6th wedding anniversary gifts for her. The whole body of the box is made from good quality wood and has detailed carvings all over. When you open this super cute music box, it starts playing a melodic track — "You are my sunshine". It also has a quote engraved on the inside of the lid that's sure to woo your wife.
Determining the right gift for the 6th wedding anniversary gifts for him when you're totally out of choices can be a tough call to make. But if there's anything you can never go wrong with in terms of gifts for men, it's wristwatches. What makes Cosvog watches special is the spectacular personalized engravings that talk for you when you're unable to put your love for your husband into words. The watch is handcrafted with natural wood and features a Japanese Miyota quartz movement. You can also customize it with your husband's name or engrave a heartfelt message.
A successful marriage is one where both the husband and the wife put equal amounts of effort into making it work. Similarly, when you're celebrating 6 years of togetherness, both of you deserve a gift. These couple mugs are a great way to walk into another year of marriage with happiness and cheer. Each of the Mr. and Mrs. mugs has a 500 ml capacity, which is perfect for beers and cocktails. If you're a teetotaler, you can also have iced tea or just about any other drink in these unbreakable mugs. Made from high quality steel, these mugs will last you for a very long time, just like your marriage.
This personalized canvas makes for an ideal addition to your home décor, reminding you and your spouse of your accomplishment as a married couple. The canvas is customizable, and you can add the names of you and your spouse along with a special date. The drawing and writing are done digitally, which means the outcome is always flawless. In addition to that, high-quality Epson ink and cotton canvas are used for the artwork. This is also an amazing option if you're looking for iron wedding anniversary gifts for your friend's anniversary.
A unique iron gift for the 6th wedding anniversary on our list, this beautiful pendant lets you remind your wife how much you love her infinitesimally, not in one, but in 120 different languages. The three magical words are carefully and intricately inscribed in 24 karat gold. The pendant is made of 925 sterling silver frame and is black onyx coated in the center to highlight the golden inscription. What's beyond marvelous about this 18-inch pendant is that it also has I love you etched in braille and sign language, making it a gift that anyone would hold dearly.
If your man loves to collect all things vintage, your search for the 6-year anniversary gift might end right here. This sundial compass features a lid, which has a loving message engraved for him. When you open the lid, it gives way to a magnificent looking compass. It is encased in a vintage mango wood case with glass on the top, so you can keep it as a decorative item as well. The sundial is made from high-quality polished brass. Your spouse can keep it at their office desk or even take it along when traveling. Every time they check the compass, they'll surely remember you.
Remember that time when you promised your wife that you'll never let go of her hand no matter what? Your iron anniversary can be the right occasion to assure her that you intend to keep your promise with the entwined hands sculpture. It is made from cold-cast resin and has a bronze-powder finish to it. It stands 5 ½ inches tall, sturdy, and has a felted base so it can be placed anywhere conveniently.
We all know roses are one of the most classic anniversary gifts, and no woman would ever say no to them. The only downside to gifting roses is that they wither sooner or later. If you're keen on gifting your wife a rose and want it to last forever, you should consider this 24K gold rose. The stem, leaves, and the rose are made of plastic, metal, and acrylic, with a 24-karat gold foil coating to give it a flawless yet delicately gilded appearance. While a rose is a perfect representation of pure love, this amazing iron anniversary gift also symbolizes infinity since it is there to stay for a long, long time.
If you're a family of 5 and are celebrating your 6th year of marriage, getting something for your spouse representing your entire family is the way to go. This rustic, hand-forged, black figurine is made from cast iron, making it durable, sturdy, and strong, just like the bond you share with your family. The bottom of the sculpture is lined with velveteen so you place it on a table or your bookshelf without scratching the surface.
If you're up for quirky, unique, and out-out-the-box gift ideas for your 6th anniversary, these keyrings made out of pennies from 2014 are hands down the best choice. Both the pennies have hearts etched around 2014 on the coins. Sharing similar keyrings is an amazing way to think of each other throughout the day, every day. It can also be a great idea to buy these keychains because the one cent coin is known to be the symbol of luck.
Wall clocks are yet another home décor cum anniversary gift that serves a useful purpose. This wooden wall clock is 11 inches in diameter, and what makes it an ideal anniversary gift is that it can be customized. You can have the names of you and your spouse on it along with the date of your wedding to commemorate your special day. The clock is light grey towards the center while the sides are hand-stained in barnwood gray. If you plan on making a worthwhile investment while also making your spouse happy, this wall clock is worth considering.
If you've had fancy dinners, movie dates, trips to the best of places, and everything in between for your wedding anniversaries, options for your 6th anniversary must be constricting. These game dice are a fun way to figure out what to do on the special day without any confusion. The dice have 36 different options that are well-thought-out for married couples. Ideas like cook for each other, having a campfire, making homemade pizza are a great way to connect and do something together. Made from metal, these dice are packed in a velvet bag.
Yet another penny keychain on our list, this one from Tucker's Trinkets And Treasures reads '6 down and forever to go to', which makes for one of the best 6th wedding anniversary gifts. The keychain has 2 pennies and a metallic plate made either from stainless steel or aluminum. You can have the initials of you and your spouse stamped on it. Simple yet meaningful, this anniversary gift will bring your loved one luck and keep you in their memory every time the pennies clang.
Have you ever thought about how far you've come in these 6 years of marriage? If not, this keychain is sure to make you realize how you've spent so many years, months, weeks, days, hours, and minutes with your spouse. The best way to tell them that you'll keep loving them for eternity is by giving them this keychain. It can make you and your loved one appreciate each minute that you've got with each other so that you can make more happy memories.
Many people prefer wooden décor over everything else, and if your spouse is that person, you can't go wrong with this wooden gift plaque as your 6th anniversary present for your wife. This customizable wooden plaque has the number of months, days, hours, and minutes in 6 years printed on it. What's more is that you can have your names printed on it. Hang this wooden frame in your bedroom and show off that you've achieved another wedding milestone by keeping it in the living room — this surprise will make your spouse grin like a Cheshire cat.
Why Trust MomJunction?
Priti Bose is a skilled writer with years of experience in reviewing and writing about gifts and toys. She compares multiple items and aggregates user reviews to present readers with the highest-rated and recommended options. In this article, she writes about the best 6th wedding anniversary gift ideas that will help express your love for your partner on this special occasion. She recommends the best ones based on their quality, design, and durability.
 Recommended Articles: