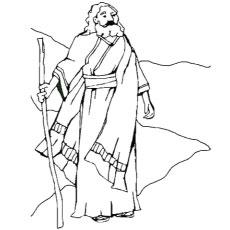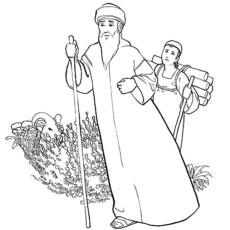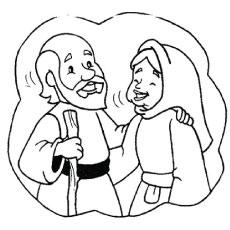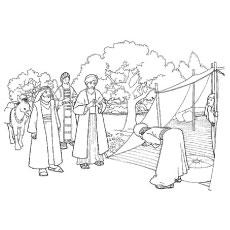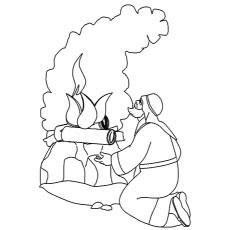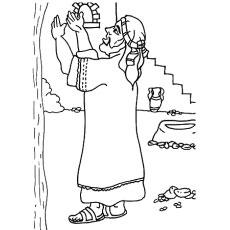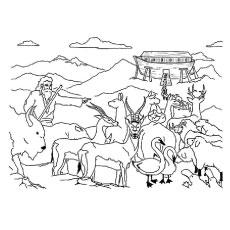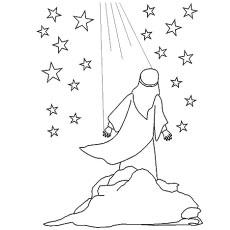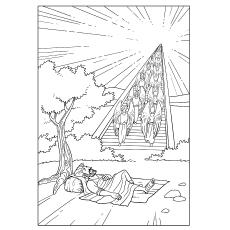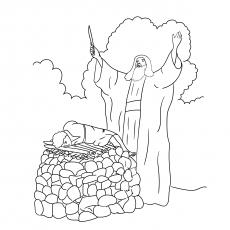 Recommended Articles:
Abraham, also known as Abram, plays an important role in Christianity, Judaism and Islam. He is a biblical superhero and richly deserves a place in the Old Testament Hall of Fame.
The story of Abraham is that God spoke to him personally, visited him in his home and considered him as a friend. Abraham obeyed God completely, served Him and was even willing to sacrifice his son to prove his love for Him.
Top 10 Abraham Coloring Pages
The story about Abraham is about God's promise and provision. God chose Abraham out of all men on the earth to become the father of His chosen people, the nation of Israel.
Abraham was not a perfect man, but he was credited with righteousness because of his faith in the God. Here is a small collection of Abraham coloring sheets to teach your child about Abraham. These Abraham pictures to color depict the important occurrences in the life of Abraham.
1. Abraham:
Here is a coloring sheet of Abraham, one of the first three Biblical patriarchs.
The story of Abraham is told in the book of Genesis in the bible. He was born in a place called Ur, around 4000 years ago.
Abraham believed in one, true God, but the people of his city worshiped the sun, moon and stars.
God, then told Abraham to leave the place and go to a special land, which would belong to millions of his descendants. Abraham obeyed and then left the place with his wife Sarah.
[ Read: Moses Coloring Pages ]
2. God's Promise To Abraham:
This coloring sheet highlights Abraham's encounter with God.
God promised Abraham and Sarah that one day they would be parents, even though they were old and childless.
He told him that his descendants would be as numerous as the stars in the sky.
After a span of few years, his son Isaac became the father of Jacob and Esau.
Later Jacob became the father of twelve sons, who became the ancestral father of the twelve tribes, which made up the nation of Israel.
3. Abraham And Sarah With Their Newborn Child:
This coloring sheet depicts the happiness of Abraham and Sarah on seeing their new born child Isaac.
Abraham and Sarah loved their new born dearly. Isaac was the joy of their lives.
They cuddled and fed him. They were thrilled when he spoke his first word.
Before they could realize anything, he had grown to be a young man.
[ Read: St. Patrick's Day Coloring Pages ]
4. Abraham To Sacrifice Isaac:
The coloring sheet illustrates the attempted sacrifice of Isaac by his father Abraham.
It shows the boy tied to an altar with his father standing over him.
When Isaac was in his teens, God decided to test Abraham's faith. He told Abraham to bring Isaac to a certain mountain and sacrifice him.
Abraham trusted God so much that he was even ready to sacrifice his own son for him.
[ Read: Adam And Eve Coloring Pages ]
5. Abraham Offering Sacrifice:
When Abraham and Isaac reached the mountain, Abraham built an altar and placed the firewood on it. He then raised his hand to sacrifice Isaac.
At that moment, God cried out to Abraham to leave Isaac and sacrifice a ram caught in the bush.
Abraham did as he was directed. His son was spared!
6. Abraham And The Lot:
This coloring sheet highlights Abraham's generosity.
When Abraham came back to the Bethel, the land could no longer support his and the Lot's herd and families.
This became a problem for the herdsmen who were assigned to each family's cattle.
Even though Abraham was a lot older than the Lot and could claim the land he wanted, but he graciously let the Lot choose where to settle.
[ Read: Bible Verse Coloring Pages ]
7. Abraham And Isaac:
This coloring sheet displays the bond that Abraham shared with his beloved son Isaac.
Abraham would spend his maximum time teaching Isaac to love and obey God. He would also narrate his experience and encounters with God.
As Isaac grew, he worshipped God just as his father Abraham did.
8. Abraham And Sarah:
This coloring sheet features Abraham and Sarah.
One day, when Abraham was 99 years of age, he saw three visitors coming their way.
One of the visitors announced that this time next year his wife Sarah would have a son.
Both Sarah and Abraham laughed at the idea, as they were too old to have children.
The next year they had a son and named him Isaac, which means laughter. The couple then thanked God for Isaac.
[ Read: David and Goliath Coloring Pages ]
9. Abraham With His Herd:
This coloring sheet features Abraham with his sheep.
Abraham and his descendants fed their flocks on the rich plateau of East of Jordon, and on the mountains of Palestine and Syrian.
Abraham loved spending time with his sheep.
He would spend day and night tending his flocks in the plateau.
[ Read: Cross Coloring Pages ]
10. Abraham Praying To God:
Abraham and his wife had been childless for a long time.
God, then promised Abraham that he would be the parent of a large number of children.
Abraham, then wondered how God could fulfill his promise of so many descendants as he was 75 years old.
They arrived at the Promised Land and years went by without any sign of the child, leave alone a son to carry on the family name. This made Abraham helpless and he broke down in front of God.
Abraham is an exemplary individual. He did not lead a perfect life, but illustrated so many truths of the Christian life. Through Abraham, we can learn about the importance of redemption and sacrifice.
Hope you liked these free printable Abraham coloring pages online. Do not forget to share your experience with us.
DISCLAIMER: All images found here are believed to be in the "public domain". We do not intend to infringe any legitimate intellectual right, artistic rights or copyright. All of the images displayed are of unknown origin. If you are the rightful owner of any of the pictures/wallpapers posted here, and you do not want it to be displayed or if you require a suitable credit, then please contact us and we will immediately do whatever is needed either for the image to be removed or provide credit where it is due. All the content of this site are free of charge and therefore we do not gain any financial benefit from the display or downloads of any images/wallpaper.
The following two tabs change content below.