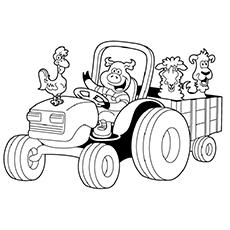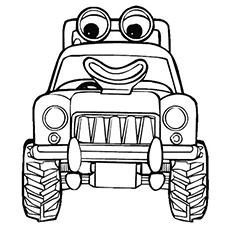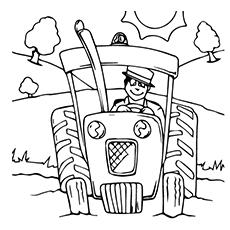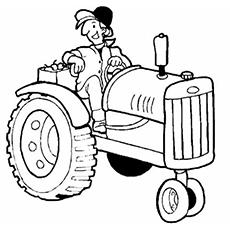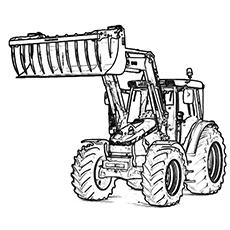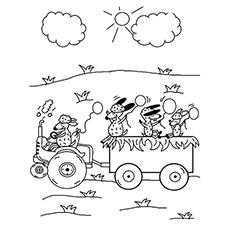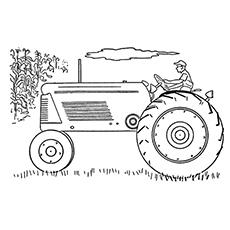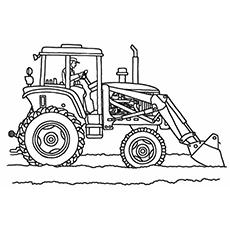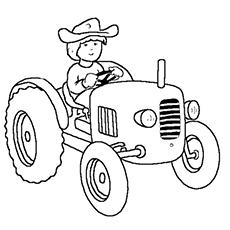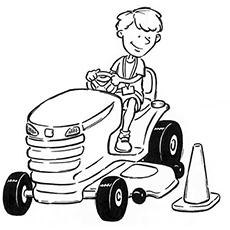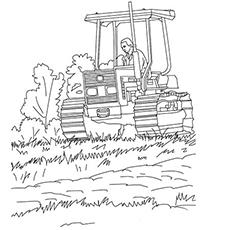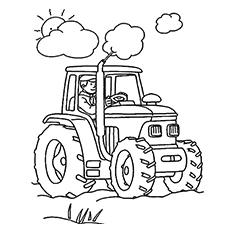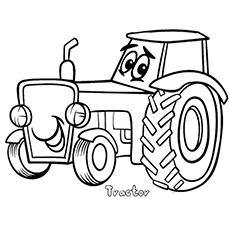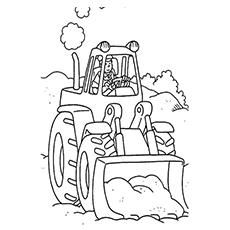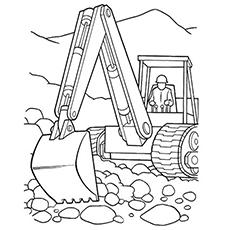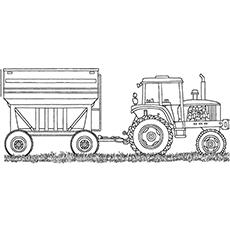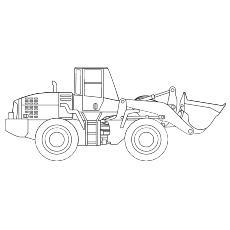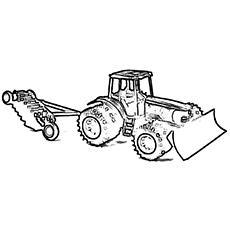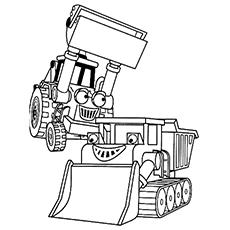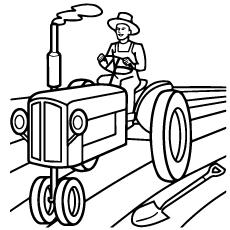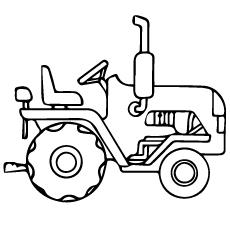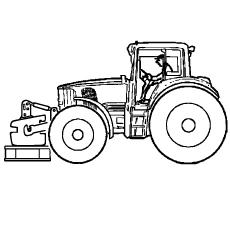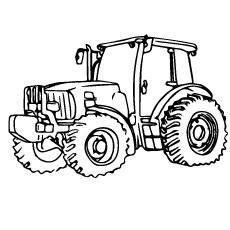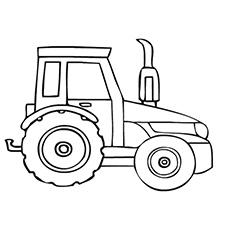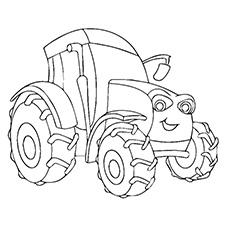 Recommended Articles:
Is your kid a fan of farms, animals, and most of all, tractors? If yes, then tractor based coloring pages are the perfect option for him.
Tractors have always fascinated little boys around the world because it is associated with a sense of adventure. Every little boy dreams of riding, and even owning, his very own tractor some day.
Therefore, these tractor coloring sheets will definitely provide the necessary thrills while also being thoroughly entertaining.
20Â Best Tractor Coloring Pages For Toddlers
These tractor coloring pages printable will surely provide your boy with the sense of adventure he desires while also teaching him the finer art of coloring.
1. Side Tractor:
This is a great picture for your kid to get a good view of the tractor from a side perspective.
Your kid will learn to color within the specified lines which serve as demarcations.
This picture is perfect if your kid is a little older, above 7 years.
[ Read: Disney Cars Coloring Pages ]
2. Tractor In An Open Field:
This is a great picture as it showcases a tractor in the open, thereby creating a very rustic look which most people associate the machine with.
This picture is perfect for kids who are learning to color more complex objects and who have a better eye for detail.
This picture is an upgrade as it allows your kid to experiment with various other colors in the box.
Your kid will also have the opportunity to color the beautiful sun and clouds in the picture.
3. Farmer On Tractor:
This picture will make your kid very happy as it includes a farmer on top of a tractor, something most little boys are accustomed to when they think of a tractor.
The various elements on the coloring page make this a complex picture.
You may have to assist your kid in coloring certain sections which may have certain small details.
You can give him a brief understanding of how farmers work on their tractor and show him a video to make him understand better.
[ Read: Cars Coloring Pages ]
4. Standalone Tractor:
This picture will is perfect for kids who are just getting accustomed to coloring complex pages.
Your child will learn how to color the various components that make up a tractor.
This picture will help improve your child's hand-eye coordination.
Buy him a mini toy tractor and present it to him if he does a good job at coloring.
5. Boy On Tractor:
This picture is apt for children who dream of sitting on a tractor of their own.
The little boy on the tractor will make this picture more relatable to your kid.
This picture is perfect for children who are just starting to enjoy coloring as a productive hobby.
[ Read: Cars Coloring Pages ]
6. Funny Farmer On Tractor:
This picture is sure to be a hit because it will incite a few laughs for your kid.
This picture adds a little comic relief to the coloring session.
Allow him to show it to his friends to encourage them to color as well.
7. Sheep Riding Tractor:
This graphic picture is exciting as it showcases a sheep riding a tractor.
Your kid will love coloring this picture because it cleverly incorporates sheep and balloons.
It will keep your child occupied for a good 1-2 hours, giving you some extra time.
8. Monster Tractor:
This picture is apt for children who enjoy watching tractor shows on TV.
The picture is apt for boys who are close to 10 years of age.
The interesting shape will appeal to your child; it is also relatable because these kinds of tractors can be seen on TV.
[ Read: Muscle Car Coloring Pages ]
9. Tractor Scooping Hay:
This picture is perfect if your kid loves learning about farms and farmers.
Your kid will learn to color images which are quite distant.
Your boy may want to explain exactly what the role of a farmer entails for a better understanding.
10. Vintage Tractor:
This picture is great as it highlights the intimate details of a tractor.
Your child will learn about vintage tractors and how useful they are.
The picture is suitable for children who have been coloring for a few years now.
11. Six Bottom Plow Tractor:
This picture will introduce your child to another variety of a tractor.
Your kid will learn about plows and how useful they are when it comes to farming.
Ask your darling to color this page with bright colors.
[ Read: Sports Car Coloring Pages ]
12. Tractor And Hay:
This picture will be fun as it depicts a typical farm setting.
Your child will enjoy coloring a farm setting if he is fascinated by it.
Teach him about hay and how it serves as fodder for animals like cows and horses.
13. Crawler Tractor:
Your kid should be a little older in order to truly appreciate this picture.
The tractor is complex and perfect for children above the age of 12 years.
He can look up the tractor on the internet for a better understanding.
14. Farm Tractor:
The picture shows a front view of a tractor.
The largeness of the image will help your child focus better.
He will learn about the other details on a tractor like the headlights.
[ Read: Police & Police Car Coloring Pages ]
15. Two Trucks With Eyes:
This picture is apt for younger children.
The fun pictures will make it enjoyable for your children to color.
You can show him the movie 'Cars' which has a tractor character just like in the picture.
16. Cute Piggy Drives The Tractor:
This picture will surely make your child giggle. The cute little piggy is driving the tractor while all other animals sitting inside the tractor are enjoying the joy ride. The smiling faces of the hen and the sheep show how excited they are to roam around the countryside.
This picture will test your child's observation and creative skills. Give him all the freedom to color the picture as he or she wants. You can also encourage your kid to add a lovely background to this picture and make it even more meaningful.
Don't forget to pin up this picture in your kid's room, once the coloring is done!
17. Tractor Tom:
Tractor Tom is an animated television program produced by Contender Entertainment and Hibbert Ralph Entertainment. There are Tractor Tom toys, video games and merchandise which children always love to get as gifts. Tractor Tom always saves the day and children look up to this character as a hero. If your little angel is addicted to Tractor Tom series on television and loves the adventure stories shown in each episode then he or she will also enjoy coloring this funny picture.
Children love animated characters, so they will surely like this cartoon tractor. Coloring was never so much fun, isn't it?
18. Tractor with Crane:
Tractors are used in the construction sites and during disaster management. These utility tractors with cranes help in building construction, landscaping work and rehabilitation post-earthquakes and floods. These have powerful motors and big wheels that help in doing such heavy manual work. The tractor is operated by personnel who sit behind the steering wheel.
This tractor makes work faster and efficient and thus it is popularly used. The picture has minute details that will keep your little darling engaged for hours. Just observe the kind of colors he or she is using while coloring this picture. If your kid can color this picture accurately without your guidance then give him or her a treat! Your appreciation means a lot to your little one and will teach them to take pride in their work.
19. Tractor Pulling the Cart:
Tractor is a type of utility vehicle. Tractor is not just used for transport but it is also used by farmers for irrigation, by engineers for construction and by industries to transport raw materials from one place to another.
The tractor shown in this picture is pulling a cart with a machinery part loaded on it. The wheelbase is broad so that it can support the weight on the cart. This tractor is definitely used for industrial purpose. The versatility of the vehicle makes it even more special. You get to see tractors more in the countryside and near factories. Sometimes during road construction in a city you see many tractors around you.
Though the picture states that it a new blue tractor, but let your child color it with any color he or she wants to use. Pin it up in his or her room once it is completed. You can also use this coloring page as a learning tool and make your child familiar with the names of other vehicles.
20. Smiling Tractor:
Children love to color cheerful pictures and this picture falls in that category. This tractor is wearing a big cap on its head and is giving broad grin. Your little one will make this picture more funny and bright by coloring it with his favorite shades.
These free printable tractor coloring pages online are sure to be a hit with your child. It also is a great way of taking a passion of his and making him enjoy learning about it as well.
Do share which of the above tractor coloring pictures is your kid's favorite in the comment section below. You can also prepare your own tractor coloring book and share it with us:
DISCLAIMER: All images found here are believed to be in the "public domain". We do not intend to infringe any legitimate intellectual right, artistic rights or copyright. All of the images displayed are of unknown origin. If you are the rightful owner of any of the pictures/wallpapers posted here, and you do not want it to be displayed or if you require a suitable credit, then please contact us and we will immediately do whatever is needed either for the image to be removed or provide credit where it is due. All the content of this site are free of charge and therefore we do not gain any financial benefit from the display or downloads of any images/wallpaper.
The following two tabs change content below.