If you want to move away from common Islamic names and want more unique ones from that category, you should look towards Algerian names.
Algeria is an Islamic country in North Africa, which lies on the Mediterranean coast. A traditional Algerian name will add appeal to your little one's personality. What's best is that if you don't live in Algeria, it will be a unique name. MomJunction lists 15 Algerian baby names that you can choose from.
Popular Algerian Boy Names With Meanings:
1. Basem:
Basem is a rare name in Algeria but is sure to gain popularity soon. Basem has a beautiful meaning. It means 'a person who smiles'. We hope this name fills your baby's life with smiles and joy.
2. Khalil:
Spelled in many different ways, the name Khalil became famous due to American-Lebanese poet and writer Khalil Gibran, the author of "The Prophet". Khalil means 'honorable comrade'.
3. Said:
Said is an old and popular Algerian baby names. Said was the name of the slave whom Prophet Muhammad adopted as his son. The name Said means 'Lord'.
[ Read: Serbian Names For Baby ]
4. Farid:
The trendy D ending name has a major presence in Algeria, and it seems that it is not going anywhere anytime soon. Farid is a distinctive Algerian boy name. The name Farid means 'exceptional', exactly what your son is.
5. Hakim:
Prophet Muhammad approved the 99 attributes of Allah as worthy names for baby names. Hakim is one of the most famous of these names. The name Hakim means 'insightful'.
6. Sami:
Related to Sammer, Sami is an antiquated name that carries a modern appeal with it. Sami is the Algerian version of Christian name Samuel. Sami means 'exalted'.
7. Mustafa:
Mustafa is also the epithet of Prophet Muhammad and holds special importance to Algerians. It is also the name of the four Sultans of Ottoman. The other spellings of Mustafa are Moustapha, Moustafa and Mostafa.
8. Zuthimalin:
Zuthimalin is a high-wire name that may appeal to intrepid parents. Zuthimalin is the name of a Sahabi in Islam. Like most of the Z starting names, Zuthimalin has an exotic charm to it.
[ Read: Tanzanian Baby Names ]
Top Algerian Girl Names With Meanings:
9. Basira:
Don't you think the name Basira has a choral feel to it? Basira means 'sagacious and wise'. The name is gaining momentum in Algeria.
10. Samia:
This is one of the popular Algerian girl names. Samia is a widespread choice in Algeria. The name sounds remarkably distinctive and extremely simple. Samia means 'high, exalted'. The other spelling for Samia is Samiah.
11. Gazala:
Gazala is a frequently used Algerian name. It sounds both exotic and rhythmic. The name Gazala means 'charming, intelligent'.
[ Read: Albanian Names For Your Baby ]
12. Imane:
Imane is another strong Algerian name for baby girls. The name is famous not just in Algeria, but throughout the Muslim world. Imane means 'faith or belief'. The name Imane is suitable for both boys and girls.
13. Maisah:
Unusual plus simple is a winning combination in the naming world. Maisah is a simple, yet unique name that you can consider for your baby. Maisah means 'walking with pride'.
14. Aarfah:
If you are looking for an offbeat variation of Afra, then you can consider Aarfah. Aarfah is a lovely and delicate name meaning 'pious, devout'.
[ Read: Russian Origin Baby Names ]
15. Hamia:
Hamia means 'sense of honor'. This simple name is perfectly suitable for your little angel. If Hamia is too simple for you, then you can go for Hamida. It is more traditional sounding than Hamia.
We hope you find our list of Algerian baby names useful. Is there any Algerian name in your mind that you would like us to add to the list? Tell us here.
Recommended Articles:
The following two tabs change content below.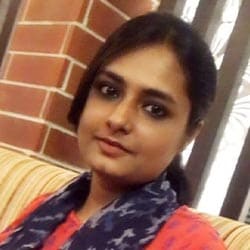 Arshi Ahmed
Arshi Ahmed did her graduation from Shri Shikshayatan College, Kolkata, and post graduation in English from Lovely Professional University. She specializes in writing baby names articles as she loves to help new parents find a name for their child. Arshi understands how important it is for a parent to find the right name because the name gives the baby an...
more