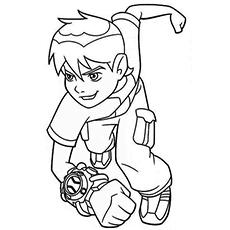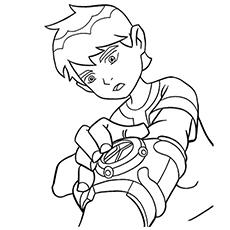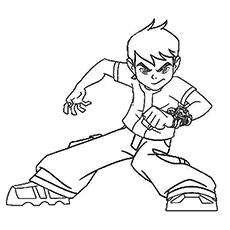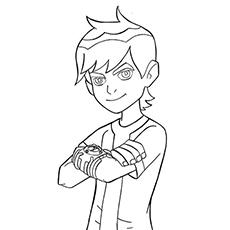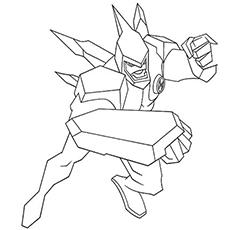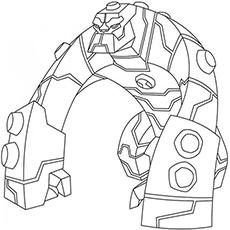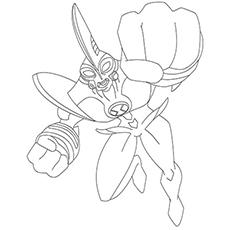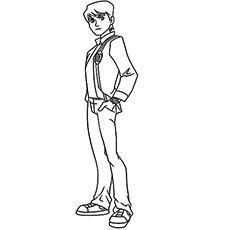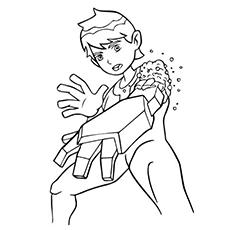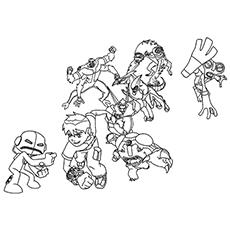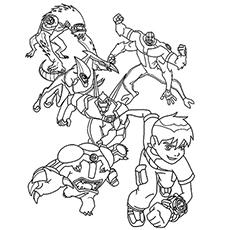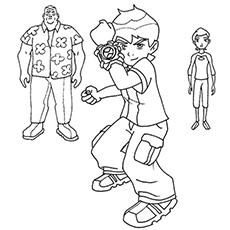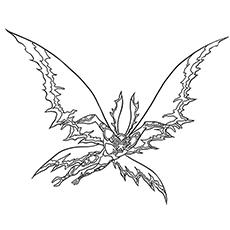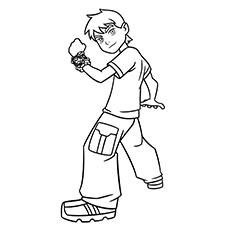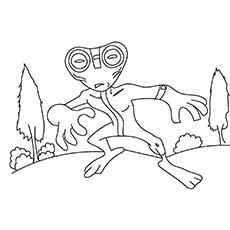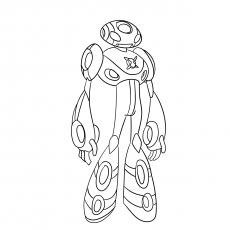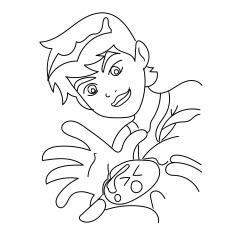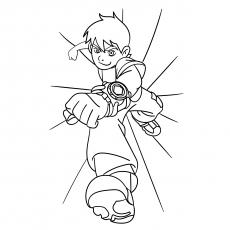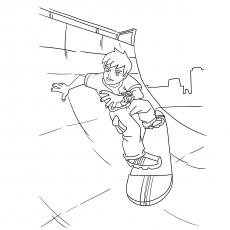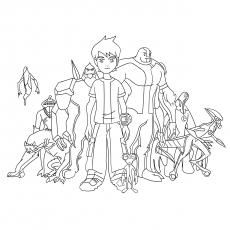 Recommended Articles:
Does your kid love sci-fi? Then you must be well aware of Ben 10!
Ben 10 is a super hero that your kid is probably adores. What sets him apart than the other super heroes is his age? Ben is quite young, as compared to other superheroes. He fights against violence and battles villains like a pro.
What your kid probably enjoys the most is the fact that Ben 10 can morph himself into one of the ten creatures which are alien. The show is full of visual dramatics, effects, awesome dialogues and loads of fun for kids. The adventures and excitement showed in Ben 10 only make it more interesting for both kids and adults.
Top 20 Ben 10 Coloring Pages for Kids
If your kids love Ben too, they would absolutely love to color Ben 10 pictures. Here is a list of the top 20 ben 10 pictures to print and enjoy coloring along with your kid.
1. Classic Ben 10:
Here is a classic Ben 10 picture to start with.
We start with this classic Ben 10 picture with your kid's hero in his well-known green jacket and watch.
It shows the expression on your kid's hero's face who has taken the onus of saving the world from evil.
[ Read: Hello Kitty Coloring Pages ]
2. Ben with Omnitrix:
This next picture shows Ben with his famous watch Omnitrix.
Your kid's beloved Ben is seen in action here with his super watch Omnitrix in focus. This happens to be one of the most widely seen pictures of Ben.
Your kid probably loves Omnitrix and hence, would enjoy and love coloring it too.
3. Ben Comes To Rescue:
This picture shows Ben doing what he does best.
Seen here, Ben is sitting ready to take on the world.
His Omnitrix watch is loved by kids for the way Ben uses it to people's rescue.
[ Read: Alphabet Coloring Pages ]
4. The Strong Ben:
Ben is loved for his strength and fearlessness.
Ben's watch Omnitrix is a special device that helps him save the world. It even invites unwanted attention and trouble for Ben.
The evil always look out for ways to destroy or rob Omnitrix from Ben. But Ben, as seen in this picture, seems way too strong to give it away that easily.
5. The Casual Ben:
The next picture shows Ben in his casual avatar.
Ben in his casual attire is loved by kids. Your kid will love to see Ben when he is relaxed and dressed casual.
Here are two pictures, showing Ben dressed casually, with a smile on his face. Seems like he has just finished one of his many missions of saving the world.
6. The Serious Side Of Ben:
Here is a picture with Ben looking all focused and serious.
The fact that your kid loves Ben 10 makes it easier for him to color these pictures. If your kid is an avid-follower, he sure would recollect seeing Ben this way many a times.
Your kid will love it when he sees his beloved character in their regular life. Coloring activity is one such way which can bring his favourite characters closer.
[ Read: Angry Birds Coloring Pages ]
7. Ben Ready To Take On:
In this picture, Ben is all set to take on the enemies.
Ben seems on the go and his wonder watch Omnitrix seems to be guiding him somewhere.
Looks like your kid's young super hero has a mission to take on. Bring it on, says Ben.
8. Ben In His Avatars:
This ben 10 coloring page is great one showing Ben and his various avatars.
Ben is loved even more for the way he morphs himself into alien creatures.
This picture shows Ben with the alien creatures that he turns into, in the background.
9. Ben – The Adventurer:
Here is a picture showing the adventurous side of Ben.
Your kid will love Ben for his never-ending adventures that provide an instant rush and thrill.
Seen here, Ben is seemingly ready to take on another battle. His ability to fight over and over again makes him a real super hero for kids.
[ Read: Spiderman Coloring Pages ]
10. Ben With His Cousins:
Here is a beautiful picture showing Ben with his cousins – his companions.
Ben too needs help to tackle the world of evil. In this fight, he is joined by his cousins who actively support and help him.
This picture shows Gwen and Kevin in the background. Your kid sure would love coloring this picture.
Gwen and Kevin too have gained few fans and lovers. But Ben still wins hands down.
11. Ben 10 in Trouble:
This picture can make your little one anxious for Ben's safety! Well don't worry, Ben has his omnitrix and is strong enough to overcome any hurdle that makes him a superhero. Ben's expression shows that he is really scared of an approaching evil and he is in a tight spot, even super heroes can feel scared. But he will soon regain composure and fight the evil and save humanity.
12. Goop:
Goop is more than a giant glob of goo! The Biggest advantage of his size is that he can squeeze through tight spaces and can transform itself to launch powerful attacks. He structure might remind your child about Casper the friendly Ghost, but Goop isn't friendly, he only flights evil.
Goop is usually green in color, but your child can color it any shade he pleases to!
13. Ben 10 Skating:
When Ben is not fighting evil, he is seen enjoying skating on his skateboard. Well everybody has a hobby and pastime, Ben being young he loves skating. What Ben is practicing is called Vert skating, the skater uses the skate boards to do dare devil stunts on vertical ramps. This type of skating is really challenging and needs lot of practice. Well Ben already is skating like a pro!
Here are different types of skating like ice skating, this is a ballet form of skating usually performed by professional skaters, and they wear the skating shoes with sharp blades that cuts through the ice and provides balance to the performer. Watching ice skating is a visual treat!
Other forms of skating are roller skating, inline skating where the shoes have only one line of wheels, snow skating, speed skating, aggressive inline skating, skateboarding, freestyle slalom skating where tricks are performed and artistic roller skating. Your child must have seen skating competitions on television and often wishes to skate himself. You can always grant him this wish because skating is not just happening or cool sport but a good physical activity too!! You can admit him to a skating school so he learns the safe techniques to do skating.
14. The Fighting Alien:
Waybig is a tall humanoid creature with a large fin on his head, which is black at the front and red at the bottom. He has blade like outgrowths on his shoulders and spikes on his waist. He has red arms with two black lines and white fins on the elbows. Waybig has wristband like structures on his wrist and has yellow eyes on his head and two extra eyes protruding from both of his cheeks.
He has red feet with two toes on each foot and has a black sandal like covering on the middle of his feet and a line on his side of his neck. In Alien Force and Ultimate Alien, Waybig's fin is red on the front and black on the bottom. His arms are white with red fins. Waybig's wrists and neck are now black. Waybig doesn't have the extra eyes and his eyes are green. He doesn't have the stripes on his arm and doesn't have the blades on his shoulders. He has a bootlike feet devoid of the sandal covering. He wears the original omnitrix or Ultimatrix symbol on his chest.
In Omniverse, he has three red lines on his neck. The blades on his shoulders have come back. He has fingerless gloves just like Four Arms. The eyes on his cheeks reappear again. He is more muscular and his head appears less like a skull. There are blades on his waist and front thighs. Both 11 and 16 year old Waybigs look like this.
15. The frog Companion:
Ben's favorite frog companion is known as Jaminfrog; he can morph himself into an alien and help Ben to fight the evil forces. Jaminfrog is Ben's favorite companion other than his cousins.
Jaminfrog is a very interesting character and he is more than just a simple frog, and your child will definitely enjoy coloring this picture!
16. Ben 10 Ultimate Aliens:
This is a complete picture of Ben with all the Ultimate Aliens. Ultimate Alien is special series where the young audience can see aliens fighting; there is a good dose of drama and action that children usually love watching.
This picture has lot of details to cover and will keep your child busy for hours. He will enjoy coloring all the minute details in this picture. Don't forget to pin up this picture as a poster in his room, so that he feels proud of his work.
17. CalafrioSupremo:
CalafrioSupermo is supreme thrill and an alien from Ben 10 Alien Supremacy. This character is also called necrofriggiano, it becomes even more powerful. It can shed its weakness and can even destroy steel. This queer looking character appeared as a villain in the episode Supreme Sacrifice and he tried to kill Ben but was defeated because the electricity it discharges is weak.
CalafrioSupremo or Necrofriggiano have some special abilities that makes him different from other aliens. These super powers are:
Itangibilidade
Can fly
Capable of becoming Invisible
Great agility
It can support extreme cold
It supports extreme heat
Can survive in the vacuum of space
Has the power to use flamethrower ice
Can freeze an object really fast
Creates a tornado of fire freeze
Launches freezing hands by fire
Can breathe under water
Has power over human
The powers make CalafrioSupremo really unique and powerful. Your child will surely enjoy coloring his wings and make it look larger than life.
18. A Smiling Ben:
In most of the episodes of Ben 10 your child sees Ben fighting the dark villians, but he doesn't forget to smile! When he is fighting he is really serious, but otherwise Ben is a very cheerful and friendly boy who stays with his Grandpa Max Tennyson. Ben wants to become the Galaxy's superhero but his grandpa has some different plans and surprises in store for Ben.
This picture is an ideal poster for your child who is crazy about Ben 10 and loves to watch all the episodes. He will love coloring Ben and his popular Omnitrix with which he fights evil. There is a moral lesson you can give your child as he colors the picture, it is best to use power and talents for the betterment of humans and society. This is perhaps the golden opportunity to teach your child the importance of social service.
Your child will smile back at Ben and will ensure that this picture looks bright, so that he can create a Ben 10 themed room for himself.
19. The Robotic Alien:
Ben has the power to transform himself into an alien; this alien resembles a robot and has rounder features. Don't miss the omnitrix which is placed on the chest it gives Ben as an alien the power to fight the evil forces.
The power to change into an alien makes him a youngest and most sought after superhero in the galaxy!
20. Bloxx:
This alien has a block like features and thus this name. Bloxx has a special capability, he can stretch, fold, bend, build, and shape-shift his block-like body into just about any form. This flexible form helps Bloxx to transform easily at any given time and fight all the enemies.
Your child must be familiar with how Bloxx looks like and will color this picture accordingly.  Coloring the minute details all over Bloxx is an enjoyable activity children will like and it will also sharpen their observation skills.
These are only few characters from Ben 10, if your child likes other characters like Shocksquatch, Gravattack, Crashhopper, Four Arms and Kickin' Hawk you can download many such coloring pages to keep your child away from the television and gaming consoles. Your child will be able to breathe life to these characters on the page with his creativity. Just let his imaginations soar!
Without much ado, let your child pour in some colors into Ben's world. Let him bring life to these pictures.
Hope you liked our post on these free printable Ben 20 coloring pages. Tell us which one your kid enjoyed coloring the most and shared the colored picture below in the comments box.
DISCLAIMER: All images found here are believed to be in the "public domain". We do not intend to infringe any legitimate intellectual right, artistic rights or copyright. All of the images displayed are of unknown origin. If you are the rightful owner of any of the pictures/wallpapers posted here, and you do not want it to be displayed or if you require a suitable credit, then please contact us and we will immediately do whatever is needed either for the image to be removed or provide credit where it is due. All the content of this site are free of charge and therefore we do not gain any financial benefit from the display or downloads of any images/wallpaper.
The following two tabs change content below.