Fiber is an essential part of a balanced diet, especially for pregnant women. Yet, many fail to get enough fiber through the food they eat.
Fiber is an excellent compound that keeps you full without adding extra calories to the body. This MomJunction article helps you understand about fiber consumption during pregnancy, its benefits, risks, and food sources for a healthy intake.

What Are The Types Of Fiber And Their Role In Pregnancy?
The fiber found in plant-based foods plays a key role in digestive health. While it is not digestible and not a source of energy, it can help pregnancy in many ways. There are two types of fiber – soluble and insoluble, both of which are very important during pregnancy.
Soluble fiber dissolves in water, forming a gel-like substance during digestion. It also manages cholesterol levels, reduces high sugar levels and lowers the risk of heart problems.
Insoluble fiber does not dissolve in water but makes its way through the digestive tract, and adds bulk to the stools (1).
What Are The Benefits Of Fiber During Pregnancy?
The benefits of fiber intake during pregnancy are as follows.
1. Controls pregnancy weight gain:
Fiber-rich foods keep you full for longer, preventing excess calorie intake and managing pregnancy weight gain (2). Also, studies at the US National Institute of Health show that people on high-fiber diets tend to eat 10% fewer calories (3).
2. Prevents constipation:
You can prevent constipation, which is a common digestive complaint during early pregnancy (4). The fiber adds bulk to your stools, easing bowel movements, therefore, relieving constipation.
3. Regulates blood sugar levels:
Getting enough fiber in your diet will slow down the food absorption, thereby preventing blood sugars levels from rising quickly (5).
4. Lowers the risk of cardiovascular diseases:
Soluble fibers can lower bad cholesterol levels by binding to cholesterol-rich bile acids in the digestive tract. Fiber, therefore, reduces the risk of cardiovascular illnesses (6).
5. Reduces the risk of preeclampsia:
The intake of dietary fiber will lower the risk of conditions such as high blood pressure and preeclampsia (7).
[ Read: Iron Benefits During Pregnancy ]
How Much Fiber Do You require During Pregnancy?
The recommended daily intake of fiber for pregnant women is 28g (8).
15 High Fiber Foods For Pregnancy
Fruits, vegetables, beans, cereals and whole grains are excellent sources of fiber (9). Listed below are the fiber-rich foods you should include in your pregnancy diet to meet your daily requirement.
High fiber foods
Standard amount
Dietary fiber (g)
Ways to include
1.
Almonds
1oz
3.3

Munch a handful
Toppings on salads and soups

2.
Bran cereal
½ cup
8

Combine with yogurt as a snack
Top on ice cream

3.
Beans
½ cup
9.5 (navy beans)

8.2 (kidney beans)

6-7 (pinto, Lima, chickpeas, and lentils)

Stir-fries
Chili, soups, salads
Pasta dishes

4.
Broccoli
½ cup
2.8

Add to salads and soups
As toppings on pizza and pasta
Baked dishes

5.
Collard greens
½ cup
2.7

Stir-fries
Salads and soups
Sautéed with vegetables

6.
Rye crackers
One wafer
2.5 (depends on the brand)

Serve with low-fat cream cheese spread and vegetable toppings

7.
Prunes
One bite-size
3
8.
Pumpkin
½ cup
3.6

Pies, pancakes, and cereals
Soups and salads
Combine with meat
Jams, jellies and fresh juices

9.
Pears
One small fruit
4.3

Salads and porridge
Baked dishes
Added to cereals
Fresh juice

10.
Blackberries
½ cup
3.8

Munch a handful
Add to cereal or salad
Smoothies or juice blends

11.
Sauerkraut (pickled cabbage)
½ cup
3

Condiment
Topping for salads, sandwiches
Combine with green smoothies

12.
Whole grain spaghetti
½ cup
3.1
13.
Baked potato
One medium-sized
3.8

Combine with cheese and veggies

14.
Bananas
One medium-sized
3.1

Fruit salads or eat fresh
Added to desserts and ice-creams
Smoothies

15.
Oranges
One medium fruit
3.1

Fruit salads
Added to desserts
Fresh juices
[ Read: Foods To Eat When Pregnant ]
Is It Okay To Take Fiber Supplements While Pregnant?
It is okay and recommended to take fiber supplements during pregnancy for relief from constipation. Psyllium, Metamucil or Citrucel are some of the best fiber supplements you can consider, but with the advice of a doctor (10).
Are Fiber Gummies Safe During Pregnancy?
Fiber gummies act as laxatives, but there is no research supporting their use during pregnancy. It is better to talk to your doctor if you are planning to take them.
Are Fiber Choice Tablets Safe During Pregnancy?
Fiber Choice tablets are chewable tablets containing inulin, a natural dietary fiber present in fruits and vegetables. However, there is no research about their safety during pregnancy. You should speak to your doctor before planning to take them.
What Will Happen On Overeating Fiber In Pregnancy?
More often than not, you may fall short of the recommended dosage of fiber in your diet. But there are chances that you may take too much fiber, especially when you increase the fiber intake quickly. That can lead to (11):
Constipation
Abdominal pain
Bloating and flatulence
Temporary weight gain
Diarrhea or loose stools
Drop in blood sugar levels
Blockages within the digestive tract
It is better to call your doctor if you have any of the above symptoms and also experience nausea and high fever. Note that these side effects will not hurt the baby.
[ Read: Remedies To Treat Constipation In Pregnancy ]
Tips To Increase Fiber Intake During Pregnancy
Here are some quick tips for increasing the fiber intake in your diet (12).
Drink more water when you have fiber-rich foods. Fiber acts as a laxative but is efficient only in the presence of sufficient water.
Add fiber gradually, for your body needs time to adjust, Also, a quick increase in fiber will lead to gastrointestinal illnesses.
Choose wholegrain varieties of bread, cereals, pasta, and rice.
Include extra vegetables in your curries, casseroles, and sauces, or take them as side dishes.
Eat raw fruits and vegetables as snacks between your meals.
Munch a handful of nuts or cereals, or top them on salads and soups.
Next, we give you a few simple fiber-rich food recipes.
Fiber Rich Meal Ideas For Pregnant Women
1. High-fiber vegetable salad:
You can enjoy this nutritious snack between meals. It is a mix of colorful vegetables, tossed with a zesty dressing to add an extraordinary flavor to it.
You will need:
¼ cup cabbage, shredded
¼ cup red cabbage, shredded
½ cup carrots, thinly sliced
½ cup cucumber, thinly sliced
¼ cup tomatoes, chopped
¼ cup green bell peppers, thinly sliced
¼ cup red bell peppers, thinly sliced
¼ cup yellow bell peppers, thinly sliced
2 tsp sunflower seeds, unsalted variety
For the dressing,
1 cup apple, grated along with skin
1tbsp lemon juice
1tbsp raisins, chopped (optional)
1/2tsp dried oregano
1tsp organic honey
1/8tsp salt
How to:
Mix all the ingredients in a large bowl.
Combine the dressing and mix well.
Consume it fresh.
Preparation time: 15min
Serving: 4
[ Read: Calcium Rich Foods In Pregnancy ]
2. Apple-cinnamon oats:
A quick, fiber-packed meal that is ideal for your breakfast.
You will need:
1 cup milk (preferably non-fat)
2/3rd cup rolled oats
¼ tsp cinnamon
A few apple slices
Handful of walnuts
How to:
Add milk to the rolled oats.
Sprinkle cinnamon and mix well.
Cover the bowl and put it in the refrigerator overnight.
Next morning, add the sliced apples and chopped walnuts and consume.
Preparation time: 5min
Servings: 1
Since pregnancy is one of the most important and vulnerable phases of your life, you should be careful about the kind of diet you follow. Try including a lot of fruits, vegetables, nuts, legumes and whole grains as they add both fiber and nutrients to your diet. If you find it hard to include fiber naturally, talk to a doctor about how you can meet the recommended amounts.
[ Read: Reasons To Take Folic Acid In Pregnancy ]
Do you have anything to share about consuming fiber-rich foods during pregnancy? Share your ideas with us in the below comment section.
Recommended Articles:
The following two tabs change content below.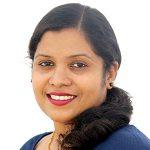 Latest posts by Rebecca Malachi (see all)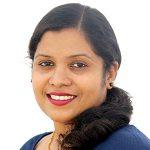 Rebecca Malachi
She is a Biotechnologist with a proficiency in areas of genetics, immunology, microbiology, bio-engineering, chemical engineering, medicine, pharmaceuticals to name a few. Her expertise in these fields has greatly assisted her in writing medical and life science articles. With 8+ years of work experience in writing for health and wellness, she is now a full-time contributor for Momjunction.com. She is passionate about giving research-based information to readers in need. Apart from writing, she is a foodie, loves travel, fond of gospel music and enjoys observing nature in silence. Know more about her at: linkedin.com/in/kothapalli-rebecca-35881628