Dandruff is a common ailment of the scalp, causing itchiness, flakiness, and related skin issues. Children may also get affected by dandruff. The best anti-dandruff shampoos for kids are made for this very purpose and provide healthy scalp and hair.
Dandruff is often embarrassing and may also be an annoyance due to the significant itchiness and scalp irritation. Seborrheic dermatitis is the name for the flaking that comes with dandruff. It can cause white or yellowish dead skins and patches to fall regularly. Although experts have yet to identify a precise reason for this ailment, it is thought to be caused by an excess of oil and a yeast type called Malassezia.
Many children may not find relief from regular ant-dandruff shampoos. Also, shampoos with harsh chemicals are not good for our skin, especially for children's delicate skin. In this post, we provide a list of the best anti-dandruff shampoos for your children.
20 Best Anti Dandruff Shampoos For Your Kid:
If your child has dandruff and you are vigorously looking for a solution, then you can try the Jason Dandruff Relief Shampoo. Jason Dandruff Relief Shampoo, with its medicated formula, will cleanse and condition your child's scalp and hair while controlling dermatitis and psoriasis. With ingredients like jojoba oil, Zinc pyrithione and wheat protein, Jason Dandruff Relief is a handy shampoo, which will eliminate the flakes and add softness to your child's hair.
Jason Dandruff Relief Shampoo includes healing and moisturizing natural agents with a tinge of essential oils like neem, rosemary, colloidal sulfur and tea tree. You just have to take a small-sized dollop and massage on your child's scalp. Leave the foam for 2 to 3 minutes and rinse with lukewarm water. Learn more about the shampoo in this video.
Sulfur8 Medicated Anti Dandruff Shampoo is a gentle and effective choice for treating your child's dandruff. It not only controls and eliminates dandruff, but also relieves the symptoms of dandruff through its anti-flaking and anti-itching action. It thoroughly cleanses and moisturizes to keep the hair soft and manageable.
The formula of Sulfur8 Medicated Anti Dandruff Shampoo is safe enough for kids to use twice a week. Unlike most shampoos of its kind, Sulfur8 Medicated Anti Dandruff Shampoo does not contain harsh chemicals like sulfate.
Treat your child's senses with the California Baby Tea Tree & Lavender Shampoo and Body Wash. California Baby Tea Tree and Lavender Shampoo & Body Wash is made primarily with natural ingredients, including tea tree oil and lavender, ingredients that fiercely fight dandruff.
Another amazing thing about this shampoo is that its ingredients are derived directly from plants and animal products. And the shampoo doubles as a body wash too. So you'll get to save some bucks too!
Pros
Sulfate-,dairy-,and tear-free
Contains natural cleansers
Suitable for adults with sensitive scalp
Refreshing scent
FDA-approved
Cons
May not lather well
Might build up residue
Christina Moss Naturals Organic Shampoo is not a kid's shampoo in the strictest sense, but since it's organic and contains a hypoallergenic formula, you can safely use it for your child. It addresses the underlying causes of dandruff while nourishing the health of your kid's hair. It aims to remove all the possible sources of irritation to the well-being of the sensitive scalp. It also helps balance the moisture levels by minimizing the product buildup. It thoroughly, yet gently, cleanses the hair white moisturizing the scalp with essential oils. What we liked the most of this shampoo is that it is free of Paraben, dyes, fragrances and sulfate.
Pros
Vegan-friendly
Gluten-free
Unisex
Suitable for all hair types
Cons
May not be suitable for oily scalp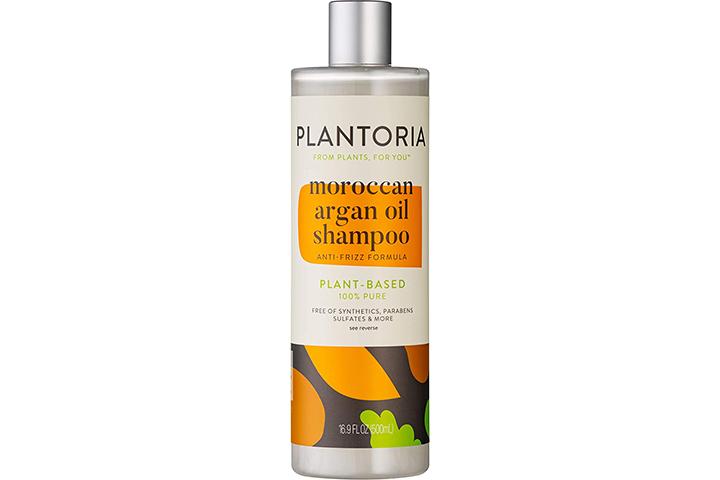 The 100% plant-based Plantoria Moroccan Argan Oil Shampoo is enriched with the goodness of argan oil, jojoba, Vitamin E, sweet almond, avocado, and more. It is excellent at controlling frizz and dandruff, adding shine to your locks, and helping breathe new life into your hair follicles. This shampoo is gentle and can be used by people of all ages, right from kids and teens to adults. Moreover, it is cruelty-free and does not contain artificial ingredients such as paraben, sulfates, gluten, or dyes.
Pros
Enriched with coconut
Vegan formula
Free of synthetic ingredients
Artificial fragrance-free
Cons
May have an intense fragrance
Might have a thick consistency
Puriya Dandruff shampoo, containing a blend of arnica, sage, tea tree oil and anti-fungal properties, aims at treating the flaking and itching of the scalp. The clarifying treatment adds nutrients and moisture to the scalp while increasing the blood circulation. You'll notice an improvement in the condition within just a few applications.
Besides treating dandruff, this shampoo removes all the possibility of its recurrence by eliminating all the build-up and residue completely from the hair. Puriya Dandruff Shampoo is ideal for men, women, kids and even pets. And it comes with a money back guarantee as well!. Here is an informative video that tells you more about the benefits of the natural shampoo.
Pros
Suitable for all hair types
Paraben- , sulfate-, and fragrance-free
No artificial coloring
Clinically tested
Cons
May have a thin consistency
Here's another excellent product from the brand Sulfur8. Just like most of its shampoos, even Sulfur 8 Kids Anti Dandruff Medicated Shampoo contains all the ingredients required for clearing dandruff and getting rid of itchy scalp. The shampoo also comes with a pudding that'll make your child's hair soft and smooth. And it smells great too! But do not use too much of the pudding as it can make the hair gunky.
Freshen up your child's morning with concentrated ocean fragrance Suave Kids 2-in-1 Shampoo and Conditioner. Suave Kids 2-in-1 Shampoo and Conditioner cleans and eliminates the toughest tangles, leaving soft hair and fragrant. And a clean hair means no dandruff. The formula of the shampoo is ophthalmologists approved and dye free. So no more teary eyes.
Pros
Suitable for all hair types
Hypoallergenic
Gentle
Does not sting the eyes
Cons
Vosene range of hair care products is designed to address hair and scalp problems in people of all ages. From head lice to anti dandruff shampoo, Vosene has everything in its kitty. Vosene Anti Dandruff Shampoo has all the ingredients to keep your child's hair and scalp healthy. It contains salicylic acid; a highly effective anti dandruff ingredient treats dandruff easily and quickly. It also maintains the natural protection of the scalp, leaving your child's hair smooth and shining.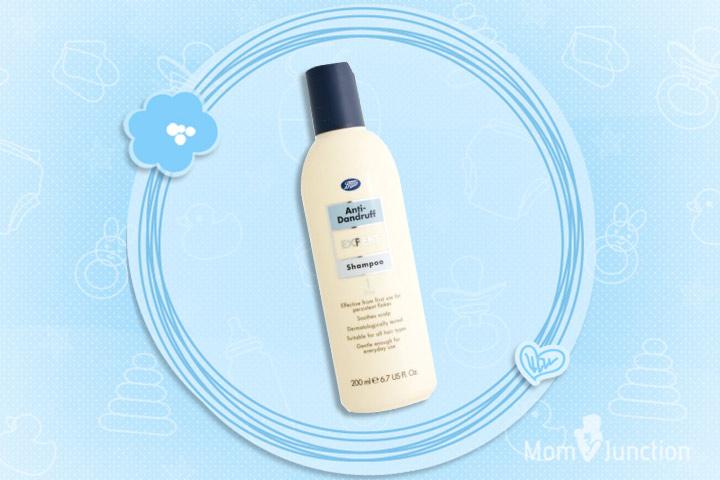 Here's another mild anti dandruff shampoo for your little one. Boots Expert Anti Dandruff Shampoo is formulated to keep your child's scalp flake free while giving the hair a natural and healthy shine. You'll see the result after the very first use.
The shampoo is dermatologically tested and is gentle enough for everyday use. But we'd suggest you to use this shampoo on your kid just twice or thrice a week.
If you are looking for an all-natural and Ayurvedic cleanser for your child, then Khadi Anti Dandruff Hair Cleanser could be the pick. The shampoo is enriched with rosemary and neem oil, tea tree oil and lemon for effective dandruff removal. It leaves the scalp healthy and alleviates dryness. Aloe vera in the shampoo soothes the scalp and conditions the hair. You can use it daily, or even thrice a week for optimum result.
Pros
Repairs damaged hair
Nourishes hair
Paraben-free
SLS-free
Cons
May require more water for washing off the shampoo
Sebamed Anti Dandruff Shampoo is a mild shampoo with a formula that nourishes, softens and improves the texture of the hair. It protects and supports the acid mantle of the scalp and stabilizes the hair structure with its pH value of 5.5. Piroctone Olamine, its active ingredient, will ensure gentle removal of dandruff and hibiscus and chickpea will keep the scalp healthy.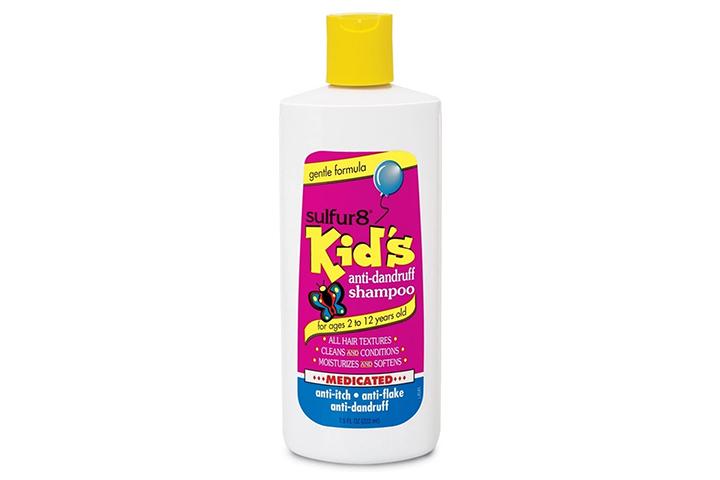 Sulfur8's medicated anti-dandruff shampoo has anti-itch and anti-flake properties and is incredibly gentle on your hair and scalp. Suitable for all hair textures, it not only cleanses your hair but also conditions, moisturizes, and softens it. This shampoo is apt for children aged between two and 12 years, but it can be used by adults too. The shampoo is available in liquid form and comes in a pack of two.
Pros
Has conditioning properties
Can be used daily
Easy-to-use bottle
Gentle formula
Cons
May have a medicated smell
Nizoral Anti Dandruff Shampoo is another shampoo for fighting your child's dandruff. This powerful shampoo controls scaling, flaking, and itching caused due to dandruff. Nizoral Anti Dandruff Shampoo combines the effectiveness of ketoconazole, one of the most potent anti dandruff ingredients with the salon-tested gentleness. Moreover, the rich lather will cleanse his hair thoroughly, leaving it smelling fresh.
Pros
Suitable for all hair types
Works for gray hair
Clinically proven to control flakes
Controls scalp fungus
Cons
May not hydrate your scalp
Does not remediate discoloration of scalp
Equate Everyday Clean 2 in 1 Dandruff Shampoo and Conditioner helps relieve the scalp itching, dryness and light flaking. It also conditions the hair, leaving it soft, clean and healthy looking. The shampoo also contains conditioning and moisturizing ingredients that revitalize the hair by stabilizing oily scalp. You can use this shampoo for your child twice a week in between his regular shampoos to control his dandruff.
Biotique Bio Margosa Shampoo is an anti dandruff shampoo containing the goodness of Margosa, reetha, bhringraj, neem and sandalwood extracts. This all-natural shampoo will gently cleanse your child's hair, removing dandruff. A regular application of this shampoo will prevent the occurrence of dandruff too! Your child can safely use this product daily.
Pros
Refreshing formula
Vegan-friendly
Cruelty-free
Pleasant fragrance
Suitable for dry hair
Cons
May have a thick consistency
May take some time to witness results
17. HealthAid Tea Tree Shampoo
HealthAid Tea Tree Shampoo is an eco-friendly anti dandruff shampoo with anti-fungal properties. The potent Australian Tea Tree oil in the shampoo will stimulate your child's scalp without drying it out. A regular use of this shampoo will protect your child's hair from dandruff, air pollution, and lice. And since it's mild, you can use it daily on your child's scalp. What more? This shampoo is free of Paraben, glycols, propylene, and artificial color and fragrance as well.
18. Fabindia Lemon Mint Shampoo For Hair
As mentioned earlier, excess oil secretion is one of the principal causes of dandruff in children. So thwart this condition by using Fabindia Lemon Mint Shampoo. Infused with mint and lemon, this shampoo will remove excess oil gently from the scalp. Lemon will control dandruff and mint, acting as a cooling agent, will prevent hair fall. The anti-bacterial properties of both the ingredients will also prevent scalp infection.
Just Herbs Dandruff Control Ayurvedic Soya Protein Shampoo is a mild, herbal shampoo for dandruff-prone hair. Herbs like neem, shikakai, wheat germ oil, khus-khus and Indian gooseberry in the shampoo gently removes dandruff, ensuring a healthy scalp. It also cures the fungal infection and alleviates itching. Free from parabens, petrochemicals and SLS, the shampoo will make your kid's hair lush, soft and visibly conditioned.
Pros
Suitable for all hair types
Made with organic ingredients
Comes with clarifying properties
Reduces irritation
Cons
Bergamot Anti Dandruff Shampoo will provide an effective treatment for dandruff and scalp itchiness. This shampoo comes with pure and beneficial ingredients like bergamot oil extract, aloe vera, horsetail extract, linden extract, birch leaf extract and so on. Since the shampoo contains only natural ingredients, your kid can use it as many times a week as he wants. Bergamot Anti Dandruff Shampoo also removes all the pollutants and limits the growth of dandruff causing bacteria on the scalp.
Pros
Suitable for all hair types
Helps with hair loss
Can be used every day
pH value of 6
Cons
Kids anti dandruff shampoo can be purchased at any store with or without a prescription. Always follow the instructions exactly as stated on the bottle. And if you have any further question, please contact your child's pediatrician.
Why Trust MomJunction?
Poulami Nag is a writer and editor with special interest in beauty, fashion, and lifestyle. As your child needs delicate products, she has researched and reviewed various products and considered user reviews to compile this list. To treat your child's dandruff gently, she recommends the California Baby Shampoo and Body Wash enriched with tea tree and lavender essential oils. This soothing formula is suitable for dry, sensitive skin and its plant-based ingredients can rebalance the hair's natural pH.
Recommended Articles: