Does your naughty little kid seem too restless to be handled? With summer holidays finally round the corner, is your kid always 'bored' and glued to the TV watching cartoons?
Summer vacation for kids should be all about enjoying doing many indoor and outdoor activities. There are some great ways to keep your little one engaged indoors during the daytime.
Top 10 Art Activities for Preschoolers:

Let him explore his creative streak by experimenting with different art and craft activities. We bring to you the top 10 art and craft activities for preschoolers that will surely keep your little kid busy during the vacation.
1. Origami:
Origami is a great way to enhance your kid's creativity. Pick up a simple activity book or just look up some origami art and craft activities for preschoolers online. Help him follow the instructions and create animals, flowers and other things step by step using colorful sheets of paper.
2. Finger Painting: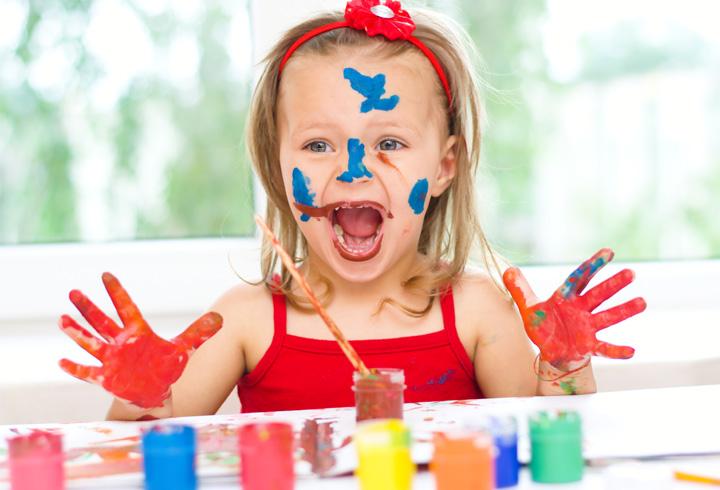 Finger painting is another creative way to keep your kid busy and occupied, and it's even more fun when you get a few of his friends along. Now this one will surely be messy, so make sure you allow your kids to be in an area where cleaning up would be easier. Spread out sheets of newspaper around the area, put out a few plain white papers, water colors and let them explore their creative side.
 3.Card Making:

Card making is yet another creative way to get your kid busy. Pick up single colored card papers from your nearby store. Grab a few crayons and glitter pens and spread them out in front of your kid. Ask him to create some pretty birthday or Christmas cards or a simple thank you card for someone close as a token of appreciation.
4. Gifts Wrapping:

Gifts wrapping is another creative idea that will keep your kid busy for a long time. Pick up some colourful ribbons, papers and sequins from a local craft store and spread them out in front of your kid. Make sure you're there to supervise, since this one will involve the use of scissors. Allow him to help you out in wrapping a gift box and decorating it!
5. Best from Waste:
There's nothing better than getting your kid to understand how to re-use and recreate things using old waste materials. Get him some paints, felt tip pens and toilet paper rolls and help him create some cool pencil holders for his room.
6. DIY Labels:

Here is another great craft idea that will keep your kid busy for the entire day. With school re-opening shortly, he will be required to cover and label his books. Allow him to create his own labels and tags that hold his name- these are simple and easy to make, and you can just cut these out and get your kid to decorate these as per his creativity.
7. Bead Art:

This craft idea is great for older children (who understand they're not supposed to be putting beads into mouth), particularly girls. If you don't have them already, you can easily pick up some different colored and shaped beads from your nearby craft shop, and a few plastic threads with clasps. Allow your kid to experiment and create her very own bracelets and necklaces using the beads.
8. Thread Art:
You may not believe it, but there are actually a million things you can do using threads. Check out some cool thread art ideas online and get your child to work on these. It's always a great idea to allow your child to work his way, even if he's not following the steps. This way, he will learn to experiment.
9. Clay Modeling:

Clay modeling is a great way to enhance your kid's motor skills (don't forget to get him used to the habit of washing his hands afterwards). You can purchase modeling clay online and ask your kid to mould it into simple shapes and objects.
10. Vegetable Stamps:

This one is pretty much self explanatory. Just carve out some cool shapes from the veggies in the refrigerator, hand them over with a box of paint, and see your little one come up with masterpiece work!
There is no limit to creativity. Try and participate while engaging your child in these activities. This way, both of you will bond and demonstrate team work while enjoying art.
Have more ideas on art activities for preschoolers to share? Please do so right away here with fellow moms!
Recommended Articles:
The following two tabs change content below.