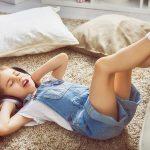 What is it that can perk up your little one's time, make long drives less tedious and little chores more enjoyable? Podcasts are entertaining, kid-friendly and educational, all without a screen. It is the rage of the time!
If you are searching for a new means of entertainment during road trips with kids or fun bedtime stories, then check out MomJunction's list of the best podcasts for kids; from stories to science, we cover them all.
A podcast is a digital audio file that is available on different websites for download to any audio system like a computer or mobile. The podcasts are usually available as episodes or series and can be either free or paid. They cover several topics from science, music, fun stories, cooking, and meditation to history.