It is natural for parents to become anxious about their baby's health, even if it means fretting about their breathing pattern. By placing a breathing monitor near your baby, you can be assured that the little one is breathing normally.
If you are not aware of what breathing monitors do or how they work, this MomJunction post can help you understand it. We also provide a list of the best baby breathing monitors.
What Is The Use Of Baby Breathing Monitors?
Newborns could have an irregular breathing pattern. This irregularity often worries parents because babies' breathing pathways are small and easy to obstruct. Commonly, this irregularity in breathing is resolved within the first few months itself. However, for some babies, the issue does not resolve even after six months. This could be because of some medical condition and is common in premature babies. Doctors usually advise a breathing monitor to parents so they can be alerted each time the baby seems to breathe abnormally.
A breathing monitor observes the baby's breathing movements or patterns, and in case it does not capture any movement from the baby, it sounds an alarm.
7 Best Baby Breathing Monitors In 2022
This monitor is a tiny, lightweight device. Clip it to the baby's diaper, and it will monitor the baby's abdominal movement. If it does not detect any movement for 15 seconds, it will vibrate gently to move the baby. If the breathing does not resume within the next 5 seconds, it will set off a loud alarm to alert the parent or guardian. This cordless device is hypoallergenic and BPA-free. Look at this video to understand how the product works.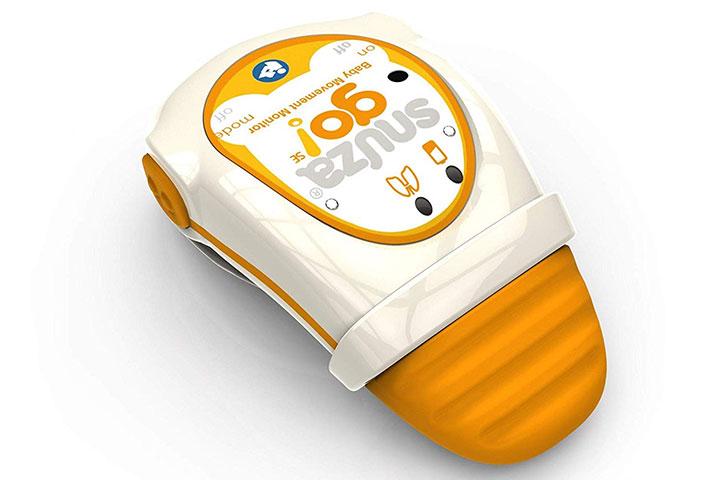 This bright orange breathing monitor offers three settings for the alarm. The alarm can go off in case the baby ceases to breathe for 15, 18, or 20 seconds. The monitor also triggers an alarm if the baby's abdominal movements are weak. It comes with three light indicators. If the light is green, it means the breathing is normal. If it is orange, it means the breathing is weak or below eight movements per minute. Red indicates there is no movement. Its battery lasts for around six months.
This breathing monitor gives you real-time updates. It enables you to keep a check on your baby from anywhere through your smartphone. This is a contact-free monitor. The camera focuses on the baby and sets off an alarm when it detects no movement. Its speakers offer two-way talk so you can hear every sound in the baby's room. It also enables you to talk to the baby through the speaker. Click here to know more about the baby monitor
This device lets you constantly monitor your baby through your smartphone. It not only notifies you of the baby's breathing, but also alerts you when the baby sleeps on their stomach. It works on Bluetooth Low Energy (BT 4.0), which has a range of about 50 feet and a negligible radiation level. It comes with a sensory chip that closely monitors your baby's breathing and sends an alert to your phone in case of any abnormality. It also enables you to check your baby's respiratory rate and temperature on your cellphone.
This smart sock closely monitors the baby's heart rate and oxygen levels using pulse oximetry. It uses light, sound, and app notifications to alert parents in case the heart rate or oxygen level of your baby reaches an abnormal rate. The notifications are received through Wi-Fi for the Owlet application and through Bluetooth for the base station. The package contains three pieces of washable socks.
This baby monitor system lets you keep a close watch on your baby's heart rate and oxygen levels. This package includes a camera and a smart sock. The camera comes with HD clarity and night vision. The secure, encrypted Wi-Fi network allows you to watch your baby anytime, anywhere. The smart sock connects to the base station to alert in case the baby's heart rate changes drastically. Its two speakers allow you to soothe your baby even from another room. It is free of BPA, latex, and lead, and comes with a one-year warranty.
If clipping or tying a device to your baby makes you uncomfortable, try this under-the-mattress device. It is highly sensitive and notes every little movement of the baby on the mattress. It instantly sets off an alarm if it fails to detect any movement for 20 seconds or if the movement is slower than expected. The sensor system has no direct contact with the baby, and therefore is safe to use. For additional safety, two sensor pads are fitted to the crib, which offers total coverage of the crib area.
Factors To Consider Before Buying A Baby Breathing Monitor
Baby breathing monitoring devices are aplenty, but good breathing monitors are relatively less. So, when buying a breathing monitor, you may consider the following essential features in the device.
It should be highly sensitive to track the baby's heart rate and breathing constantly.
It should not make sounds that can disturb the baby's sleep.
It should capture other sounds the baby makes, like crying.
It should be 100% accurate and not sound false alarms.
It should meet the ASTM International F2951 safety standards.
It should have a mechanism to indicate the draining of battery life.
Before you decide to buy a baby breathing monitor, you should also consider the following shortcomings of the device.
Shortcomings of Baby Breathing Monitors
Misconception: Baby breathing monitors are often perceived as life-saving devices, which is not entirely true. A baby breathing monitor cannot regulate the baby's breathing or prevent sudden infant death syndrome (SIDS). It can only alert the parents of any abnormality and help the parents to resuscitate the baby after the alarm.
False alarm: One of the most common problems with baby breathing monitors is false alarms. Doctors have indicated that it is normal for babies with irregular breathing patterns, to stop breathing for 20 seconds and then resume normally. So, monitors that set off at 20 seconds after detecting a lack of movement in babies can cause unnecessary and frequent panic for parents.
False sense of security: One of the main drawbacks of this device is that it cannot detect obstructive apnea, a condition in which the baby's abdomen makes regular movements, but the air does not reach the lungs. It can be a fatal condition, and its parents should be aware of it.
Now that you have a fair idea of baby breathing monitors, let's have a look at some of the best baby breathing monitors available online.
A baby breathing monitor may help you keep a tab on your baby, but it cannot do wonders. The device is only a parental aid. If you sense something wrong with your baby's breathing patterns or have more questions about the device, then do not hesitate to speak to your baby's pediatrician.
Why Trust MomJunction?
We understand how significant a breathing monitor is when you have a little one at home. So, we bring you this list of the best baby breathing monitors after checking the specifications of different products and customer feedback. We also bring you a buying guide to help you choose the right product. The breathing monitors mentioned on this list are easy to hold, lightweight, and suit your requirements.
Have you used a baby breathing monitor? Do share your experience with us and other moms by leaving a comment in the section below.
Recommended Articles:
The following two tabs change content below.

Vibha is a coder turned content writer. She holds a Masters degree in Computer Applications and a certificate in 'Introduction To Child Psychology'. Her passion for writing fresh and informative content made her a full-time writer. Holding certifications in content writing and creative writing, she writes on electronics and baby products for MomJunction. Apart from work, Vibha is found reading...
more