Breathing is natural. The baby learns it inside the womb itself. Usually, there is little to worry about it, but sometimes, there could be a problem in the baby's breathing patterns.
Therefore, it is good for parents to know about normal infant breathing and how to spot anomalies in the pattern.
MomJunction tells you about the signs of breathing problems and how to help babies breathe properly. But first, let's understand what 'normal breathing' means.

What Is Normal Breathing In Babies?
Here are a few things you should know to understand what 'normal breathing' is in babies.
Babies breathe faster: Infants breathe faster than older children and adults. An average infant, especially a newborn, has about 40 to 60 breaths in a minute while awake. The breathing rate slows down to only 30 to 40 breaths in a minute when asleep (1).
More than 60 breaths per minute is possible: A baby may sometimes take more than 60 breaths per minute, especially when they are excited or crying. However, the breathing will return to the usual frequency when they calm down.
Belly breathing is normal: Babies usually indulge in diaphragmatic breathing, which causes the belly to move as the baby breathes in and out (2). We all are born with the ability to breathe this way but move on to chest breathing as adults, while babies practice belly breathing, which is the ideal way to breathe.
Babies could pause while breathing: A baby could breathe rapidly and pause for a maximum of ten seconds before resuming normal breathing (3). Parents who constantly watch their baby breathing while asleep could worry about it, but it is completely normal. Such a breathing pattern is called periodic breathing.
Breathing accompanied by sound: Babies can breathe only through their nose. The small nasal passages and the presence of mucus can make the baby's breathing a bit noisy. Some noise while breathing even without cold is a normal occurrence (4). If the blockage due to mucus is severe, then the baby will sneeze as a natural reflex to clear the nose.
Spotting abnormal breathing pattern becomes easier when you know what is normal breathing in babies.
[ Read: How To Relieve Nasal Congestion In Infants ]
What Are The Signs Of Breathing Problems In A Baby?
A deviation from the usual breathing pattern could indicate a breathing problem. Here are the signs you should check for to know if the baby has problem breathing (5):
Rapid breathing: Rapid breathing of more than 60 breaths per minute. A baby may breathe rapidly when excited or crying, but not when sleeping or calm. If the baby always breathes rapidly, check for symptoms of illness such as fever, fussiness, and colic.
Irregular breathing with extended pause: If the baby pauses more than ten seconds, then it is a cause for concern. If the break goes beyond 20 seconds, then it could be a sign of apnea, which is obstructed breathing due to constricted airways.
Flared nostrils: If the baby is having trouble getting sufficient air into the airways, then the nostrils would flare, or widen during each inhalation.
Mouth breathing: If the baby prefers breathing through the mouth, then it could be an indicator of an inflamed tonsil or adenoid due to infection (6). Such a condition can cause obstructive sleep apnea, which leads to problems while breathing.
Strained breathing with a retraction: Did you notice the baby straining his/her chest inwards during each breath? The infant is quite probably straining to get enough air into the lungs, which is a sign of a breathing problem.
Constant coughing and wheezing: A cough and wheeze once in a while are okay, but if persistent, then they indicate a problem. Coughing and wheezing could be more common when the baby suffers from cold since excess mucus causes lung congestion, which creates breathing difficulties.
The above conditions may subside after a few moments, but in some cases, you need to take the baby to a doctor right away.
When to take the baby to a doctor:
Take the baby to the doctor in the case of:
Extremely rapid breathing: If the breath is so quick that you can almost hear it, then the baby could be breathing at least 80 times per minute. Such rapid breathing is medically called tachypnea (7).
Grunting: A grunt once in a while is okay, but if the baby grunts with every breath, then it indicates respiratory distress (8).
Stridor: It is the whistling sound you hear when the baby inhales and is audible when you stand close to a baby. The raspy breath could be due to congenital anomalies in the respiratory system (9). It can also be an indicator of a condition called laryngomalacia, where an extra flap of tissue covers the voice box, causing noisy breathing (10). It is a complex condition that could require intervention with surgery. Stridor could happen even due to inflammatory diseases like asthma (11). In all these cases, the sooner the treatment, the better the chances of the baby's recovery.
Blue coloration of skin: The color of the skin turns blue around the fingertips, cheeks, and the lips, indicating a severe respiratory problem called cyanosis. A baby with the condition could have low blood oxygen levels and even cardiac complications that need immediate medical care.
Timely diagnosis and treatment are necessary to correct any breathing problem that the baby has.
[ Read: How To Prevent Asthma In Babies ]
How Are Breathing Problems In A Baby Treated?
The correction of a breathing problem entirely depends on the diagnosis of the fundamental cause of the problem. The doctor will make a diagnosis based on the symptoms and checking the breathing pattern using a stethoscope.
The following treatment steps could be used for the correction of breathing problems:
Medication: In some cases, the illness can be treated with oral medication. Inhalator y medicines may be recommended in the case of asthma.
Breathing apparatus: Some respiratory ailments can be corrected using a breathing apparatus. An example is sleep apnea, which can be treated using a continuous positive airway pressure (CPAP) face mask attached to an electronic device, which allows the child to breathe normally (12).
Surgery: Certain congenital conditions and severe respiratory system anomalies such as laryngomalacia could require surgery.
To ensure timely treatment of a baby's breathing problem, parents should be observant of the baby's breathing patterns and check if they are okay from time to time.
How Often Should Parents Check The Baby's Breathing?
Ideally, you can check on the baby's breathing once or twice a day. Perhaps the best time to do it when the baby is having a nap or just fell asleep for the night. Here is how you can check your baby's breathing:
Check for abnormal sounds: Stand close to the baby and listen for any unusual sounds like whistling, grunting, etc. You can also hear the baby's breath to check if it is okay.
Observe movements of distress: See for any indicators of abnormal chest movements. Check if the baby's chest seems to retract or move faster than it should.
Look for other symptoms: A baby could have abnormal breathing in case he or she has a fever or other flu symptoms. You can check for temperature by touching the baby's forehead and heart rate by holding the baby's wrist. Assessing the fingertips for blue coloration is another way to check for a respiratory problem.
Observe changes in the baby's behavior and routine: Is your baby fussy more often? Does he or she feel lethargic and show no interest in playing? All these symptoms, along with the presence of abnormal breathing, could indicate a problem.
[ Read: Signs Of Sinus Infection In Babies ]
How Can You Ensure The Baby Gets To Breathe Properly?
The following tips can help (13):
Let the baby sleep on his or her back: Sleeping on the back is the best sleep position for a baby. It ensures that the esophagus stays lower than the trachea and does not allow regurgitated food from accumulating at the opening of the trachea. Putting the baby to sleep on the tummy or side can cause regurgitated food to gather near the opening of the trachea, thus leading to breathing problems and even choking.
Keep the baby's crib empty: Do not stuff the infant's crib with soft toys and other bedding. Your baby's sleeping area should be bare. Placing objects around increase the risk of obstructing the baby's breathing.
Sleep with the baby in the same room: Pediatric experts recommend parents and babies to sleep in the same room, with the baby in his or her crib, till the age of six months and preferably till one year. It helps you detect any complications or problems with breathing.
Keep baby away from smoke: Smoke, especially tobacco smoke, can cause inflammation of the infant's airways and increase the risk of sleep apnea (14). For this reason, make sure the baby's room is free of smoke and even dust. Never smoke or let others smoke around the baby.
It is not always possible to tell whether or not your baby is breathing correctly just by looking at them. But if you sense something wrong with the baby, take the baby to the doctor without delay. Breathing is a vital body function, and any timely detection of anomaly ensures your baby always has problem-free respiration.
[ Read: Breathing Monitors For Babies ]
Do you have any tips on how to spot breathing problems in babies? Share them in the comments section below.
References:
Recommended Articles:
Comments are moderated by MomJunction editorial team to remove any personal, abusive, promotional, provocative or irrelevant observations. We may also remove the hyperlinks within comments.
The following two tabs change content below.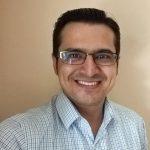 Latest posts by Rohit Garoo (see all)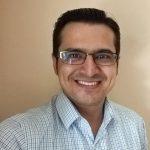 Rohit Garoo
Rohit Garoo took writing as a profession right after finishing his MBA in Marketing. Earlier he graduated with a Bachelor's degree in Botany & Zoology from the autonomous St. Xavier's College in Mumbai. Rohit has also done a Stanford University certification course on breastfeeding. This botanist-zoologist turned writer excels at life sciences, and at MomJunction he writes everything about pediatrics and maternal care. In between writing and being overly curious, he spends time cooking, reading, and playing video games. LinkedIn profile – linkedin.com/in/rohit-garoo-263115aa