Table of contents:
Imagine a world without disposable diapers! Now think of all that cleaning you have to do, and you'll agree that disposable baby diapers are indispensable. The good thing is that there are many diaper brands in the market. But that also makes it difficult to choose the right one for your baby. MomJunction lists the 15 best diapers for babies brands and explains their features to help you choose wisely.

What Are The Different Types Of Diapers?
Following are the most common types of diapers.
Standard disposable diapers: These disposable diapers for everyday use come in sub-variations such as nighttime disposable diapers with extra absorbent material to ensure overnight dryness.
Pull-ups: These diapers are pre-closed and are worn like pants, which makes them highly convenient.
Training pants/underwear diaper: Shaped like underwear, it helps older infants transition to underpants during the potty training phase. The diaper is similar to a disposable pull-up pant, but a bit larger and looks more like a piece of clothing than a disposable diaper.
Preemie diapers: These diapers are meant for preterm infants. They are similar to standard disposable diapers but come in smaller sizes. Also, the waistband has a provision to accommodate the umbilical cord stub that is yet to heal.
Swim diapers: Specially made for outings at a pool or beach, these diapers have extra cuffs and elastic around the thighs to prevent leakage even in water. The outer materials prevent bloating of the diaper on contact with water or a damp surface.
Now that you have an idea about the right type of diaper for your child, let's look at the best disposable diapers in the market.
15 Best Disposable Baby Diaper Brands To Buy In 2019
Here are the best disposable baby diapers you may choose from.
1. Huggies Overnite Diapers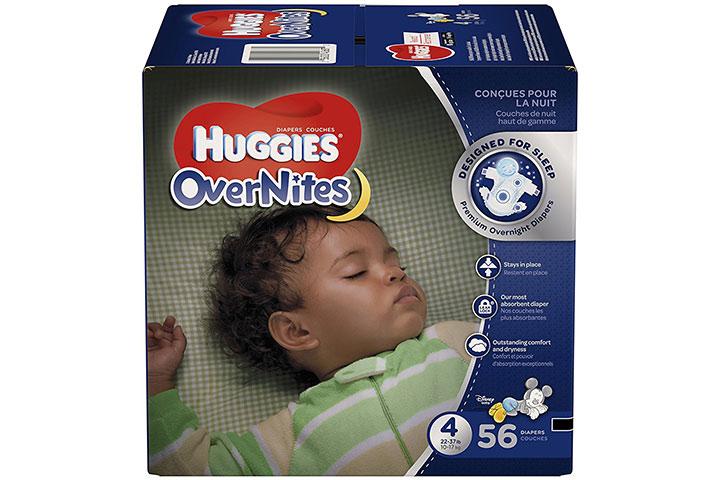 Features:
The most absorbent diaper from Huggies with double leak guard that ensures dryness for 12 hours.
The waistband has a snug fit to wrap comfortably around the baby's waist.
Pull-strands let you grip and adjust the waistband as needed.
Wetness indicator strip shows how much the diaper has been soiled.
Manufactured with soft-touch materials that provide excellent comfort. It also mitigates the risk of chafing and diaper rash.
What we think: The best overnight diapers for your little to enjoy a sound sleep every night.


2. Pampers Easy Ups Training Pants Disposable Diapers
Features:
The diaper features a conventional underwear-style waistband that is easy to pull up.
Trains the baby to wear underwear while also working as a diaper with an absorption capacity of 12 hours.
The waistband also features easy-tear, Velcro sides for adjusting the tightness of the waistband.
The extra lining on the outside reduces leakage. The inner lining is made from 100% cotton for softness.
Features multiple channels inside the diaper lining to increase absorbency.
What we think: The best potty training diapers when your baby is learning to use the toilet.


3. Luvs Ultra Leakguards Disposable Diapers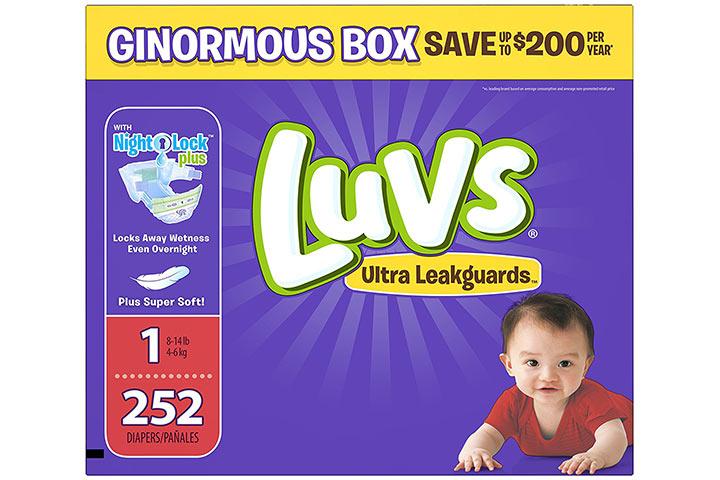 Features:
Super soft material and absorption capacity of 10-12 hours make it ideal for longer durations.
Extra leakage protection keeps baby comfortable even during active play.
A wide waistband keeps the diaper secured even when the baby moves a lot.
Also available in a pack of 252 diapers, which helps you save on your budget.
The brand offers a money-back guarantee if parents are not satisfied with the product.
What we think: The best budget baby diapers considering the bulky pack of 252 diapers and a money-back guarantee claim.


4. Earth's Best TenderCare Diapers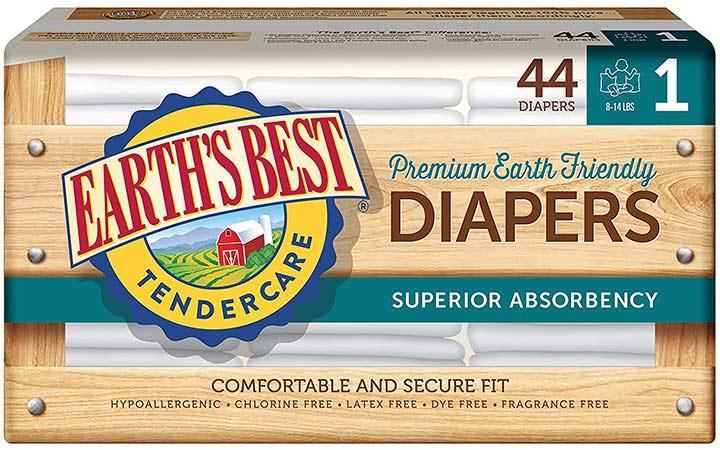 Features:
Manufactured using biodegradable and eco-friendly diaper materials sourced from plants. These diapers also use 20% lesser petrochemicals than other conventional diapers.
The absorbent material in the main diaper pad is made from wheat and cornstarch, thus making it skin-safe.
Hypoallergenic since it is free of substances such as chlorine, latex, dyes, and artificial fragrances.
Stretchable waistband and diaper material make it a comfortable fit for the baby.
What we think: The best eco-friendly, unscented, and chlorine-free diapers that work well for infants with sensitive skin.


5. Huggies Little Snugglers Preemie Baby Diapers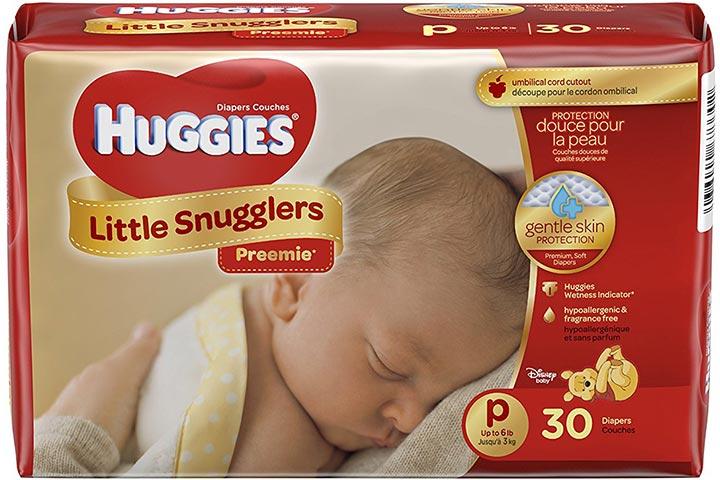 Features:
Designed specifically to fit preterm infants. Features a circular cutout on the waistband to allow the umbilical cord stub to pass through.
Layered waistband ensures no leaks. Double layer at the bottom prevents dripping as well. Absorbs for 12 hours.
Wetness indicator on the diaper changes color when the diaper is entirely soiled.
No artificial fragrance; made with ultra soft materials to prevent irritation to the sensitive preemie skin.
Pores in the diaper allow ventilation to the skin.
What we think: The right choice for a preterm infant who needs a tiny diaper that can accommodate the umbilical cord stub.


6. Pampers Splashers Disposable Swim Diapers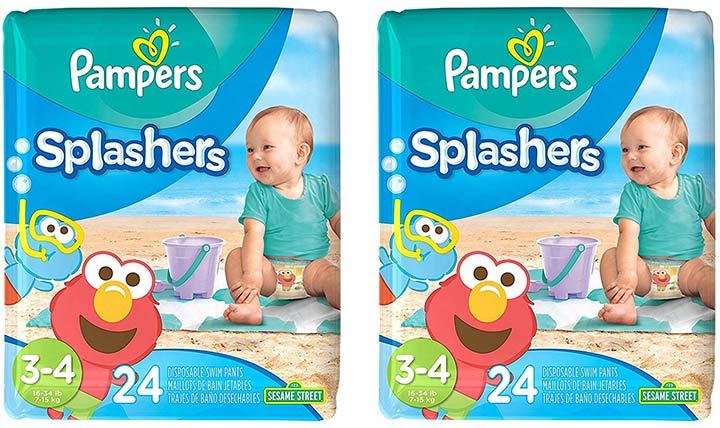 Features:
Made from materials that do not bloat when in contact with water or moisture.
Features double cuffs around the thigh region to prevent dripping.
Convenient sidebands for easy adjustment of the diaper.
Extra internal padding prevents leakage even when the baby is in water.
The stretchy material makes it comfortable for an infant to move around in the water.
Colorful design patterns make the baby look adorable.
What we think: Ideal diaper for beach or pool time with the baby.


7. Honest Baby Diapers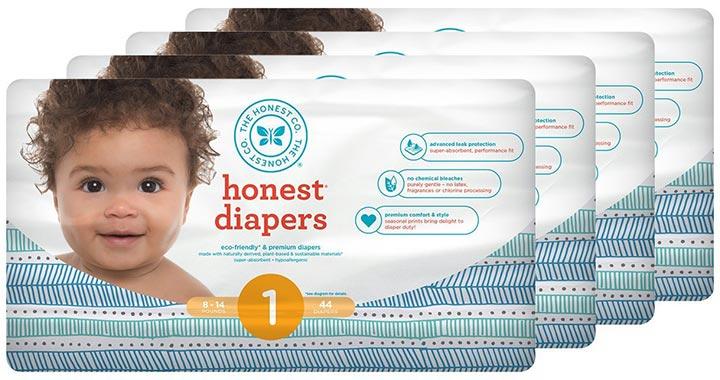 Features:
Eco-friendly diapers made from natural materials that are biodegradable.
The absorbent core of the diaper is made from plant pulp derived from sustainable forests.
Uses corn and wheat starch inside the core of the diaper for absorbency.
Side tabs are refastenable making it easy to put on and adjust.
Hypoallergenic and free of substances such as chlorine, latex, and dyes.
Natural plant-based fragrance.
What we think: An environmental-friendly diaper made from sustainable plant materials.


8. Babyganics Ultra Absorbent Diapers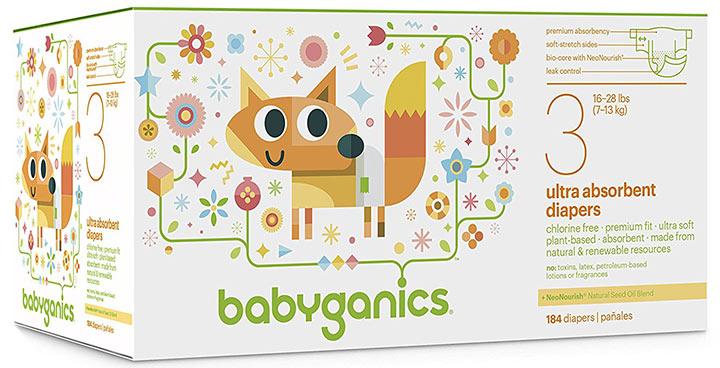 Features:
Soft, stretchable sides make it easy to put the diaper on. The side strands are adjustable and secure the diaper firmly.
Wetness indicator lets you spot a soiled diaper easily.
Does not contain allergens such as chlorine, latex, petroleum-based materials and any artificial lotions.
Inner lining and the core of the diaper made from plant-based materials.
The core contains absorbent material made from plant oils to protect the baby's skin when the diaper gets soiled.
What we think: A diaper that uses natural plant oils to mitigate diaper rashes and cut down on odor caused by a fully-soiled diaper.


9. Pampers Baby Dry Diapers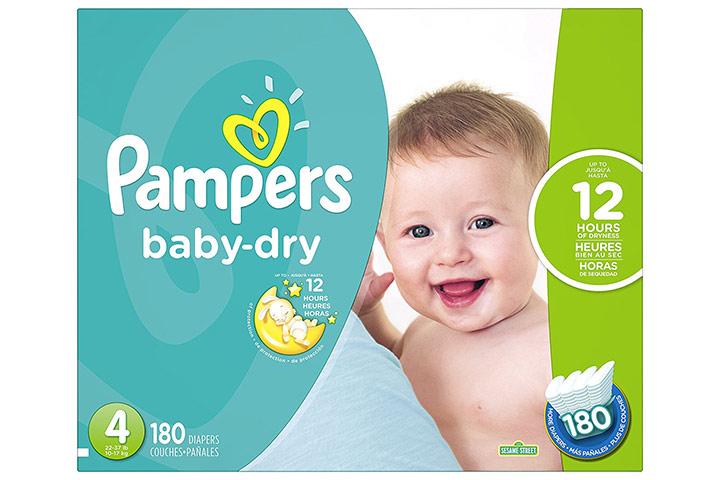 Features:
The inner lining is made of three layers with multiple absorbent channels that ensure dryness for 12 hours, even overnight.
The diaper has three times the absorbent capabilities of other diapers.
Stretchy elastic bands keep the diaper in place when the baby moves and rolls over.
Multiple size options – you can get the right size and fit for an older infant too.
Wetness indicator makes detecting a soiled diaper easy.
Soft material inside and outside.
What we think: The best overnight diaper for little ones who tend to roll and move a lot during sleep.


10. Broody Chick Eco-Natural Diapers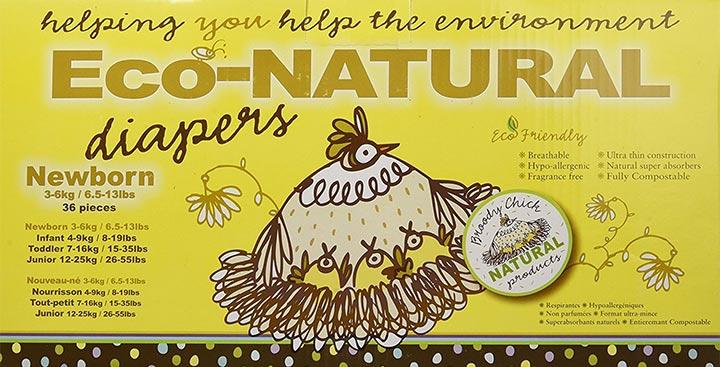 Features:
Manufactured using thin soft-touch materials that have excellent absorbency.
Free of substances such as chlorine and chemical-based fragrances that can cause allergies. Hypoallergenic diapers.
Compostable diaper, which means it is entirely biodegradable.
Breathable diaper material allows ventilation and reduces the chance of diaper rash and irritation.
Natural absorbent material used in the diaper core.
What we think: A breathable diaper that is eco-friendly and super comfortable for the baby.


11. Naty by Nature Babycare Diapers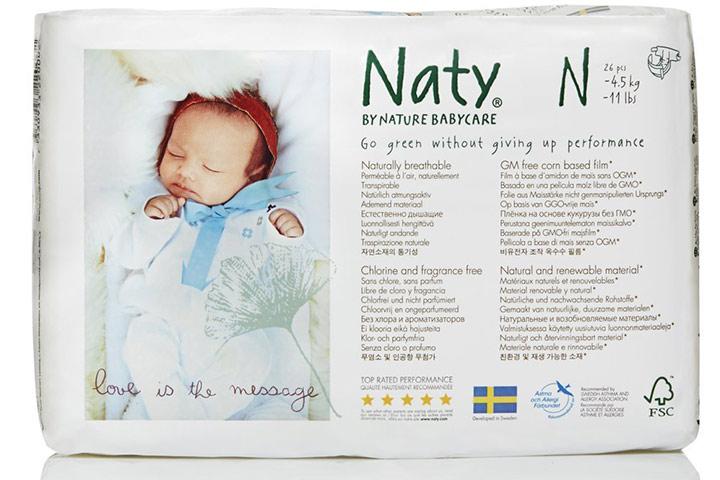 Features:
Outer layer made with corn-based materials instead of plastic film used in conventional diapers.
Non-GMO (genetically modified organism) corn and plant pulp used in the making of the diaper.
Free of harmful chemicals such as chlorine, phthalates, dyes, fragrance, and other petrochemical products.
The breathable diaper allows adequate ventilation to reduce irritation.
Hypoallergenic diaper certified and recommended by the Swedish Asthma and Allergy Association.
Easy-to-strap design.
The diaper is compostable, which makes it eco-friendly.
What we think: The best hypoallergenic diaper for a baby with extra sensitive skin prone to allergies.


12. Kirkland Signature Supreme Baby Diapers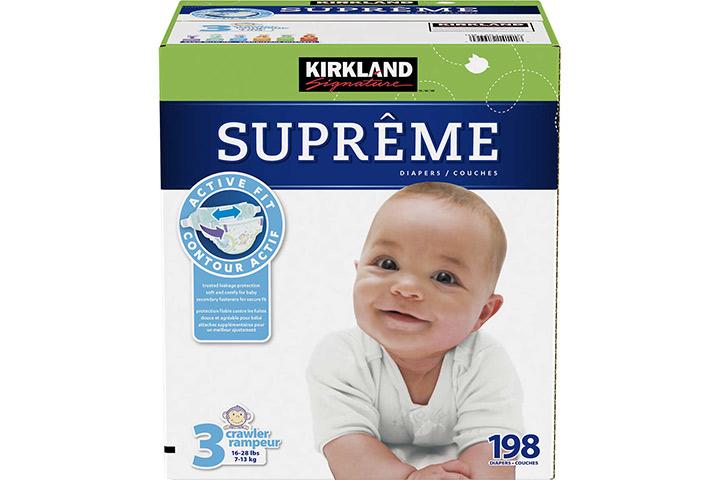 Features:
Extra absorbent material ensures super absorbency for up to 12 hours.
Stretchy and soft waistbands make it convenient to adjust the diaper.
Wetness indicator marker changes color from yellow to blue when the diaper is full.
Breathable inner lining helps minimize irritation.
Does not contain rubber latex. Hypoallergenic and free of harsh chemicals.
Comes with different design options to make the diaper enticing to the little one.
What we think: A hypoallergenic diaper with a wetness indicator.


13. Pampers Cruisers Disposable Diapers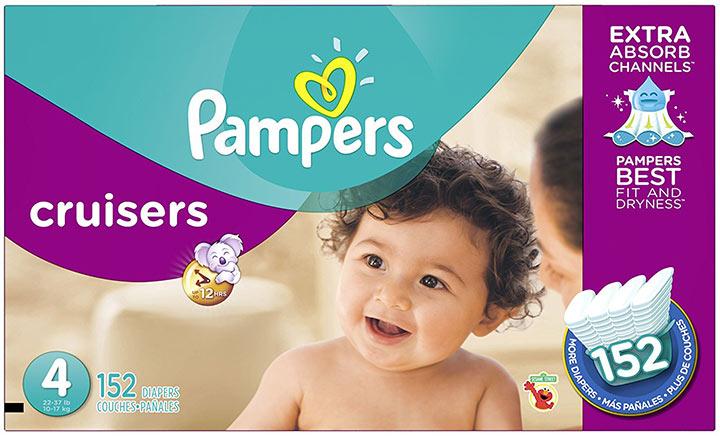 Features:
Specially designed for babies taking their first steps. The diaper stays secure around thighs without sagging, which prevents leakage.
Elastic straps around the waist and legs keep the diaper in place even when the baby is cruising around briskly.
Extra absorption channels keep things comfortable while walking. Absorbs for as long as 12 hours.
Leg cuffs are flexible so that the baby can move unhindered.
Soft side tabs are stretchy to facilitate movement when the baby walks.
What we think: The best diaper for walking babies so that they can enjoy their new-found freedom.


14. Bambo Nature Baby Diapers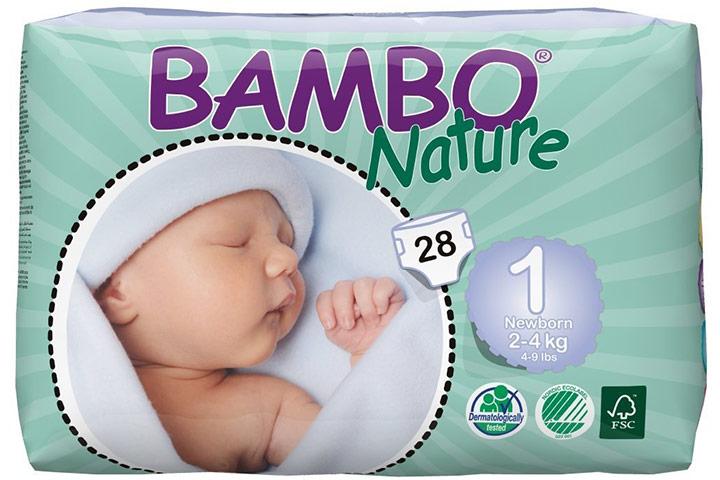 Features:
Gentle on the skin, thanks to its soft, dermatologically tested inner material.
The diaper is certified organic and uses the pulp of sustainable forests.
Hypoallergenic and free of harmful chemicals. Certified safe by the Danish Asthma & Allergy Association.
Breathable thin base ensures there is no skin irritation even when the diaper is soiled.
Flexible materials allow the baby to move with ease.
What we think: An ideal hypoallergenic diaper for babies with extra sensitive skin.


15. Huggies Little Movers Slip-On Diaper Pants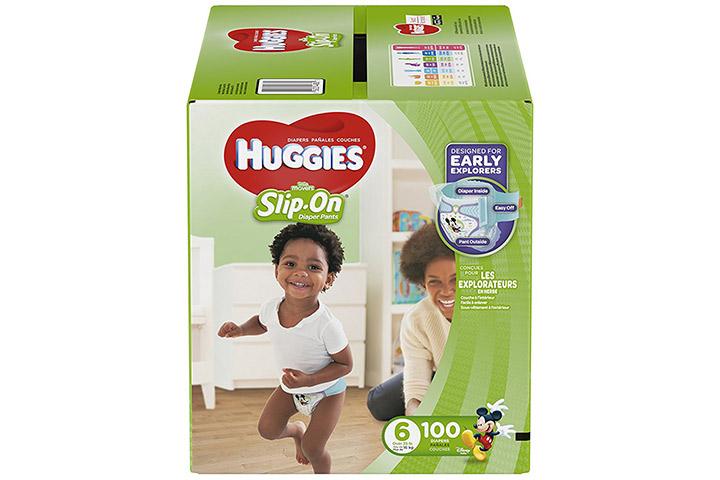 Features:
The design features a pant/underwear on the outside with a diaper on the inside.
It works great with infants who are taking their first steps but are yet to get potty trained.
Pre-fastened design, which means you do not have to strap the diaper. Just slip it on the baby, and it is done.
Pull-tabs on either side let you secure the diaper firmly and absorb for almost 12 hours.
Diaper material stretches in all directions and does not restrict the baby's movements when walking.
What we think: A stretchable diaper that combines the convenience of underwear with the usability of a diaper.



You may choose the one that suits your baby's requirements. And if you are an environment-conscious person, you may go for the green diapers given in our above list.
In the next section, we will share some tips on using a diaper.
Six Tips On Diaper Usage
Here is how you can get the most out of the diaper:
Store the diaper in a cool and dry place: All diapers contain some form of absorbent material, which can be sensitive to heat and humidity. So always store the diapers in a cupboard or any other place with minimal exposure to heat and humidity, to keep the diaper's absorbent capabilities intact.
Be extra careful in case of sensitive skin: If your baby is prone to diaper rash, then choose hypoallergenic diapers that are free of chemicals.
Dispose of the excrement first in the toilet: Throwing away whatever you can in the toilet before disposing of the diaper makes it less messy and smelly.
Maintain separate bin for used diapers: Purchase a diaper pail – a dustbin specially designed to hold used diapers. You can also consider buying a regular dustbin/trash can exclusively for the diapers. Choose dustbins with lids since they hold foul odor better.
Carry garbage bags when a bin is unavailable: If you are outdoors and do not have access to dustbins, then carry some garbage bags along. You can use them to store the soiled diapers until you spot a dustbin. Do not throw the diapers in vegetation or anywhere else, unless they are 100% certified biodegradable.
Check diaper fit periodically: Observe how the diaper fits the baby and upgrade to a bigger size as needed. Babies grow at an astonishing speed, so you need to choose the right- sized diaper depending on your baby's growth.
Disclaimer: MomJunction may earn a commission when products are purchased through affiliate links given in the article. However, this partnership does not influence the editorial content featuring on our list.
Diapers are an essential part of your baby's bag when he is still a long way from potty training. Choosing the right type of diaper ensures minimum fuss from the baby, which means peace of mind for the parents. Always check multiple brands and compare your options before settling on what works best for your little one.
Do you have any suggestions on picking the best disposable baby diapers? Share them in our comments section.
Comments are moderated by MomJunction editorial team to remove any personal, abusive, promotional, provocative or irrelevant observations. We may also remove the hyperlinks within comments.
The following two tabs change content below.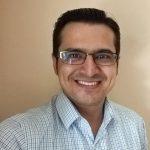 Latest posts by Rohit Garoo (see all)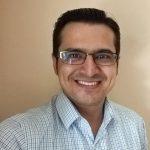 Rohit Garoo
Rohit Garoo took writing as a profession right after finishing his MBA in Marketing. Earlier he graduated with a Bachelor's degree in Botany & Zoology from the autonomous St. Xavier's College in Mumbai. Rohit has also done a Stanford University certification course on breastfeeding. This botanist-zoologist turned writer excels at life sciences, and at MomJunction he writes everything about pediatrics and maternal care. In between writing and being overly curious, he spends time cooking, reading, and playing video games. LinkedIn profile – linkedin.com/in/rohit-garoo-263115aa