A baby shower is an exciting and beautiful time for a mother who is awaiting for her little bundle of joy. Writing baby shower messages and wishes can make the time more special. The messages, wishes and quotes are all considered to be a part of celebrations. For your idea, we give you a guide on what to write on a baby shower card. Along with a compilation of beautiful and meaningful quotes, we also help you how to structure the card to make it a perfect one.

What To Write In A Baby Shower Card?
You can pen down the wishes and messages with creativity and humor, but they need to be sincere so that the new parents will remember them for the rest of their lifetime. Your card may include a message for both parents and new baby and probably a piece of advice for them. The list of basic things you need to note when writing a baby shower card includes the beginning,  body, and end. Moreover, the messages that form the body should be encouraging, positive, sincere, inspirational, simple and brief.
For your closest family and friends, you can write something about what the parents want their little one to be. For instance, if the dad loves playing guitar, it will be great if you write something related to it.
Some parents will already decide a name for their newborn. You can also include the baby's name on the card.
If the new parents are not close, you can write the card in a general tone and include the entire family in the wish. For instance, " Hearty Congratulations….(surname).. family….."
You can also write weird baby shower messages, but only for your closest friends. For instant the beast arise.."
[ Read: Baby Shower Invitation Wordings ]
The Beginning Of A Baby Shower Card:
This part of the card is important since you have to set the proper tone.
If you are close to the mother – Then just write her first name.
If it is a formal baby shower – Write the proper name of the mother
If it is a couple shower – Write to both mother and father.
Baby Shower Wishes: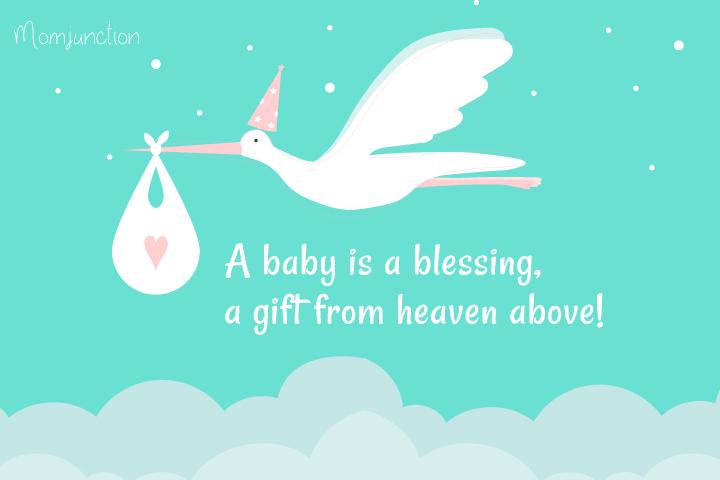 What is the most simple way of sending a wish? Well, letting people know your thoughts! Personalize your message as much as you can and add the extra love keeping in mind the setting and place of when you are going to drop in the wishes. This would not just add your emotion of love, but it would also make the family feel special.
Here, we present our collection of top 50 baby shower wishes and quotes. These will surely make all moms-to-be go crazy and feel delighted.
A baby is a blessing. A gift from heaven above, a precious little angel, to cherish and love.
Sometimes the smallest things take the most room in your heart.
A baby is a blessing, a gift from heaven above!
Wishing you and your baby love, laughter, sunshine, and happiness.
We are so excited for you. Your life will never be the same. Have fun and enjoy, your little bundle of joy.
The best thing to spend on your baby is time.
Of all the precious gifts in life, the best is surely a baby – a blessing for now and forever.
[ Read: Baby Shower Games and Activities ]
Cute Baby Shower Messages: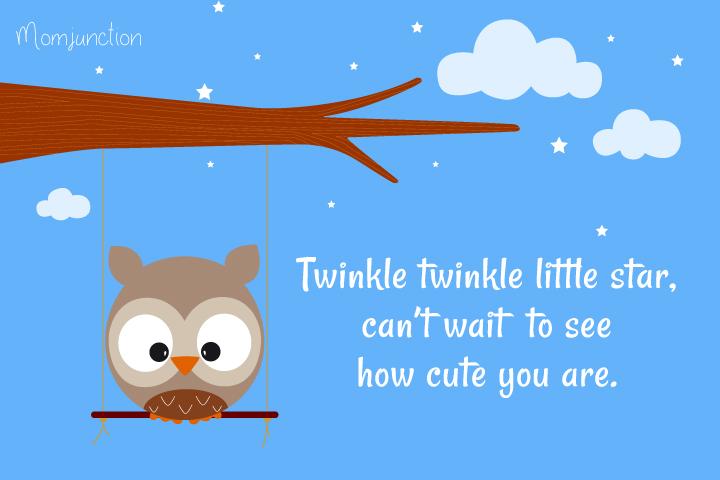 Babies and cute, can it get any more rhythmical and musical than that? Cute is the idea associated with babies but what about writing a cute wish? Tough task? Well, there are many ways of not just making the already cute baby feel cute, but also making the family feel cute! If you are stuck with ideas and lines on cute baby shower greetings, then check out the below list.
Baby (noun) A little bit of heaven sent down to Earth.
A wee bit of heaven drifted from above. A handful of happiness a heartful of love.
Here's to smiles, laughter, patience, and joy. We hope you get a healthy baby girl or boy.
Twinkle twinkle little star, can't wait to see how cute you are.
A new baby is like the beginning of all things – wonder, hope, a dream of possibilities.
Looking at your baby reminds us of how beautiful a gift the God and the Heaven above has bestowed on you.
Baby, may you be strong, brave, fearless. But also be kind, gentle, and forgiving! Be the best of the best!
Adorable New Baby Shower Wishes: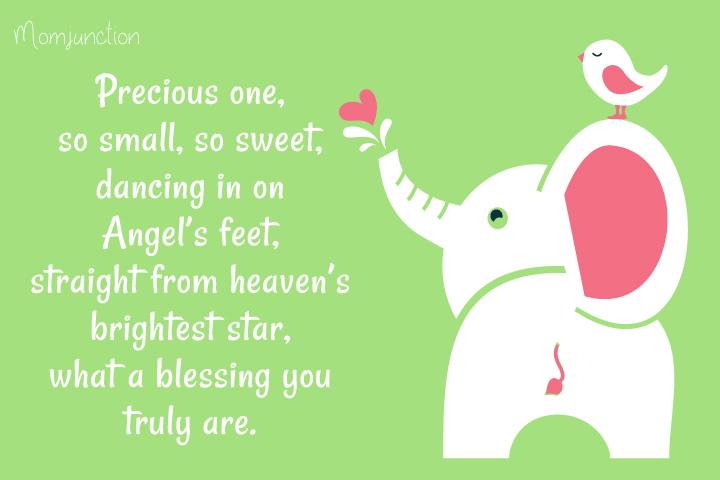 Wishing parents and their babies together is always the nicest thing. And of course, who said messages should be short? Writing long messages shows two things – your love for the family and the baby, and the time you've invested in coming up with a message. To act as the cherry on top – why not come up with greetings that are adorable? They will send across your sentiment in just the manner you want!
Precious one, so small, so sweet, dancing in on Angel's feet, straight from heaven's brightest star, what a blessing you truly are.
May you touch dragonflies and stars, dance with fairies and talk to the moon. May you grow up with love and gracious hearts and people who care. Welcome to the world little one, it has been waiting for you.
A little one has joined you both, how happy you must be. It was great when there were two of you, but even better when there are three.
A little gift wrapped up and tied, a little wish for the baby inside!
Wishing the baby a life full of adventures, blue skies, dreaming coming true, happiness and joys!
The little baby gives us butterflies, no matter how many times we see!
Baby Shower Wishes For Boy: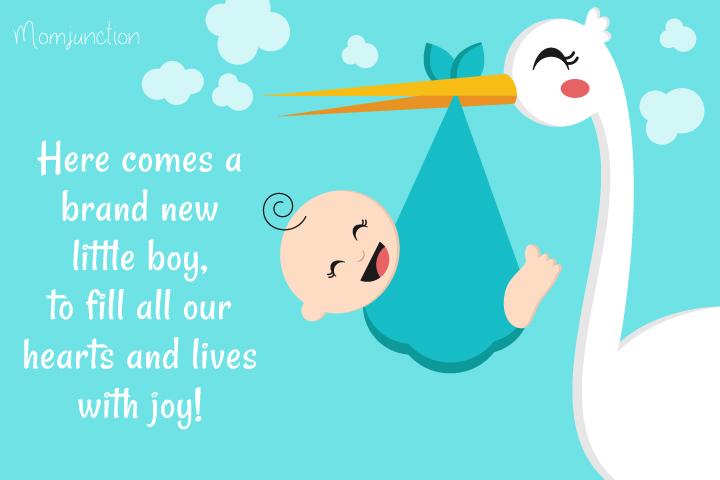 Yes, you could write lovely messages for the baby boy. Personalised messages are a thing and if the prince gets his own set of wishes, boasting of exclusivity, why wouldn't he not be happy?
We know your life is filled with joy, as you have (babby's name) for a boy!
Here comes a brand new little boy, to fill all our hearts and lives with joy!
You are having a fantastic little boy, with the cutest nose and perfect smile. He seems to have mommy's gorgeous eyes, and comes with a truckload of style!
Tiny fingers and tickly toes, cowboy boots and trucks to tow. A bundle of joy, created by love. A precious gift, from Heaven above.
A baby boy arrives, and just like that everything changes. The world gets bigger, the heart grows fuller, and the life gets better as he is in it.
Baby Shower Wishes For Baby Girl: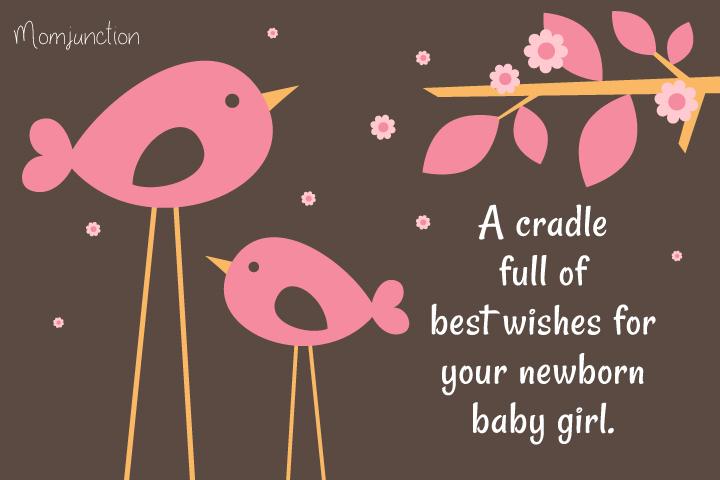 Daughters are like little angels, and you can adorn these angels with your lovely messages. Give the little princesses some nice thoughts, but don't be in a hurry to add the color pink. You never know if she might like something else!
The long wait is over, the little angel has come. We rejoice with you for this sweet gift. May she grow up to be a loving person with a gentle spirit.
Congratulations on giving your baby boy the most precious gift ever – a baby sister.
A cradle full of best wishes for your newborn baby girl.
She has arrived, a little home made princess.
The little angel is here, and everyone's coming to cheer. She is the perfect combination of princess and warrior.
Baby Shower Messages For Twins: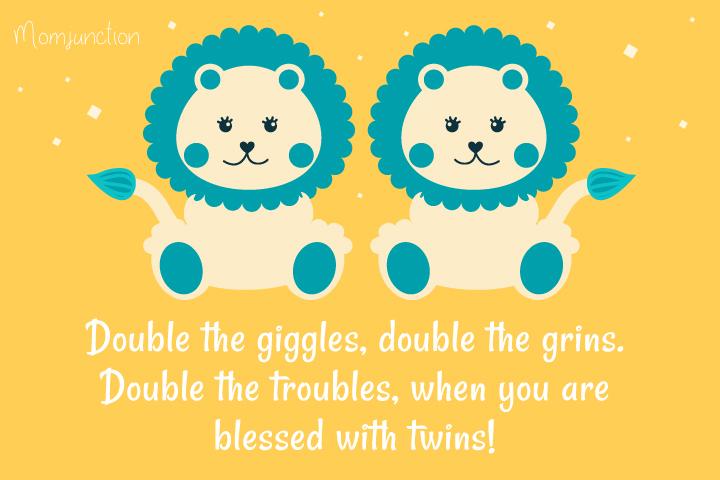 Twins are double the fun but double the work, double the happiness but double the labor. But to see the two lamps of your life in your hands is probably the most beautiful feeling ever. If you know that your friend is going to have double the joy in his or her life, then we have some perfect and funny baby shower card messages for twins. Let the new mother have some fun and get the wishes, all under the same umbrella.
Double the giggles, double the grins. Double the troubles, when you are blessed with twins!
One will cry and one will laugh, one will weep and one will sleep. Though the troubles and the double shift, these memories will be worth the keep.
Twin sister or brother, how can these siblings live without each other!
Wine is mummy's way of forgetting, what terrors you have been all day.
Twins are a blessing. But do remember, they will gang up against you and give you a mental breakdown!
Baby Shower Congratulations Messages: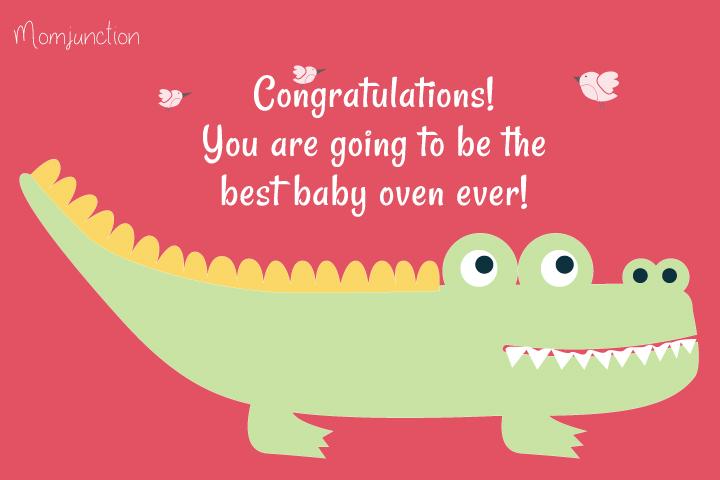 We all have our ways to congratulate people. Some of us write pages and think of speeches, some of us like to add in a wee bit of sentences. While we all want to give our heartiest congratulations on the new baby to the new parents, we also want to put it in our best possible and charming ways! Read on the list below, and choose your style!
Congratulations and all the best for the upcoming baby birth! So many things are needed for the new arrival, which makes it a great excuse to shop.
Congratulations! You are going to be the best baby oven ever!
Congratulations! The egg is about to crack!
Congratulations! Hitting the bottle got a whole new meaning in your life!
Congratulations! The White Stork is just about to land at your door with a little one!
Here Are Our Sample Templates Of Baby Shower Messages
We've given you loads of tiny one or two liners that we think can adorn your wishes and thoughts for the new parents and the baby. Here are some full-fledged templates which would give you some insight into designing a card per se. Read on and be spoilt for choice.
Congratulations to the amazing mom! We know it is an exciting time for you and we pray to the Almighty that the rest of your pregnancy and birth goes well. May your baby bring you rejoice that lasts forever. From bottom of our heart, we wish you healthy and safe pregnancy!
In another couple of weeks, it is going to be good-bye tummy and hello mummy! Can't wait enough to see the baby's pink-cheeked face and two beautiful eyes. We know your baby, be it girl or a boy would be a bundle of joy. Hoping to see your new star soon and a shower of blessings to you and your new baby.
[ Read: Baby Shower Decoration Ideas ]
Sincere congratulations on your upcoming start to a new department-you are adding love to the world. There is nothing more precious for a mother than having her baby. We are excited to meet the new baby of your family in couple of weeks. We wish you a safe delivery!
Welcome to the motherhood dear friend- we are sure you are going to be a wonderful mommy, enjoy the merry times with your baby and make each moment precious. Warm wishes on your baby shower, hoping that you will enjoy your motherhood!
Congratulations on this wonderful achievement! We know how this small baby in your womb has taken up a special room in your heart. Enjoy all the experiences of having a baby. Wish you good luck!
[ Read: Baby Shower Cakes ]
From a very long time, I have been counting the days you announced about the arrival of your new baby. I really can't wait to hold the infant in my arms. May your child be much more beautiful and healthy than you imagined. Wish you all the success for your new experience!
Many hearty congratulations on your new bundle of joy! This upcoming baby is your real blessing filling your hearts with lots of wonderful memories. I wish you the best happiness and good luck to the life's awesome treasure!!
On your baby shower wishing you heaps of love and happiness together. This gift given to you both is from the heaven above, so admire this new born who is going to be the apple of your eyes. Welcoming you and your special baby into this new world.
[ Read: Baby Shower Gift Ideas ]
Ah! Congratulations! Someone is coming soon, someone to call you "Mummy" and fill your hearts with bundle of joy. As a dearly beloved angel is coming your way, wish you good luck with your pregnancy. Hope this baby from the heaven fills your life with contentment.
We can see the new glow on your prettier face- you must be definitely enjoying the pampering you are getting from your hubby and family. The baby bump you are carrying is surely going to bring you tons of blessings. Best wishes for the remaining days of pregnancy and hope you have a safe and healthy delivery! Eagerly waiting for the newcomer!
Congratulations on your exciting news good luck with your pregnancy. Congratulations on your little one. Congratulations on your upcoming new arrival! Baby's almost here! What could be more wonderful? Congratulations on this new baby you are bringing into this world. Your life is now going to be changed forever, but it will only bring you joy. I wish you all the best.
Wishing you a happy and healthy baby and I hope your life only gets better from now on. Happy baby shower and I'm confident that you will be great parents to your child!
[ Read: Godh Bharai – The Indian Baby Shower! ]
Congratulations on your new expected bundle of joy!! We wish you all the best over the next few months with your pregnancy and hope you're both blessed with a happy and healthy new baby.
Congratulations! What an exciting time for you! I am / we are so happy for you and wish you all the best for the rest of your pregnancy and the birth.
Congratulations on your new roles and responsibilities as parents. We are confident you will direct and teach your little one the right things at the right time. We are also confident you will end up learning just as much along the way.
You may experience strong feelings of uncertainty followed by strong feelings of wonder and amazement at your child's birth.
Feelings are the true legacy of a lifetime. May you bring the same love and warmth your mother passed onto you so that your little one too can pass on her legacy to her children.
Parenthood is more than just an experience. It is a delight filled with emotions of love and care you never filled before in your life. May your baby bring the joy your family truly deserves.
[ Read: Baby Shower Recipes ]
Coming soon to a home near you: toys and messes all over the floor, spontaneous artwork on your walls and doors, midnight trips to the doctor and store, but best of all… love and affection forevermore.
We're all so happy for you both with your expected new arrival!! Good luck with babyhood and as always please let us know if we can help out in any way. All the best.
The End Of A Baby Shower Card:
The ending is also an equally important part of the baby shower card. A thoughtful and sincere closing would be great. You can pick any of our ideas here or can also come up with your creativity.
Yours truly,
Best wishes,
Love Always,
With Love,
Yours Sincerely,
Kind Regards,
Love,
All The Best,
My / All Our Love
Hug & Kisses,
Blessings,
Overjoyed,
God Bless,
Thrilled,
Warmly,
Rock On,
Blessings,
Lovingly,
Enthusiastically
Warmest Wishes
Peace, Love, and Happiness
Hope you liked our baby shower greetings and don't forget to write your ideas if any.
The above mentioned baby shower messages are going to make your friend or relative, who is soon going to be a mummy, feel encouraging and happy!