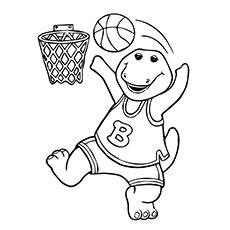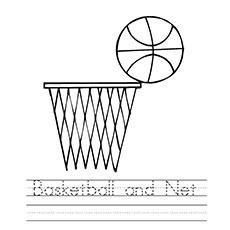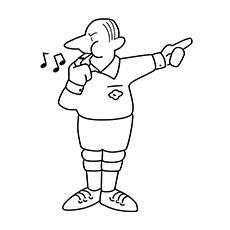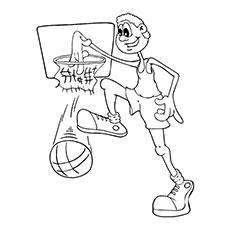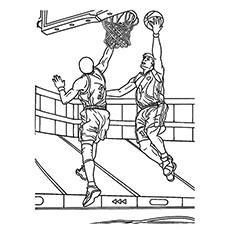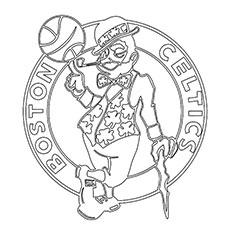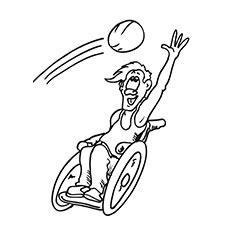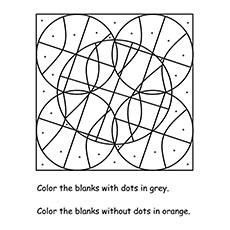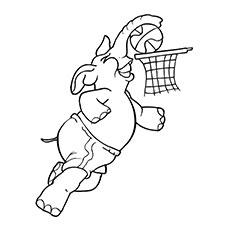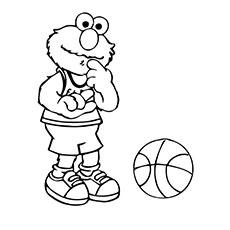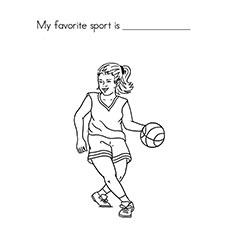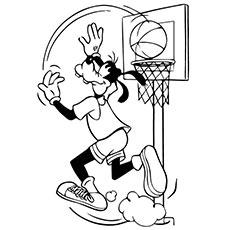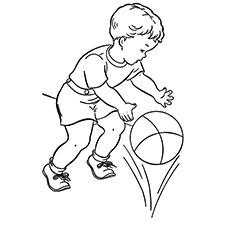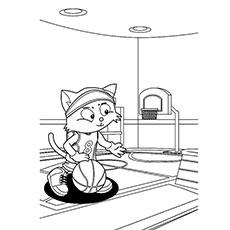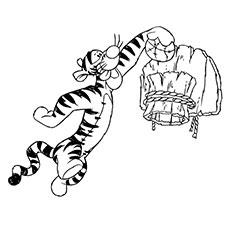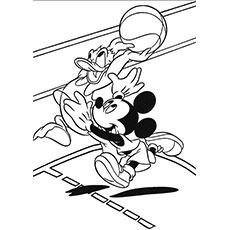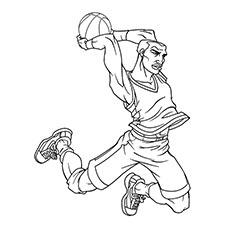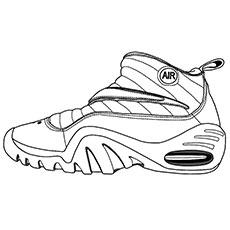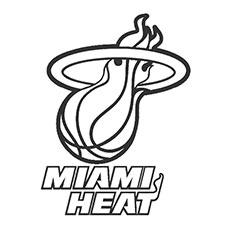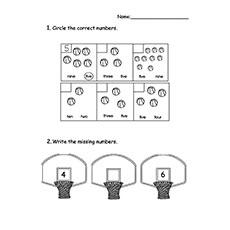 Kids, both boys and girls, love basketball. It is the favorite sport of most of the kids. They love grabbing the ball and shooting the basketball in the hoop.
Does your child like playing or watching basketball? Then he will surely enjoy basketball themed coloring sheets. Coloring sheets based on sports will encourage the children to indulge in physical activities for a better and fitter life. Sports based coloring sheets will also make a great addition to a classroom activity.
There is no better way to surprise a basketball lover than by presenting him some basketball coloring sheets. Here is a small collection of 20 free basketball coloring pages printable for your children to select and color. The article includes male and female basketball players, dribbling and dunking of the basketball and famous cartoon characters playing basketball.
1. Color By Dot:

Basketball is a popular sport all year round. No matter what the weather is, give this color by dot worksheet to please your little basketball lover.
Tell your child to color the dotted space in gray and the blank space in orange. He will be surprised to see the result.
You can also explain some of the rules of the games while your baby colors the sheet. It will help him gain some knowledge about the game.
2. Kid Playing Football:

Little kids cannot play basketball. They either hold the ball or play catch and catch with it. This coloring sheet shows a little boy trying to pick a ball.
This aspiring basketball player is seen properly dressed in shorts and tees. Looks like he will turn out to be a renowned basketball player.
Let your child color in the jersey of this kid's with the colors of his favorite basketball team.
[ Read: Sports Coloring Pages ]
3. Basketball:

You cannot always be a ball hog in your basketball team. Catching and fighting are very important in a basketball game.
This coloring sheet shows two basketball players of opponent teams fighting for the ball.
The coloring sheet has very fine details and will help to build your child's fine motor skills.
4. Child In A Wheelchair Playing Basketball:

This is an inspiring coloring sheet showing a physically disabled child trying to make a basket.
This coloring sheet will teach your child to appreciate whatever they have.
Teach your child to respect people with physical disability and help them whenever possible.
5. Basketball And Net:

Get your preschooler ready for writing with this trace and color worksheet.
This coloring sheet will let your child practicing handwriting in straight lines as he traces the wordings. He can then color the basketball and the net in any color he likes.
Teaching the child to hold the pencil in a proper way is very essential to his overall development. It will lay the foundation of good handwriting skills.
6. Barney Playing Basketball:

This coloring sheet shows the cheerful Barney trying to shoot the basketball. He is dressed in proper basketball jersey and is all set to win the game.
Barney is a 200 million-year-old, six foot tall, purple Tyrannosaurus Rex. He is the protagonist of the show "Barney and Friends".
He comes to life through a child's imagination. Barney is loved by kids for his friendly and kind behavior.
7. Mickey And Donald Playing Basketball:

This coloring sheet shows the biggest rival of the Disney world in action. Who do you think will win this game? Mickey or Donald? Ask your child this and see what he comes up with.
Donald and Mickey are both friends and rival. Even though Donald is jealous of Mickey, he values his friendship more than fame.
Both Mickey and Donald share a very strong bond. The bond is strongest of all the characters Mickey has interacted with.
8. Worksheet:

Here is a simple worksheet for your preschoolers.
In the first part of the coloring sheet, tell your baby to count the number of balls and circle the correct number. In the second part of the sheet, he has to write the missing number.
This coloring sheet will help to improve his math skills while being creative at the same time. We are sure your little basketball lover will enjoy filling colors in this sheet.
[ Read: Soccer Ball Coloring Pages ]
9. Basketball Star:

Coloring is a great way for the children to expend a little energy. When your little child cannot go outside to work on his dribbling, give him this coloring sheet featuring a little boy trying to basket the ball.
Dunking basketball is an art. Most of the people can't even shoot basketball, leave alone dunking.
This coloring sheet will compel your child to imagine how it feels dunking in a high net.
10. NBA Basketball:

This coloring sheet features an NBA player trying to basket the ball.
The National Basketball Association (NBA) is a men's professional basketball league in North America. It is considered the most eminent basketball league in the world.
Tell your budding basketball player to color this star in his favorite team colors. He can also add some cheering fans in the background.
11. Miami Heat Basketball:

This coloring sheet Features the logo of the Miami Heat, an American professional basketball team. The team, as the name suggests, is based in Miami, Florida.
Children can fill any color they like in this logo. Alternatively, they can use the signature shades of this logo to make a poster for their room.
Give your little sports fan this coloring sheet while you read out a few interesting facts about this gaming tournament.
12. Tigger Playing Basketball:

This coloring sheet shows Tigger attempting to make a basket. Your budding basketball player can add some bright and bold colors to bring this exciting scene to life.
Tigger is an energetic character from the cartoon series "Winnie the Pooh". He is an overconfident soul who thinks very highly of himself.
Tigger is an orange and black colored tiger with beady eyes, springy tail and long chin.
13. Elmo Playing Basketball:

Here is a coloring sheet showing Elmo with basketball. It looks like Elmo is confused as to what to do with the basketball.
Elmo is a three and a half years old, red Muppet monster with an orange nose. This little monster is cheerful, enthusiastic and wants to be a part of everything that goes on.
Your child can add his favorite team's logo and colors to make this player shine.
[ Read: Beach Ball Coloring Pages ]
14. Kitty Playing Basketball:

Here is a funny coloring sheet showing a Kitty dribbling the basketball.
This enthusiastic kitty is all set to defeat the opponents. Do you think he will make the basket? We hope he does.
This coloring sheet is ideal for kids aged 10 or above. Instruct your child to color in the lines to produce a beautiful picture.
15. Goofy Playing:

This coloring sheet shows Goofy successfully dunking the ball. He looks very happy with the result.
Goofy is a tall, anthropomorphic dog created by the Walt Disney Productions. Goofy is named after his clumsy nature.
Goofy is the best friend of Mickey Mouse and Donald Duck. He is extremely lovable and charming and cares a lot for his friends.
16. Girl Playing Basketball:

Apart from shooting and dunking, dribbling is a fun activity in basketball. Almost everyone can dribble. Even the kids identify with dribbling.
This coloring sheet shows a young girl dribbling the basketball. Your little princess will be encouraged to use her imagination as she pictures this girl dunking the ball into the basket.
Tell your child to write the name of this favorite sport in the blank.
17 Shoes:
Tell your child to lace up his coloring skills for this coloring sheet featuring a pair of basketball shoes.
A good pair of basketball shoes is very essential. It helps the players to advance their skill set. It also reduces the chance of injury.
There are three types of basketball shoes- high-tops, mid-tops, and low top.
18. Elephant Basketball:

Kids have unrealistic dreams. They often wish that animals could do human activities, including playing basketball. This coloring sheet is all about it. It shows an elephant dunking the basketball in the net.
What other sports do you think this elephant can play? Tell your child to write whatever he can think of on the blank side of the sheet.
Print the coloring sheet and have fun with your child this winter vacation.
[ Read: Sports Car Coloring Pages ]
19. Basketball Referee:

A referee holds a very important part in the game of basketball. An organized basketball needs coaches and referees for a smooth operation.
This coloring sheet is all about the important role a referee plays in a game.
It shows a referee trying to pacify a heated match by blowing whistles.
20. Boston Celtic:

This coloring sheet features the logo of the Boston Celtics. The Boston Celtics is a basketball franchise based in Boston, Massachusetts.
The franchise was founded in 1946. It is one of the eight NBA teams to survive the league's first decade.
The Franchise in owned by the Boston Basketball Partners LLC.
We're sure your child will have a 'ball' filing these free printable basketball coloring pages online. These coloring pages are free so you can print out as my as you want to.
Besides, these free basketball coloring pages to print will also help your child develop fine motor skills, color recognition, and creativity.
Recommended Articles:
DISCLAIMER: All images found here are believed to be in the "public domain". We do not intend to infringe any legitimate intellectual right, artistic rights or copyright. All of the images displayed are of unknown origin. If you are the rightful owner of any of the pictures/wallpapers posted here, and you do not want it to be displayed or if you require a suitable credit, then please contact us and we will immediately do whatever is needed either for the image to be removed or provide credit where it is due. All the content of this site are free of charge and therefore we do not gain any financial benefit from the display or downloads of any images/wallpaper.
The following two tabs change content below.