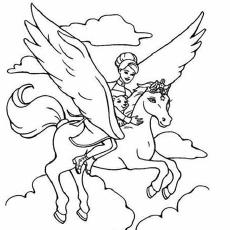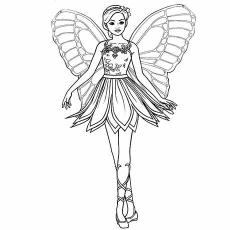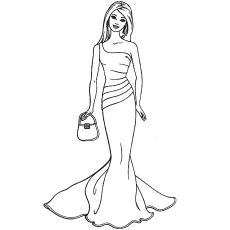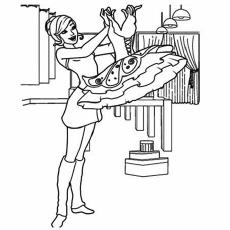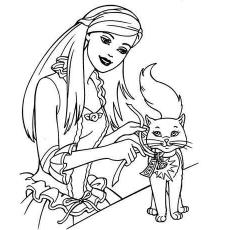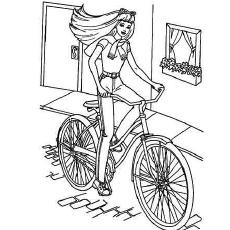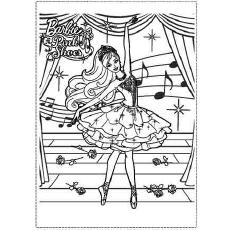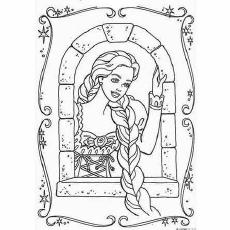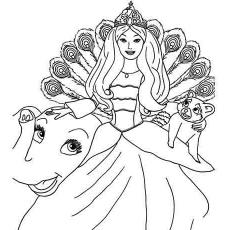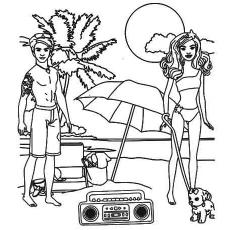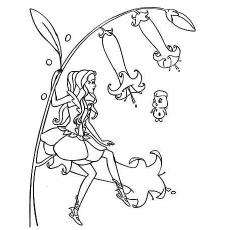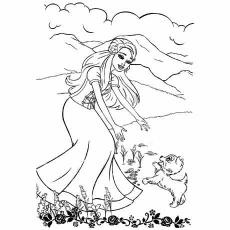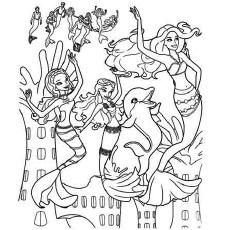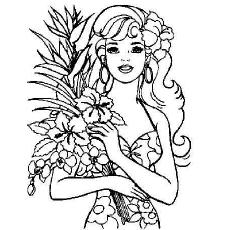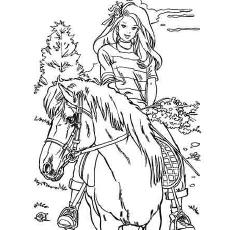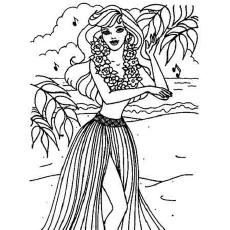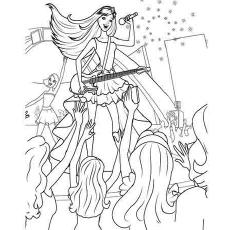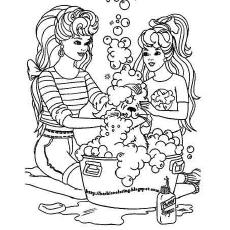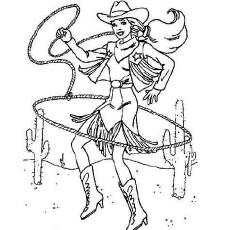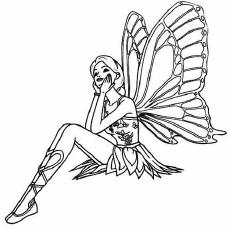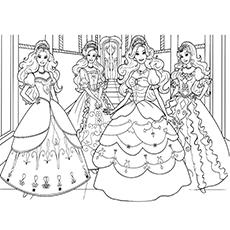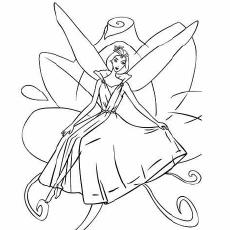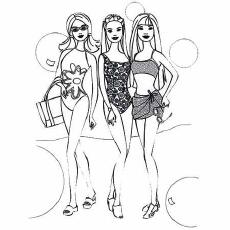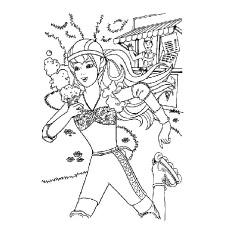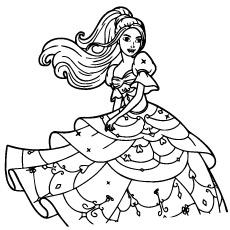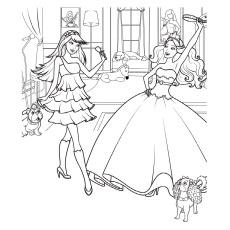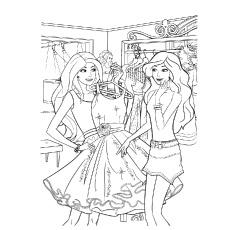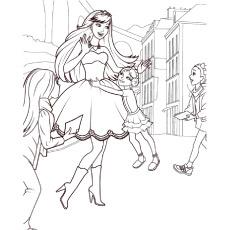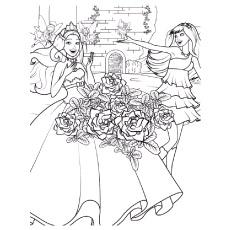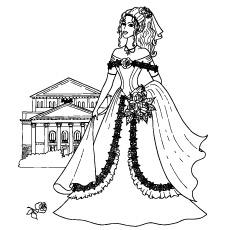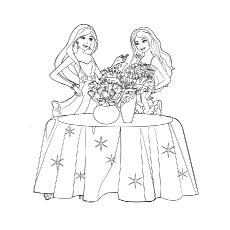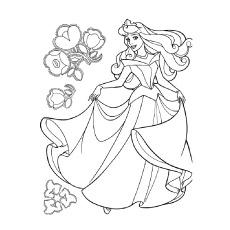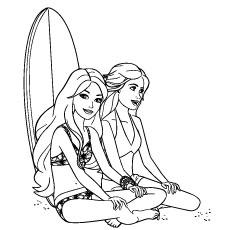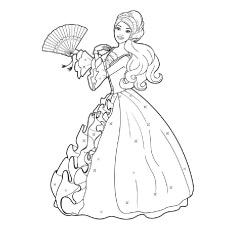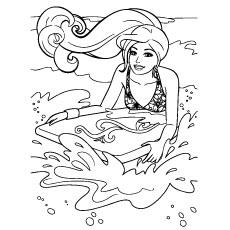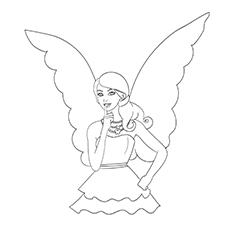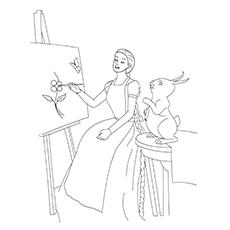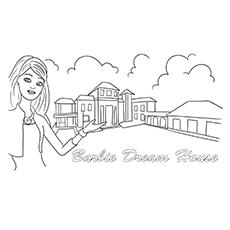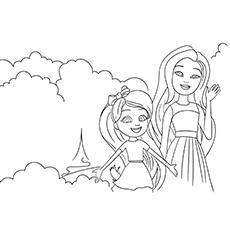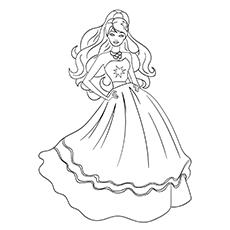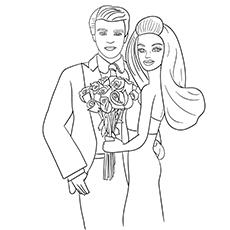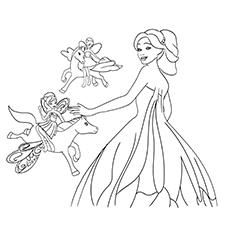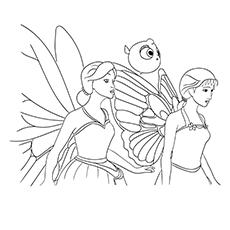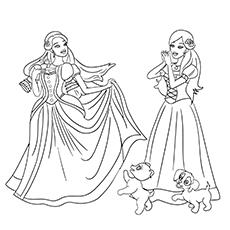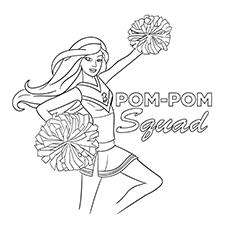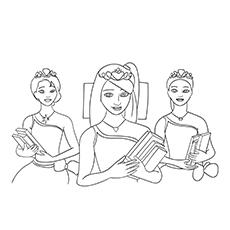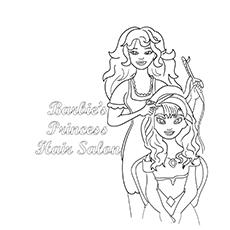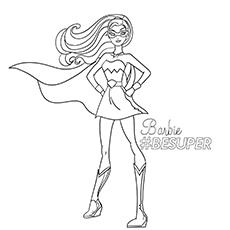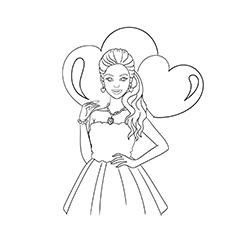 Recommended Articles:
Barbie, a girl's best friend, has and will always have, a special place in our childhood memories. Of course, our old Barbie from Mattel today has undergone a huge transformation from the simple Barbie collection to today's Supermodel collection.
The animated series of Barbie that often plays on kids' channels not only entertains kids, but also the mommies! Colors, beautiful images, castles, elegant dresses and not to forget the beautiful golden tresses, Barbie is not merely a toy but a world of imagination and fantasy which every girl cherishes!
25 Beautiful Barbie Coloring Pages For Kids:

A fun way to get your little girl show her creativity is by using our top 25 picks of the best coloring pages of Barbie. Print these fun pages and hand over a pair of gloves and some water colors, felt pens and of course glitter colors.
Watch the magic of Barbie unfold in front of your eyes as your child unleashes her imagination. If you want to club in some craft as well, hand over a pair of scissors, glue and some beautiful beads. Help your princess to design her Barbie's personalized jewel boxes!
1. Barbie And The Three Musketeers:
The story of Barbie as Corinne, a young country girl whose dream is to become a musketeer of the royal house of France. She meets three other girls- Viveca, Aramina, and Renee, who share the same dream.These four girls use their special talents to foil a plan and save Prince Louis. The prince realizes that he won't have better Musketeers in his castle and names them all Royal Musketeers.
[ Read: Mermaid Coloring Pages ]
2. Barbie And The Magic Of Pegasus:
This is the story of princess Annika played by Barbie, a sixteen year old girl often seen wearing light purple gowns and her journey to the cloud kingdom with Brietta, the flying horse. She eventually turns out to be Annika's older sister who was turned into a Pegasus by evil Wenlock on her birthday. Your child enjoyed the beautiful story and will surely enjoy coloring this beautiful sketch just as much. It's time to test her memory skills and see how much she remembers of this beautiful legend.
3. Barbie Groom And Glam Pups:
This one is an adorable video game in which players groom, train, dress and show puppies in a high fashion set up. Here is a beautiful image from the game for your little girl to color with not just fashionable Barbie but even her cute little stylish pup.
[ Read: Dora Coloring Pages ]
4. Barbie As The Island Princess:
Barbie as the island princess is the beautiful tale of a six year old girl shipwrecked on an island. By the time she turns sixteen she becomes a part of the island, speaking animal language, with her best friends Sagi, the red panda; Azul, the peacock and Tika, the baby elephant, by her side. This coloring page will not only help your child paint human features well but also let her paint these cute animals her way.
5. Barbie The Princess And The Popstar:
She is cool, she is funky and she is a superstar. Watch your little girl paint and transform this black and white color sheet into a colorful sheet with gorgeous looking princess Tori and her favorite pop star Keira. The vibrant dressing, funky guitar and gorgeous Barbie are surely a must coloring page your kid would love.
6. Barbie In A Mermaid Tale:
We are sure the sight of Barbie surfing through the blue waters would have caught your child's fantasy. Most certainly you would be more than thrilled to watch your kid replicate the movie scene on this coloring sheet. Don't be too surprised if you also hear her humming her favorite songs from the movie, they sure are difficult to get out of your head.
7. Barbie Fairytopia:
Which girl would ever say no to fairy stories? Similarly no girl can ever say no to paint this beautiful image of her favorite Barbie as the wingless flower fairy Elina. The rainbow in the dreams of this Barbie fairy finally turns into the wings of the beautiful fairy. Help your child choose soft colors and get inspired from nature's real beauty of the rainbow colors. Take your child through the rainbow colors and let her paint this fantasy, taking true inspiration from the nature's very own color palette.
[ Read: Hello Kitty Coloring Pages ]
8. Barbie As Rapunzel:
As a little girl how many times did you hear your mom tell you the story of Rapunzel? She was the princess with beautiful long hair trapped in the tower by the evil witch, waiting to be rescued by her prince charming. Well, you only imagined how beautiful Rapunzel would have been; but here is the divine image of Rapunzel played by Barbie in the movie for your child to color. What we are worried about is, after this painting you may have to keep listening to how your little girl wished she had long beautiful tresses like the Barbie Rapunzel! Be prepared with your answer and don't tell us we didn't warn you!
9. Purple Barbie fashion fairy:
If you thought Barbie was all about just being pretty, heavenly and fairy like, here is something that will blow your mind. Here is an image of the purple Barbie fashion fairy, a style diva and a perfect combination of beauty, elegance and style. Add in some sparkles, glitter dust and even some colored stones for this masterpiece to look a piece of real beauty crafted by your kid.
[ Read: Minnie Mouse Coloring Pages ]
10. Barbie And Her Pink Shoes:
This one is a beautiful picture of Barbie doing her ballet under the moonlight. She creates a magical ambience wearing her magical pink shoes. Lavender, pinks, blues and some sparkles create the magical hue and make it a great barbie coloring sheet for your girl to explore her talent with the brush and paint.
You can also have option of barbie coloring pages to print for your kid and watch her create the magic of the fantasy world with her Barbie. We are sure not only will your darling enjoy painting these but will also use these images to create collages – magic boxes and maybe even use these as stencils to do up a unique Barbie T-shirt.
11. Friends Forever:
Your little one has started bonding with girls of her age and has made close friends. These childhood friends stay by them all through their life, they become friends forever.
This picture celebrates the idea of long term friendship, which makes it so adorable. Your child will identify with these two beautiful little Barbie dolls, and will name them after her close friends.
[ Read: Fairy Coloring Pages ]
12. Stylish Beach Barbie:
Everyone loves to have fun on the Beach and make sandcastles or sandman. Here is a picture of stylish looking Barbie dolls in bathing suits having great fun at the beach.
This picture will remind your kid of the fun he had at the beach. This picture will bring back fond memories. The fashionable bathing suits will also make your little girl go wow. She will use her imagination and favorite colors to make the bathing suits even more beautiful.
13. Barbie Loves Horse Riding:
It is always fun to play a sport in the weekends. This Barbie loves horse riding. She wears a smart striped T-Shirt, capris and laced shoes. She also wears a flower in her head that makes her look so chic and feminine.
If your child loves horse riding and is an animal lover, she will identify with this picture. The background scenery of this picture is also beautiful and your child will have fun coloring this page.
14. Bathing a Pup:
The Barbie dolls in this picture are having a great time while bathing their cute pup. If you have two daughters at home, one elder and the other younger they will instantly identify themselves with these two Barbie dolls. If your girls are fond of puppies, and if you happen to have a pup at your own home, then this picture is absolutely suitable.
The dolls also look so beautiful, and girls usually love long hair, ribbons and fashionable dress, they will enjoy coloring this picture.
You can pin it up in the kid's room once the coloring is over.
[ Read: Sleeping Beauty Coloring Pages ]
15. Barbie Love Flowers:
This Barbie is wearing a beautiful floral dress and carrying a bunch of flowers in her hand. All girls love flowers and they can associate with this pretty look Barbie with Doe eyes.
This is perfect photography for your beautiful little angel at home. Her imagination will run wild while coloring this page.

16. Barbie and her favorite Kitten:
Girls have an affinity towards cats, especially kittens. If you have a pet kitten at home, you will understand it better. This beautiful Barbie, in the picture is tying a jeweled collar on thekitten's neck. The name of kitten Carp is embossed on the collar.
Similarly, your little girl loves your kitten very much and must by tying name collar and multi colored ribbon on his neck.
17. Barbie loves Biking:
This is a modern Barbie, who wears a short top and shorts and laced canvas shoes. She goes out biking with Ken (another popular Barbie character). This modern character of Barbie is very different from the feminine representation, where Barbie is dressed as a beautiful princess.
Your little one must have dreamed aloud often that she wants to ride a bike or scooty when she grows up. Encourage her dreams by allowing her to color this page. Notice what color she is adding to the bike and clothes, maybe she wants tom possess the similar colored bike and matching colored clothes.
[ Read: Snow White Coloring Pages ]
18. Barbie on a Hawaiian Holiday:
Everyone loves to go on a holiday, and this Barbie is not an exception. She goes to Hawaii for a holiday. In this picture we see her wearing a fashionable slit skirt with a garland of blossoms on her neck. She is dancing on the beach. The Barbie is carrying the tropical Hawaiian look with élan.
Your girl will love coloring this fashionable Barbie. Notice her choice of colors; it is a reflection of her imagination and creative mind.
19. Barbie at a Picnic:
Everyone loves to go for a picnic on weekends. In this picture Barbie goes out for picnic with his friend, she also takes her cute pup for company.
Barbie carries a music system to make the picnic all the more fun. The Barbie looks stylish with the star hairband and bathing suit, the entire picnic is on the beach. Her friend has a tattoo on the arm. Both the Barbie dolls look fantastic in their beach look.
The background of the picture is also beautiful and your child will love coloring this page.

[ Read: Beauty And The Beast Coloring Pages ]
20. Fashionable Barbie:
In this picture, the Barbie is blow drying her hair sitting on a high stool. She is wearing a floral housecoat. We see her cosmetics lined up in the cupboard. She looks beautiful with her long tresses and smiling face.
Your little girl will love this picture, she will want to become stylish and beautiful like her when she grows up and own a dressing table with cosmetics and wardrobe. This is perhaps what all girl desires!
See her imagination flying sky high as she colors this picture.
21. Barbie Admires A Dress:
Girls sometimes take out their favorite dress from the wardrobe and admire it, especially if the dress is new.
This Barbie in the picture also admires her new dress; she plans to wear for a ballet performance. It is a bohemian style laced ballet dress. Ballet is a very graceful dance form which many girls prefer learning. Many girls start learning ballet at a very young age.
[ Read: Alice In Wonderland Coloring Pages ]
22. Butterfly Barbie Princess:
You must have seen how your child runs after a colorful butterfly in the garden. Butterflies are soft and delicate; it reflects the beauty and miracles of Mother Nature.
Your precious child is also the gift of God and nature. She is like the colorful butterfly yet to spread the wings. You feel thankful to God for gifting you this beautiful little girl in your life.
Your little one will love coloring the elf like Barbie that almost resembles her. Shewill take special care, in coloring the wings of this butterfly Barbie princess.
23. Skating Barbie:
Skating is a fun exercise which many girls love. For skating you need to take enough protection. You need to wear a helmet, elbow and knee pads just like the Barbie. She looks really pretty in her skating dress and gear. In this picture the Barbie is seen having a lick at an ice-cream, after all she is hungry after skating for miles.
[ Read: Princess Jasmine Coloring Pages ]
24. Day Dreaming Barbie:
Like everyone Barbie also loves day dreaming. She day dreams as she adjusts her square shaped earrings. This pretty doe-eyed Barbie looks really beautiful, maybe she dreaming about a new dress or a new hair accessory she saw her friend wearing recently.
This Barbie is just like your little girl. You must often see her day dreaming with her chin on her hands, she might tell you what she is dreaming or maybe she will keep it as a secret! After all, your child is growing to be very individualistic, she has her own personality!
25. Cowboy Barbie:
In this picture, the Barbie is dressed like a cowboy. Her hat, leather jacket and knee high boots give her a Texan Cowboy look. Her leather jacket with a star and leather skirt with stylish frayed ends make her look smart. She plays the hoopla with a rope. On the background, there is Cactus, representing the arid lands of Texas.
Your child must have watched western cowboy adventure films in the television and movie theatres. She will love this look of Barbie.
Generally in real life she doesn't see her Barbie doll doing so many actions, she will be surprised to see the different looks of Barbie doll in the coloring pages. She will want to pin up these coloring pages in her room and show it to everyone, to get appreciation. That is how innocent little children are; they love to keep their favorite things close to them, even when they are sleeping.
You can also have option of Barbie coloring pages to print for your kid and watch her create the magic of the fantasy world with her Barbie. We are sure not only will your darling enjoy painting these free printable barbie coloring pages but will also use these images to create collages – magic boxes and maybe even use these as stencils to do up a unique Barbie T-shirt.
If you have any more picks of gorgeous Barbie images, do share them with us and other moms too!
DISCLAIMER: All images found here are believed to be in the "public domain". We do not intend to infringe any legitimate intellectual right, artistic rights or copyright. All of the images displayed are of unknown origin. If you are the rightful owner of any of the pictures/wallpapers posted here, and you do not want it to be displayed or if you require a suitable credit, then please contact us and we will immediately do whatever is needed either for the image to be removed or provide credit where it is due. All the content of this site are free of charge and therefore we do not gain any financial benefit from the display or downloads of any images/wallpaper.
The following two tabs change content below.