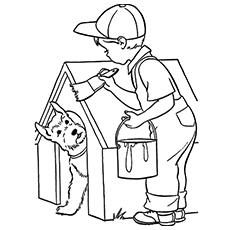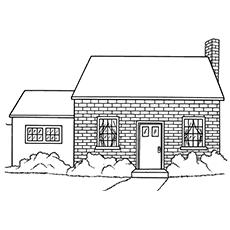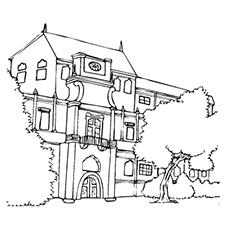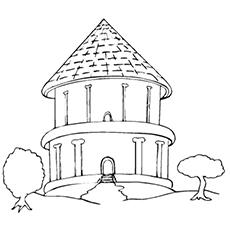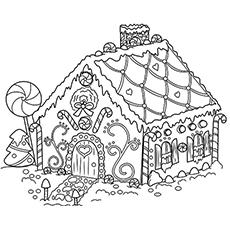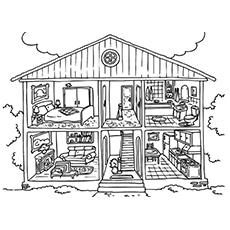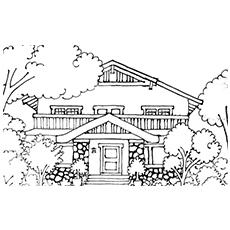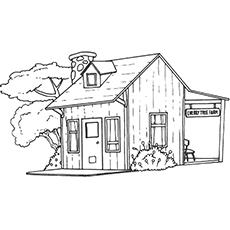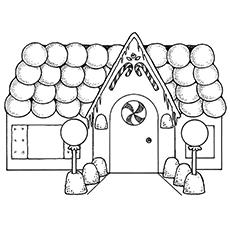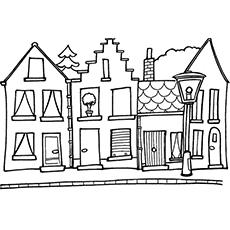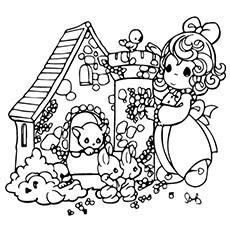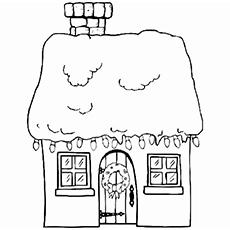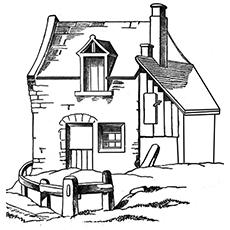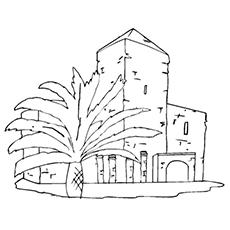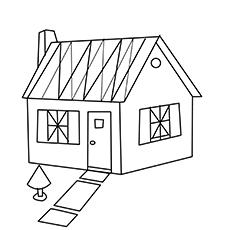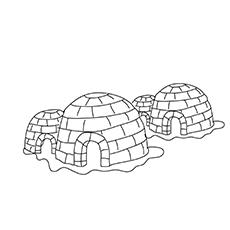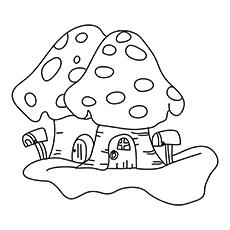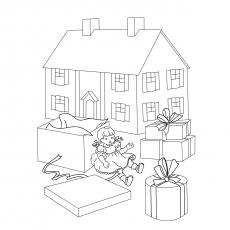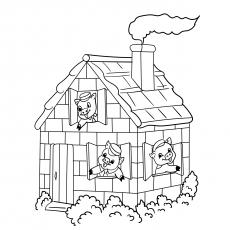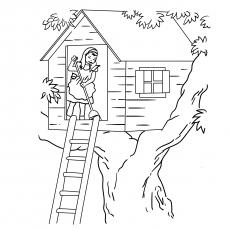 Recommended Articles:
Coloring is a wonderful fun activity for kids. While coloring keeps children occupied, parents can carry on with their household chores smoothly in the mean time.
Drawing and coloring a house is something that kids learn quite early. This is probably because kids are very familiar with the structure and various parts of a house. Since it is their first abode and they spend most of their life after birth in their house, they are likely to grow a fondness towards a house.
It will be a good idea to compile a set of house coloring pictures and let your kids explore their creativity.
Innovation With House Coloring Pages For Preschoolers
It is relatively simple to draw a house with just a few lines. It also gives them freedom to be innovative and design or color the house as they wish.
Since there is no fixed color that a house must have, they have complete freedom to play with different shades.
Little girls have a special attraction towards doll houses. They love playing with them. So, when they get a house coloring task, they decorate the houses with care.
Another aspect that adds to the fun factor is that there are so many types of houses that children observe around them. Big and small houses, toy houses and even pet houses. You can include all of them in your coloring project.
Here is a variety of house coloring pages to print  that will keep your little designer busy…
1. Basic House With Trees:
Let's start with the simple one. This house in this picture is easy enough to color. It has few details like window panes and door knobs which are quite big to fill in different colors. The path in front and trees on both sides complete the look for a perfect home.
[ Read: Hello Kitty Coloring Pages ]
2. House With Designer Roof:
This picture shows a beautiful façade and even an attic. It also has a chimney with brick design. Ask your kid to fill the entire picture with colors, as there is grass in front and the tree is also very realistic.
3. The Tree House:
Let's have some adventure with a tree house. Make your kids familiar with the concept of a tree house with this image. Also teach them the importance of keeping their surroundings clean. The sweet little house gets a complete look with a ladder and a dainty girl cleaning the place. So there are many elements to color, not just the house.
[ Read: Family Coloring Pages ]
4. Haunted House:
There's something about haunted houses that fascinates everyone. Here is a haunted house that is eerie, but not too scary for your kids. The old lamppost, closed doors and covered windows, all add to the mysterious look.
[ Read: Clown Coloring Pages ]
5. Gingerbread Fun:
A house with round shapes all around will definitely attract your kids. The roof is made up of boulder like gingerbread. The door has pretty designs and the lampposts complete the look for the quaint house.
6. Brick House With Chimney:
This one surely is a properly structured house. While the roof is plain, the wall is made up of brick design, which has to be colored carefully by your kid. The curtained windows, step in front of the house and chimney add to the architecture. There is lot of greenery with hedges and grass pathway.
7. House With Gifts:
Your kids will simply love this page. The house itself is simple with lots of windows and straight lines to fill in color. A pile of gifts in front of the house makes it so special. There are some closed boxes, tied with ribbons, and an open one with the beautiful doll kept on side. So your kid has lot of elements to color with creativity.
8. Color The Household:
This is a special one, as your kids get to see everything that is inside the house. It can be a doll house or a real one with everything that is needed in a household. It is a double storey house, so there is a lot of space to fill color. You will need to work with your kid on this, guiding her for coloring each object in different rooms.
[ Read: Tom And Jerry Coloring Pages ]
9. Candy House:
This one is a yummy house indeed. It is a gingerbread house, decorated with cream and candies. After coloring the page, your kids can also try making a real gingerbread house.
[ Read: Alice In Wonderland Coloring Pages ]
10. House For The Dog:
When your kid color house, why should the pet be left behind? This picture shows the kennel, with a cute dog, which your kid can be color in any shade he likes. The boy, painting the kennel will also encourage your kid to do some real painting task.
11. The House of Three Little Pigs:
Your child must have heard the story of three little pigs and the big bad wolf who wanted to eat the pigs. You can tell him the story of three little pigs at bedtime, and if you already have then your child will enjoy coloring this picture. This is a great opportunity to teach a life's lesson- Prudence always reaps good results. Since, the third pig made a house of bricks which the wolf couldn't blow it down. The third pig was also very generous to the other two pigs, since he gave them shelter and protection from the big bad wolf. It is very important to help others during the time of need.
In this picture, we see the three pigs looking really happy in the brick house. They are safe from the bad wolf. Your child will love the third pig for his kindness. Guide your child to color the picture correctly.
12. Toadstool House:
Have you read to your little angel the stories of Noddy by Enid Blyton during bedtime? If yes, then your child will able to associate Big Ears with this toadstool house. Since, Noddy's best friend Big Ears lives in a large toadstool house. If your child also loves to watch the Smurfs, they will surely love coloring the toadstool house.
However, this Toadstool house belongs to Easter Bunny. Easter Bunny is the symbol of the Easter celebration. Let your child use his imagination and choose his favorite colors to make this toadstool house look bright. Some glitters will add a dreamy touch to the picture.
13. Igloo:
An igloo or snow house is a kind of shelter built of snow, usually built by the Inuit. Although igloos are associated with the Inuit, they were constructed with Canada's Central Arctic and Greenland's Thule area.
Snow is used as an insulator for houses that are made of whalebone and hides. Snow is used because the air pockets trapped in it make it an insulator. On the outside, temperatures may be as low as  −45 °C (−49 °F), but on the inside the temperature may range from −7 °C (19 °F) to 16 °C (61 °F) when warmed by body heat alone.
An igloo can be entered by crawling. This information will make your child really curious. So you can guide your child to research more on igloos. This will make the coloring session an enriching learning experience.
14. Beautiful Bungalow:
This is a classic colonial bungalow with slanting roofs and hanging balcony. The windows and doors are highly stylized. This bungalow may remind your child of the fairy and Disney princess tales. Yes, this lavish bungalow is so beautiful that such a thought is not misplaced.
Your child will love coloring this bungalow and will certainly wish to live in such a bungalow when he or she grows up. Always encourage his big dreams!
15. Big Round Bungalow:
This is a unique looking bungalow; you don't usually see a round looking bungalow. Coloring this picture will be real fun. There are not so many details, so it will be easy for your child to color it. If your child is new to coloring then this picture is suitable for him, he will also learn the concept of circle or round.
16. Cozy Cottage:
This cottage is not only beautiful but also looks so comfortable. It is quite an adventure to stay in a cottage in the middle of the forest. There is so much greenery surrounding the cottage. There is a wide balcony to get a perfect view of the landscape. The portico of this cottage is also very interesting. Everyone will love to stay in a cottage like this!
There is ample scope for your little one to experiment with colors and fill in the minute details. This will help you as a parent to understand that your child's observation powers are gradually becoming stronger, so are his cognitive skills. Always appreciate his work, since your encouragement helps to make him a confident person. Don't forget to pin it up in his room!
17. House Decorated for Christmas:
This cute hut is decorated for Christmas. There is a Christmas wreath on the door and small lights borders the roof of the house. This house is not only reflecting the spirit of the festival, but the general mood of the inmates. You can almost imagine the smell of warm baked cakes emanating from the chimney and windows. Your child will want to draw some smoke billowing from the chimney.
18. Farm House:
Have you ever been to a farmhouse? It is a great place to relax during weekends or holidays. Generally, farm houses are surrounded by a lot of greenery and small animals that make them even more beautiful.
Your child can draw hens, ducks, chickens and a horse to make this picture complete. Since farm houses are mostly made of wood, so it will be brown in color. If your child has seen a farm house already then he can associate with this picture even more.
19. Villa near the Palms:
This beautiful villa surrounded by palm trees represents luxurious living. Everyone will desire to own a villa near the palms. The background is kept plain so that your child can use his imagination to color the villa and create a contrasting background.
This coloring page will teach him to use different color combinations. You can also help your child coloring this picture.
20. Doll's House:
Your little daughter will love to color this cute doll house. She must be having one in her room too! There is ample scope to experiment with different colors to make this doll house look bright and beautiful. Some glitters can add a touch of bling and magic to it. Her creativity will make the doll's house look larger than life!
A house is generally made up of bricks and mortar. But it is love and family bonding that makes a house a home. We have always heard poetic lines like 'where your heart lies that's your home' and the popular phrase 'home sweet home'. There is lot of truth in these phrases, since we all share a strong emotional bond with our homes.
You can teach your child the importance of relationships and spend quality time with him to create a strong family bond; this will transform your beautiful house into a home. Sit with your child when he colors the picture of these beautiful houses, and watch how he expresses himself through colors. You can also join in the fun, so have a great time coloring!
Your kid will definitely enjoy free printable house coloring pages. Gift him this coloring book and let us know which his favorite house is!
Download all the House coloring pages online and create your own House coloring book! Share your views by commenting below.

DISCLAIMER: All images found here are believed to be in the "public domain". We do not intend to infringe any legitimate intellectual right, artistic rights or copyright. All of the images displayed are of unknown origin. If you are the rightful owner of any of the pictures/wallpapers posted here, and you do not want it to be displayed or if you require a suitable credit, then please contact us and we will immediately do whatever is needed either for the image to be removed or provide credit where it is due. All the content of this site are free of charge and therefore we do not gain any financial benefit from the display or downloads of any images/wallpaper.
The following two tabs change content below.