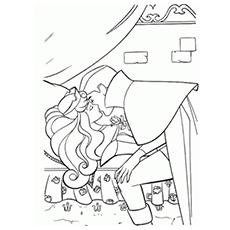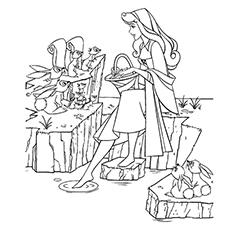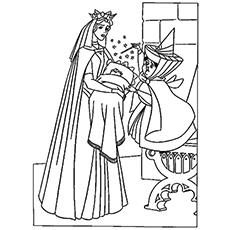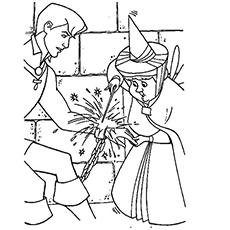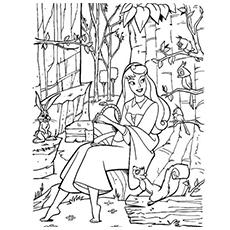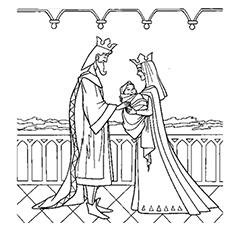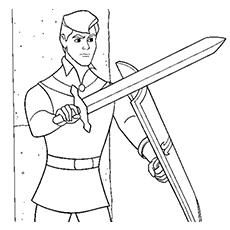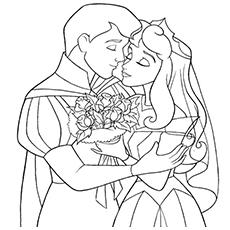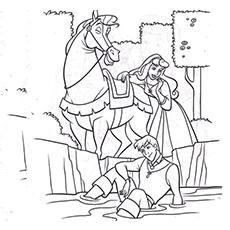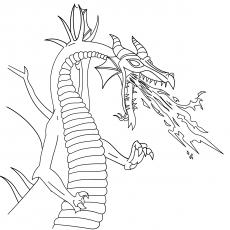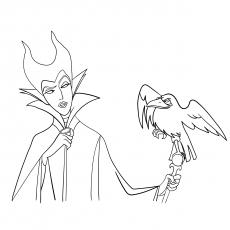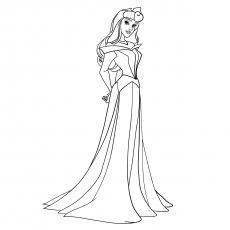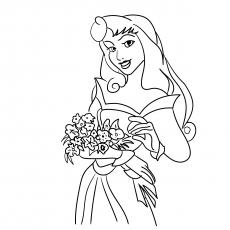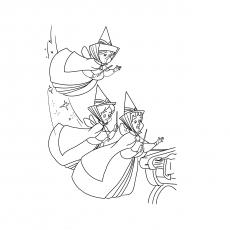 Recommended Articles:
Sleeping Beauty is one of the most beloved stories of all time. It is a classic Disney fairy tale involving a beautiful princess, a handsome prince and a sleeping enchantment.
The story is based on an old tale written by Charles Perrault. Most little girls these days can be seen using accessories and such that have something to do with Sleeping Beauty. If you have a little girl at home, a great way to keep her entertained and involved would be together some Sleeping Beauty coloring pages to print.
Top 15 Sleeping Beauty Coloring Pages For Kids
Here are 15 free Sleeping Beauty coloring pages to delight your kids:
1. Maleficent:
Maleficent is the main antagonist of the animated film "Sleeping Beauty".
She is the incarnation of pure evil, who gets offended at not being invited to the christening of the Princess Aurora.
She takes revenge on King Stefan and the Queen by cursing Princess Aurora.
Maleficent is ruthless and devious and can do anything to achieve her goals.
Maleficent cares genuinely for her pet raven, Diablo.
Here is a picture of Maleficent with her most loved pet raven.
2. Aurora:
Princess Aurora is the main protagonist of this fairy tale.
She is the daughter of King Stefan and Queen Leah.
She is a gentle and thoughtful princess, raised under the protective eyes of the three fairies, who protect her from the evil fairy Maleficent.
Aurora is an extremely beautiful woman who is blessed with golden hair, violet eyes and slender figure.
She wears a gray skirt with white petticoat and a black bodice. Color this image of Sleeping beauty in her usual outfit colors or any other colors you want to.
[ Read: Snow White Coloring Pages ]
3. Flora, Fauna, And Merryweather:
Flora, Merryweather and Fauna are the three good fairies who protect Aurora from the wrath of Maleficent.
These fairies blessed Princess Aurora with Gift of Beauty and Gift of Song.
These fairies have wonderful, magical abilities, including bringing inanimate objects to life.
These three good fairies are always clad in medieval styled dresses with matching capes and pointy hats.
Flora's signature color is red, Fauna's green and Merryweather's blue.
Fill in some color to make this picture appear more appealing.
4. Prince Phillip:
Prince Phillip is the love interest of Princess Aurora in "Sleeping Beauty".
Phillip is a brave and heroic prince who is intelligent and manipulative at the same time.
He is mostly seen wearing a tan colored tunic over a black shirt and tight brown pants.
He sometimes also wears a red cape and hat.
Color the prince in the same colors that can then be used as a poster in your kid's room.
[ Read: Barbie Coloring Pages ]
5. King Stefan And Queen Leah:
King Stefan and Queen Leah are parents of Aurora fondly known as Sleeping Beauty.
They are monarchs of a kingdom in medieval France.
Both were extremely overjoyed seeing the birth of Aurora after several years of their marriage.
Both King Stefan and Queen Leah are extremely protective about their daughter Aurora as seen in this drawing sheet.
They invite the whole kingdom to celebrate the birth of their beloved daughter except Maleficent, which offends her.
6. Aurora And Prince Kiss:
Maleficent curses the King and Queen that their princess would die by pricking her finger on the spindle of the spinning wheel.
Merryweather weakened the curse. Instead of dying, Aurora would fall into deep sleep. Only Aurore's true love can awaken her from the deep sleep, by kissing her.
This is a beautiful picture of Price Phillip bending down to give Aurora a kiss.
It is this kiss, which finally awakens her by breaking the curse.
[ Read: Dora Coloring Pages ]
7. Forest Animals:
Forest animals are minor characters in this story.
Aurora is deprived of contact with the outside world and finds solace in the animals around her.
The animals make it a priority to protect Aurora, as she is the only human being who can speak to them.
The forest animals like deer, chipmunks, birds, rabbits and squirrels are used to convey Aurora's feelings.
[ Read: Mickey Mouse Coloring Pages ]
8. Dragon Maleficent:
Dragon maleficent is the dragon form of the evil fairy Maleficent.
The dragon makes its appearance at the climax of the story when the evil fairy transforms into a terrifying fire-breathing dragon to destroy Phillip.
The dragon was ultimately destroyed by Prince Phillip for the last time.
Here is the coloring page of this deadly animal.
[ Read: Fairy Coloring Pages ]
9. Prince & Princess wedding:
This is a heartwarming coloring sheet of Prince Phillip and Princess Aurora on their wedding day.
The prince, with the help of the three good fairies defeats the dragon form of Maleficent and breaks Aurora's curse.
They get married and live happily ever after.
10. Samson:
Samson is the faithful horse of Prince Phillip.
Samson is an intelligent and astute horse who has an amazing memory.
He also assists his master in battling Maleficent the dragon at the climax of the story.
The only thing this picture is lacking is a splash of color. Color this sheet in vibrant shades to capture its beauty.
[ Read: Hello Kitty Coloring Pages ]
11. Aurora Talking To Rabbits And Squirrels:
Aurora is a very good natured girl and amiable to all. In this picture we see her sitting beside the pool, holding on to a flower basket. She dips her feet in the pool while she talks to her little rabbit and squirrel friends. Aurora is kind to all the animals living around her castle, the cute little animals enjoys Aurora's company.
It is important to teach your child to have compassion for all animals. Your child will certainly enjoy coloring this picture which exudes innocence.  

12. Fairy Blesses Baby Aurora at Birth:
King Stefan and Queen Leah wished for a child and they were blessed with a little girl. So at her christening the king and queen invited seven fairies to become their child's Godmother. The fairies sat on golden caskets and golden jeweled utensils were given to them as gifts. However, one fairy was not invited and she made a surprise entry to the palace. This fairy lived in a tower and nobody knew about her whereabouts.
Since only seven caskets were made and gifted to the seven fairies, this fairy that was deemed evil was not given any gift. This insult further infuriated her and instead of blessing the little child she cursed her. According to this curse, the princess will prick her hand in the spindle and die. Another fairy who hadn't yet blessed the little princess reversed the evil fairy's curse, she had the power to reverse the curse partially, and so instead of dying the princess will go into a deep slumber for 100 years and can only be awoken by a king's son.
13. Aurora Pricks the Spindle:
After the christening is over, the King forbids the use of spinning wheel and spindle throughout the entire castle. Fifteen or sixteen years pass and Aurora grows up into a beautiful lady. One day when the king and queen is away the princess starts exploring the entire castle. She comes across an old lady living in the garret of the tower, and hasn't heard in this picture we see Aurora pricking her handle with a spindle, as predestined by the evil fairy Maleficent.
This fairy lived in an enchanted tower and she cursed the princess at her birth when she was not invited by the king and queen to her christening. In an old version of the same story, Aurora pricks her hand in the spindle unknowingly when she was wanted to learn the art of sewing from an old lady.
The king and queen banned the use of spindles in the castle, but an old lady living on the garret of a tower hasn't heard the king's decree. She used spinning wheels. One day Aurora discovers this old lady spinning and asks her teach her the art. By mistakes she pricks her hand in the spindle and goes into a deep slumber, to be awoken by a prince after 100 years.
14. Aurora Loves Flowers:
Aurora might be a princess, but at heart she is a simple girl. Like all girls she also loves flowers. We see her holding a bouquet of flowers in her and give a pretty smile.
Your daughter's creativity will make Aurora look even beautiful. Just don't depend on pastels, ask her to use glitters and bright colors. Pin it up in her princess themed room once the page is complete. This appreciation from your side will surely boost her confidence in her art work. As a parent, you will come to know her imaginative mind works.
15. Fairy Frees Prince Phillip:
There are different versions of the story of Sleeping Beauty. Here, is a small history behind this classic fairy tale. "Sleeping Beauty" (French: La Belle au bois dormant "The Beauty Sleeping in the Wood") by Charles Perrault or "Little Briar Rose" (German: Dornröschen) by the Brothers Grimm is a classic fairytale involving a beautiful princess, a sleeping enchantment, and a handsome prince. The version collected by the Grimm's was an orally transmitted version of the originally literary tale published by Charles Perrault in Histories ou contes du temps passé in 1697.[1] This in turn was based on Sun, Moon, and Talia by Giambattista Basile (published posthumously in 1634), which was in turn based on one or more folk tales. The earliest known version of the story is Perceforest, composed between 1330 and 1344 and first printed in 1528.
In one such version of the story it so happened that this handsome prince Phillip awoken the sleeping beauty from her enchanted slumber. They became friends and then lovers. Their news of friendship must have reached the evil fairy, which imprisoned Prince Phillip and sent him to a prison bound with chains.
The good fairy comes in the prison and breaks the chains with her magic wand, and the prince is once again free. He unites with Aurora and gets married.
The story ends with a happy note, much to your child's delight. There will be a smile of relief in her face when she colors this picture, as she knows the story of the sleeping beauty. The idea of good over evil sparks your child's imagination and they will certainly have fun coloring this page.
Sleeping Beauty has been adapted as movie by Walt Disney. There have been musical shows in Broadway and operas, relating the various version of the story of Sleeping Beauty. The Brothers Grimm is perhaps, the most popular version, but Perrault's and Basil's story have also been enacted on stage. Watch the film with your child as a treat, post the coloring session is over. Little girls love princess stories, they imagine themselves to be princess and a fairy, both at the same time. So have a great time coloring Aurora.
So these were the top 15 free printable Sleeping Beauty coloring pages that your little one will absolutely love. You can use them as a coloring activity, or use it to create some fun and colorful pieces in your kids' room. Happy Coloring!
Share your thoughts with us in the comment section below.
DISCLAIMER: All images found here are believed to be in the "public domain". We do not intend to infringe any legitimate intellectual right, artistic rights or copyright. All of the images displayed are of unknown origin. If you are the rightful owner of any of the pictures/wallpapers posted here, and you do not want it to be displayed or if you require a suitable credit, then please contact us and we will immediately do whatever is needed either for the image to be removed or provide credit where it is due. All the content of this site are free of charge and therefore we do not gain any financial benefit from the display or downloads of any images/wallpaper.
The following two tabs change content below.