Jimmy woke up with a start. He looked at the clock, and it was 2:30am. He threw the covers off and ran to the bathroom to pee. The 11-year-old was relieved that his bedwetting alarm went off when it did because it saved him the embarrassment of wetting the bed.
One of the most efficient ways to prevent nocturnal enuresis in children is to get them a bedwetting alarm. MomJunction brings a comprehensive list of the best bedwetting alarms for children available in the market today.
How Do Bed Wetting Alarms Work?
Bedwetting alarms or moisture alarms get triggered when their sensors are exposed to even the slightest amount of moisture. When triggered, the alarm lets out an audible alert or a vibration to wake up the sleeping individual before they wet the bed.
The alarm is usually attached to the child's underwear or pajamas and triggers as soon as the first drop of urine is out. Alarms can be wired or wireless, wearable or desktop and ones that give out a loud sound along with vibration.
The bottom line is that these alarms have been effective in getting kids and teens rid of their bed-wetting habit.
[ Read: Remedies For Bedwetting In Children ]
Best Bed Wetting Alarms For Kids
Finding a bedwetting alarm that meets your requirements is not that difficult, even though there aren't many options in the market. Of the available options, MomJunction lists some of the best bedwetting alarms for you.
1. Malem Ultimate Alarm for Boys and Girls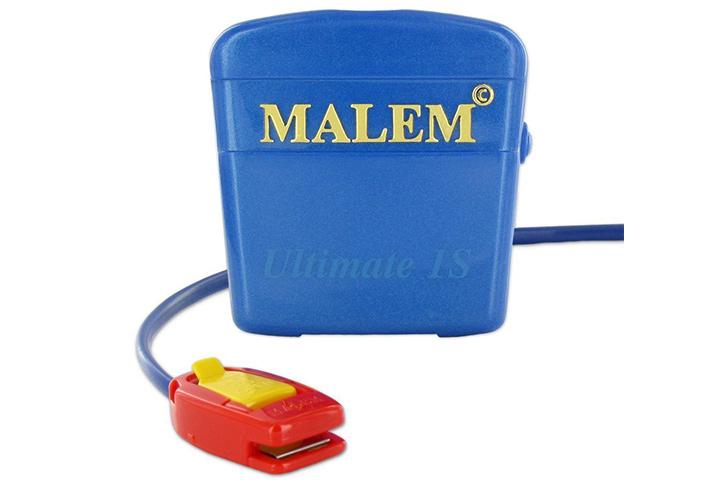 One of the top-selling bedwetting alarms for children, the Malem Auditory alarm has both an audible alarm and a vibration feature that can awaken even sound sleepers. The alarm weighs one ounce and has a clip-on feature to attach to the kid's pajamas. You can set it to sound only, vibration only or both sound and vibration.
Malem Ultimate alarm is an award-winning product and vouched for by parents.
Alarm type: Wired alarm, battery-operated


2. Therapee Bedwetting Alarm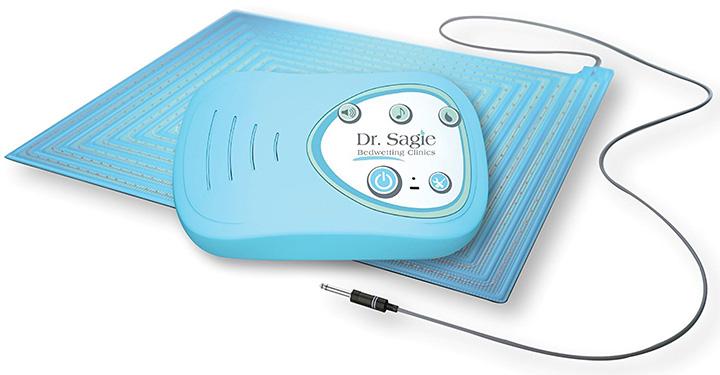 A slightly expensive option, Therapee Bedwetting Alarm by Dr. Sagie's Bedwetting Clinics is one of the most recommended alarms for adults and children dealing with bed wetting issues. The alarm comes with a safe bed-pad and is customized to suit the individual's requirements. It is linked to an interactive online program, which allows you to keep track of your kid's wet and dry nights.
The alarm is suitable for children aged between four and 18.
Alarm type: Wired alarm, battery-operated

3. Dr. Madre Alarm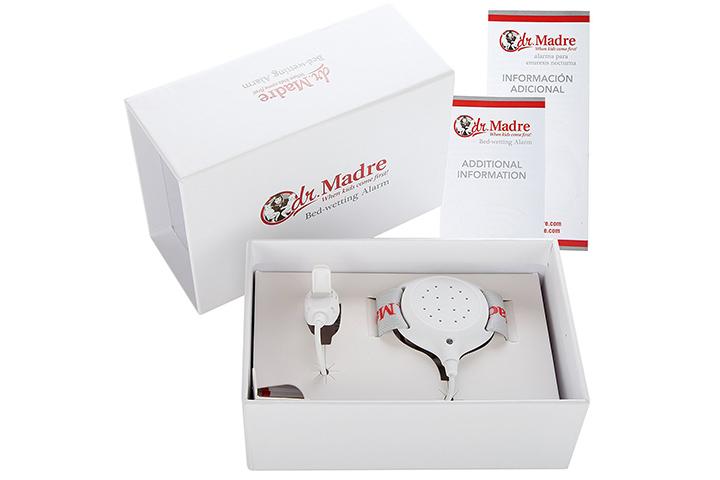 Getting your younger kid or teen to wear the Dr. Madre bedwetting alarm will not be a problem because it looks more like a sports band than a pee-pee alarm. It is discreet and doesn't need to be disconnected before the child goes to pee.
The system is efficient and sets the alarm as soon as it senses a few drops of urine, alerting the child that he or she needs to go to the bathroom. The device is made of medical grade plastic and works on a lithium battery which you should replace once or twice a year.
Alarm type: Wired, battery-operated


4. Chummie Bedwetting Alarm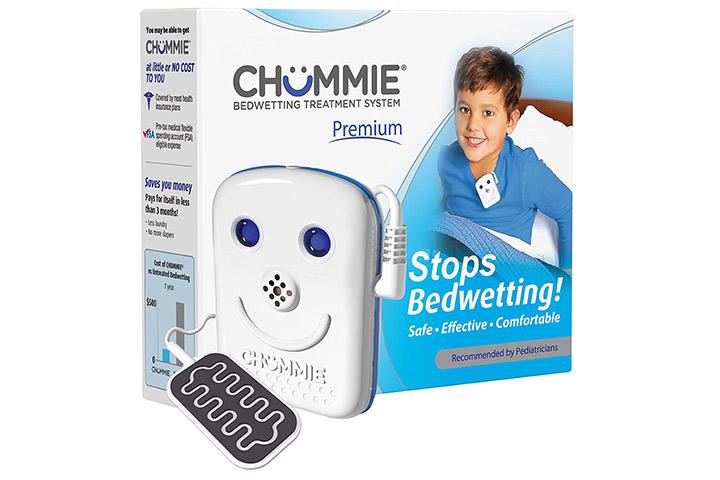 Chummie is one of the best bedwetting alarm brands for children, be it the functionality or design. The device has loud sounds, strong vibrations and bright lights that go off once the alarm is triggered. The device has a larger urine detection sensor, and a comfortable clip that does not poke when the kid sleeps. The alarm has eight different tones and volume control that you can set to your liking.
Alarm type: Wired, battery-operated
[ Read: Enuresis In Children ]

5. Rodger Wireless Alarm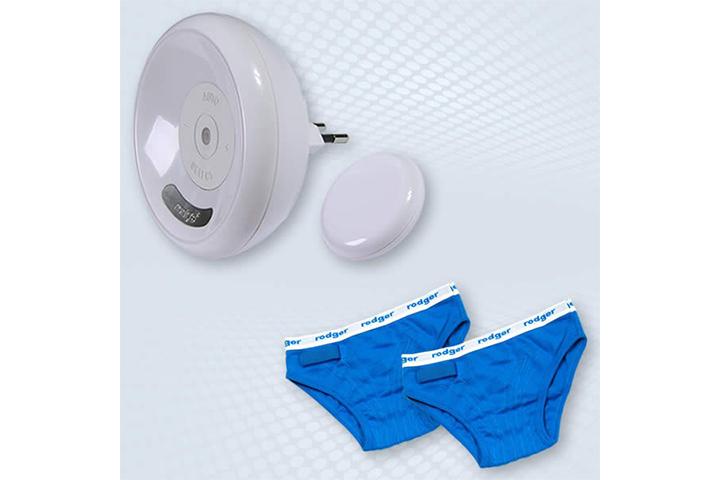 Wires attached to the pajamas or underwear can be uncomfortable. And when the wires are from a bedwetting alarm, they can be embarrassing too. This hassle-free alarm is lightweight and comes with a transmitter, attached to the underwear, which sends signals to the alarm. The best part is that the alarm won't stop until it is turned off, thus preventing the kid from going back to bed without going to the loo.
Tip: Put the alarm in the toilet, so that your child has to go all the way to the bathroom to turn it off!
Alarm type: Wireless, can be plugged into the power outlet and also runs on batteries


6. Nytone Bedwetting Alarm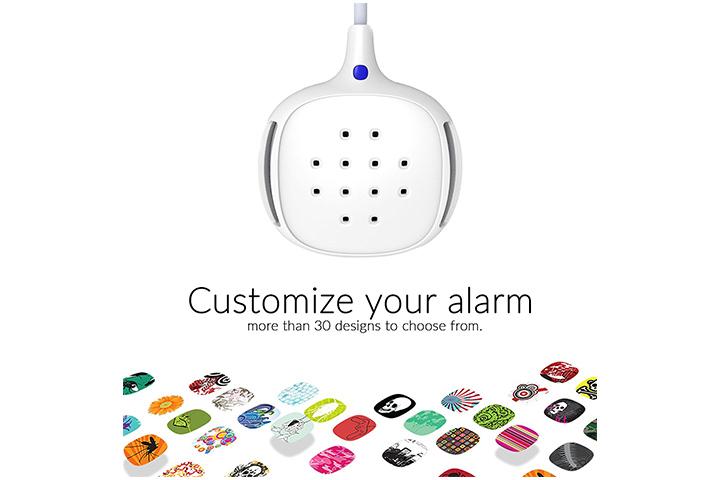 The easy-to-use Nytone Bedwetting Alarm comes with 30 unique design options and a one-year warranty. The alarm has both sound and vibration options with three unique sounds to customize. The alarm can be switched on or off easily and is suitable for younger kids as well. The alarm can get your child off his or her bedwetting habit in just a few weeks and can be a life changer when used correctly.
Alarm type: Wired, battery operated (four CR2025 cells)


7. Lil' Jumbl Bedwetting Alarm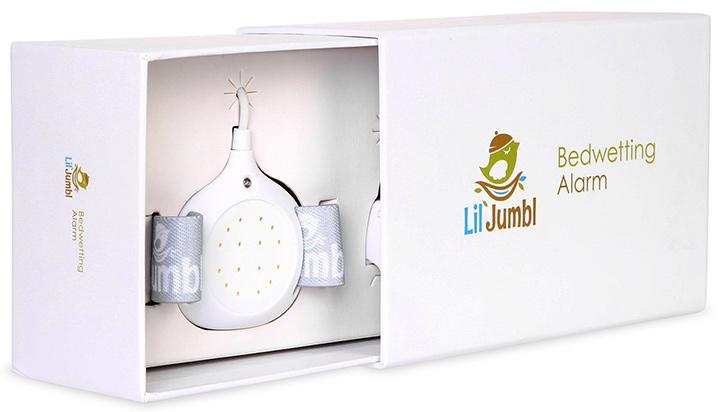 The Lil' Jumbl Bedwetting alarm is a small, discreet alarm with a clip-on moisture sensor and an alarm system that looks like an armband. The alarm has a combination of sound, vibration and light alerts that wake the child up before he wets the bed. It is almost invisible to the others, and will be a hit with older kids.
Alarm type: Wired, battery-operated


8. Tequin Bedwetting Alarm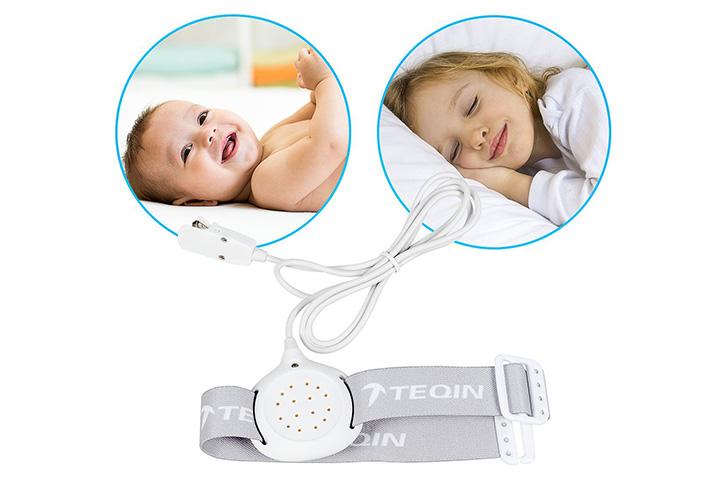 Tequin offers a battery-operated bedwetting alarm in two models. One comes with a bed pad connected to an alarm on the nightstand, and the other is an arm-band alarm attached to the clip-on moisture sensor that can be discreetly attached to the child's inner wear. When triggered, the alarm sets off sound, vibration, and lights to wake the child up.
Alarm type: Wired, battery-operated


9. Wet-Stop3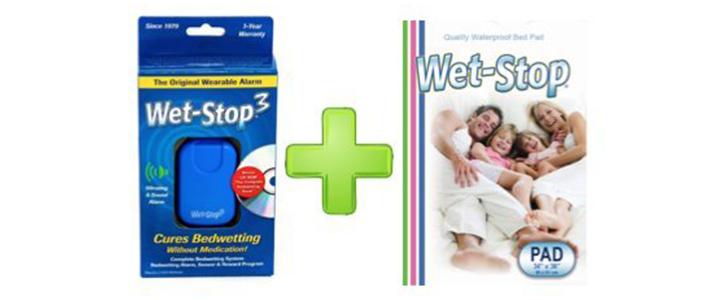 Wet-Stop3 is an easy-to-use alarm with a waterproof pad for the bed. The alarm is efficient enough to wake up the child at the right time and does not shut off until the moisture is removed. In short, your child cannot turn it off and go back to sleep without going to the bathroom.
The alarm has five unique sounds plus vibration that awaken even the deepest sleepers. You also get a bedwetting guide with stickers and a calendar along with this alarm.
Alarm type: Wired, battery-operated (2 AAA batteries required)
 Read: Night Sweats In Children ]

10. Tenscare Dn Trainer
Wearing an alarm can be embarrassing for the teenager. But if the alarm looks more like a watch and less like a pee-pee alarm, then it shouldn't be a problem. Tenscare Dn Trainer is a bedwetting alarm and trainer that can be worn on the wrist, while the sensors are connected to underwear discretely, through the pajamas. The alarm goes off when the sensor detects moisture, waking up the kid before they wet the bed completely.
Alarm type: Wired, battery-operated


11. DryBuddy Magnetic Sensor Bedwetting Alarm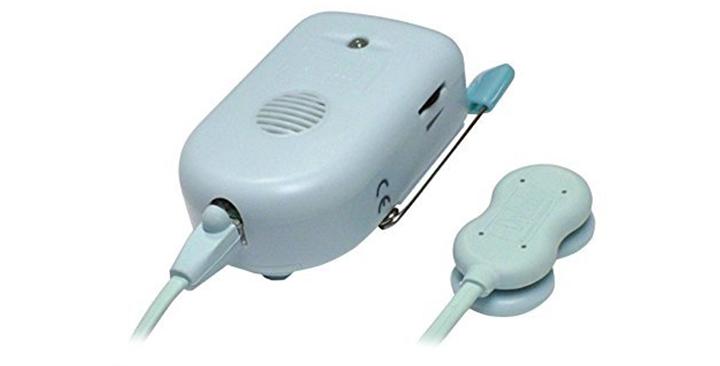 DryBuddy bedwetting alarm with a magnetic sensor can be used by children and adults. The alarm has music and vibration which help in waking kids up as soon as they start to wet the bed. The sensors are magnetic, which means that they just stick to the clothes without damaging them. It has an LED light that makes using it at night simple. The device comes with a one-year warranty.
Alarm type: Wired, battery-operated
12. Dry-Me Bedwetting Alarm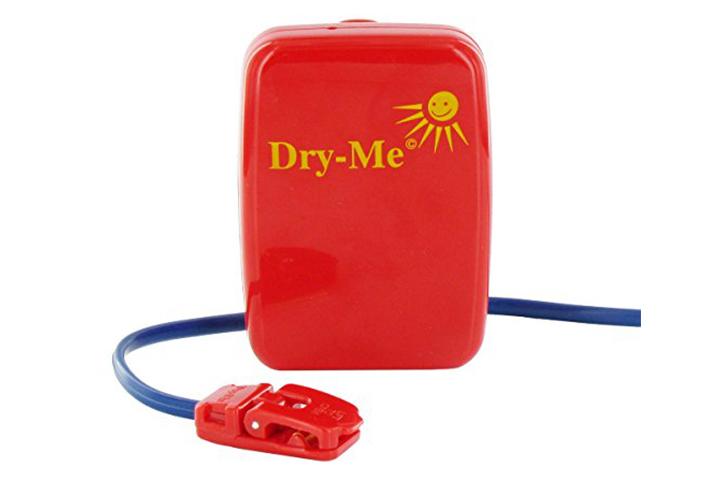 A small, red colored box-like device attached to a sensor through a cord, the Dry-Me bedwetting alarm is one of the best options you have in the market. The alarm has eight different tones along with a vibration option that is intense enough to wake the kid up quickly. The alarm is lightweight and safe for kids.
Alarm type: Wired, battery-operated (two AAA batteries required)


13. Shield Prime Bedwetting Alarm for Boys and Girls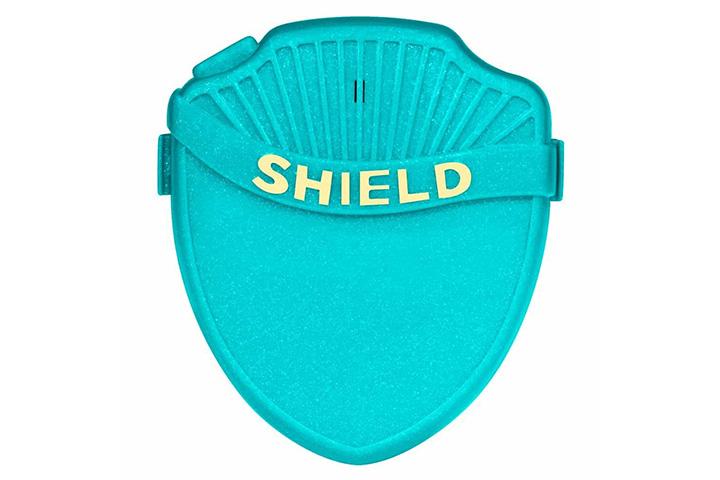 Shaped like a shield, the Shield Prime bedwetting alarm comes in two attractive shades of blue. It has a sensor attached to it via a cable. The sensor is clipped to the underwear of the kid while the alarm can be attached to the vest or t-shirt. The alarm has a programming button that can be used to set it up – change the audio tones or vibration options.
This is ideal for children aged five and above.
Alarm type: Wired, battery-operated


14. Smart Bedwetting Alarm for Deep Sleepers And Children
The Smart bedwetting alarm for deep sleepers and children is a box-shaped device that can be attached to the clothing. The alarm comes with four attractive design options, each made especially for kids. The sensor can be clipped to the undergarment while the alarm can be attached to the clothing over it. The stronghold of the sensor ensures that it is in the right place to detect any moisture and trigger the alarm.
Alarm type: Wired, battery-operated
[ Read: Healthy Habits For Kids ]

15. DryEasy Bedwetting Alarm with Volume Control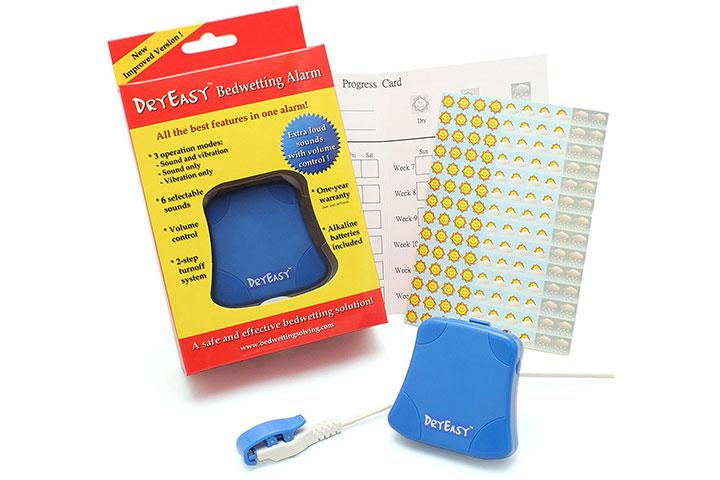 Like most other alarms, DryEasy is a wired alarm with a sensor that has to be attached to the child's inner wear before going to bed. You can choose from six sounds, a vibration option and a two-step turn off, which ensures that the child is awake enough to go to the bathroom before going back to sleep. You get one year warranty for the device.
Alarm type: Wired, battery-operated (needs two alkaline batteries)


There aren't many bedwetting alarms in the Indian market yet. However, most of the options we have mentioned here (although expensive) can be delivered to users in the country. Considering the costs involved, we recommend that you read the reviews and research about any product before paying for it, to make sure it meets your requirements. That will save you from the hassles of exchanging or returning the product.
Are you using a bedwetting alarm for your child? Tell us about it here.
Recommended Articles
Comments are moderated by MomJunction editorial team to remove any personal, abusive, promotional, provocative or irrelevant observations. We may also remove the hyperlinks within comments.
The following two tabs change content below.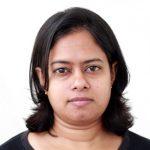 Latest posts by Sagari Gongala (see all)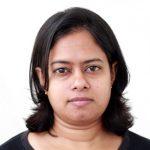 Sagari Gongala
Sagari is a math graduate and studied counseling psychology in postgraduate college, which she uses to understand people better. This skill also helps her write better articles about kids and their behavior. She is meticulous in her research and gives you information that could be the ultimate help you'll need in times of need. An animal lover, vegan, and coffee addict, Sagari puts her mind and soul into whatever she does. During her free time, you'll find her either rescuing a sick/injured animal with a friend, or glued to her couch watching Sons Of Anarchy on Netflix.