We all know about the goodness of apples for our health. But what about green apples? Are they equally good for you? Can you consume green apples during pregnancy? Why not!
Apples, in all their hues, contain several health benefits for pregnant women. Unlike their red cousins, green apples are a little sour in taste. They are commonly used for cooking. But you can consume them raw too, if that appeals to your palate.
No matter how you consume them, if you eat green apples, you'll be doing your body a favor! Read on to know more on green apples and pregnancy.
Benefits Of Green Apples During Pregnancy
Your body needs an extra dose of nutrients during pregnancy. It has to support two lives, after all! With green apples in your diet, you can expect the following benefits:
1. Good For Digestion: 

You can expect a lot of digestive issues, like constipation and irritable bowel syndrome during your pregnancy journey (1). Green apples contain a lot of fiber, which can help keep your digestive system running smoothly.
[ Read: Custard Apple During Pregnancy ]
2. Improves Appetite: 

Has your appetite gone for a toss? That's a pretty normal experience for pregnant women. But the tart taste of green apple may just be the thing you need to jump-start your appetite!
3. Prevents DNA Damage: 

Your body goes through a lot of wear and tear during pregnancy. This can lead to DNA damage, which can further cause cancer (2). Green apples contain antioxidants and can help prevent DNA damage in your body.
4. Can Prevent Preeclampsia: 

High blood pressure or preeclampsia can prove to be dangerous – both for you and for your unborn baby. Vitamin C deficiency is one of the causes for severe preeclampsia or HELLP (3).
So, you need to ensure adequate vitamin C intake during pregnancy. Green apples contain ample amounts of this vitamin and can help protect you from these life-threatening diseases.
[ Read: Benefits Of Eating Apple During Pregnancy ]
5. Good For The Skin: 

Many women suffer from skin issues while pregnant (4). This can take a toll on your self-confidence. If you are looking for ways to keep your skin looking its best, try eating green apples! They contain vitamins A, B, and C – all of which work to keep your skin healthy and radiant.
6. Keeps Liver Healthy: 

Excessive bile secretion from your liver can cause severe complications while you are pregnant, including preterm birth (5). Green apples are known to be good for liver health and can prevent such issues.
7. Prevents Gestational Diabetes: 

Gestational diabetes is common during pregnancy. But it can lead to many serious complications, including type 2 diabetes (6). Green apples can help manage blood sugar levels and keep gestational diabetes at an arms length.
8. Provides Horde Of Nutrients: 

Vitamins A, C, B6 – you can find them all in green apples. This yummy fruit also contains ample amounts of minerals like calcium, iron, magnesium, potassium, etc. If you include green apples to your diet, you can get all these nutrients with each bite!
9. Contains Protein: 

Are you looking for meat-free sources of protein for your pregnancy diet? Give green apples a try.
10. Helps Beat Body Pains: 

Pregnancy comes with body aches and pains. Your growing uterus puts a lot of pressure on your body. Consumption of green apple during pregnancy can provide relief from an achy body and makes it little easier.
We are sure you are tempted to rush out and buy a basket of green apples right now! But hold on! They are not without their side effects.
[ Read: Pomegranate During Pregnancy ]
Side Affects Of Consuming Too Many Green Apples
So, you want to include green apples to your diet today? That's perfect. But you need to understand the side effects of eating too many of green apples during pregnancy first.
1. Low On Calories: 

You need a lot of calories during pregnancy. But green apples contain tons of protein but less amount of calories. This can lead to a feeling of satiety. Without adequate appetite, you can suffer from fatigue. So, don't just depend on green apples. Include calorie rich foods along with it to get complete nutrition.
2. Can Cause Weight Loss: 

You need to gain weight to sustain a healthy pregnancy. Too many green apples a day can make weight gain a problem and can even cause weight loss.
[ Read: Eating Banana During Pregnancy ]
Moderation – that should be your mantra when it comes to eating apples during pregnancy. One or two a day is all you need. No matter how yummy they taste, don't make green apples the main course in your menu!
So, make friends with green apples for a healthy pregnancy!
How do you like you apples – red or green? Tell us!
Recommended Articles:
The following two tabs change content below.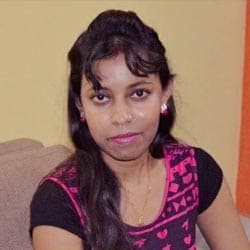 Ria Saha
Ria is a techie-turned-writer and writes articles on health, with special emphasis on nutrition. She did her B.Tech from West Bengal University of Technology and was previously associated with IBM as SAP ABAP technical consultant. She moved into freelance content writing in 2013 and worked for various websites including MomJunction, Brainpulse Technologies, and Emarketz India.