You have probably heard that dry fruits are good for you when you are pregnant. Are you bored of munching nuts during your pregnancy? Do you want to eat prunes but are not sure whether they are good for your unborn baby or not?
If you are craving for prunes in pregnancy, we are here to help. Read on to know is prune juice ok during pregnancy.
What Are Prunes?
A prune is a dry plum. It is one of the healthiest types of foods the world over. Prunes are good for your overall health and have multiple health benefits. The good part about eating prunes is that they rarely have any side effects. Your doctor may advise the intake of prunes during pregnancy as it is good for your health and your baby's growth.
[ Read: Benefits Of Dry Fruits During Pregnancy ]
Eating Prunes In Pregnancy
Eating prunes within limits during your pregnancy is normally safe and healthy. Each pregnancy is unique and whether or not you can eat prunes during your pregnancy will depend on your overall health. Your doctor will be your best guide to tell you about how much prunes you can consume safely.
Benefits Of Eating Prunes When You Are Pregnant
Here are some more benefits of eating prunes for pregnant woman:
1. Prevents Constipation And Aids Bowel Movement:

When you are pregnant, you are likely to experience bowel difficulties or constipation due to the various hormonal changes. During your pregnancy, your body produces more estrogen to ensure that your baby is growing properly. It can slow down your digestion and cause constipation. Progesterone is another hormone that your body releases during pregnancy. It relaxes and loosens your muscles. The muscles that form the outside walls of your bowel area relax during pregnancy due to the progesterone production. It makes it difficult for the food to move along and get out of your body.
[ Read: Home Remedies For Constipation In Pregnancy ]
2. Prevents Anemia And Boosts Your Iron Levels:

Iron is one of the main nutrients that is vital for the proper growth and development of your baby. Prunes are a rich source of iron. When you are pregnant, your iron requirements go up considerably. Just eating your regular meals may not be adequate. It is important to include additional food items like prunes to fight iron deficiency. Eating prunes help you build hemoglobin and prevent anemia during pregnancy. It will also help you, and your baby build immunity and keep any signs of weakness at bay. Snacking on prunes will also help maintain your energy levels and soothe your nerves.
3. Controls Blood Pressure And Fights Depression:

Prunes contain potassium that helps reduce blood pressure. It also helps fight depression and controls anxiety. The beta-Carotene and vitamin A in prunes help in the development of eyes in your unborn baby. Eating prunes will work wonders for your skin and that of your baby too.
4. Prevents Joint Pain:

You may be experiencing joint pains and cramps while you are pregnant. Eating prunes can help prevent or reduce these pains. Intake of prunes will also help prevent any inflammations while you are pregnant.
5. Fights Nausea:

Eating prunes can be a natural and healthy way to prevent nausea.
[ Read: Peaches During Pregnancy ]
Eating prunes during pregnancy is highly beneficial but over eating it may cause side effects like feeling of bloating, flatulence and even diarrhea. Ensure you eat prunes only after checking with your doctor and understanding the daily dosage.
If you have interesting prune recipes, please share it here.
Recommended Articles:
The following two tabs change content below.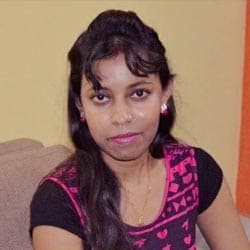 Ria Saha
Ria is a techie-turned-writer and writes articles on health, with special emphasis on nutrition. She did her B.Tech from West Bengal University of Technology and was previously associated with IBM as SAP ABAP technical consultant. She moved into freelance content writing in 2013 and worked for various websites including MomJunction, Brainpulse Technologies, and Emarketz India.