Are flaxseeds safe for your young kid? What are their benefits? How do you introduce them to your kid's diet? If these are questions you have, consider reading this post.
Growing kids need healthy and nutritious foods to maintain their body's needs of essential compounds. Flaxseeds are veritable superfoods for the body and including them in a diet has many health benefits. However, is flaxseed good for kids as well? Find out here.
Benefits Of Flaxseed For Kids:
Studies conclude that flaxseeds have many health benefits for both children and adults.
Flaxseeds are a rich source of certain compounds that stimulate omega-3 fatty acid production, which play many important roles in the health and well-being of the body.
Flaxseeds are a rich source of protein and fiber, nutrients necessary for healthy digestion.
Flaxseeds provide the body alpha-linoleic acid, a building block for omega-3 fatty acids. It helps improve brain function in kids and stimulates the healthy development of the brain and eye tissues.
Consuming flaxseeds can also reduce the production of inflammatory compounds and reduce the risk of conditions like rheumatoid arthritis, migraine, childhood asthma, etc.
Flaxseeds also contain lignans, which help protect against many different forms of cancers.
[ Read: Best Nutritious Foods For Kids ]
Side Effects Of Flaxseed For Kids:
While flaxseeds are one of the best foods to include in a diet, they have their fair share of certain side effects, and could prove to be harmful in certain cases.
Flaxseeds tend to inhibit the body's ability to absorb and break down certain medications or supplements, especially on oral consumption. It is important to avoid feeding your kid flaxseeds if he's on certain medications or needs to take certain supplements.
Flaxseeds also have moderate laxative action, and can lead to diarrhea if taken in large doses.
[ Read: Symptoms Of Diarrhea In Kids ]
Excessive gas and production of loose stools are a common side effect of consuming flaxseeds.
Sometimes, your kid may develop an allergic reaction to flaxseeds. Unfortunately, no tests can help determine if your little one is allergic to flax seeds. If your child contracts rashes, itching, wheezing, etc., avoid feeding him flaxseeds.
Flaxseeds can also make your child more susceptible to bruising, and can cause excessive bleeding. However, the risk of these occurrences is quite low.
Consult your pediatrician before you include flaxseeds in your kid's diet. Pay extremely close attention to the dosage.
[ Read: Iron Rich Foods For Kids ]
Tips To Include Flaxseed In Foods:
Growing kids can be fussy about food and picky eaters as well. The availability of glitzy processed junk food only makes it worse. But, don't lose hope! Here are some super effective tips to help you sneak in some much-needed flaxseed in your kid's diet.
Add a few ground flaxseeds to your kid's smoothie- he won't know the difference, and the smoothie will pack a healthy punch.
Baking a cake or some cookies? Add some flaxseeds into the batter for a nutty and crunchy twist.
Add some ground flaxseeds to condiments and accompaniments such as ketchup, mayo, salsa dip, and mustard to make them healthier.
You can also consider including flaxseeds in gravies, soups, and stews, and they're so versatile that your kid won't even know the difference.
[ Read: Organic Recipes For Kids ]
We hope this article helped you understand more about flaxseeds and how to include them in your little one's diet. So, consult your doctor and introduce your kid to these superfoods.
Do you know of any other tips to introduce flaxseed for children? Do you know of any delicious flaxseed recipes for your kids? Tell us about your stories, experiences and suggestions here. Leave a comment below.
The following two tabs change content below.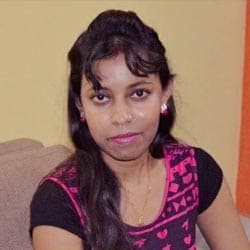 Ria Saha
Ria is a techie-turned-writer and writes articles on health, with special emphasis on nutrition. She did her B.Tech from West Bengal University of Technology and was previously associated with IBM as SAP ABAP technical consultant. She moved into freelance content writing in 2013 and worked for various websites including MomJunction, Brainpulse Technologies, and Emarketz India.