Do you have a fussy eater at home? Are you wondering how to include mushrooms in your kid's diet? We all know how brightly colored fruits and vegetables benefit the kids, but what are the benefits of dull looking mushrooms? Read this post and get your answers here.
A mushroom is neither a vegetable nor a fruit. It is an edible fungus grown in woods or grassy areas. All the varieties of mushrooms, be it Portobello, shiitake, white button or oyster, are loaded with essential nutrients. Read on to know why mushrooms are good for the kids.
Benefits Of Mushrooms For Kids:
1. Boosts Vitamin D Levels:
Mushrooms are an excellent source of Vitamin D. Most children suffer from vitamin D deficiency. Ensure your kids don't suffer from vitamin D deficiency by feeding them a serving of mushrooms every day.
2. Enhances Metabolism:
A regular intake of mushrooms enhances your child's metabolism. Mushrooms are rich in vitamin B12, phosphorus, and other essential nutrients that keep him energetic throughout the day.
3. Rich In Iron:
Mushrooms are an excellent source of iron. Iron encourages the formation of new blood cells, thereby supplying oxygen to the different parts of the body. So, enhance your kid's iron levels by feeding home a serving of mushrooms every day.
[ Read: Iron Rich Foods For Your Kids ]
4. Boosts Immunity:
A study by the American Society for Nutrition concludes that mushrooms stimulate and regulate the immune system. A strong immune system is necessary for any growing kid and prevents common illnesses. Mushrooms also promote the maturation of the dendritic cells or the immune system cells from the bone marrow. It enhances the body's immunity, protecting it from invading microbes.
5. Rich Source Of Antioxidants:
Mushrooms are an excellent source of antioxidants. Mushrooms for kids are important.Antioxidants help fight the free radicals caused due to the oxidation in the body. Antioxidants also promote skin health and prevent diseases.
6. Calcium-Rich:
Along with vitamin D, mushrooms are also a rich source of calcium. The high levels of calcium in mushrooms will help your child grow into a strong being. Calcium also stimulates the iron absorption. Mushrooms are rich in both and are excellent for kids.
7. Promotes Excretory System Health:
Selenium in mushrooms helps keep your kid's excretory system healthy. 100 grams of raw Cremini mushroom will provide your child with 47% of the daily value of selenium. Mushrooms also lower the risk of bladder cancer.
Mushrooms are extremely healthy but are not well received by the kids. There is something about the texture or taste of mushrooms that turns kids off. So how can you include mushrooms in your child's diet? To help you, we have come up with three yummy mushroom recipes that will surely appeal to your kid's palate.
Mushroom Recipes For Kids:
1. Roasted Mushroom In Gravy:
You Will Need:
4 shiitake mushrooms
12 button mushrooms
2 medium sweet potatoes, sliced
1/2 onion, chopped
1 clove of garlic clove
2 teaspoons of dried rosemary
1 tablespoon of olive oil
1/4 cup of chicken stock
How To:
Roast the mushrooms and chop them up finely.
In a mixing bowl, toss all the ingredients except the mushrooms along with the olive oil and rosemary.
Transfer the veggies to a roasting pan and roast for 30 minutes or until the vegetables are tender.
Blend the roasted vegetables in a blender until smooth.
In a saucepan, heat the sweet potato puree and stir in the roasted mushrooms.
Simmer on medium heat for 5 minutes and serve.
[ Read: Rice Recipes For Kids ]
2. Stuffed Buttons Mushrooms:
You Will Need:
6 large button mushrooms
1 tablespoon of olive oil
1 small red bell pepper, roasted and chopped
1/2 teaspoon of crushed garlic
1 tablespoon of chicken stock
2 tablespoons of grated Cheddar cheese
1 tablespoon of dry bread crumbs
How To:
Remove the mushroom stems and brush the caps with olive oil. Place them on a baking tray.
Chop the stems and sauté in olive oil along with chopped red pepper and garlic.
Stir in the chicken stock and cook for 2 minutes.
Remove from the heat and transfer to a small bowl.
Stir in cheese and breadcrumbs and stuff the mixture into the mushroom caps.
Bake for 20 minutes and serve.
[ Read: Macaroni And Cheese Recipes For Kids ]
3. Easy Cheesy Portabella Caps:
You Will Need:
1 portabella mushroom
1 teaspoon of olive oil
A pinch of black pepper
1 heaped tablespoon of grated Cheddar cheese
1 tablespoon of chopped fresh chives
How To:
Brush the mushroom caps with olive oil and place on a lightly greased baking sheet.
Sprinkle pepper and top the mushrooms with the grated cheese.
Bake for 15 to 20 minutes.
Sprinkle with chives and serve.
4. Mushroom And Barley Soup:
You Will Need:
2 tbsp. olive oil
2 cloves sliced garlic.
3/4th cup barley
Fresh thyme
4 cups chopped carrot.
6 cups broth of choice.
Salt and pepper to taste.
1 tbsp. parsley
How To:
Heat oil in a pan. Add mushrooms, garlic, thyme, carrots and salt and pepper.
Cook for about ten minutes.
Add the broth and barley and cook till barley turns tender.
Serve with the parsley on top.
Next time when you are at the supermarket, do not forget to pick mushrooms for your kids. Remember: don't serve raw mushrooms to your kids or anyone else.
Try these simple mushroom recipes and let us know which one is your kids' favorite. Leave a comment here.
Recommended Articles:
The following two tabs change content below.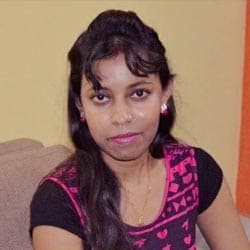 Ria Saha
Ria is a techie-turned-writer and writes articles on health, with special emphasis on nutrition. She did her B.Tech from West Bengal University of Technology and was previously associated with IBM as SAP ABAP technical consultant. She moved into freelance content writing in 2013 and worked for various websites including MomJunction, Brainpulse Technologies, and Emarketz India.