Jump to:
Heart disease, depression, rheumatoid arthritis, ADHD, skin problems, memory loss, dyslexia, asthma, obesity.
These are just some of the many ailments and disorders that omega-3 fatty acids can either prevent, relieve the symptoms, or aid in treatment of (1).
Yes. That's how important omega-3 fatty acids are for your child's general health. They are among the most important good fats that our body requires, but cannot produce on its own, and therefore, must be a part of your diet. MomJunction tells you about the importance of omega-3 for kids, its benefits, and dosage.
As a bonus, we also have a list of omega-3 supplements for you in the end.
Omega-3 Fatty Acids
Omega-3 fatty acids are essential fatty acids, meaning they cannot be synthesized by our body. There are three types including eicosapentaenoic acid (EPA) and docosahexaenoic acid (DHA). Also known as polyunsaturated fatty acids (PUFAs), these two fats are essential for normal growth and metabolism in children. DHA and EPA are largely found in marine oils such as fish oils of krill, mackerel, tuna, and a few other seafood.
The third omega-3 fatty acid is known as alpha-linolenic acid or ALA. It is available in plant-based foods and oils such as flaxseeds oil, hempseed oil, soy, canola oil, and walnuts. People who don't eat fish do not get enough of the long chain omega-3s – DHA and EPA. However, DHA and EPA can be synthesized in the body through ALA, although to a limited extent.
Regular consumption of these foods is necessary to ensure that your body gets the right amount of omega-3 fats. A lack of these fats in the body can result in a poor immune system, skin health, and vulnerability to a variety of health problems including inflammation. Omega-3s are essential for growing kids to improve their cognitive and behavioral functioning.
[ Read: Benefits Of Eating Eggs For Kids ]
How Do Omega-3 Fatty Acids Work?
Omega-3 fats are an essential part of the body's structural cell membranes. On consumption, the fats get accumulated in the cell tissues and enrich certain parts of the body. Omega-3s play an important role in cell and cell receptor functioning by performing the role of molecules that enable important communication between cells (2).
Omega-6 and omega-3 are a part of the cell membrane. They help in creating a source of energy and act as precursors for bioactive lipid mediators. When consumed as a part of the diet, omega-3 fatty acids compete with omega-6 fats, especially arachidonic acid that synthesizes mediators of inflammation. This means that omega-6 fatty acids promote inflammation, while omega-3s prevent it.

Benefits Of Omega-3 Vitamins
So what is the use of omega-3 fatty acids? Does a child need them? Does a kid need to take fish oil or flaxseed oil to get Omega-3s?
The answer is a resounding yes! The therapeutic properties of omega-3s are many. From skin health to heart problems to joint pains, omega-3s can help you in avoiding several medical conditions. Here are some of the benefits of consuming Omega-3 fatty acids regularly.
Studies have shown that these fats increase the HDL or good cholesterol levels (3) and bring down the triglycerides or fats in the blood. A report has also stated that Inuit Eskimos who consume fish almost every day have more good cholesterol than bad.
Omega-3s support a child's cognitive development. According to a study, children who were fed foods rich in or fortified with Omega-3s showed better hand-eye coordination, social skills, attention span, and intelligence tests (such as IQ test) scores (4).
Omega-3 fatty acids are essential for better vision or eye function.
An Oxford University study revealed that omega-3 in the blood increased a child's ability to learn and behave better. They were better at reading and had fewer memory related problems.
There is no concrete information on how omega-3s help in treating depression. However, it is known that people who took omega-3 supplements along with antidepressants showed better improvement than those who didn't take the supplements.
A clinical study revealed that children with high levels of omega-3 fatty acids in their blood showed better concentration (5).
Reports suggest that ADHD children usually have low levels of omega-3 fatty acids. Children with ADHD, who were put on omega-3 supplements, have shown moderate improvement in symptoms including problems in processing emotions and socializing.
Individuals with bipolar disorder who took omega-3 supplements alongside prescription medication had fewer mood swings and a lesser chance of relapsing when compared to those who did not take the supplements.
Preliminary trials of the effects of omega-3 on schizophrenia patients indicated that the presence of fatty acids led to an improvement of symptoms.
Omega-3 is also associated with memory functioning, considering that the fatty acids are most concentrated in the brain region.
People with photodermatitis show more tolerance to sunlight after taking fish oil supplements for a certain period. Some people with psoriasis may also find fish oil useful, while others may not.
While some of the studies have shown entirely positive results of using omega-3 fatty acids, some had mixed results and indicated no change in the condition. However, make your child consume foods or supplements that contain omega-3 fatty acids for their overall well-being.
[ Read: Foods To Boost Kids Brain Power ]
Fish Oil For Kids
Fish oil is extracted from oily fish such as tuna, sardines, herring, anchovies trout, salmon, and mackerel among others. These fish store oil in a cavity of the belly, just under the gut, which is rich in omega-3s.
Can a child take fish oil?
Yes. Fish oil is one of the richest sources of omega-3 and there are many benefits for children.
You could give them foods that contain omega-3 fats such as:
Fish, including salmon, tuna, mackerel, halibut, herring, trout
Shrimp
Oysters
Flaxseeds
Walnuts
Chia seeds
Soy beans
Beef
Fortified foods
If you want to give your child omega-3 supplements, seek your doctor's advice first.

How Much Omega-3 Does A Child Need?
Lower omega-3 levels can make the child susceptible to certain inflammatory conditions or affect their cognitive functioning. Excessive omega-3 can affect the body's ability to fight bacteria and other microbial pathogens. The right amount of omega-3s for kids, as recommended by the experts, is mentioned below (6).
Age
Boys
Girls
0 to 12 months
0.5 grams per day
1 to 3 years
0.7 grams per day
4 to 8 years
0.9 grams per day
9 to 13 years
1.2 grams per day
1 gram per day
14 to 18 years
1.6 grams per day
1.1 grams per day
Whether you give the child fish oil or plant-based omega-3, make sure that they get enough nutrition. Do not over do it as not all kids may handle it well. They could experience nausea, digestion issues, and even bleeding if they take high amounts of omega-3s. In such cases, check with a doctor immediately.
Check for the dosage and the bottle seal in case of supplements.
[ Read: Nutritious Foods For Kids ]
Best Omega-3 Supplement For Kids
Children can be finicky when it comes to eating. They may not like to eat fish. Or they may be allergic to it. You may also find it difficult to get adequate amounts of omega-3 fatty acids from vegetarian or vegan foods. If so, you can rely on supplements that range from fish oil pills to vegan omega-3 boosters.
Supplements for kids are available as syrups, soft gels and chewable gummy bears.
1. HealthAid KidzOmega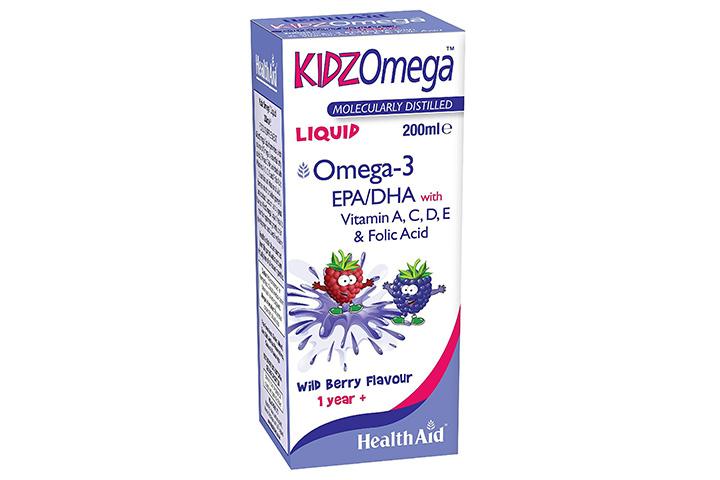 KidzOmega by Health Aid is a multivitamin supplement that is a rich source of the omega-3 fatty acids. It also contains small doses of vitamins A, C, D, E, and folic acid. The supplement is in syrup or tonic form, which makes it a good choice for younger kids.
Supplement facts:
One tablespoon (10ml) contains fish oil concentrate (2,043mg – EPA 400mg, DHA 300mg).
Ingredients: Fruit extracts, vitamin extracts, emulsifier, natural preservative, soya, and fish oil
Why choose it?
The KidzOmega syrup is a great choice for younger kids who need omega-3 supplements. The syrup comes in a delicious berry flavor, making it as tasty as it can get.
Buy the Health Aid KidzOmega syrup now.
2. Unived Ovegha D3 Kids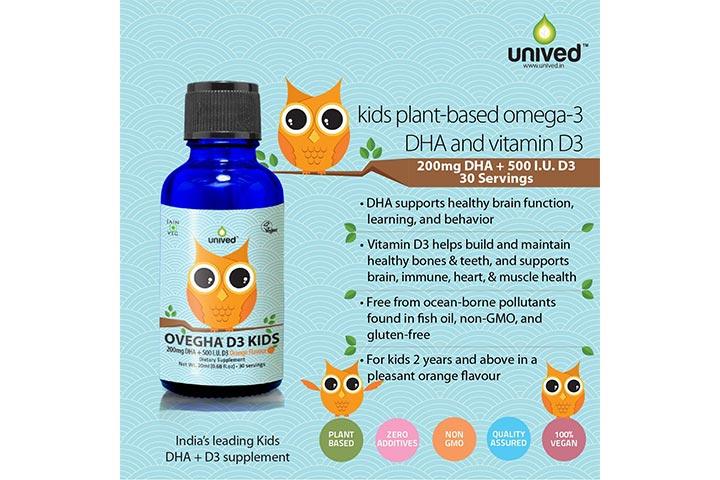 Unived Ovegha D3 Kids is ideal for vegetarians and vegans. Filled with fish oil replacements to supply the needed dosage of omega-3s to your body, the syrup is gluten-free and vegan too. It is available in a tangy orange flavor and is less expensive then the other supplements.
Supplement facts:
One serving (0.66ml) contains energy (4.5 Kcal).
Ingredients: Algal vegetable oil (500mg), DHA (200mg), and vitamin D oil, orange flavor
Why choose it?
This is an excellent DHA supplement for vegetarian and vegan kids who cannot consume fish oil supplements, or get enough omega-3s from food.
Buy the Unived Ovegha D3 Kids syrup now.
3. Carlson Fish Oil for Kids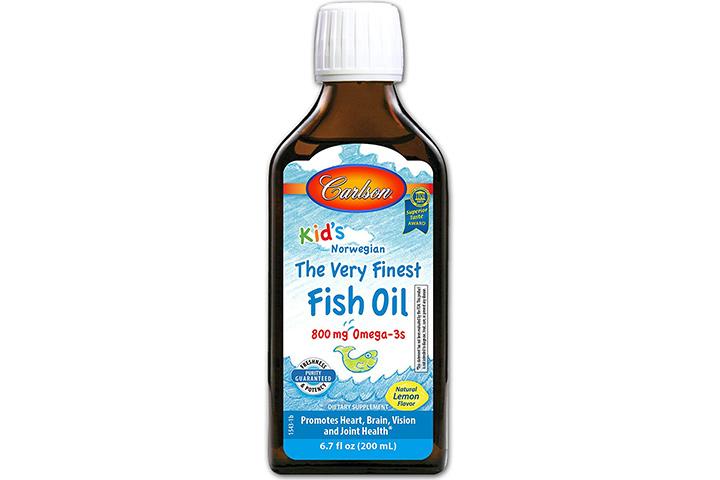 Carlson Labs has developed fish oil supplements for adults and kids. The Carlson Labs Finest Fish oil for kids is made from the fish found in deep Norwegian seas, one of the purest. Just half a teaspoon of this fish oil can give your child 800mg of omega-3s. What's better is that this syrup comes in a natural lemon flavor, making it taste less like a tonic and more like a beverage.
Supplement facts:
One serving (2.5 ml) contains EPA (400mg), DHA (250mg), and other omega-3s (150mg)
Ingredients: Fish oils (anchovies, sardine, and mackerel), natural lemon flavor, natural tocopherols
Why choose it?
Carlson Fish Oil is one of the best omega-3 supplements for kids. It improves brain health and vision, and strengthens the joints.
Buy Carlson's Finest Fish Oil for kids now.
4. SmartyPants Kids Complete Gummy Vitamins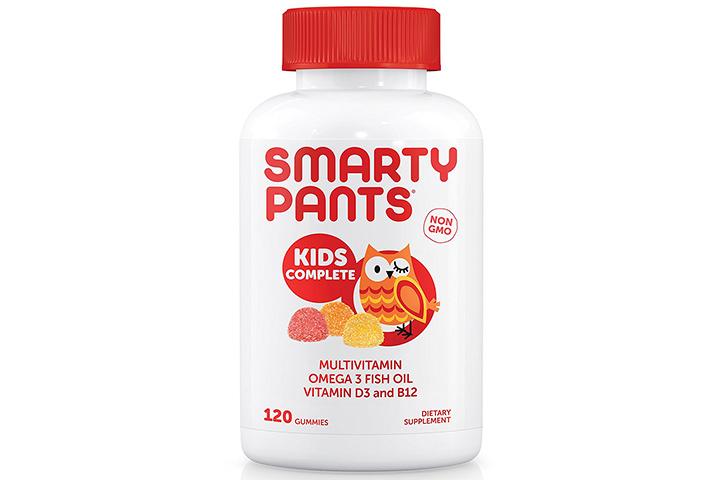 Gummies are better than syrups or capsules. The SmartyPants Kids Complete is a box of multivitamin gummy bears that contain omega-3 supplements as well. This is a good choice if your child needs other vitamin supplements along with omega-3s.
Supplement facts:
One serving (four gummies) contains
fish oil (340mg – EPA 56mg and DHA 44mg).
Ingredients: Fish oil, organic cane sugar, gelatin, pectin, natural flavors, natural added colors, and vitamin extracts
Why choose it?
Omega-3 gummies are better than capsules or syrups. Also, SmartyPants Complete Gummy vitamins contain no added flavors, colors, or preservatives. They are free of gluten, dairy, egg, nuts and other allergens, including shellfish and fish protein.
Buy the SmartyPants Kids Gummy Vitamins now.
[ Read: Tofu Recipes For Kids ]
5. Barlean's Kid's Omega Swirl Fish Oil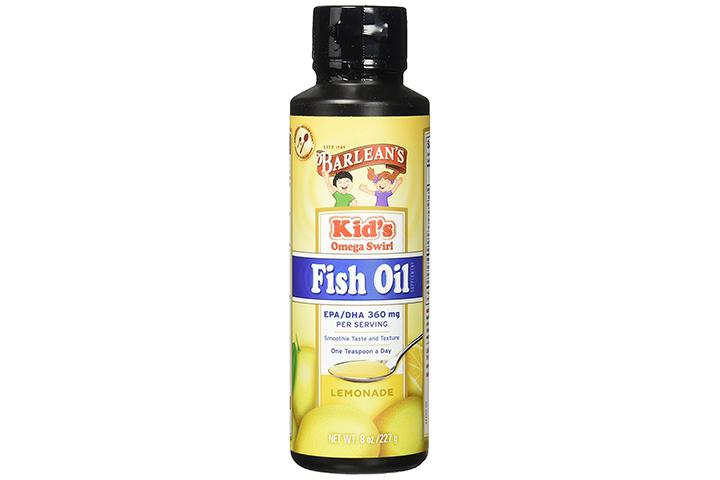 Available in lemon flavor, Barlean's Omega Swirl fish oil has a smooth texture and a fruity taste that makes it easy for kids to consume. This omega-3 supplement is approved by the FDA and helps in boosting cognitive function and attention span. It is available in 8-ounce bottles that are easy to carry.
Supplement facts:
Each serving contains EPA (180mg), DHA (180mg), ALA (13mg), and other Omega-3s (140mg).
It also contains omega-6 and omega-9 fatty acids.
Ingredients: Fish oil, xylitol, xantham gum, guar gum, turmeric
Why choose it?
The Barlean's fish oil gets absorbed well by the body, thanks to the manufacturer's proprietary emulsification technology. It has no added sugar or colors and can be used in yogurts, oatmeal, or juices.
Buy Barlean's Omega Swirl Fish Oil for kids now.
6. Nordic Naturals – Daily Omega Kids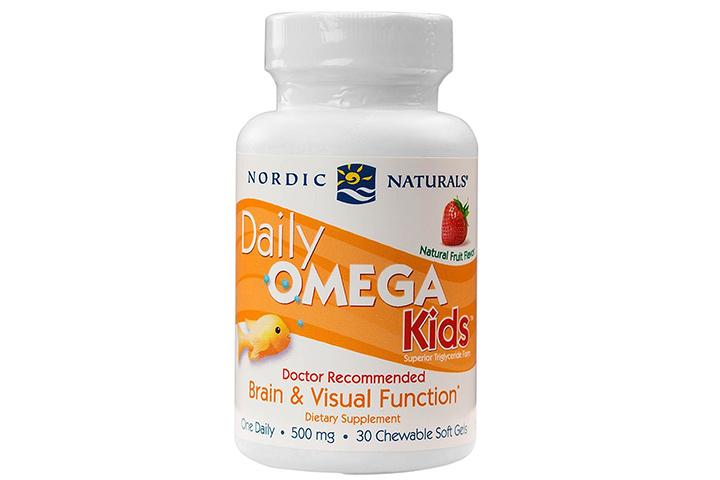 Daily Omega from Nordic Naturals is soft gel chewable omega-3 supplements that come in strawberry flavor, to mask the fishy smell of the supplement. One serving (one soft gel) of Nordic Omega Daily gives your child the daily recommended amount of omega-3 in the body.
Supplement facts:
One serving contains EPA (163mg), DHA (112mg), and other omega-3s (45mg).
Ingredients: Deep sea fish oil, gelatin, glycerin (for soft gel), natural strawberry flavor, rosemary extract
Why choose it?
Nordic Naturals omega-3 supplement is in gel form and is free of allergens such as gluten and dairy. It is ideal for all kids aged three and above.
Buy the Nordic Naturals Daily Omega Kids soft gels now.
[ Read: Chia Seeds For Kids ]
In addition to these, you can also try omega-3 supplements by Martek Life, BodyVega Nutrition, Nature's Nutrition, and Olly. Regular intake of omega-3 fatty acids early on can help in the overall development of children and prevent a variety of ailments.
Ensuring that your kids eat foods rich in omega-3s or giving them supplements is not enough. You should also make sure that they get the right amount of these fatty acids – not less, not more – to lead a healthy life ahead.
How do you get omega-3s into your child's diet? Share your tips with the other parents here.
Recommended Articles:
The following two tabs change content below.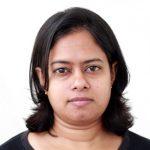 Latest posts by Sagari Gongala (see all)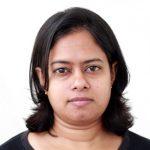 Sagari Gongala
Sagari is a math graduate and studied counseling psychology in postgraduate college, which she uses to understand people better. This skill also helps her write better articles about kids and their behavior. She is meticulous in her research and gives you information that could be the ultimate help you'll need in times of need. An animal lover, vegan, and coffee addict, Sagari puts her mind and soul into whatever she does. During her free time, you'll find her either rescuing a sick/injured animal with a friend, or glued to her couch watching Sons Of Anarchy on Netflix.