If you love to indulge in outdoor adventures, especially during the wintertime, you must keep your travel kit and adventure gear ready. While summers call for light clothing and gears, winters are a different ball game altogether. To protect yourself from the freezing temperatures, you must invest in a high-quality jacket. If you are headed to a cold place that also sees rainfall, regular jackets may not be best suited. In situations like these, a 3-in-1 jacket comes to the rescue.
A  3-in-1 jacket comprises 2 jackets, and can be worn as a single garment each or zipped up together. Both the jackets are made of different materials and serve various purposes. The inner jacket is usually made of cold-resistant materials that provide insulation. When worn separately, each jacket can help ward off wetness and cold respectively; but when used together, their efficiency increases. Browse through our carefully curated list of the 13 best 3-in-1 jackets and take your pick.
13 Best 3-In-1 Jackets of 2021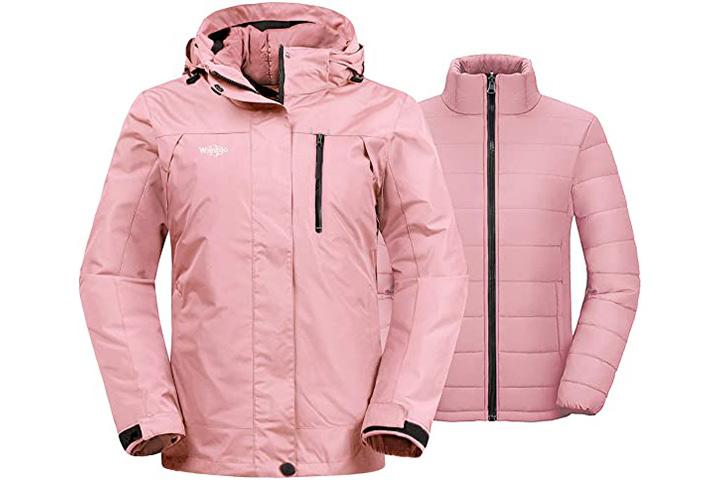 This 3-in-1 ski jacket from Wantdo is a multipurpose winter garment for women that is best suited for skiers, snowboarders, mountaineers, hikers, cyclists, and other outdoorsy people. It is made of taslan and is durable and offers better ductility. It comprises 2 jackets. The outer jacket is oil and waterproof, and the insulating second puffer jacket helps protect you from the cold weather.  It is also heat-resistant and windproof and features a detachable hood, adjustable drawstring, elastic cuffs, breathable underarm vents, YKK zipper, and a button that connects both the layers of the jacket. The jacket also comes with 2 zippered hand pockets, 2 warm hand pockets, and 1 chest pocket.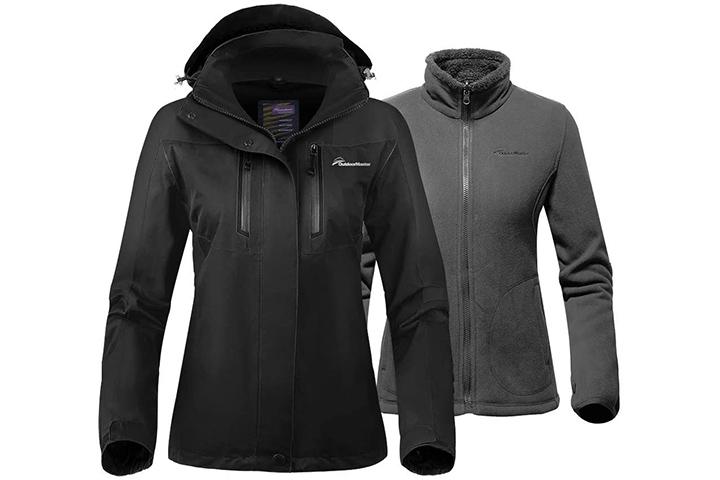 The Outdoor Master 3-in-1 jacket for women is ideal for all weather conditions. The external soft shell is a thin and light hooded jacket, which can be used as a windcheater. It is made of waterproof and breathable materials with teflon surface protection. The inner fleece liner is removable. It also comes with YKK zippers, easily accessible multiple pockets, adjustable cuffs, and a removable hood for better helmet compatibility. This womens' winter jacket comes in a host of different colors.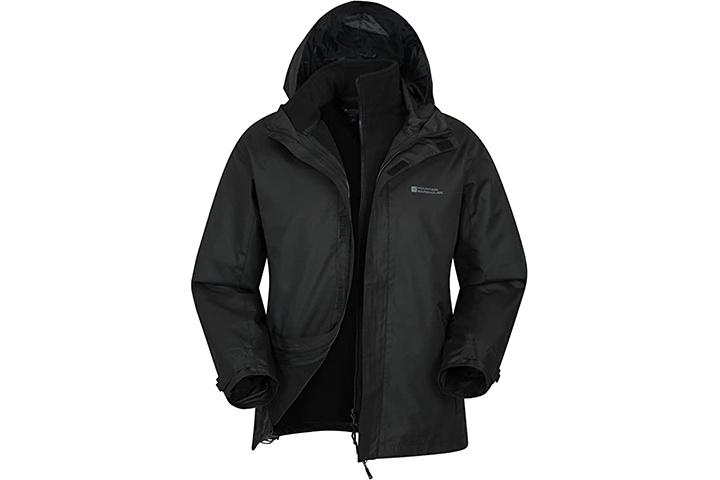 Stay warm this winter with this 3-in-1 water-resistant jacket for men from Mountain Warehouse. It is made of polyester and has 2 layers. The outer layer is a water-resistant jacket coated with a durable water repellent. It is ideal for short walks and can withstand light rainfall. The inner layer is made of lightweight fleece and is detachable. It has zippered pockets, 2 on the outer jacket and 2 on the inner fleece jacket and a packaway hood that can be neatly folded and tucked into the collar pocket when not in use. This men's jacket is an excellent choice for unpredictable weather conditions.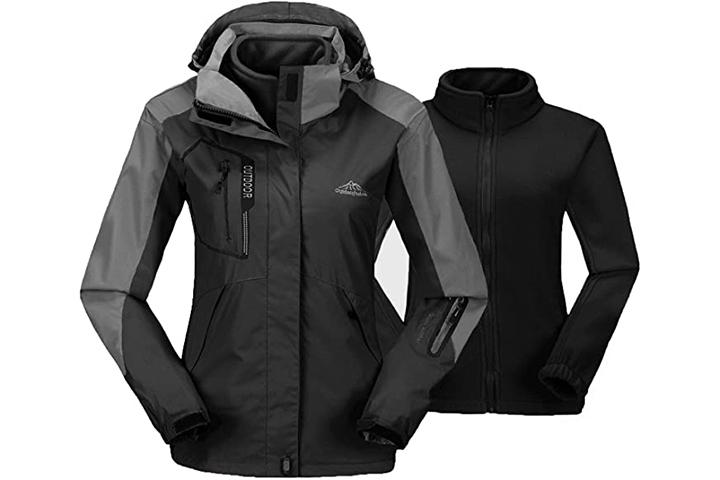 This 3-in-1 outdoor ski jacket for women from TBMPOY is a multiutility winter garment for adventure-loving women. The 2 jackets provide 3 utility options for the price of 1. The outer jacket is a professional water-repellent rain jacket that keeps you warm and dry in cold temperatures and rain, respectively. The inner liner is made of soft polar fleece and keeps you warm during cold days. The hood and cuff have Velcro on them and an adjustable cord is provided at the hem to keep the wind out. This snowboarding coat comes with breathable holes to keep away sweat and stuffiness and has multiple zippered pockets to keep hold utility items while you are outdoors on your adventure.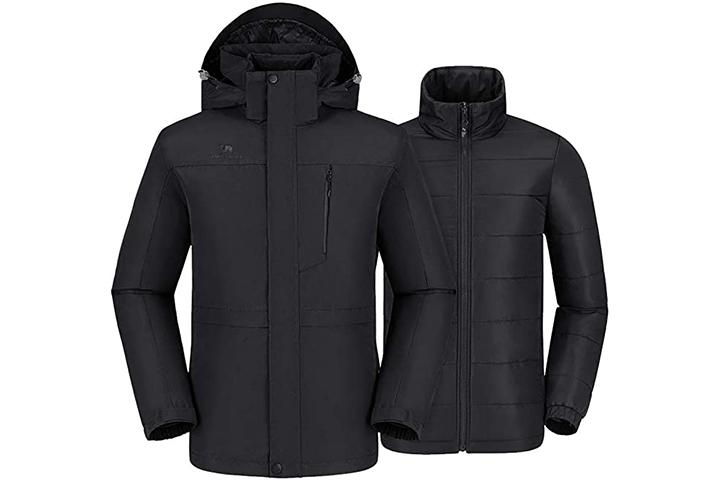 Fight winter like a pro with this 3-in-1 jacket from Camel Crown. It comprises 2 jackets and can be worn in 3 different ways. The outer jacket is made of selected Dacron fabric and is water and windproof, and provides protection from the icy winter winds and wetness from snow and rain. The puffer-lining jacket helps wick moisture from the body and keeps you warm and stylish. This winter jacket has an adjustable and detachable hood that is windproof, a hook and loop cuff and collar closure, and zippered pockets with earphone holes. It is available in 3 subdued colors.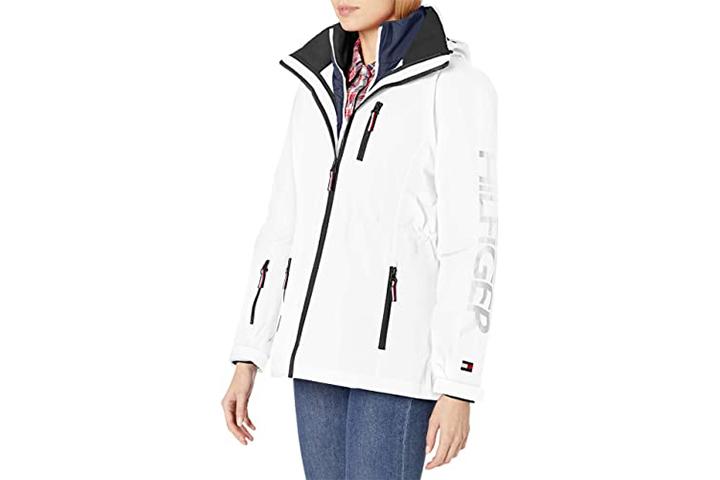 The waterproof outer jacket is suitable for a rainy day and keeps wetness and cold winds at bay. The inner puffer jacket helps combat cold temperatures and keeps you warm. Both these jackets can either be worn individually or together, keeping the weather conditions in mind. This polyester jacket has zippered pockets and a removable hood. You can take your pick from 3 different color combinations of this machine-washable jacket.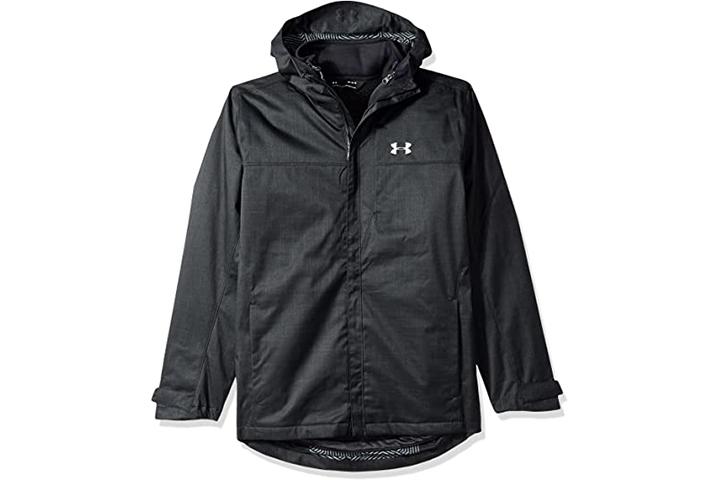 This men's jacket from Under Armour has 2 jackets, which can be worn by themselves as single garments or together, depending on the weather. The outer jacket comes with UA Storm Technology that helps in keeping wetness and wind at bay without compromising on breathability. It features a double layer of twill fabric on the outside and a smooth taffeta lining. The inner jacket uses ColdGear Infrared Technology, which helps retain body heat. It has multiple zippered pockets with an interior headphone escape, adjustable cuffs,and bungee hem adjuster. The buyer has 4 color options to choose from.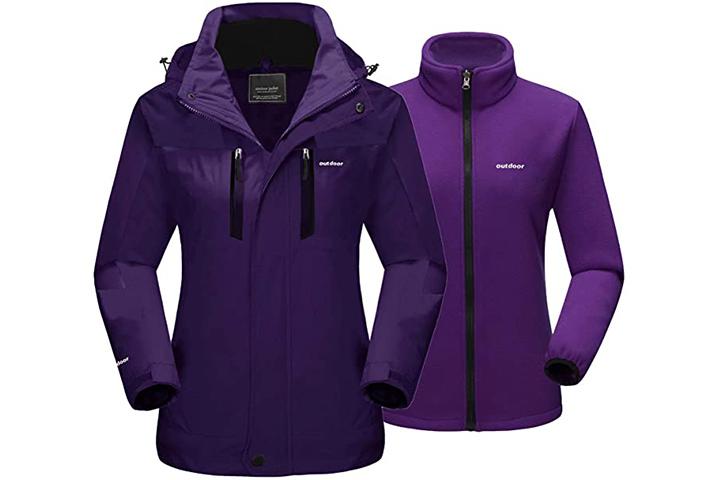 Looking for multi utility jackets for the upcoming winter? This 3-in-1 winter ski jacket from Magcomsen is a fantastic choice as it gives you the satisfaction of owning 3 jackets for the price of 1. The technological outer jacket is windproof and water-resistant and keeps you dry in misty, snowy, or rainy weather. The jacket is made from polyester and the inner functional liner is skin-friendly, lightweight, and keeps you warm in cold temperatures. This snow jacket comes with a detachable hood with adjustable drawstrings and elastic cuffs that prevent icy winds from entering. This jacket is available in many colors and is suitable for various adventure activities like, mountaineering, skiing, snowboarding, hiking, rock climbing, cycling, and camping among others.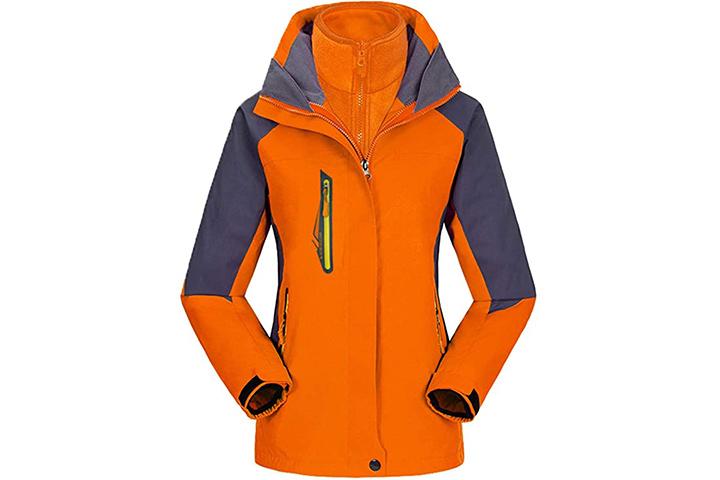 This 3-in-1 women's jacket from Abelway is a snug winter jacket, which is of great utility when it comes to fighting off cold weather. This 2-layered jacket can be worn either as separate garments or as a single jacket, depending on the temperature. The outer shell is made of polyester and is wind and waterproof. It also keeps you from getting wet from the rain or snow and the inner fleece lining is detachable. This jacket has a removable and adjustable hood, adjustable Velcro cuffs, and zippered pockets. You can find many other color variants of this snow coat and it can be used for a range of different outdoor activities.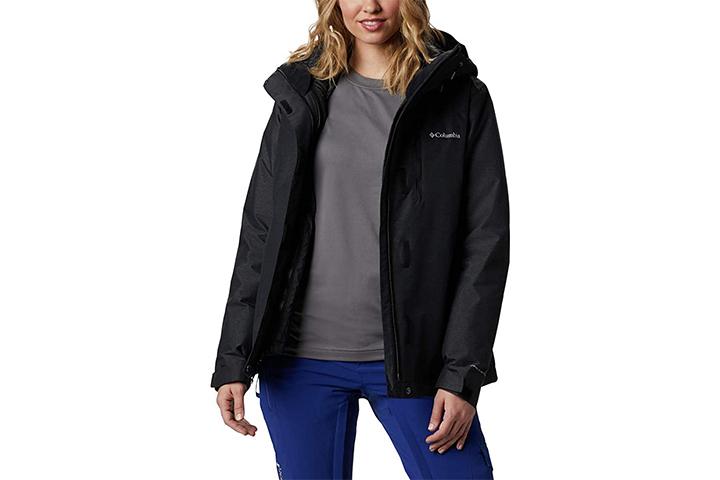 This interchangeable jacket for women from Columbia is ideal for those who love to indulge in outdoor adventures.  The 3-in-1 design allows you to wear the jacket in 3 different ways; either as separate garments or as a single winter jacket. The matte face outer jacket is made of weaved polyester and acts as a windbreaker. It is waterproof and features an underarm vent to keep sweat at bay. The inner lining, which is also made of polyester, is heat retaining, breathable, and dissipates moisture. It uses a patented Omni-Heat Technology that keeps body heat regulated when you are outdoors. The jacket houses multiple zippered pockets, an adjustable drawcord at the hem, cuffs, and a hood. It is available in various colors and styles.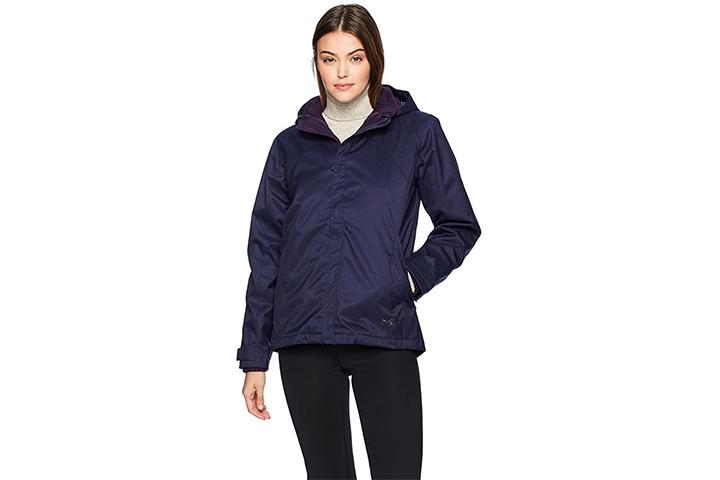 This 3-in-1 sienna jacket from Under Armour is designed keeping women in mind. It comprises 2 jackets. The light and breathable shell that is made of wind and waterproof materials to keep wetness from rain and snow at bay, and the inner lining that is made of fleece helps fight the biting cold temperatures. This 100% polyester winter jacket has multiple zippered pockets, a hood, and a hook and loop at the cuffs and neck. The UA Storm Technology helps in keeping it waterproof without compromising on the breathability of the jacket.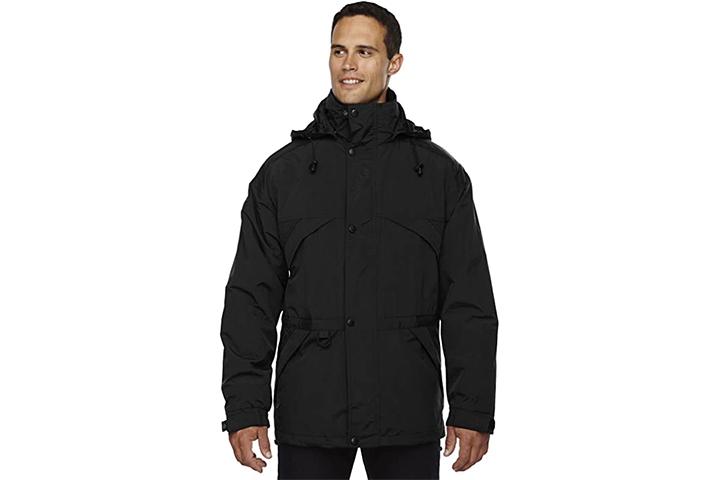 The techno series 3-in-1 parka for men from Ash City comes with dobby trim. It has a mesh-lining made of 100% polyester on the upper body. The shell or outer jacket is taslan and is windproof, water-resistant, and suitable for light rains. The fleece liner keeps one warm in moderate winters. This jacket comes with a storm flap with security zippered pockets and thermal retention shock cords at the hood, waist, and hem. The hood can be rolled up and tucked away when not in use. This winter coat can withstand temperatures ranging from 30°F to -9°F or -1° C to -23° C.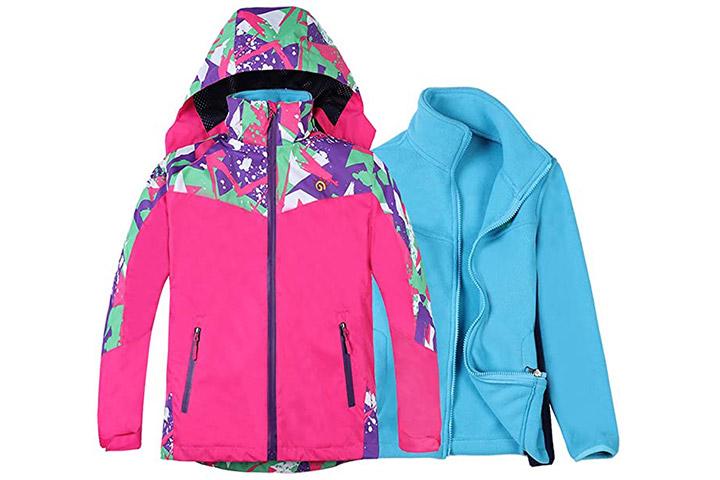 Have a mini adventure lover at home? Get them the Jingle Bongala 3-in-1 kids' jacket and see them enjoy every activity without the temperature spoiling the fun. This outdoor jacket is an amalgamation of 2 jackets. The outer shell is a waterproof, polyester jacket that helps kids have fun even on a snowy or rainy day. It is wind-proof, breathable, and a good fit for cold conditions. The inner jacket is made of premium quality soft fleece, which doesn't irritate kids' soft skin. This hooded winter coat comes in different vibrant colors and has zipped pockets, elastic cuffs, and connecting buckles at the collar and sleeves.
Everyone loves a jacket that provides maximum utility at a reasonable price and less number of garments. A 3-in-1 jacket is one such piece of clothing where there are 2 jackets that can be worn in 3 different ways. But what should we keep in mind while buying them? These are some points listed down for your convenience:
How To Choose The Best 3-In-1 Jacket
The outer shell should ideally keep wetness off from the jacket, so that body heat can be maintained. Therefore, a 3-in-1 jacket with a water and windproof top layer is an excellent choice.
The middle layer acts as a lining between the skin and the outer layer and helps in retaining the body heat and maintaining the warmth. Therefore, the middle layer should be made of good quality insulating material.
While choosing a jacket, look for one that has several strategically placed vents and is made of breathable material so that you do not sweat a lot and end up wet.
A hood is a necessary feature of a jacket, for protection against sharp icy winds. A jacket with a hood that is detachable or can be folded and zipped is best suited for outdoor adventures.
Pockets come in handy in all garments, especially jackets. You can utilize zippered pockets to keep your mobile phone, keys, money, and other small items safe. They also help in keeping your hands warm in freezing temperatures.
Adjustable cords at the cuffs, hems, and the hood helps in keeping icy wind and moisture from getting inside the jacket and keeping the body warm.
Benefits of 3-In-1 Jackets

3 pieces of clothing for the price of one
Outer layer is generally waterproof or water-resistant.
The inner layer is insulated to keep your body warm
Multiuse
Ideal for many outdoor activities and sports
Frequently Asked Questions
1. What is the difference between waterproof and water-resistant?
A waterproof jacket will not allow any moisture to penetrate the surface whereas a water-resistant jacket will keep the moisture off the surface only upto a certain extent but not entirely.
2. How should a 3-in-1 jacket be washed?
The waterproof jacket can be washed in a machine. Check all the pockets and fasten all the zips and wash it with a liquid detergent on a low-spin cycle. You may air-dry the jacket if you wish to. The inner layer can also be washed in a machine. Turn the jacket inside-out and wash it. Instead of tumble drying or ironing, drying on a clothesline is advised.
3. Do 3-in-1 jackets work well for skiing?
A 3-in-1 jacket is a convenient option for casual skiers, and is a popular choice for first-time skiers or casual skiers. For advanced levels or professional skiers a 3-in-1 jacket, may not be the best choice.
Are you an outdoorsy person who loves to be on the move and do something adventurous even in freezing temperatures? Get your bags packed with a 3-in-1 jacket from our list of handpicked jackets to keep off the snarly, biting cold. These jackets are designed in such a way that you can wear them in 3 ways, hence the name. Wear the top jacket by itself to keep yourself from getting wet. If you need to insulate yourself from icy winds, put on the second jacket. If you are out for adventure on a freezing rainy day, zip up both jackets together for more safety. This multipurpose, versatile piece of clothing is a must have for all those who are game for some adventure even in freezing weather conditions.