An ab machine is a piece of exercise equipment designed to work your abs and obliques by allowing side-to-side motions. It focuses on the lower abdominals by bringing the lower body closer to the upper body. Whether you are aiming for hard six-pack abs, a flawless beach body, a stronger core, or a perfect waistline, with a good ab exercise machine in your gym, you can make your dream of a fab body come true.
If you are planning to add an ab crunch machine to your workout routine but don't know where to start, then you have come to the right place. In this post, we list the best ab machines along with useful information on ab workout machines to help you choose the right one.
Types Of Ab Machines
Let us first learn about the different types of ab machines available in the market.
1. Ab Glider
An ab glider, also known as an ab coaster, comes with a cushioned platform, to place knees, and handlebars that need to be reached by pulling the lower body in the forward direction. Some of these exercise machines also let you twist the abdomen sideways, to the left and right.
2. Ab Bench
This fitness machine emphasizes on the abdominal area. It comes with adjustable benches so that you can try different exercising positions. You can decide your movements and set difficulty levels.
3. Ab Roller
As the name suggests, this machine for ab workouts is like a roller. It is a wheel with a handle passing through the center. You have to be on your knees with your feet raised and then push the wheel in front of you.
Safety Tips for Using Ab Machines
While using an ab machine, it is important to keep the following safety tips in mind:
Check the equipment regularly to avoid injuries.
The spine alignment has to be right when using the equipment.
While performing abdomen exercises, it is recommended to maintain a correct neck position. The right posture is when the neck and the spine are in the same line.
Abdomen exercises have to be performed slowly to get the maximum benefits and avoid injuries.
Always check the stability of an ab machine as working out on a piece of wobbly equipment is dangerous.
11 Best Ab Machines in 2020
This rowing machine is one of the best for working out the ab muscles. It has a smooth glide seat designed with 12 different resistance variation levels to help you adjust the intensity of your core workout. With this equipment, you can enjoy total body workout, as the entire body gets involved when you row.
Pros:
Digital monitor for displaying time, count, total count, calories burned, etc.
Non-slip handlebars
Ergonomically designed and padded seat for comfort
Anti-slip footplates with adjustable foot straps
Compact design
12-level hydraulic resistance system
Cons:
Hydraulic piece may heat up
May not be comfortable for tall people
With this Wonder Core smart ab machine, your dream of shredded abs and strong core is not difficult to achieve. It promises a wholesome workout that involves the upper, middle, and lower abs. This fitness accessory is also designed to focus on your thighs, calves, biceps, triceps, and forearms.
Pros:
A combination of muscle toning and cardio
Compact, portable, and adjustable
Doesn't require assembling
A complete home exercise system
Includes a free online user manual and fitness guide
Cons:
May make a squeaky noise
Resistance bars may be hard
This is one of the best ab toning machines for building overall strength. It works effectively on your abdominals and entire core. Each rollout exercise involves the shoulders, back, abs, and hip flexors.
Pros:
Width of 3.7in imparts stability and strength to the roller
Made of strong stainless steel, durable PVC, and non-slip TPR
Designed for overall strength building
Easy to assemble and disassemble
Lightweight and portable
Ergonomically designed grips
Complimentary knee pad and resistance band
Cons:
Short handles may be difficult to hold
Knee pad is small
A muscle toner that is designed for body slimming and muscle training, it sends electric signals to the muscles to stimulate movement. All you need to do is stick the pad to the specific muscle area that you wish to tone or lose fat, and this EMS machine will exercise your muscles and give you the desired results.
Pros:
An anytime, anywhere ab trainer
Easy and light to wear
Thin and convenient to carry
Can be worn under clothes while working
Comes with extra gel pads
Has USB port for easy charging
Cons:
Snaps may not work effectively
Directions for use may not be clear
May not stay put if you are constantly in motion
This is one of the best ab machines to have in your home gym. It is designed to give you lean abs and defined obliques. The swift bottom-up motion is a natural curve and is helpful in constant contraction of the core. It effectively works on your lower, middle, and upper abs as well as your right and left obliques for a complete and good workout.
Pros:
Ideal for a comprehensive workout
Comes with a cushioned free-style seat and arm pads
Has an inbuilt battery-operated rep counter
Digital display to keep track of your exercise routine
Compact and easy to store
Cons:
May not be easy to assemble
Cushion for legs may not be comfortable
This is one of the best ab machines for effective abdominal exercise. It is designed to train the core muscles by stimulating metabolism and burning body fat. With this easy-to-assemble and convenient-to-use equipment, you can get those perfectly formed abdominal muscles faster.
Pros:
Made of strong steel
Soft foam padding for a good grip
Advanced ergonomic design eliminates workout stress
Lightweight and portable
Comes with a 3-inch thick head support
Sturdy, durable, and easy to store
Cons:
Neck position may be awkward
Screws may not be of the right size
For those who don't find time to exercise, this rechargeable ab machine is a steal. It is a fusion of Chinese acupuncture and EMS technology. You can look better and feel amazing with this abs stimulator that builds and tones muscles effectively.
Pros:
Includes an abdominal belt, two arm belts, and self-adhesive gels
Can be used anytime and anywhere
Easy to carry and store
USB rechargeable
Can be worn under clothes
Cons:
May have sticking issues
May fall off the body while working
Invest in this ab machine that gives you a full-body workout. It is designed to allow you to choose between three resistance levels. You can burn those extra calories without going to the gym with this equipment. It is also ideal for exercising and building different muscles.
Pros:
Wide, long, padded backrest for better support and balance
Made of heavy-duty steel frame
Handles are covered with foam for a good grip
LCD monitor displays calories burnt, moves per minute, etc.
Lightweight, foldable, and easy-to-store
Cons:
May be small for tall people
This is one of the best ab machines that offers five different resistance and training levels. Just spend five minutes every day to transform your total body with this professional ab trainer at home.
Pros:
Easy to assemble
Made of high-quality steel for better durability
Has anti-slip, soft handles for a comfortable grip
Sweat-resistance cushions for convenient exercising
Multi-functional design for effective everyday workout
LCD monitor displays time, calories burnt, etc.
Cons:
May not be ideal for tall people
Assembly instructions are not in English
This revolutionary exercise equipment is designed for a complete and effective workout at home. It prevents strain on the neck, back, and shoulders because of the lower abdominal lift. This is the best gym equipment for abs and love handles as it allows you to focus on the obliques from different angles.
Pros:
Sleek design requires less storage space
Easy to assemble
Free-style seat allows sideway exercises
High-quality and durable steel construction
Comes with a digital workout counter
Cons: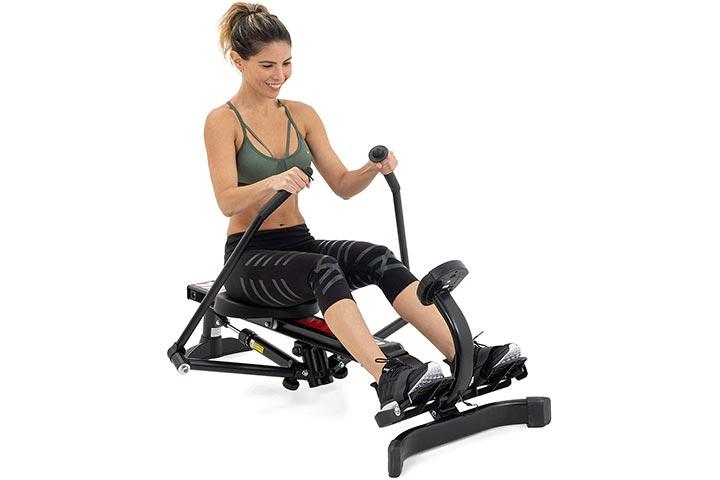 Enjoy a full body workout with this rowing machine that effectively burns calories and improves cardiovascular health. It gives you the convenience to customize your exercise sessions as it comes with an adjustable hydraulic resistance control knob.
Pros:
Durable and sturdy steel construction
Comes with LCD monitor display
Molded and gliding seat for comfortable seating
Rubber handles for better grip
Cons:
Plastic parts may not be durable
Foot straps may not keep feet in place
How to Choose the Right Ab Machine?
Selecting the right ab machine is an important decision as it is the ladder to your dreamy abs. Here are some pointers that can make the decision easier for you:
Strength and durability: An exercise equipment should be strong and durable enough to carry the weight of a regular person.
Functionality: Some machines focus just on the abs, while others focus on obliques, shoulder muscles, back muscles, etc. The price of the equipment varies as per their versatility.
Adjustability: It is important to have a machine with a feature to adjust the resistance level.
Portability: It is always a good idea to have a machine that you can take wherever you want to so that your exercise regime does not get affected.
Benefits of Using an Ab Machine
Besides toning the abs, here are some more benefits associated with ab machines, which  make them so popular:
They offer a vast range of motions so that each crunch gets you the maximum benefits.
They are helpful in streamlining movements so that each crunch is done right.
They effectively put the appropriate stress that is required for muscles to recover and also grow bigger.
Frequently Asked Questions
1. How stable are ab rollers?
Stability is an important feature when it comes to ab rollers. Therefore, most of the ab rollers are designed either around a two-wheel system or tread on the wheels to impart greater stability to the equipment.
2. What exercises can I do with an ab roller?
Though an ab roller may look like a simple exercise machine, it can be used for some of the most intense core exercises. This versatile equipment can be used for mid as well as upper sections of the body effectively.
3. Is an ab roller/machine better than floor exercises?
Yes, ab rollers or machines are better than floor exercises as they can successfully intensify your workout regime. Performing exercises with an ab machine is always more effective and secure as it reduces room for injury, fatigue, or stress. Moreover, it is designed to focus mainly on the abs, without hurting other parts.
4. Will an ab machine help me lose belly fat?
If you are planning to lose your belly fat just with an ab machine, then it may not be possible because ab machines are designed to build lean and toned core. In the process, you will certainly be burning fat, but it might not be your belly fat. If you wish to lose the stubborn fat around your waist, then you need to design a workout regime that integrates cardio workout and the right diet along with a premium ab machine. 
When you plan to get flat, toned abs, relying just on floor exercises may not be enough, and it may also get monotonous. Therefore, you need an ab machine that can help you focus on your abs. A good ab machine will not only spice up your exercise regime, but also bring about impressive results without torturing other parts of your body.
The following two tabs change content below.