An active jacket is a must-have activewear for women who wish to maintain their fashion game and look good even when working out or doing outdoor activities. Active jackets are sleek and keep you warm and comfortable. These hep you take on any physical activity with ease.
MomJunction understands the importance of a good activewear. In this post, we have selected some of the best active jackets for women to make it easy for you to pick the most suitable one.
11 Best Active Jackets For Women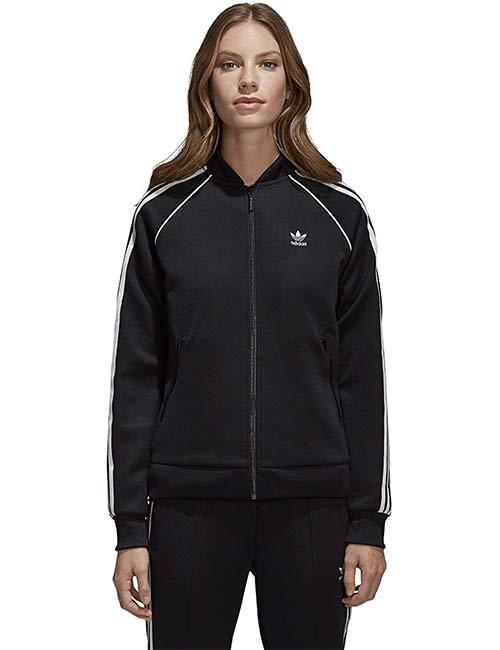 Bring back the classic '70s look with the Adidas Originals Women's Super Star Track Jacket. This uber-chic jacket is made of 50% cotton, 45% recycled polyester, and 5% spandex. It comes with two zipped front pockets to store stuff like cash and hairband.
Pros
Brand name
Ribbed cuffs and collar keep you warm
Washable in machine
Available in a variety of colors and designs
Cons
Color shown in the image may differ from the actual product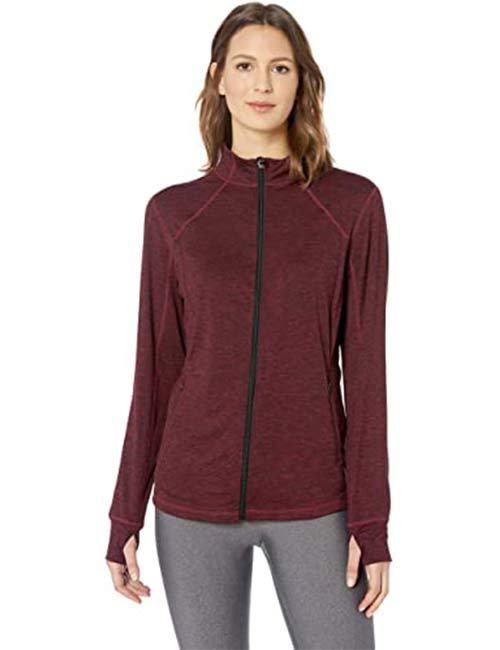 This full-sleeved jacket comes with thumbholes to protect your hands without restricting your movements. It is made of 88% polyester and 12% spandex and has a full front zipper so you can adjust the neckline as per your convenience.
Pros
Stretchable material allows comfortable fitting
Hidden zipper pockets hold important items
Accent seams ensure better durability
Washable in machine
Available in six different colors
Cons
Zipper tends to get stiff when fully zipped and may not be very durable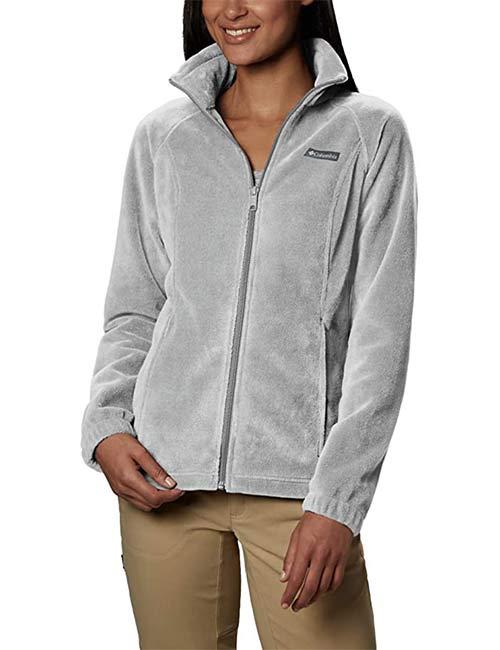 You want to go for a walk, but it is a little cold outside. Well, no problem! Put on this soft fleece jacket that will keep you warm and allow you to stretch those rigid limbs. It comes with a full-collared neck so you can be comfy outdoors.
Pros
Fleece fabric keeps you warm in cold weather
Adjustable hemline ensures complete protection from cold winds
Elastic cuffs keep arms protected even when windy
Zippered pockets are ideal for holding small items
Available in a variety of colors and sizes
Washable in machine
Cons
Sleeves tend to be longer than required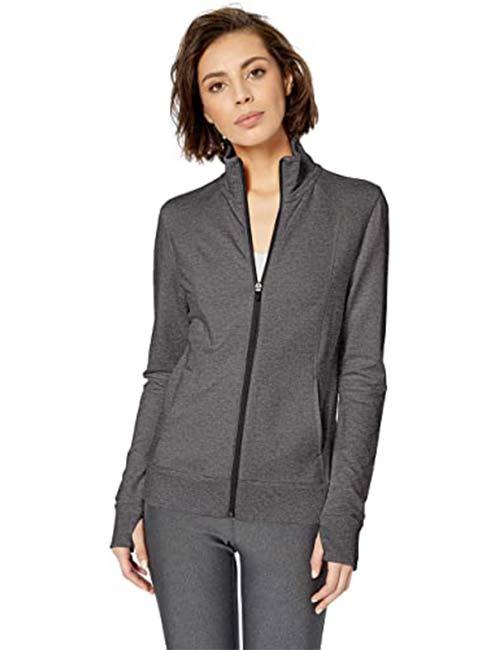 Made of 57% viscose, 38% cotton, and 5% elastane, this multi-season jacket comes with a matte finish. Wear it to the gym, for a jog, or when running errands. It is lightweight and can be worn almost everywhere.
Pros
Thumbhole provides extra protection to the hand
Full zip-up front protects the neck when chilly
Fabric is lightweight and washable in a machine
Available in a variety of colors and sizes
Comes with a deep pocket on each side
Cons
Material tends to shrink and lose shine after a few washes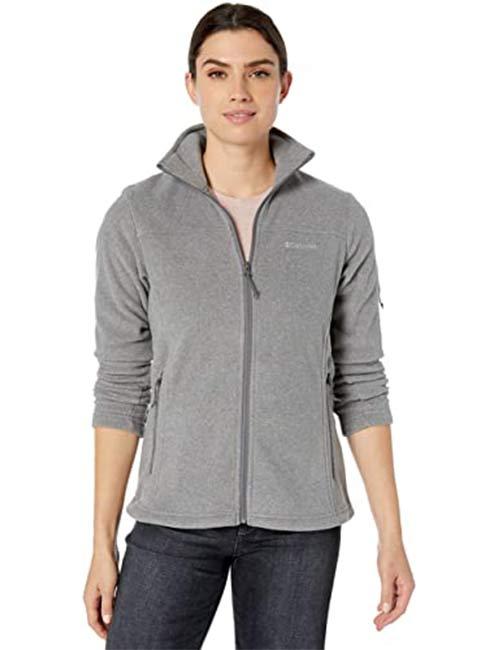 This 100% polyester jacket comes with a front zipper and stand up collar. Its soft fleece can keep you comfortable when the temperature records a dip. It has multiple zipper pockets, including two on the arms, so your musical devices are safe while running or walking.
Pros
Hem can be adjusted using the draw cord
Zipper front pockets keep important items safe
Safe to wash in a machine
Available in various colors and sizes
Cons
Fabric attracts dust and hair easily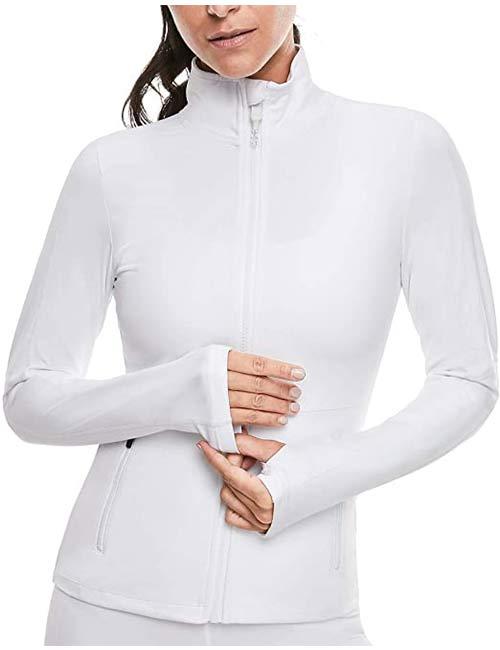 Made of 86% polyester and 14% spandex, this lightweight workout jacket can fit you like a glove so you can stretch and exercise comfortably. Its zipper garage protects the skin from chafing, and the thumbholes ensure that the sleeves stay in place.
Pros
Quick-drying and moisture-wicking fabric keeps you dry during workout sessions
Inner pocket keeps valuable items safe
Hand zipper pockets hold tiny personal items
Left pocket comes with an earphone cable hole
Cons
Online size chart may not be very reliable
Material may seem different than what it appears in the images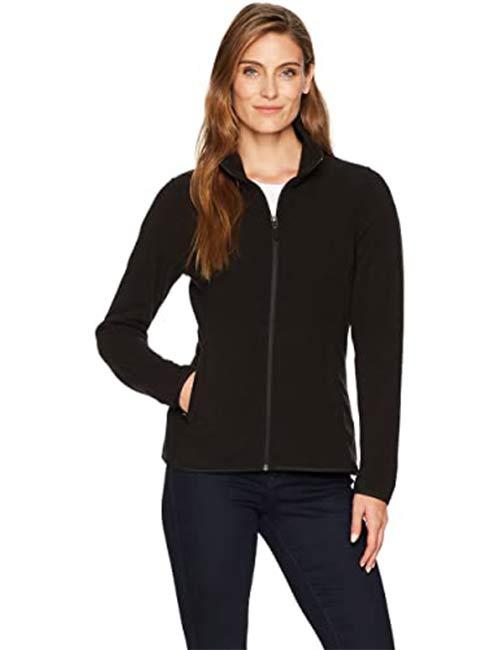 This fleeced jacket by Amazon Essentials will help you stick to your workout plans even on cold days. It is made of 100% polyester and comes with zipper pockets and elastic cuffs. It is designed to fit perfectly, so you can feel fully comfortable working out in it.
Pros
Mid-weight fleece for protection from cold weather
Contoured side seams help provide good fitting
Suitable for machine wash
Available in different colors and sizes
Cons
Elastic at the bottom may not be durable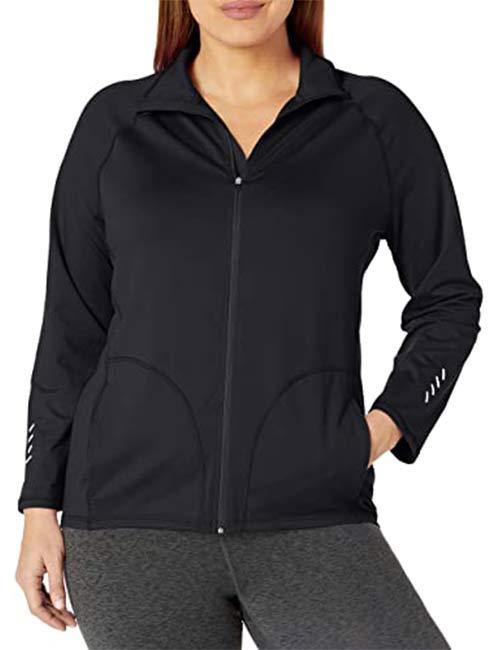 Just My Size is a brand that offers apparel for plus-size women. This jacket is made of 88% polyester and 12% spandex and comes with a high-collar neck to keep you warm while you work out.
Pros
Raglan sleeves help underplay broad shoulders
Patch pockets help keep hands warm
Moisture-wicking fabric keeps you dry and cool
Suitable for washing in a machine
Cons
Sleeves may be a tad short for certain women
Fabric easily attracts lint and hair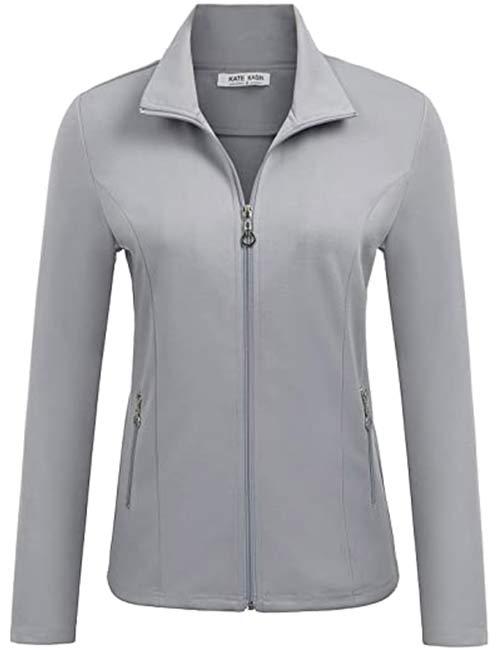 This slim fit, lightweight jacket can be used for daily wear as well as outdoor activities such as hiking and cycling. It comes with a zipper front and standing collar to keep you warm. Its stretchy fabric and simple design keep you comfortable anywhere.
Pros
Breathable fabric does not fade or shrink
Zipper pockets safely hold valuable items
Washable in a machine
Available in different colors and sizes
Cons
Material tends to pill and fray after a few washes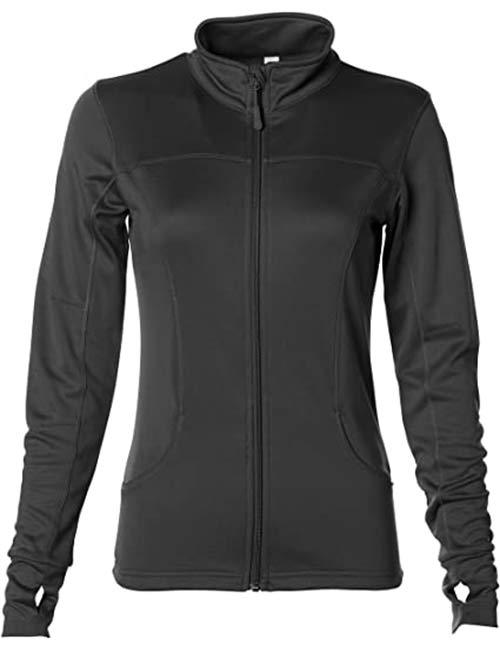 Made of polyester, it comes with double-stitched seams for durability. Its slim-fit design makes it a good option to be worn with leggings, shorts, or even a tennis skirt. It is water-resistant and suitable for all seasons.
Pros
Thumbholes keep hands warm and protected
Lightweight body makes it easy to wear anytime, anywhere
Slim fit creates the perfect silhouette
Comes with side pockets, inner pockets, and a zipper pocket in the back
Features a hoodie with Sherpa lining
Available in a variety of colors and sizes
Cons
Finding the right size online can be difficult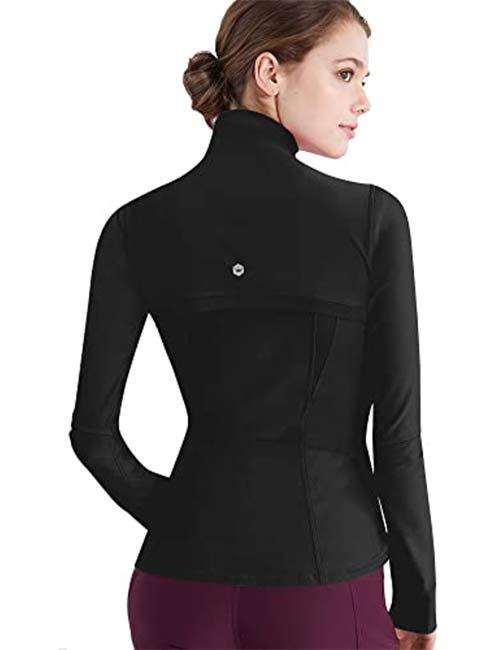 Made of 88% polyester and 12% spandex, this track jacket is designed for yoga and fitness enthusiasts. It can keep you warm while ensuring proper ventilation. Its side zipper pockets hold your little stuff so you can exercise carefree.
Pros
Quick-drying fabric keeps you cool and dry
Tummy-control and arm-slimming design accentuates your figure
Stretchable material ensures a comfortable exercising experience
Thumbholes extend arms coverage
Available in a variety of colors and sizes
Cons
Size guide may not be fully accurate
How To Select Active Jackets
Activewear makes outdoor activities or exercising convenient. When choosing an active jacket, consider these three factors:
1. Perfect Fit
Brands offer size charts and give measurement guides for every jacket. Based on the fabric, your past experience, and estimation, select the size that would be most comfortable for you. If you are unable to find the best fit in one try, you may return the package and opt for a better fitting option.
2. Extra Features
Many jackets offer additional features such as an inner fleece or secret pockets to keep your personal items safe. Based on your needs, look for a jacket that offers maximum features at a reasonable rate.
3. Good Quality
Active jackets often come in different blends of materials such as spandex, polyester, and nylon. Opt for the material that will keep you warm  and not suffocate you as your body heats up performing rigorous physical tasks.
Are Active Jackets Worn Only During Workouts?
Active jackets are considered athleisure outfits that both women and men can wear daily. The comfort fitting and fashionable design stretch their utility beyond the gym or yoga class.
Which of these active jackets did you like? Do let us know in the comments section below.