Air hockey tables, whichare mostly seen at the neighborhood gaming arcadesor at a mall, appeal to most kids and young adults. If you're a fan of this game and want to play itoften without waiting in a queue, then you could consider getting an air hockey table home.
You can now buy some of the best air hockey tables for kids at an affordable price without compromising the product's quality and looks. Read on for a list of the best air hockey tables you can buy for your children.
11 Best Air Hockey Tables For Kids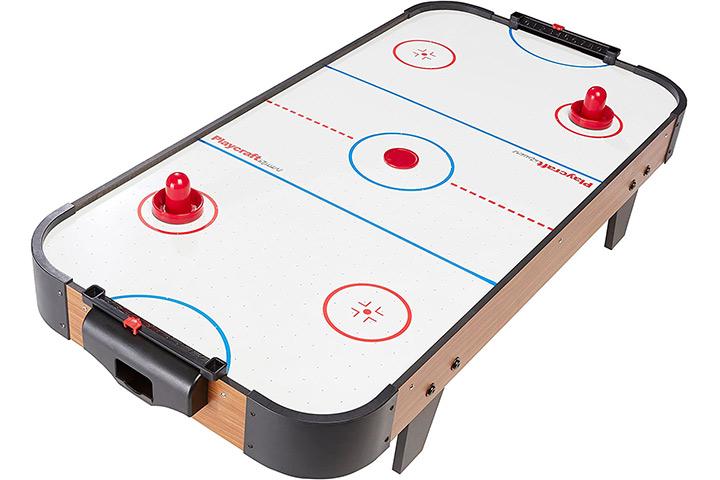 This air hockey table is designed for children and is perfect for those who have limited space inside their homes. It measures 40 inches in length and 20 inches in breadth. The table is built using durable MDF hardwood and a powerful UL-approved motor. The table set includes two strikers and two pucks.
Pros
Comes with an ABS puck catcher
Built from solid and durable MDF hardwood
Powerful, quiet,and in-built motor 
Cons
The bottom of the table legs have no rubber inserts to prevent it from moving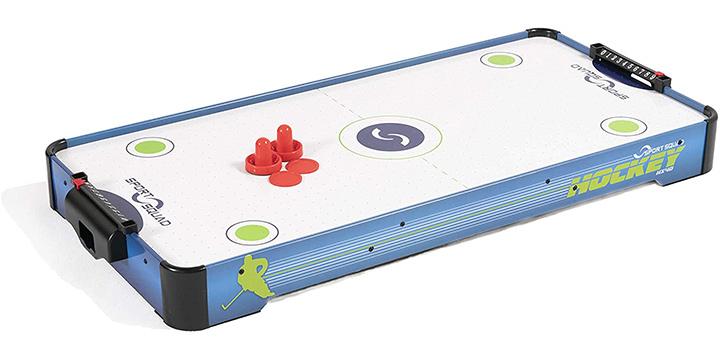 The HX40 from the house of Sport Squad can easily fit on a table-top, thereby generating hours of entertainment for your kids. The table comes with non-marking rubber at the bottom of its feet for stability and to prevent scratches on the table surface. It is electrically powered by an in-built fan that provides continuous and efficient airflow.  It also features manual score arrows on either side of the table. The set includes two paddles, two plastic pucks, and an AC wall adapter.
Pros
Made from high-quality, durable wood
Feet come with rubber pads to prevent scratches
In-built motor is powerful and not too loud 
Cons
The provided AC adapter cord can be too short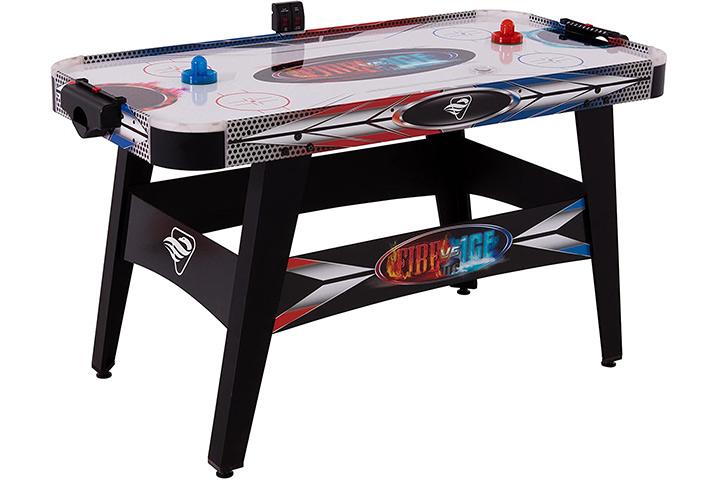 You'd be happy to know that this air hockey table for children comes with puck and pushers that light up in red and blue colors. The corners of the table also light up and flash when you score a goal, while the LED display attachment shows the players' total score.
Pros
Stable air hockey table with sturdy legs
LED score display attachment
Ideal for teens and youth
Adjustable legs for maintaining stability on uneven ground
Cons
Build quality could have been slightly better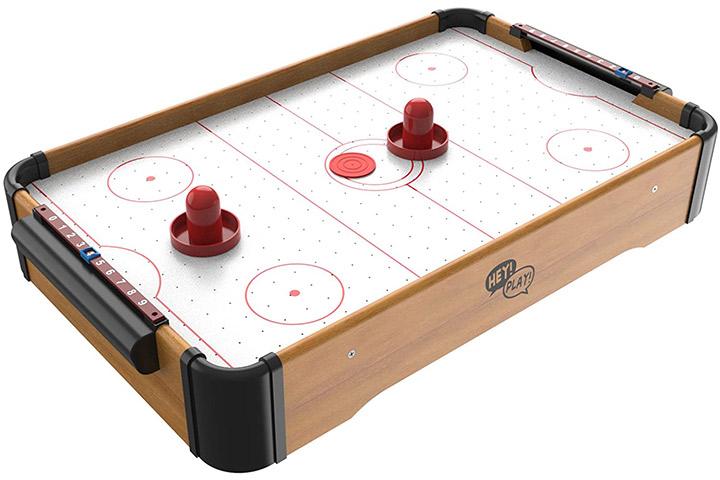 One of the most commendable features of this product is the overall portability it offers. The table is lightweight and can be moved around easily. It comes with a secure puck return technology plus a score slider on either side of the table. The added motor for airflow inside this hockey table allows the puck to glide and hover easily to make the game much more enjoyable and thrilling. The table currently runs on 8xAA batteries.
Pros
Made from sturdy materials such as plastic and wood
Has a powerful airflow motor
Lightweight and portable 
Cons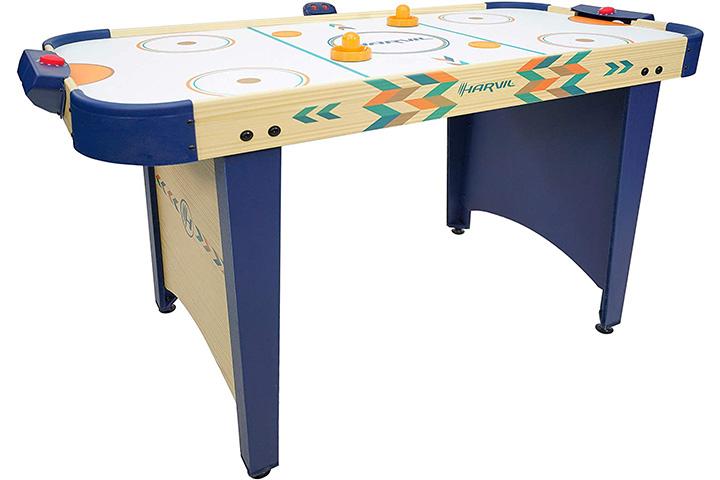 This air hockey table has a compact design that makes it ideal for people who have limited space in their homes. The table stands on two large-sized legs that are L-shaped and comes with levelers, thereby improving its overall stability. It comes with an electronic scoring unit that requires 2xAAA batteries for functioning.
Buyers also get a 90-day warranty straight from the manufacturer for any replacement or repairs. You get two sets of orange-colored paddles and pucks with the package.
Pros
Highly stable
Comes with a 90-day manufacturer warranty
Sturdy legs and table design for stability
Compact design 
Cons
The score register is inaccurate sometimes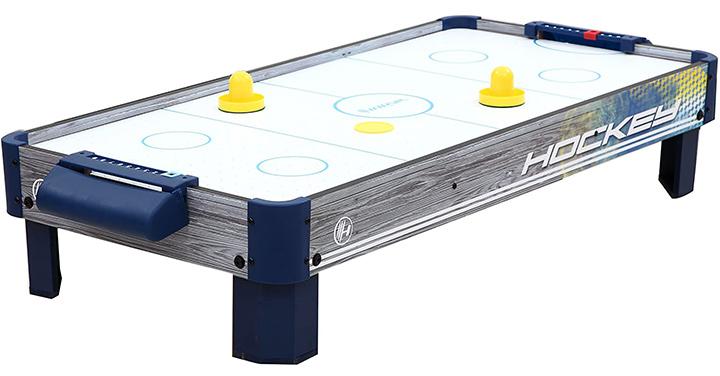 In case you're looking for a compact, stable, and portable table that your children would love, then there's no better product than this Harvil Air Hockey Table. What makes this table exceptional is the overall attention to detail, as it has been made from high-quality fiber-wood.
The feet have been constructed in such a manner that stability is maintained regardless of how it is used. The table's surface is made from laminated plastic that is highly polished and comes with vibrant and attractive graphics, thus making the table look great. 
Pros
Made from durable fiber-wood
Comes with a 12-volt, in-built AC motor
Has a laminated plastic playing surface 
Cons
Airflow can sometimes be inconsistent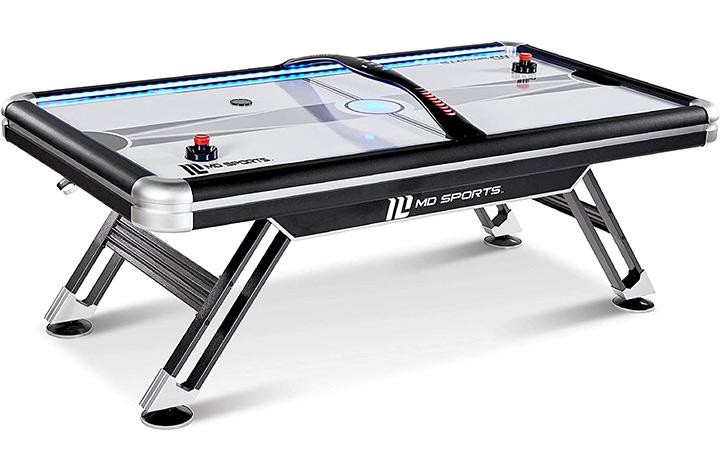 This kid-size air hockey table will be a perfect fit for your home if you want to impress your guests and their kids with hours of gameplay and enjoyment. The table comes with four sets of pucks and pushers so that more players can participate in the game.
Moreover, you get to experience an overhead electronic score system that spans over the entire playfield and comes with a timer and digital display. Besides, the system also reproduces nostalgic arcade sounds to improve the gaming experience. 
Pros
Offers enhanced stability with its six-inch legs
Comes with an electronic score system
Has a powerful 110V rated motor
Scratch-resistant 
Cons
The scoring mechanism can sometimes stop working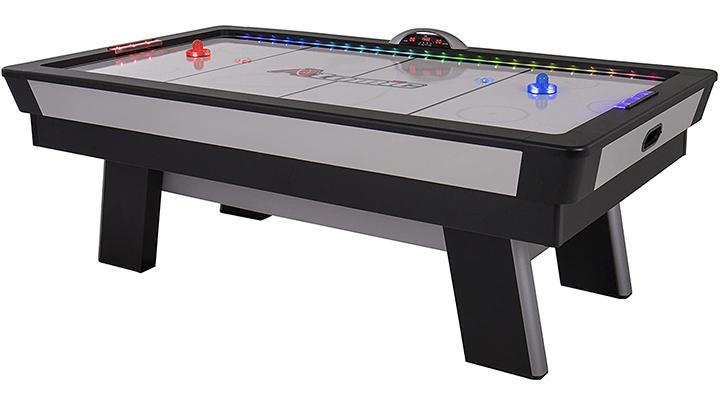 If you're looking for an action-packed air hockey game, you need this hockey table that will take your kids' enjoyment to the next level. Expect the playing surface to be smooth, slick, and high-speed due to the inclusion of PVC or polyvinyl chloride. Play non-stop, arcade-style games with multi-color LED lights and high-tempo music in the background. The package comes with two pushers and three pucks.
Pros
Comes with a powerful 120V rated motor
Has a smooth and slick playing surface area
The addition of high-tempo music is a great feature 
Cons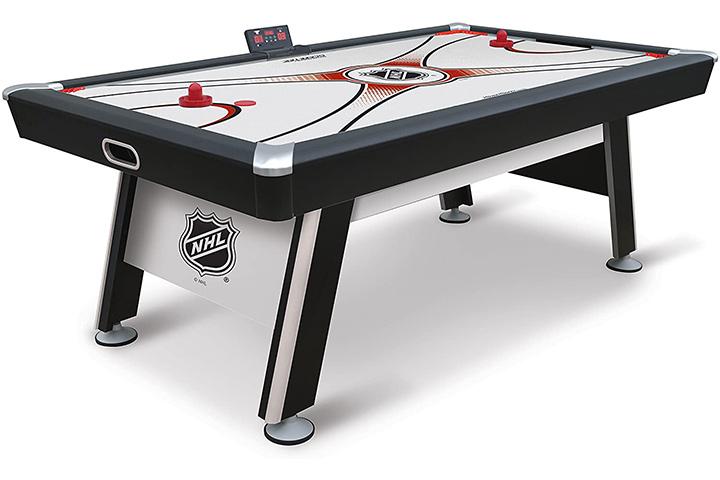 One of the noteworthy features of this air hockey table for kids is its scratch-resistant surface that can last for a long time. The product comes with four pucks and four pushers. The scoring system is advanced enough to keep track of your scores without moving a muscle. Moreover, the table is highly compact and would be a great addition to your family room. The table has been built to be used both by competitive as well as casual players.
Pros
Has a scratch-resistant playing surface area
The score register tracks scores efficiently
Highly compact 
Cons
The weight is a little bit on the heavier side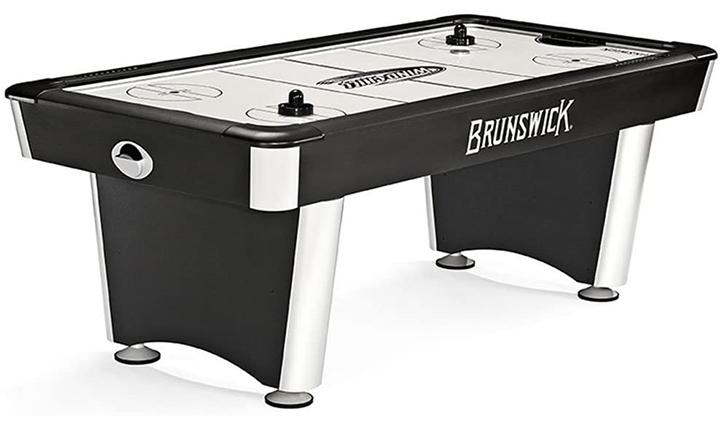 Featuring a contemporary and sleek design, this air hockey table for kids from Brunswick boasts a powerful blower motor that is UL certified. The motor is responsible for offering constant airflow throughout every game session. Moreover, the table rests on a sturdy pedestal base, keeping the entire structure stable and rigid. Each side of the table features a scoring system, and the product package comes with four pucks and two mallets.
Pros
Comes with a 90-day warranty
Quite rigid and stable
Unrestricted airflow ensures smooth gaming 
Cons
The plastic inserts can be flimsy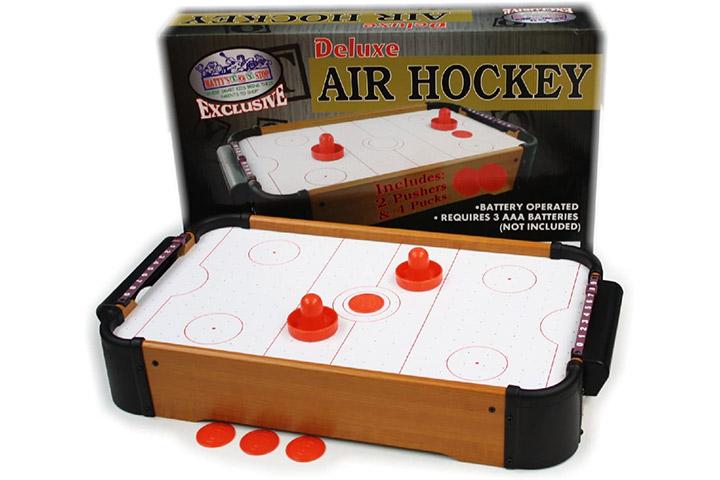 In case you're deciding to surprise your child with the perfect gift, this product is a great option for you. The package comes with four pucks and two pushers. The table is battery operated and requires 3xAA batteries. The table-top is highly portable and can be moved around easily. The overall length of the table is 21 inches and is perfect to be used by kids.
Pros
Top-notch build quality
Comes with two pushers and four pucks
Extremely portable 
Cons
The package doesn't come with any batteries.
How To Choose The Right Air Hockey Tables For Kids?
The following factors need to be considered when choosing an air hockey table for your kids.
Size: Air hockey tables generally come in varying sizes, from medium-sized to large ones. Therefore, pick a table based on the amount of space available in your child's room. Compact and portable tables are usually preferred to the heavy ones.
Build quality: Look for tables that are well-builtand can withstand the wear and tear owing to rough usage by kids. The quality of the table determines whether or not it will last for a long time.A table that is made from solid wood or particleboard is a good option. You can also consider a product that utilizes a mixture of wood and plastic inserts.
Playing surface: Look for an air hockey table with a top-notch surface area that is also scratch-resistant. Laminated surfaces are the best when it comes to air hockey tables since the surface proves to be slick and smooth to play on.
Stability: A good air hockey table should be highly stable and not move around much. It should have sturdy and supportive legs with rubber inserts at the bottom to prevent the table from moving.
Scoring system: Kid-sized air hockey tables come with either manual or digital scoring systems, with each system having its advantages and disadvantages. While a digital system is easy to use, it can sometimes not register scores or malfunction. Such a problem is not present in the manual scoring systems, which need the players to track their scores.
Frequently Asked Questions
1. Is air hockey a safe game for kids to play?
Yes. There is a minimal amount of physical interaction involved in air hockey, which allows your children to relax and have a good time.
2. How do I clean my air hockey table?
You can clean your air hockey table by using the following tips and tricks.
Clean the table's surface: Use a slightly damp towel or cotton cloth, warm water, and some mild detergent to clean the surface. Once you're done, ensure that you dry the surface adequately to prevent mold growth.
Use lubricants: Silicone lubricants help keep your table's play surface smooth and sleek. But use them in small amounts and use a cotton or microfiber cloth to wipe it out.
Clean the blower fan: The blower fan needs to be kept clean from dirt and dust because dust accumulation can reduce the air blown. Use a compressed air can and avoid liquids for cleaningit.
Clean the table holes: The table holes can be cleaned using a small brush or an item that can fit inside. Any build-up of debris inside the table holes can shorten the lifespan of the table. Try to clean the holes regularly.
Air hockey tables for kids could be a cool addition to a modern-day kids' playrooms. Whether you choose a table-top design or a freestanding table, you can beassured that your kids and you can have hours of fun and games within the comfort of your home. We hope you find a suitable air hockey table from the list above.